Copenhagen Light Festival 2022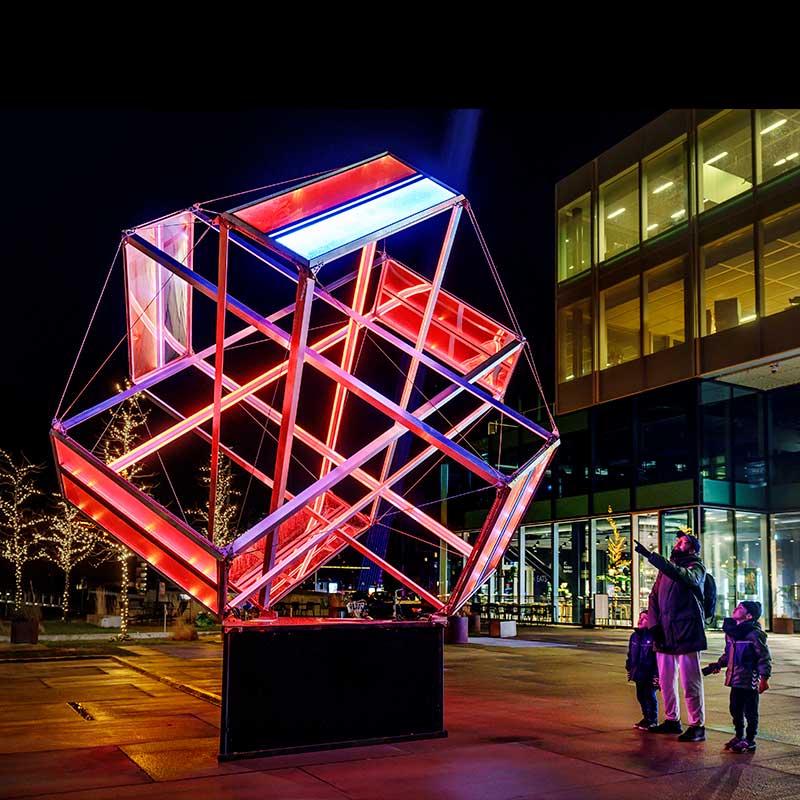 PHOTONIC EMPATHY
WHO: Lumus Instruments (NL)
WHERE: Bryghuspladsen, Bryghusgade 1, 1473 København
(In the area of The Copenhagen Cultural District)
WHEN: Kl. 17-23
ABOUT THE LIGHTWORK
Photonic Empathy is a touch sensitive interactive art piece that invites the audience to influence the visual feel, look, color and depth of the installation. What at first glance seems like an empty space frame fills up with many faces of beauty. 
Photonic Empathy explores the geometry of three volumetric cuboid rectangles using two different lighting mechanics. LED strips on the long ribs of the cuboid add volume to each separate space frame using indirect light. By using individually addressable LED strips, different parts of the geometry can be dynamically accentuated at a rapid pace. This creates a disorienting effect as if the geometry of the structure is unstable. The closed faces that are situated at the end of each cuboid are fitted with infinity mirror panels, capturing and directing the photons within each cuboid.
If the photons were the observer, this sculpture would be completely enclosed. Let's try to empathize with photons and imagine their universe. 
ABOUT THE ARTISTS
Lumus Instruments is a creative lighting studio from the Netherlands set out to design products that enable and stimulate the creation of sustainable art. Their main activities are developing, designing and engineering modular light installations and control systems.
THANKS TO
Sponsored by BLOX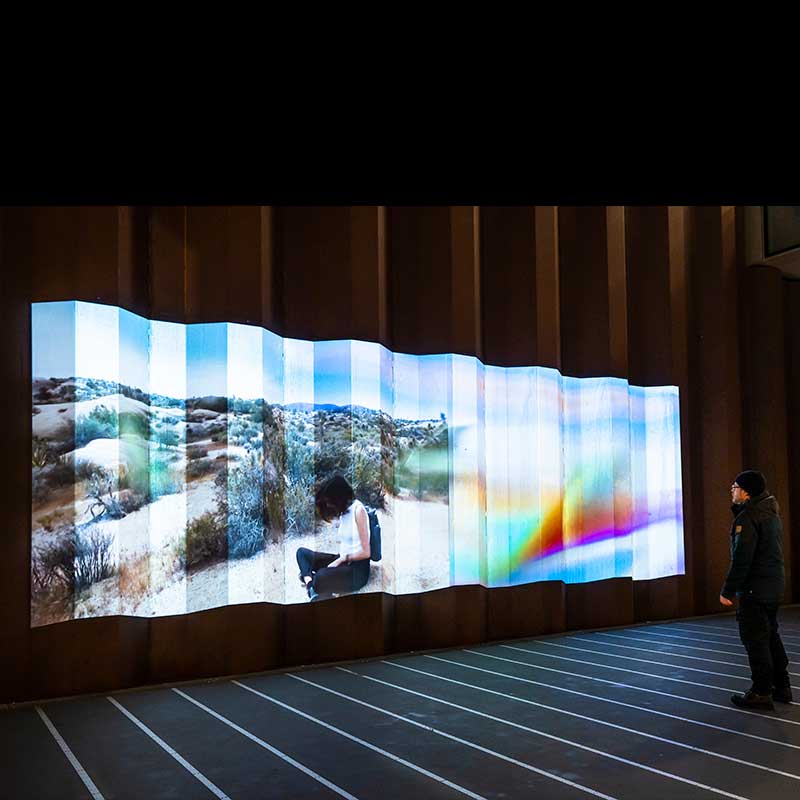 LIGHT DOCUMENTARIES
WHO: Carlos Alvarez Clemente (ES)
WHERE: BLOX, entrance via the stairs on the water side
(In the area of The Copenhagen Cultural District)
WHEN: kl. 17-23
ABOUT THE LIGHTWORK
Light Documentaries is an installation in the intersection between light sculptures and video art. This work consists of a horizontal video projection split in two. One half shows a landscape video, and the other is filled with a slowly mutating colour gradient.
Light Documentaries creates a lingering, meditative atmosphere that invites the audience to stop and let themselves get carried away by the ambience for a while. The video sequence circles around a faraway landscape, while the shifting colours are reminiscent of moving clouds and organic formations in nature.
Most of the videos are shot using a MiniDV camera and a digital 4K camera during the artist's journeys though Spain. The work has a runtime of 10 minutes, with no clear beginning or end.
ABOUT THE ARTISTS
Carlos Álvarez Clemente (born 1990 in Spain) lives and works in Copenhagen and on the Canary Islands. He has an MA from KASK & Conservatory in Belgium, working primarily with installation, photography and sculpture. His work has received several prizes and grants, including Young Art Prize Gijón/Xixón (Work in Public Collection), Working Grant for Visual Arts—Danish Arts Foundation, residence at the Danish Art Workshops, Injuve Creation Grant, and more.
THANKS TO
The AV-experts at CIPEX for sponsoring equipment
BLOX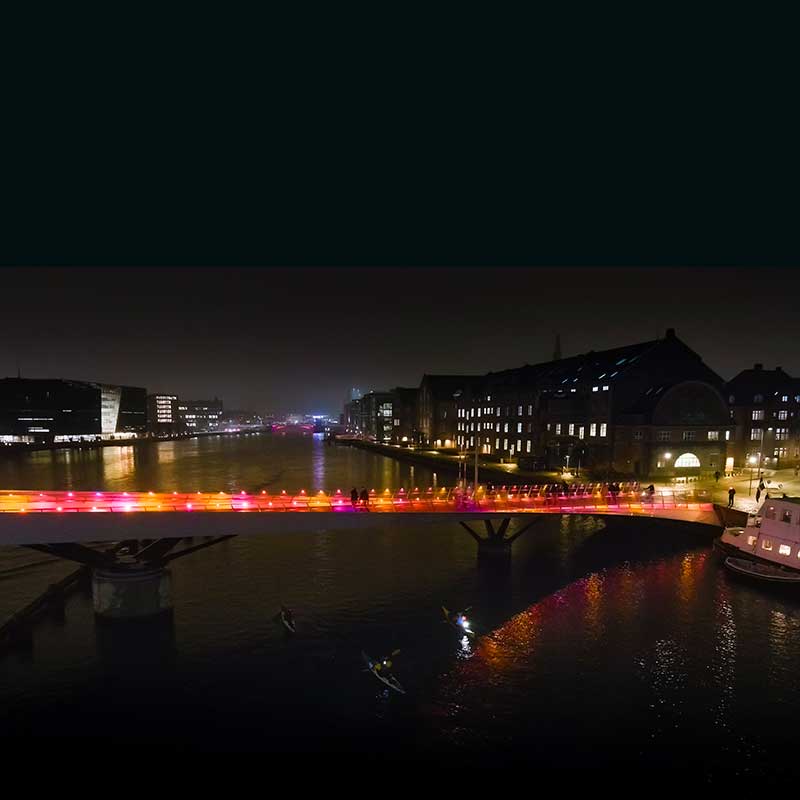 JAM
WHO: Tokyo Blue (DK)
WHERE: Lille Langebro
WHEN: Starts with the street lighting
ABOUT THE LIGHTWORK
JAM is a sweet salute from the Danish summer during the cold and dark month of February. An intense taste of ripe berries from the summer harvest.
Taking inspiration from the deep colour palette of berry marmalades, nuances of red, violet and orange, artist group Tokyo Blue use striking splashes of colour to transform the rigid materials of Lille Langebro bridge into a warm and sensual universe of berries.
This piece can be experienced from many different angles in the city, and it adds a fleeting new layer to the story of the bridge, as well as the perception of it as a work of architecture in a dynamic and active city like Copenhagen. The many little highlights from the multitude of light sources on the bridge resemble berries on a straw on a mild evening in late summer, reflecting beautifully on the surface of the water. JAM is sensual, concentrated, a tasty feast for the eyes. Have a bite!

ABOUT THE ARTISTS
Tokyo Blue was created in 2011 and consists of lighting and interior designer Silla Findstrøm Herbst, lighting and textile designer Katrin Barrie Larsen, art historian Helle Frøjk Knudsen and visual artist and engineer Astrid Espenhain, all of whom work with lighting and space in their professional lives. 
THANKS TO
GOBO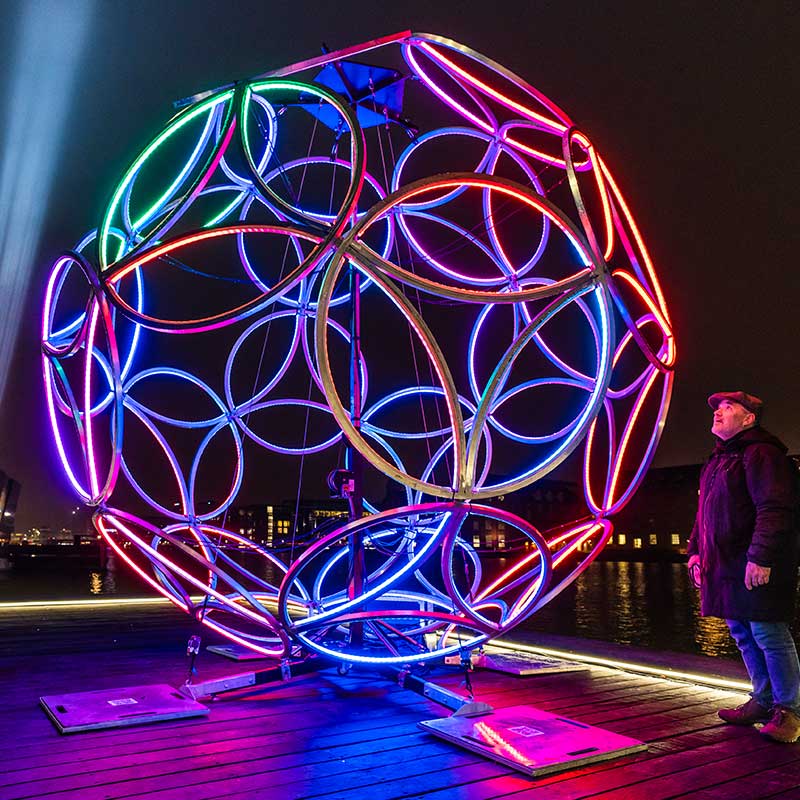 NEUTRINO
WHO: Markus Anders Art & Circus Lumineszenz (AT)
WHERE: BLOX – The wooden deck on the waterside – Bryghusgade 1, 1473 Copenhagen
(In the area of The Copenhagen Cultural District)
WHEN: kl. 17-23
ABOUT THE LIGHTWORK
Neutrino is a large-scale light installation that deals with the subatomic world in a poetical manner, a level of order that we cannot fully comprehend. Neutrinos are created in some of the most powerful events in cosmology, such as supernovas, nuclear reactions, which take place in the core of a star, or during the spin down of a neutron star. 
The installation is a 4 meters diameter symmetrical Icosahedron made of an aluminum structure to which 150 meters of led strips are attached. This three-dimensional object is treated in its lightning concept to display powerful abstract patterns, letting the festival guests play with their own imagination about the subatomic world. 
ABOUT THE ARTISTS
Neutrino is a co-creation between Circus Lumineszenz and Markus Anders Art. 
Circus Lumineszenz (AT) is an artistic & educational project based in Austria where, through the use of light & creative technology, we develop multimedia environments, installations, performances and objects where the audience is invited not only to contemplate and enjoy, but in most cases, to actively participate as creators of the experience as well.
Markus Anders Art (AT) designs and builds light sculptures, which travel from one place to another. He wants to share their inherent symbolism with the world and as many people as possible. Bringing human beings together and making them think and dream. He especially love the creation of large-sized sculptures because their realisation is a rather complex challenge in terms of statics, choice of material and logistics
THANKS TO
BLOX
österreichische Botschaft Kopenhagen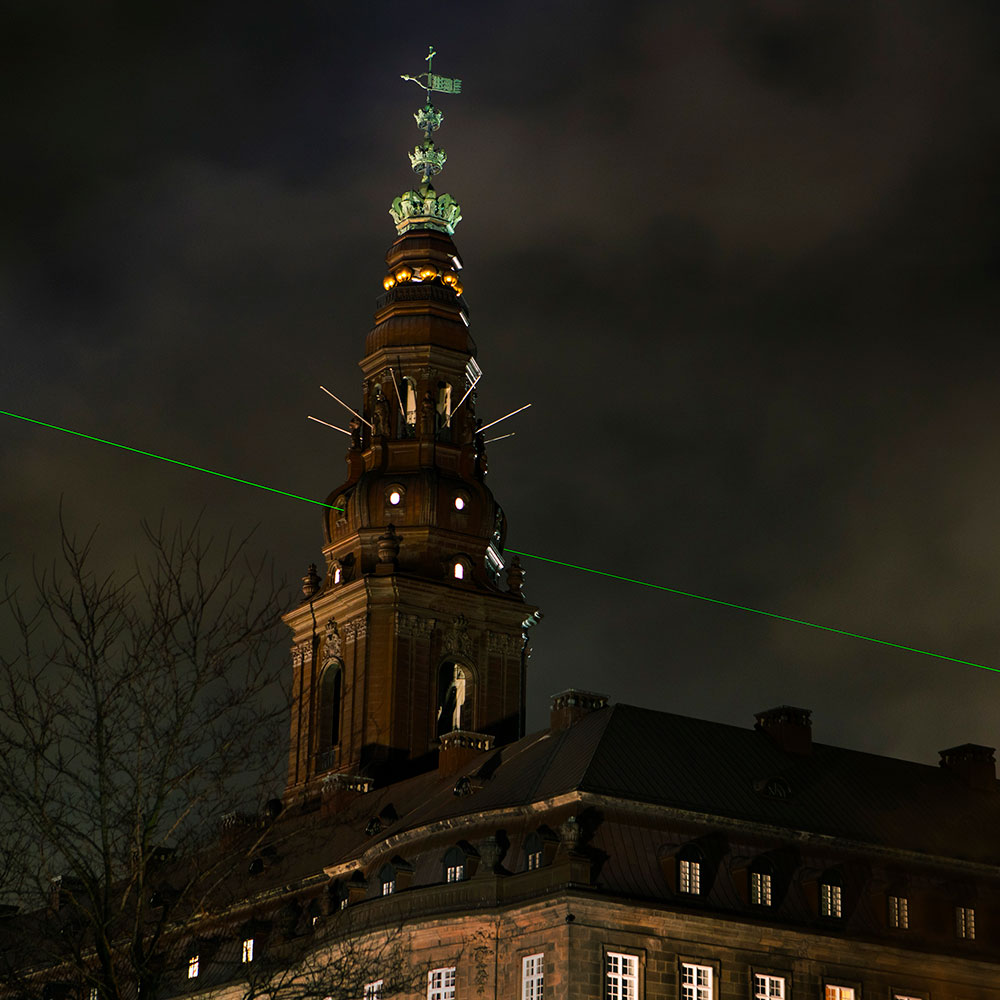 GREEN BEAM V
WHO: Båll & Brand (DK)
WHERE: From Tivoli, to Christiansborg, ends at Refshaleøen
WHEN: 17 – 02 and kl 06 – 08 in the morning. 
ABOUT THE LIGHTWORK
During the last few years, Green Beam has become a symbol of the Copenhagen Light Festival, and the green laser beam will blaze across the Copenhagen sky for the fifth year in a row. With its iconic green hue and 3.7 kilometre length, Green Beam unites the city. This year, the beam will originate from Tivoli, pass through the tower of Christiansborg and end at B&W Halls at Refshaleøen.
Green Beam will shine from February 4 until February 27 from 5 p.m. to 2 a.m. and again from 06 a.m. to 08 a.m.
ABOUT THE ARTISTS
Båll & Brand consists of Martin Ersted and David Ruben Karpantscho. They work with large-scale light and sound installations and experiment with many different types of materials and light sources. In addition to many notable lightworks in Denmark, the group have also exhibited internationally in places such as Iceland, Vilnius and most recently on the façade The National Maritime Museum (Het Scheepvaartmuseum) in Amsterdam during the Amsterdam Light Festival edition #8. The duo have contributed several pieces to Copenhagen Light Festival over the years. 
THANKS TO
Tivoli
Refshaleøen
Christiansborg Slot
Slots- og Kulturstyrelsen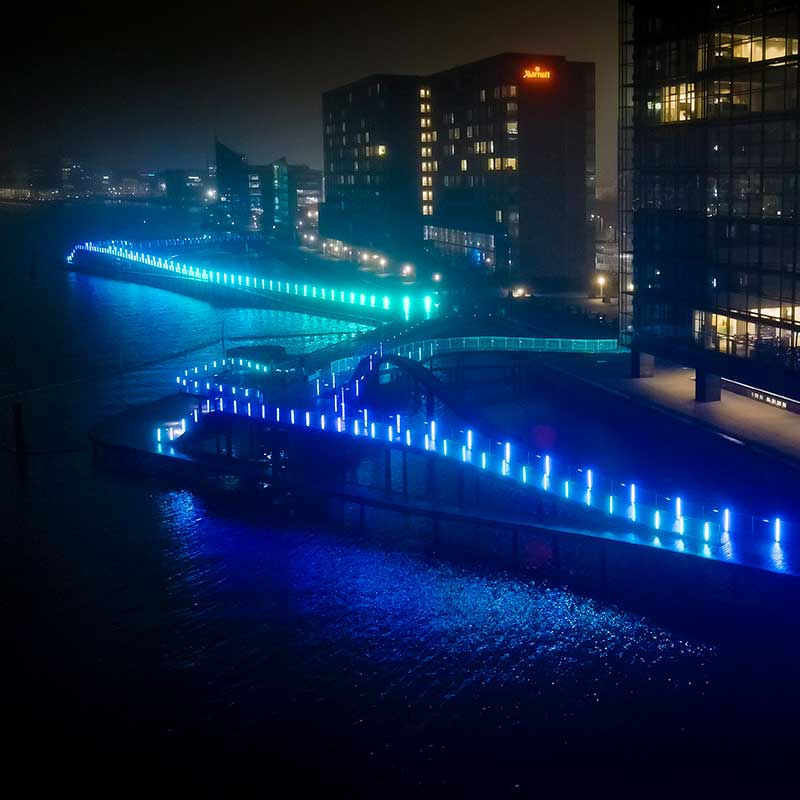 DON'T BE BLUE
WHO: Mads Vegas (DK)
WHERE: Kalvebod Bølge, Kalvebod Brygge, 1560 Copenhagen V
WHEN: Kl. 17-23
ABOUT THE LIGHTWORK
Move through a blue landscape of light and discover a calm oasis in the middle of the city. Don't Be Blue is created specifically for the area at Kalvebod Bølgen, and it plays with the architecture of Kalvebod Bølgen using its 250 light sources in various shades of blue.
In chromotherapy, a course of treatment based on the colours of light, the colour blue is considered to have a relaxing and calming effect on the mind and body. Blue is said to give you a calm and regular respiration, and it can help counteract insomnia and stress. Don't be blue was designed to give peace and happiness to those who venture into its blue light. The piece also invites all festival guests to take a break, greet each other, have conversations and help each other escape from the loneliness of the pandemic. Enjoy the blue glow, have a chat, smile to each other and leave with a lighter heart.
ABOUT THE ARTISTS
Mads Vegas has worked professionally with lighting design and light art in all shapes and forms for 25 years, both nationally and internationally, creating lighting for theatres, festivals, the fashion and music industry as well as restaurants. He has exhibited in Copenhagen, Washington, D.C., Rome, London and Berlin, and he is now showing his light art at Copenhagen Light Festival for the fifth time. Mads Vegas has previously taken part with the following pieces: Eternal Sundown, Bridge over Bubbled Water, Aurora Sky, WAUWW – What An Unusually Wonderful Wave, Kaos/Eros/Ro. He was awarded the Louis Poulsen Lighting Prize in 2018 for Eternal Sundown.
THANKS TO
GOBO
Malmbergs Elektriska
Havhøst
Svajerbar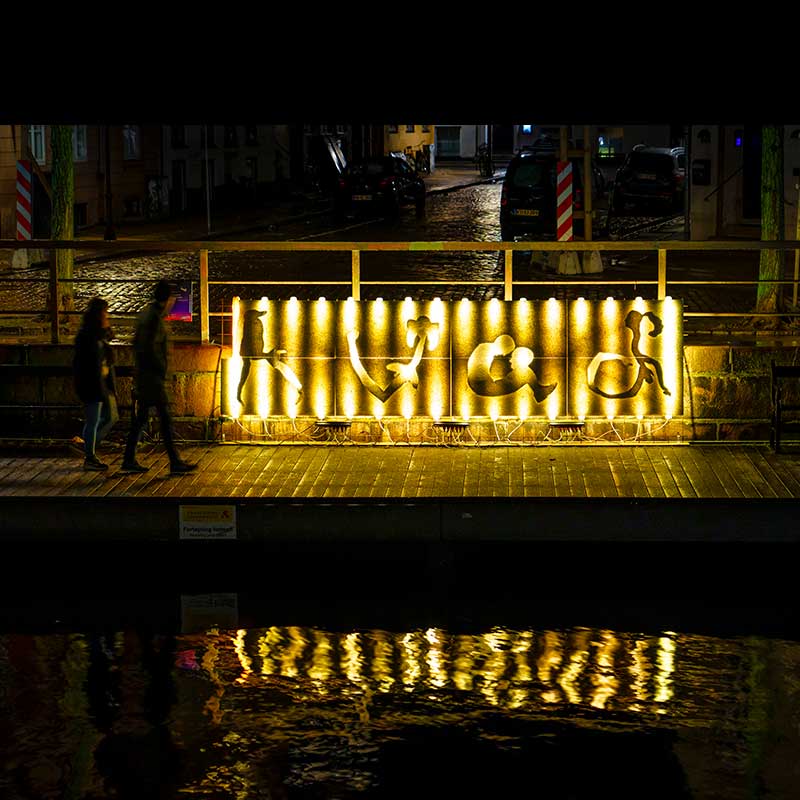 HVAD (OBS OUT OF ORDER)
WHO: Robert Garde og Garcia Pauwels (DK)
WHERE: Strommas kaj, Ved Stranden 26, 1202 København K (best seen from the opposite side of the water)
WHEN: kl. 17-23
ABOUT THE LIGHTWORK
Light has no mass, polystyrene consists of around 98% air, and the word "what" has no content. Meanwhile the world is lit by fluorescent tubes, and polystyrene has been scattered all over the oceans. Hvad (What) is a confusing piece that makes you wonder: What is "what", and why? The sculpture looks indistinct in daylight, but reveals its true colours in the dark.
ABOUT THE ARTISTS
An artist duo consisting of Robert Garde and Garcia Pauwels. They also participated in Copenhagen Light Festival 2020 with their installation "Permutations Of Empathy ("I may not always love you")"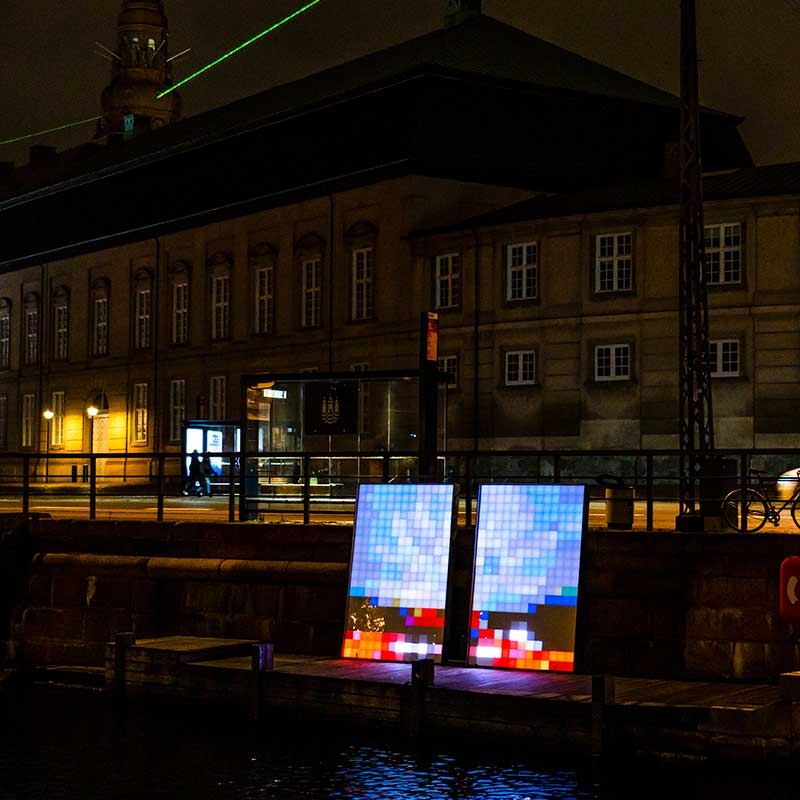 GOING UNDER – 30 SUNRISES AND 30 SUNSETS
WHO:Niels Bonde (DK)
WHERE: På den lille bådebro på Vindebrogade nær Stormbroen
WHEN: kl. 17-23
ABOUT THE LIGHTWORK
Going Under is based on wave motions and reflections on the ocean.
The piece is conceived as a dynamic mosaic, where giant pixels take on the colours and light reflections of the water. It is embellished with the colours and reflections of the harbour entrance, which change dynamically according to the seasons and the light and activity in the harbour.
This work was created using a special algorithm that utilizes 7×6 pixels to recognize images with 95% accuracy, and the way the colours relate to one another creates a unique code. The particular combination of colours and light found in Copenhagen Harbour is visualized as pixels in this piece.
Its title refers to the song "Going Under" by American singer-songwriter and poet Patti Smith:
"Sun is rising on the water, Light is dancing again
Let's go under where the sun beams
Let's go under my friend"

ABOUT THE ARTISTS
Niels Bonde (born 1961 in Glostrup, Denmark) is a graduate of The Royal Danish Academy of Fine Arts, 1981-83/1988-94. He then studied at Städelschule, Institut für Neue Medien, Frankfurt am Main (1993-95). Niels Bonde uses installations and photography to examine the boundary between privacy and the intrusion of various kinds of surveillance, as well as the omnipresence of computer technology in our everyday lives. 
THANKS TO
Supported by By & Havn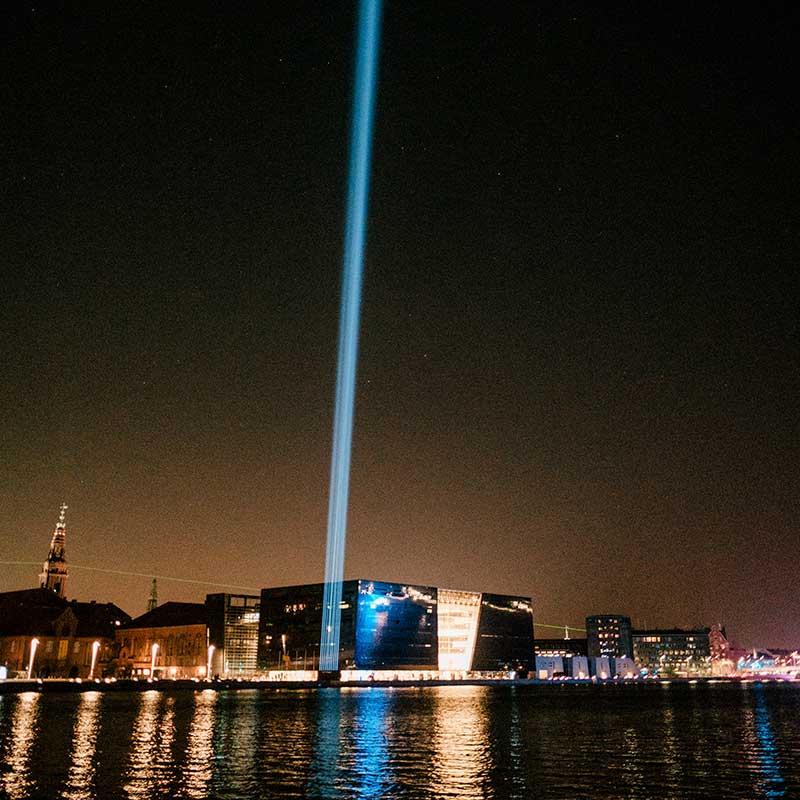 BLACK & WHITE
WHO: Båll & Brand (DK)
WHERE: By The Black Diamond, Søren Kirkegaards plads 1, 1219 Copenhagen K
(In the area of The Copenhagen Cultural District)
WHEN: kl. 17-23
ABOUT THE LIGHTWORK
Black and White is a light sculpture that is directly related to the architecture of the Black Diamond (a modern extension of the Royal Library in Copenhagen). Graphical cones of light slice through the dark, creating a visual echo of the style of the building. The light cones have been placed close to the building, where they create a continuation of its architecture and accentuate the vertical and horizontal lines of its façade.
B&W is a tribute to the Black Diamond and an exploration of light, space and architecture, utilizing light as a sculptural element in the urban space.
ABOUT THE ARTISTS
Båll & Brand consists of Martin Ersted and David Ruben Karpantscho. They work with large-scale light and sound installations and experiment with many different types of materials and light sources. In addition to many notable lightworks in Denmark, the group have also exhibited internationally in places such as Iceland, Vilnius and most recently on the façade The National Maritime Museum (Het Scheepvaartmuseum) in Amsterdam during the Amsterdam Light Festival edition #8. The duo have contributed several pieces to Copenhagen Light Festival over the years. 
THANKS TO
The installation has been realized in cooporation with support from The Black Diamond, Dansk Blindesamfund, STARK Gentræ, snedkerservice.dk and BANG MARCUSSEN ARKITEKTUR.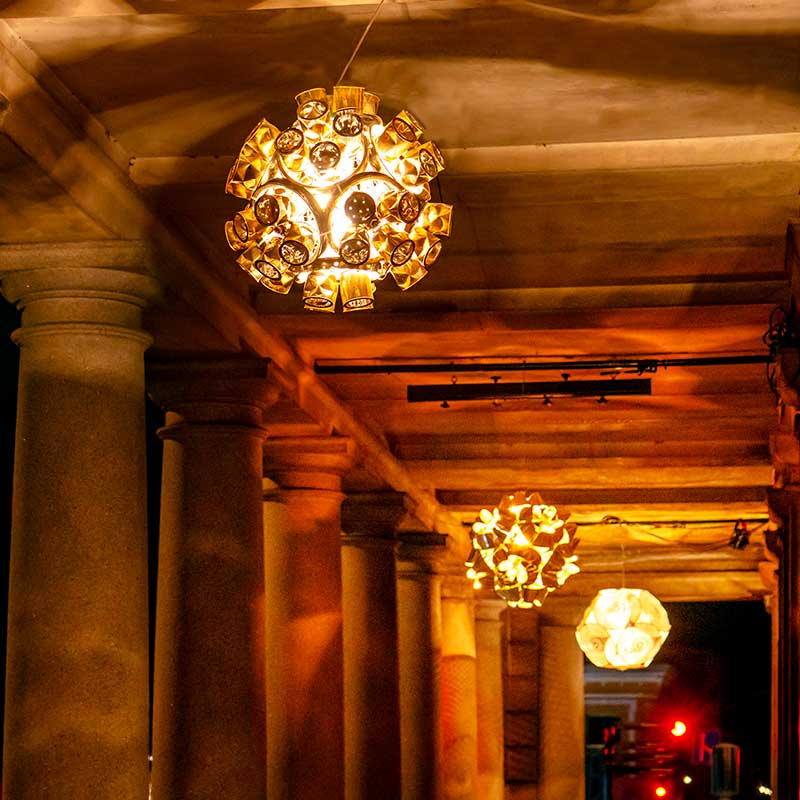 COSMOS
HVEM: Camilla Brix Andersen (DK)
HVOR: Nationalmuseet balustrade, Stormgade 2-8
(In the area of The Copenhagen Cultural District)
HVORNÅR: Starts with the street lighting
ABOUT THE LIGHTWORK
Cosmos hangs as a planetary system that fills the old colonnade of The National Museum in Stormgade with rays of light and dynamic shadows.  
As the light pulsates to the accompanying music and sound of the city the installation invites you on an atmospheric journey through the old colonnade – disrupting usual perception and offering a new and deeper experience. Being strongly thematically and aesthetically inspired by science fiction and the current world situation the installation plays with our perception of ourselves and reality by raising questions about humanity and its future. Can we redefine our consumption to control climate change and save our planet? Are we on our way to become a multi planetary species?
Cosmos is a collective name for the light installations The Orb, Solaris and Stella– respectively made of pram wheels and patent cans, drum cymbals and metal scraps, as well as accompanying music by Martine Francisca Miller.
ABOUT THE ARTISTS
Camilla Brix Andersen (b. 1993, Singapore) is a multifaceted artist who received her BA in Art and Technology from Aalborg University in 2018 and is currently pursuing a PB in Graphic Design at The Danish School of Media and Journalism – a background that feeds Brix's practice exploring the intersection between art and design. With a broad body of work encompassing light installations, visual art and graphics Brix explores new ways of understanding and utilizing materials, as well as the properties of light and shadow and how they complement and complicate space.
THANKS TO
Nationalmuseet
LOOP
WHO: Søren Lyngsø Knudsen (DK)
WHERE Højbro Plads, Copenhagen K
WHEN: kl 17-23
ABOUT THE LIGHTWORK
Loop is a dynamic light and sound installation, consisting of 32 pillars arranged in a circle, which can be experienced at a distance and all the way up close. The interplay between light and sound forms a synthesis, which also interacts with the surroundings. When you experience this piece from a distance, you will be able to sense the sonic rhythm and tonality. But if you get up close and personal with Loop, you will encounter a dominating soundscape enhanced the light show.
This piece challenges the senses of the audience, piquing their curiosity about the connection between sound and light and the way we perceive our surroundings. Here, the interplay between light and sound forms a dynamic whole in constant flux.
Loop is a continuation of Søren Lyngsø Knudsen's earlier installation pieces with multi-channel sound and audio reactive visuals, and it is a composition for 32-channel audio systems in itself.
ABOUT ARTIST
Søren Lyngsø Knudsen (born 1983) got his degree in Electronic Music from The Royal Academy of Music in Aarhus in 2009.
THANKS TO
Statens Kunstfond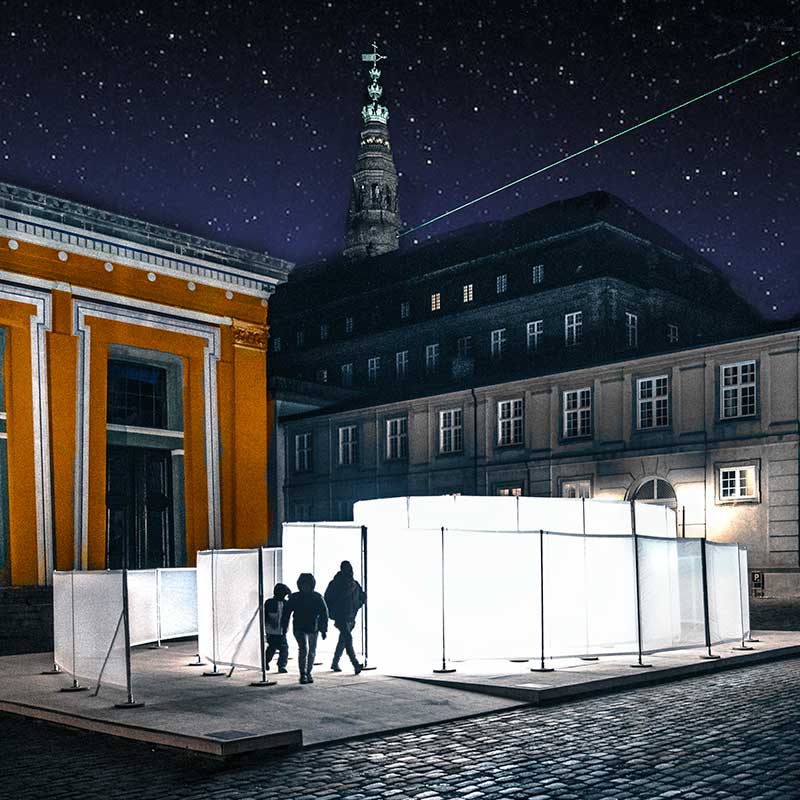 THE ORACLE
WHO: Marie Nørgaard Nielsen (DK)
WHERE: Bertel Thorvaldsens Plads
(In the area of the Copenhagen Cultural District)
WHEN: kl. 17-23
ABOUT THE LIGHTWORK
The Oracle is a visitor-engaging light work. Semi-transparent white walls form a spiral construction that you can walk into. Inside the Oracle you gradually disappear away from the city pulse. The walls get higher and higher and the light intensify the closer you get to the center of the spiral. Here you are bathed in a powerful ocean of light.
The movement into The Oracle is a movement into your own wisdom.
The Oracle is within yourself – the answers lie in your intuition. 
ABOUT THE ARTIST
Marie Nørgaard Nielsen is a Danish artist working large-scale with textile pieces and three-dimensional structures. Over the last 7 years, the Danish Art Foundation has supported Marie's work. With her art, Marie is trying to create a pathway to our hearts: to fill the viewer with light and a glimpse of our inherent connection to the divine.
https://www.instagram.com/marienoergaardnielsen
THANKS TO
Statens Kunstfond, Grosserer L. F. Foghts Fond, Brother Brother & Sons, Jes Hermann Saatterup, Thorvaldsens Museum.
Created with special support from lighting company BB&S.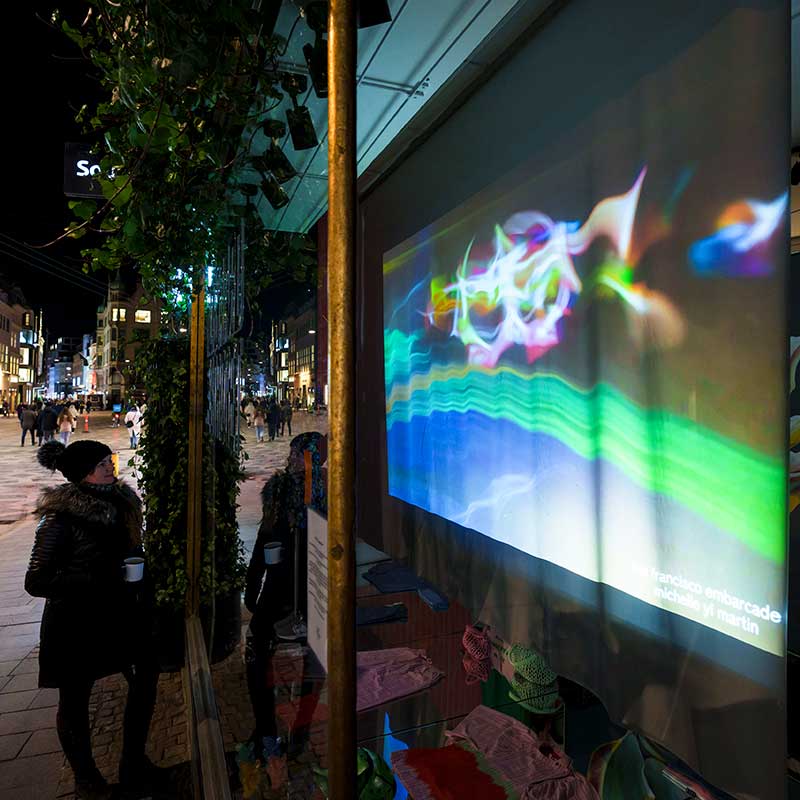 WOVEN LIGHT
WHO: Michelle Yi Martin (US)
WHERE: Nørgaard på Strøget, Amagertorv 13 – 15, 1160 Copenhagen
WHEN: kl. 18-23
ABOUT THE LIGHTWORK
Woven Light is a playful conversation between weaving, light, culture, and space. The compositions are created in nearly real-time from various locations in the artist's home city of San Francisco. Made of only sunlight reflected onto woven materials, the imagery is sculptural, prismatic, amorphous, and dynamic. California sunlight beamed to Denmark's night. 
ABOUT THE ARTIST
Michelle Yi Martin is a multi-disciplinary artist and self-taught weaver, born in Seoul, South Korea and based in San Francisco. She has exhibited at the Textile Center in Iceland; Ovartaci Museum in Denmark; Nationale in Portland, OR; Round Weather in Oakland, CA; the Berkeley Art Center, CA; Grove Collective in London, UK; and Venetia Initiatives in New York. Her practice of light weaving was featured as part of the Anni Albers exhibit at the New Britain Museum of American Art, New Britain, CT. And she was a contributing artist at Black Mountain College, Ashville, NC. Yi Martin's work with the artist collective ESG was featured on the Manhattan Bridge Anchorage in Dumbo, Brooklyn, as part of the Light Year installations in New York (2021). Her current solo exhibition, In Medias Res, is on view at Municipal Bonds Gallery in San Francisco. Future projects include a permanent light installation at Pier 70 in San Francisco (2023). Michelle Yi Martin is represented by Municipal Bonds.
THANKS TO
Mads Nørgaard
FLUCTUS
WHO: Mads Buus (DK)
Sound design: Alexander Clerici (DK)
WHERE: Børsen, Slotsholmsgade 1, 1216 København
WHEN: Kl. 18-23 – plays every followings minutes: 00 – 20 – 40
ABOUT THE LIGHTWORK

The 3D mapping piece Fluctus at the iconic Old Stock Exchange of Copenhagen is a visual story about the rich history of the building and its location near the water.
Fluctus is a visual abstraction of water, building upon earlier examinations of the fluid dynamics of water.  At home, water is an innocent thing that flows from our taps whenever we please, but due to the effects of global warming, water has the potential to become our downfall. Fluctus gives us a lot to think about regarding the current issues with our water resources.
Fluctus thus provides an opportunity to reflect on the current issue of water as a resource. The visual expression makes use of equations from physics, animated content and a 3D scan of the facade of the Renaissance building. This is supported by a sound universe that studies the effect of sound in water. Although sound travels faster through water, there is an understanding that it goes slower in the depths of the ocean. These tempi are examined using strings that stretch, textures that expand, and large sound waves that splash up to the water surface.
ABOUT THE ARTISTS
Mads Buus holds a degree in Graphic Communication with a thesis in Art Direction from DMJX. He has previously designed visuals for live music and created light art, interactive artworks and virtual productions.
Alexander Valentino Clerici is a trained sound designer specializing in interaction design, created music & sound design for museums made sound art and is a performing musician.
THANKS TO
Barco
Dansk Erhverv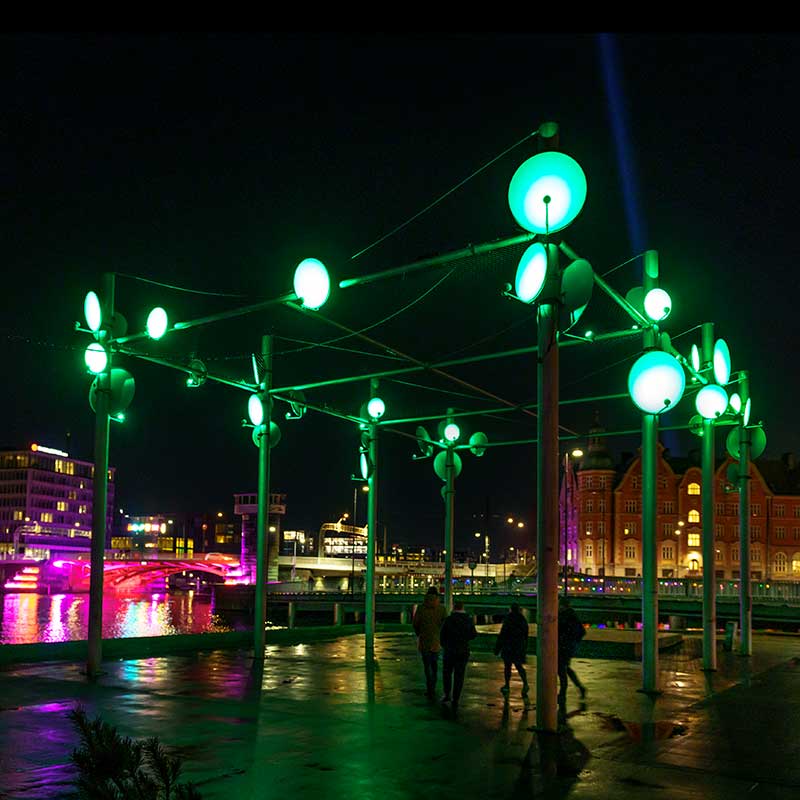 COMMS
WHO:
Artist: Hans E. Madsen (DK)
Lighting designer: Frederik Dahl Hougs (DK)
WHERE: Knasten på Havnegade 14, 1058 Copenhagen k
WHEN: Kl. 17-23
ABOUT THE LIGHTWORK
We humans are surrounded by signals, constantly streaming past us and through our bodies. In this digital age, we are everywhere and nowhere at the same time. Our time is a mishmash of virtual and factual relations and events, and humans are connected to an ever-increasing degree by an invisible network of communication tools. The work Comms illustrates the invisible stream of signals using iconic satellite dishes, which make us aware that we are subjected to a constant barrage of radiation on a daily basis.
The satellite dishes in the piece represent an information central keeping track of everyone and everything, and it evokes the idea of a military surveillance installation, creating a feeling of being unable to escape the clutches of constant supervision. Comms illuminates the invisible, as it were, and shows the digital connection between us all across time and space.
ABOUT THE ARTISTS
Hans E. Madsen (born 1958 in Denmark) holds a degree from Aarhus Art Academy in 1977-1981 and Art Academy of Ljubljana, Slovenia, in 1980-1982.  For many years, his artistic work has manifested itself as a number of notable works in the public sphere, all using light as a medium. Almost all of them were created for specific locations, often inviting the audience to interact with them. 
Frederik Dahl Hougs is a lighting designer from The Danish National School of Performing Arts. 
THANKS TO
Supported by Danish Arts Foundation Production Committee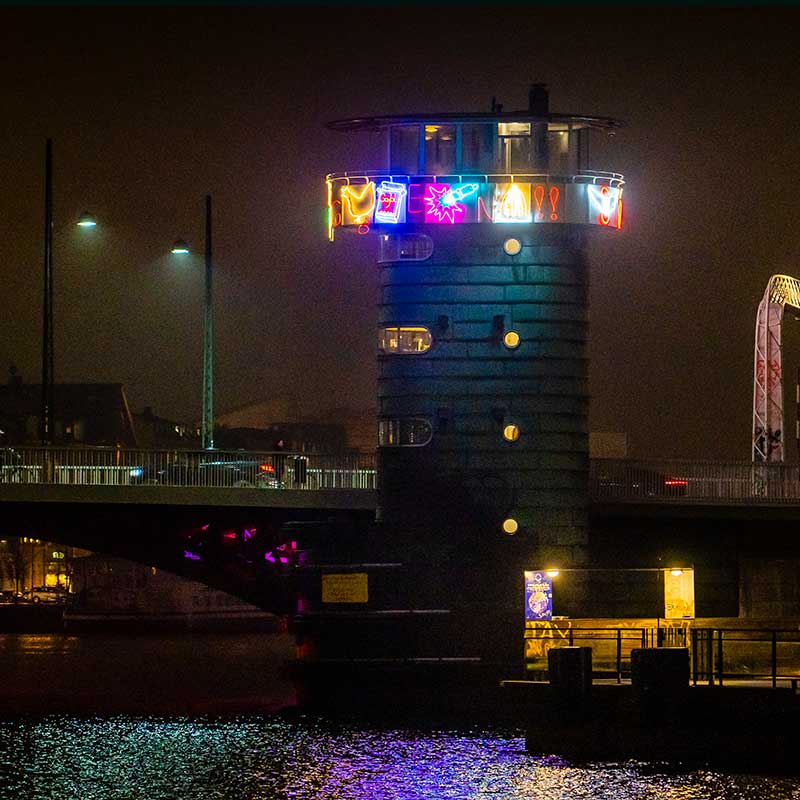 KØBENHAVNEON
WHO: Thomas Lewin og Stangdennis (DK)
WHERE: Kulturtårnet, Knippelsbro 2, 1400 Copenhagen K
WHEN: Kl. 17-23
ABOUT THE LIGHTWORK
Københavneon is a collection of some of the city's most iconic neon signs gathered in one central and historic location, casting light over the harbor.
Beginning nearly a century ago, Copenhagen merchants embraced neon as a way to declare their wares in the dark dead of winter. Whimsical, fanciful, with touches of humor that could put smiles on the lips of passers-by, these neon signs became sanctioned street art.
Tickled by his childhood memories of hens laying eggs in lakes, frogs jumping around towers, and licorice melting in the rain, Thomas Lewin has in collaboration with street artist Stangdennis revisited those artworks through Stefan Outzen and Helena Helmer's book Neon, a quintessential photo history of Copenhagen's neon art, and created a celebration to the historical neon signs of Copenhagen. 
In a historical nod to its factory on Amager, Signify has generously donated the Philips Hue Outdoor Lightstrips used to realize Københavneon.
ABOUT THE ARTISTS
"Stangtennis" as street art has been around since 1999, made by none other than Stangdennis. Stangtennis stickers can be found all over the world. Stangdennis thinks that art is a lot of fun, and hopes you agree.
Before moving to Copenhagen to study the intricacies of lighting design at Aalborg University, Thomas Lewin was a post-production sound engineer in New York City, mixing for film, radio, and television. He loves finding joy in the light.
Signify is the world's leading lighting manufacturer and the company behind the premier brands in intelligent lighting for the home; Philips Hue and WiZ Connected.
THANKS TO
Signify
Culture Tower
All original owners of neon signs and logos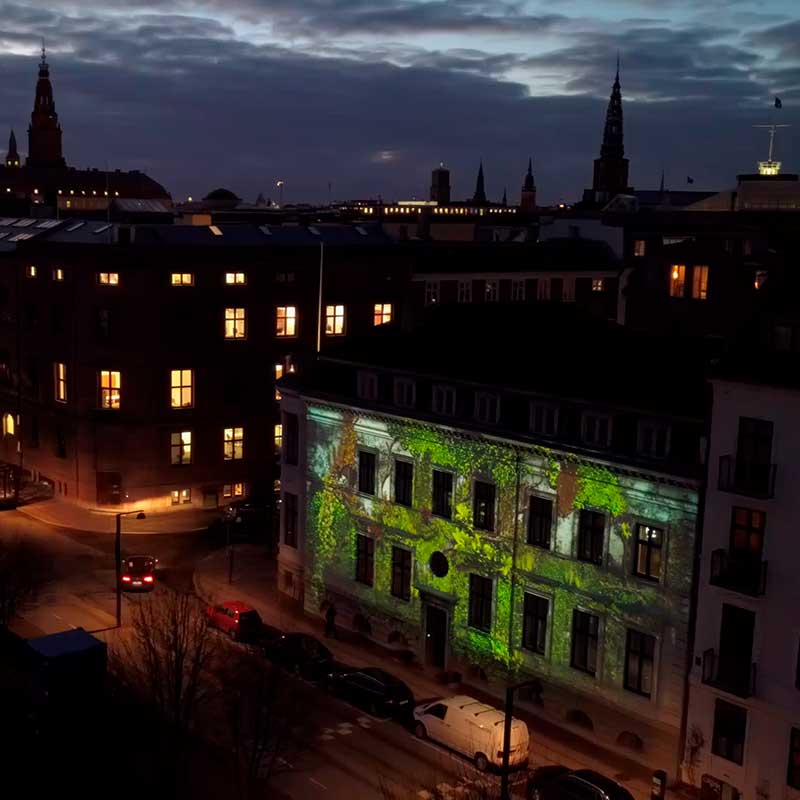 TRUST NATURE
WHO: Umage x Hackstage (DK)
WHERE: Havnegade 29, KBH K, The facade of Umage
WHEN: Kl. 05-07 & 17-23
ABOUT THE LIGHTWORK
A wealth of green plants and flowers in vivid colours spout up on the front of the building at Havnegade 29 in the 3D mapping piece Trust Nature.
This work tells a visual story about how nature would bloom and make the world more beautiful, if only humanity gave it the necessary space and tranquillity. Its goal is to awaken an emotional response within the observer that could turn thought into action, highlighting the need for us to make a bigger effort for nature's sake. Trust in nature!
Trust Nature was created using projection mapping, a technique that uses 3D mapping to chart the surface of a building using 3D/spatial recognition, which can create very lifelike effects on the physical elements that the light projection is projected onto.
This piece is an inclusive, progressive light piece, whose ever-changing colours, luminosities, atmospheres and movements are highly compelling. The work is place alongside Copenhagen Harbour, where you can enjoy it from several different angles, both up close and from the other side of the harbour.
Design company UMAGE and VFX collective Hackstage combine a love for the environment with custom technology that challenges the senses and dissolve perceptual limits. The result is a visual ode to nature itself.
ABOUT THE ARTISTS
UMAGE is a Danish design firm combining aesthetics and functionality with exquisite artisanship and a big focus on creating environmentally friendly solutions. When we design lamps and furniture that can last a lifetime, we allow nature to bloom and regain its power.
Hackstage is an audio-visual research and development laboratory specializing in visual art and technical solutions for stage and performance art. Hackstage consists of a broad network of artists a multitude of different disciplines, including engineers, philosophers, A/V technicians, game designers and computer scientists.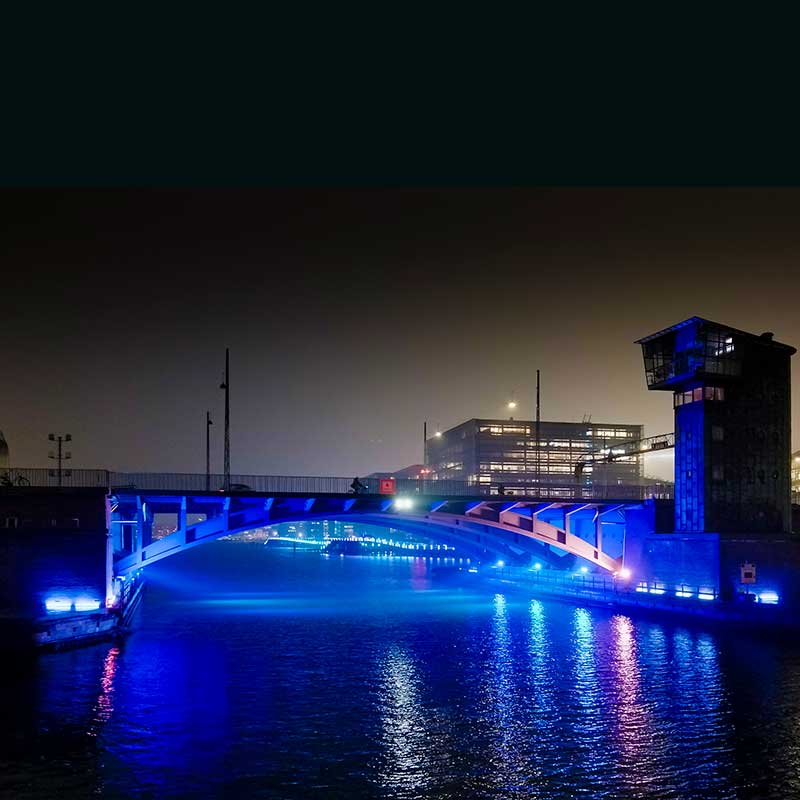 EOS/NYX
WHO: Mads Vegas 
WHERE: Langebro og Knippelsbro – under the bridges
WHEN: Kl. 17-23
ABOUT THE LIGHTWORK
With the Greek mythological tale of Nyx and Eos as a starting point, the iconic bridges Langebro and Knippelsbro are staged into a tale of day and night.
Mythology tells the story of Nyx, the goddess of the night, who at the end of the night meets Eos, the goddess of the morning light, in an eternal battle for the light. In Mads Vegas' interpretation, Langebro with its night blue colors is Nyx, while Knippelsbro with the morning red light is Eos. During the festival, the two bridges in the dark hours will fight a battle where the light is reflected in the water and can be enjoyed from a distance.
ABOUT THE ARTISTS
For 25 years, Mads Vegas has worked professionally with lighting design and lighting art in all guises, both nationally and internationally, where he has created lighting for theater, at festivals, for the fashion and music industry and at restaurants. He has exhibited in Copenhagen, Washington DC, Rome, London and Berlin, and is participating for the fifth year in a row with light works at the Copenhagen Light Festival. Mads Vegas has previously participated with the works: Eternal Sundown, Bridge over Bubled Water, Aurora Sky, WAUWW- What An Unusually Wonderful Wave, Kaos / Eros / Ro. In 2018, he received the Louis Poulsen Candle Award for Eternal Sundown.
@madsvegaslighting
www.madsvegas.dk
THANKS TO
Vanpee
Nordic Rentals
Malmbergs Elektriska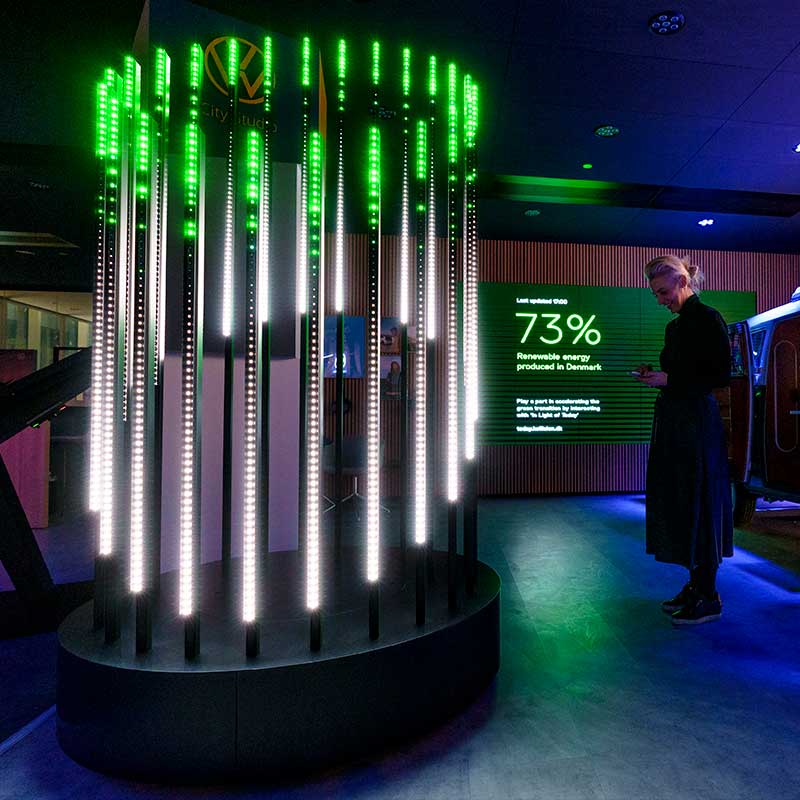 IN LIGHT OF TODAY
WHO: Kollision, Clever and Volkswagen City Studio
WHERE: Volkswagen City Studio – Vesterbrogade 1A, 1553 København
WHEN: Kl. 17-23 (You can see and experience the work from outside)
ABOUT THE LIGHTWORK
Green energy, climate-friendly energy, sustainable energy, and renewable energy – terms that most people are becoming very familiar with. 
In Light of Today is an interactive installation that visualizes how much renewable energy there is in Denmark right now. 
The installation is created by the design office Kollision in collaboration with Clever and Volkswagen City Studio and is designed in the hope that if we can band together and find a way to a greener future. Clever and Volkswagen aim to accelerate the switch to e-mobility and hope to motivate and inspire people to participate in the green transition. 
And seen in the light of today – what do you want to do tomorrow? 
To interact with the piece, scan the QR code next to it or go to today.kollision.dk
ABOUT THE ARTISTS
The electric car is an important choice when it comes to the green transition. And that choice has an even greater impact when the power the electric car runs on is actually green.   
Volkswagen
With the strategy "Way to Zero", Volkswagen AG are determined to reach a goal of being completely climate-neutral by 2050. Electric mobility will be upscaled and the production, including supply chains and the operation of electric cars will be made climate-neutral to make an impact on the environment. In addition, there will be a consistent recycling of high-voltage batteries from end-of-life electric cars.   
Clever
Clever is Denmark's leading charging operator. With built-in intelligent charging, Clever's charging boxes automatically charge the car at night when there is less demand for electricity and often an excess of renewable power in the grid.  
And now Clever also supplies electricity to both electric cars and homes with the electricity company Clever Power. Clever Power also ensure that more renewable energy comes to Denmark, by constructing a new solar park.   
Kollision
The design office Kollision combines architecture, art and novel technologies with a focus on the users' experience. They design physical spaces and exhibitions based on their custom developed digital platforms, which controls dynamic light and interactive communication. Kollision works in all scales from the small interactive light installation over national visitors' centres to integrated experiences in buildings and urban design.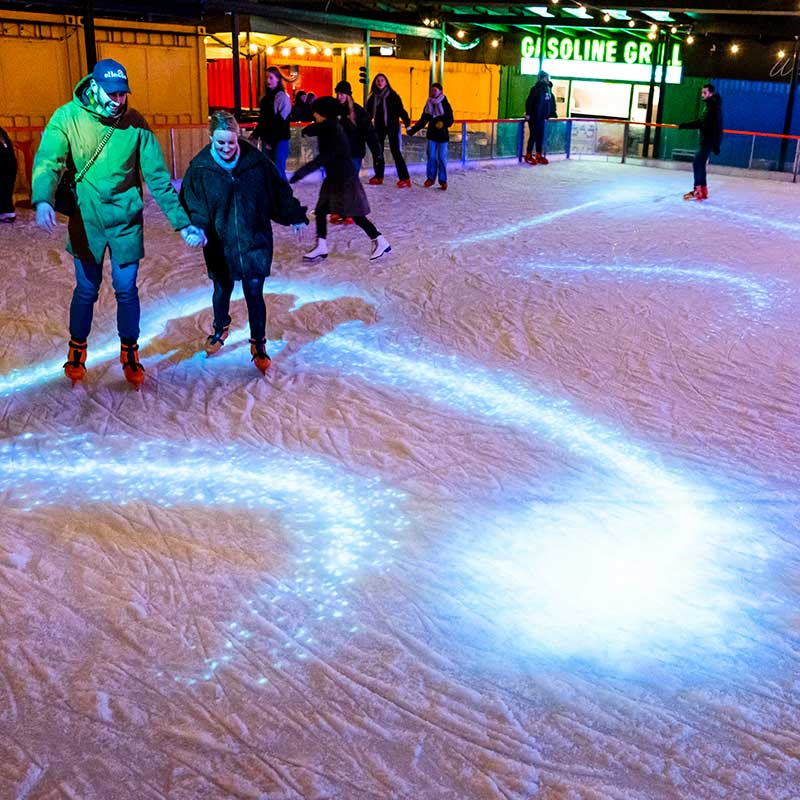 ICE BREAK
WHO: Morten Just X Broens Skøjtebane
WHERE:  Broens Gadekøkken, Strandgade 95, 1401 Copenhagen
WHEN: Kl. 17-23
ABOUT THE LIGHTWORK
A playful projection invites festivalgoers to try a fun and unique experience on the ice rink. Little light sources skitter across the ice like tiny living creatures, threads of light trailing behind them. From time to time, they will break through the ice and continue moving underneath it.
The piece projects an animation onto the ice rink using two projectors placed far above the rink.
The animations have been created as a collage of small video sequences that have been combined with 2D and 3D animation.
ABOUT THE ARTISTS
Ice break is a work that creates a playful interaction between ice, light and ice skaters. Spectators on more solid ground will also get a visual experience. Chase the light on your skates, but resist the urge to follow, as the light breaks the ice.
Morten Just graduated from Design School Kolding in 2006, where he studied at the Institute of Interactive and Industrial Design. During the last 15 years, he has worked with video and animation as a set design element in the theatre, exhibitions, movies and much more. His work includes the video set design for the ballet "The Snow Queen" in Tivoli and several video pieces for the Nick Cave exhibition "Stranger than Kindness" in The Black Diamond.
THANKS TO
Broens Gadekøkken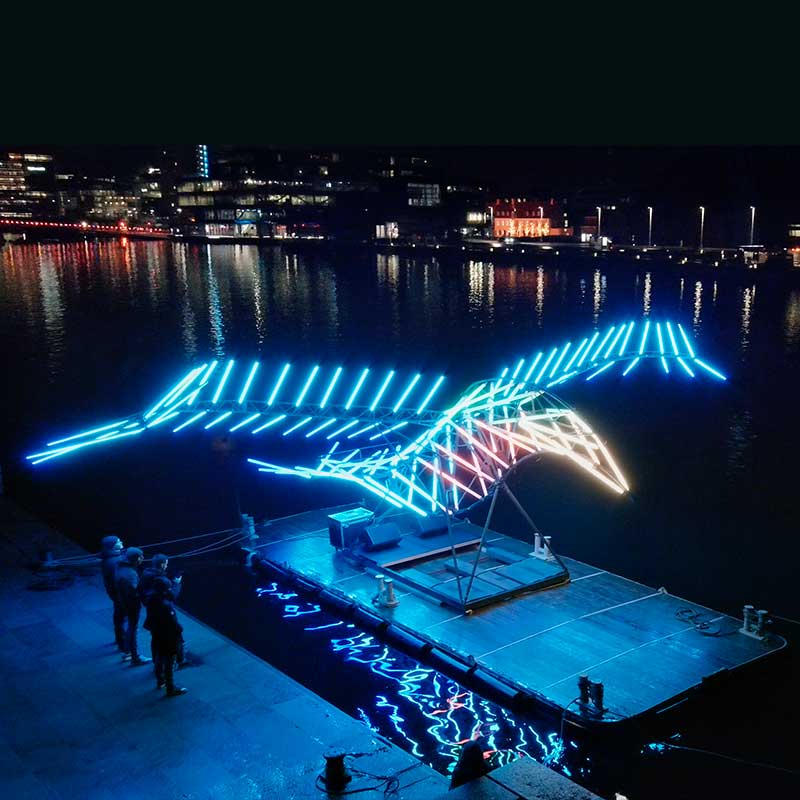 PHENIX
WHO: Julien Menzel (FR)
WHERE: By the Circle bridge, Strandgade
WHEN: Kl. 17-23
ABOUT THE LIGHTWORK
Like the phoenix of legend, Phenix is a piece in the shape of a giant bird. In an interplay between light and sound, this work transforms itself into several different animal species on the brink of extinction. Phenix is sending a message about hope, life after death and the possibility of rising from the ashes.
11 metres long, 15 metres wide and 5 metres tall, Phenix is truly a large-scale light sculpture. The animated lighting of the installation creates dynamic shapes and colour transitions, and the whole thing is accompanied by an audio-visual soundscape consisting of birdsong and atmospheric ambient sounds.  Phenix invites all festival guests in under its wing, where they can enjoy a spectacular experience in light and sound. 
ABOUT THE ARTISTS
Julien Menzel is a French artist with a background in architecture. Since 2012, he has been creating light-based works and interactive installations designed to tickle the senses of spectators and invite them to lose themselves in the experience of light. 
THANKS TO
Samsung
By & Havn
ATP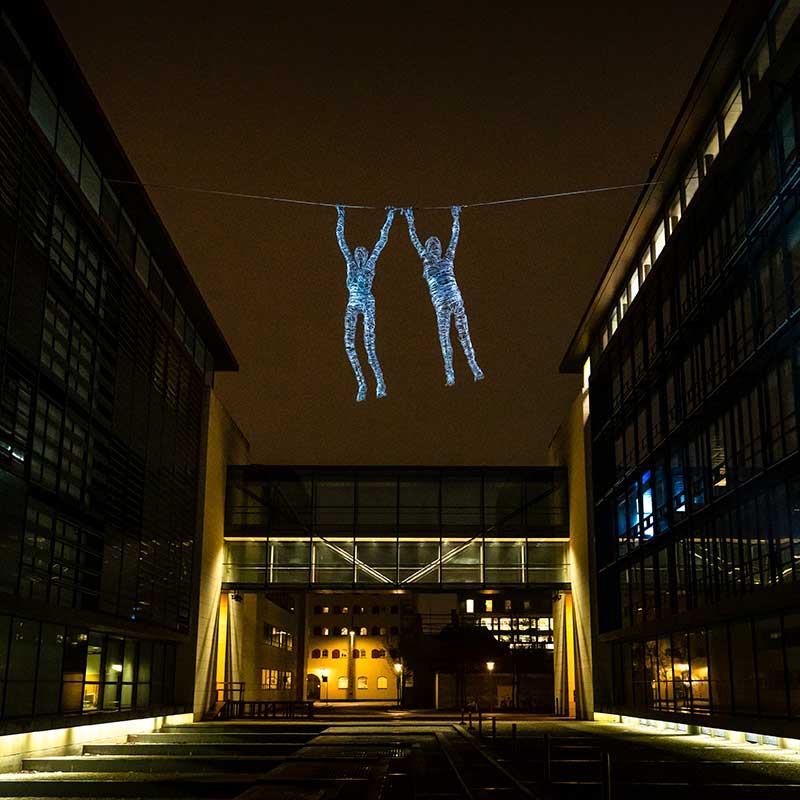 UNTERWASSERTAGE
WHO: Julian Angerer, Arno Dejaco, Anna Heiss, Clara Mayr, Nora Pider 
WHERE:  Between the buildings, Nicolai Eigtveds Gade 4-6, 1401 Copenhagen
WHEN: Kl. 17-23
ABOUT THE LIGHTWORK
Between heaven and earth, two people "dangle on a string". Between top and down, without the possibility of moving back to the bottom, up over the roof or to each other, maybe into each other, they are stuck in an eternal dialogue loop. In the hopeless hanging around, the two neurotic wire racks become two archetypal representatives of a modern westerner: they drift along in the eternal "now what?". 
The abysmal comic dialogues of Arno Dejaco are put into the mouth of two iced performers. The atmospheric installation is embedded in a soundscape by Julian Angerer.
ABOUT THE ARTISTS
info on the way
THANKS TO
ATP
Water Light Festival Brixen
Brixen Water Light Festival in May show a Danish installation, as part of a collaboration with Copenhagen Light Festival.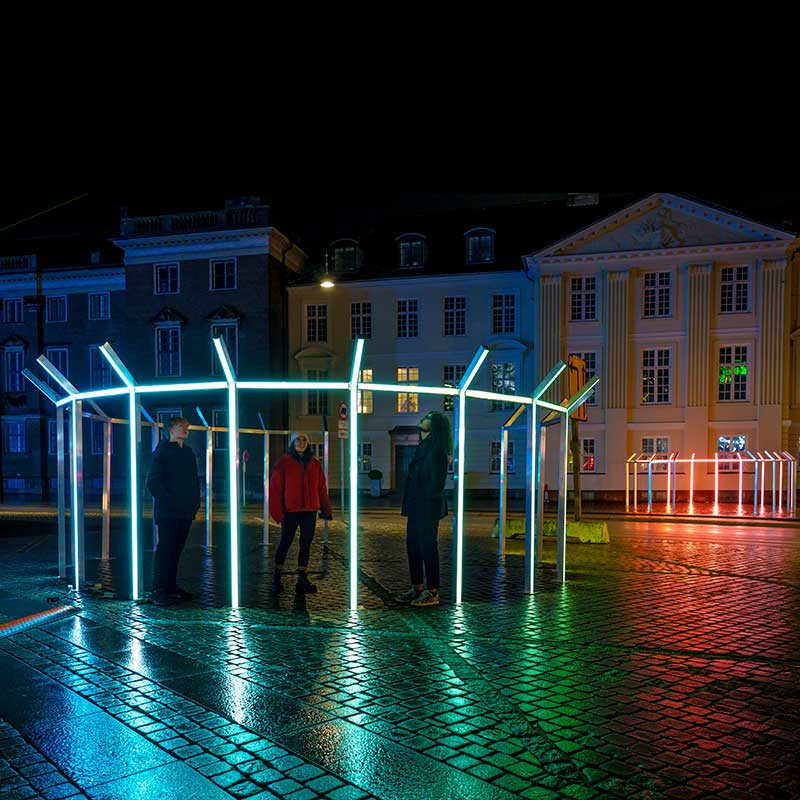 BORDERS
WHO: Studio Jakob Kvist
WHERE: Kgs. Nytorv 5, v. Harsdorffs Hus, and on Kgs nytorv
WHEN: Kl. 17-23
ABOUT THE LIGHTWORK
Borders is a light sculpture based on barriers as territorial limits and obstacles. Fences and barriers are usually tools that separate, divide and create enclosed spaces. But Borders removes the fence from its normal function and places it as a shining standalone object in the middle of the urban space. This makes the fence a central actor in a dialogue between context and observer.
The work consists of an aluminium frame covered in LED light tubes, arranged in a repeating structure resembling a simple line drawing of a fence. The shape is open, so the observer is always free to move through the fence. Borders contains of a number of conflicting symbols, leaving the interpretation to the observer. Who is inside, who is outside? It is an open conversation between artwork, observer and location.
ABOUT THE ARTISTS
Studio Jakob Kvist works on location specific works of a temporary and permanent nature, with light as the central element. Studio Jakob Kvist works in the intersection between art, design and architecture, creating works that initiate a visual conversation with their specific context, making the physical space and visitors into core elements in the experience of the work. Studio Jakob Kvist has previously participated with art pieces in Copenhagen Light Festival. These include Dichroic Sphere (2021), Gates of Diversity (2021), Chromatic City (2020), The Pillar (2020), Chromatic Fields (2019) and Inside/Out (2018)
THANKS TO
Karberghus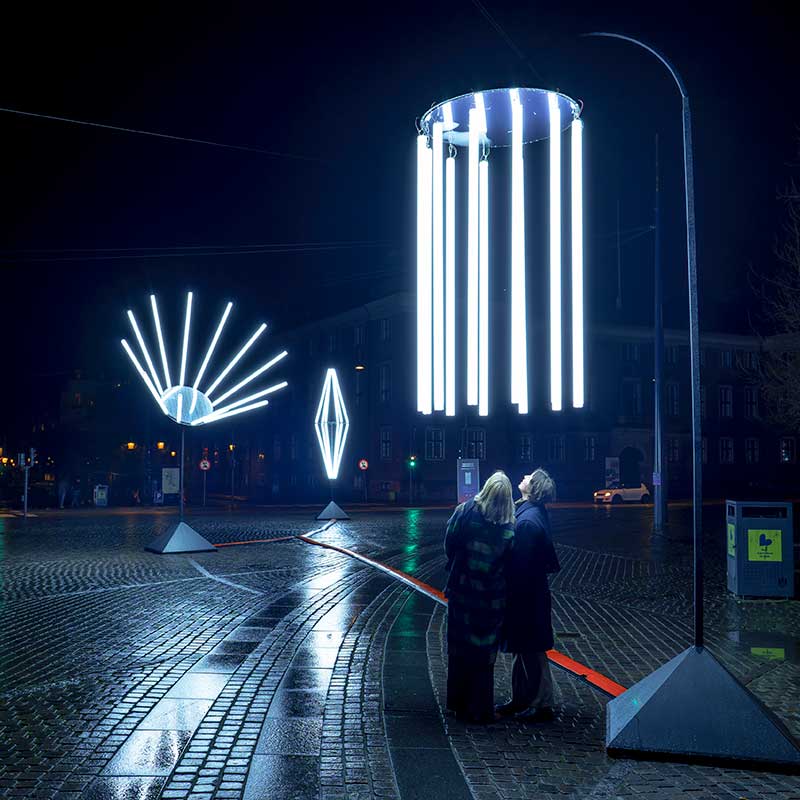 SOLEILS
(OBS TAKEN DOWN DUE TO STORMY WEATHER)
WHO: LUX – Simon Chevalier & Lucile Cassassolles (FR)
WHERE: On Kgs Nytorv near the French Embassy (Kgs Nytorv 4)
WHEN: Kl. 17-23
ABOUT THE LIGHTWORK
After their light work L'ETOILEon Copenhagen Light Festival in 2021 the art group LUX once again turns to the sky for inspiration. Here they would like to pay tribute to celestial objects because they are sources of reverie and hope and have been part of our common culture since the dawn of time. This year's artwork SOLEILS symbolizes the rise and fall and illustrates the cycle of life and the earth. The 3 pieces evoke a captivating, beneficial, indulgent light, whose warming radiance is rare in winter. We all have the same stars above our heads, we live on the same planet, we are united, linked, interconnected. LUX wants to send a message of optimism, and strength. As the Sun and all the living are connected to it on earth, what falls down at the end of the day, will always rise again the next day, and again, and again. 
ABOUT THE ARTISTS
LUX is an art group consisting of Simon Chevalier & Lucile Cassassolles who are based in the south of France, near the Alps. Since 2016, Simon creates light sculptures and Lucile produces and manages the art pieces. In contrast to a world saturated with fast, colorful, and loud solicitations to spectators, they choose to present simple, static, black and white art pieces. They dream of a calmer, quieter and cleaner future and use light and electricity to promote a new path for our time. 
THANKS TO
Institut Français du Danemark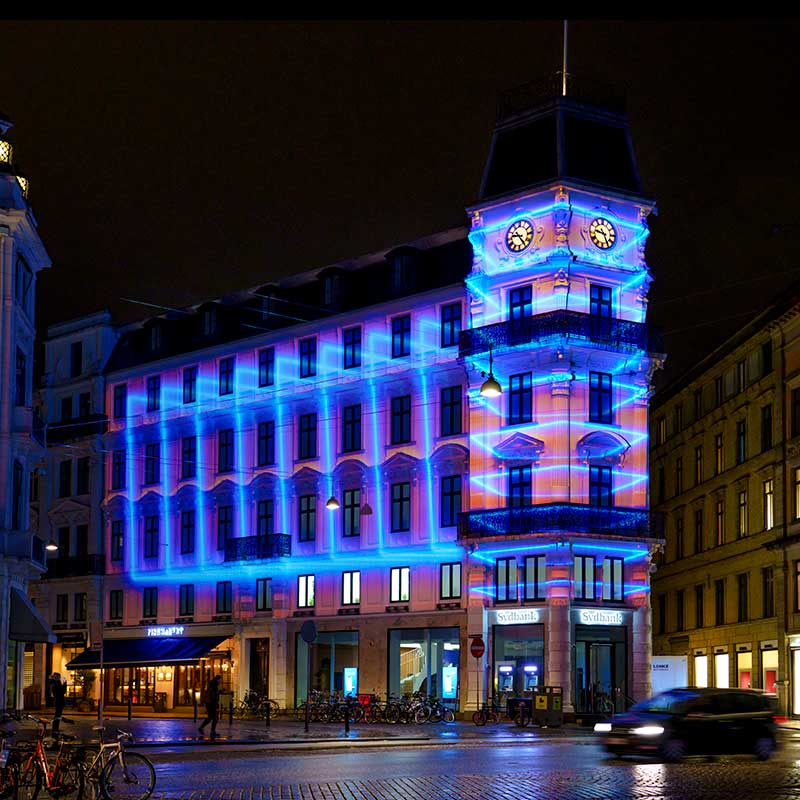 ÅNDEDRAG
WHO: Morten Just
WHERE: Sydbank, Kgs Nytorv 30
WHEN: Kl. 17-23
ABOUT THE LIGHTWORK
The 3D mapping piece Åndedrag (Breath) breathes new life into the Sydbank building on Kongens Nytorv. People often say that a metropolis has a life force and a pulse of its own. A pulse is rhythmic and aggressive, while breathing is circular and without beginning or end.  Using animations reminiscent of cyclic breathing, the work temporarily makes the building come alive and breathe along with the city.
The 3D animation of this piece was created based on a 3D scan of the façade of the building, making it possible to project the graphics onto the building in a way that perfectly matches its structure, details and ornamentation.
ABOUT THE ARTISTS
Morten Just graduated from Design School Kolding in 2006, where he studied at the Institute of Interactive and Industrial Design. During the last 15 years, he has worked with video and animation as a set design element in the theatre, exhibitions, movies and much more. His work includes the video set design for the ballet "The Snow Queen" in Tivoli and several video pieces for the Nick Cave exhibition "Stranger than Kindness" in The Black Diamond.
THANKS TO
Sponsored by Sydbank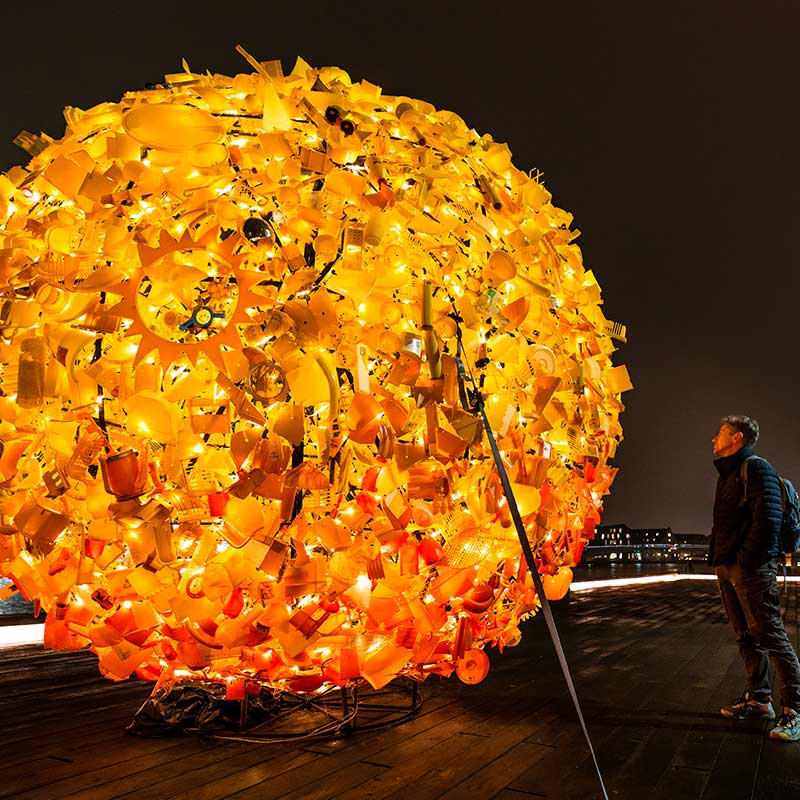 A DOZEN SUN
WHO: Maj D & HagbArt
WHERE: Sankt Annæ Pl. 36, 1250 København – Wooden deck in front of Skuespilhuset
WHEN: Kl. 17-23
ABOUT THE LIGHTWORK
In the summer of 2021, citizens in Odsherred handed over approx. 40 m2 yellow and orange plastic in special containers. With the help of young volunteers from 8 different countries, all 5000 pieces of plastic have been washed, cut, drilled in holes and then mounted on the structure. The result is the 3.6 meter high spherical light sculpture A Dozen Sun.
From a distance, the work appears as a bright yellow sun hovering just above the ground. If you move closer, you can see all the small pieces of recycled plastic, which in a color-sorted system are mounted on the circular steel construction.
The work's title A Dozen Sun refers to the physical dimensions of the sphere, almost all of which are divisible by the number 12 – a dozen. At the same time, the 12-figure supports the cyclical symbolism to which the work physically refers with the recycling of plastic waste. The work thus calls for a special reflection on our climate and environment, where plastic is one of the most controversial items in the climate accounts. With recycled plastic as the focal point, A Dozen Sun marks both an end and a new beginning, where the work as a life-giving sun creates new hope and light for the future.
ABOUT THE ARTISTS
Maj D is an environmental artist and works with citizen-involving art projects with a focus on nature and the environment. Martin Hagbart Madsen is a trained ship carpenter and has been responsible for the calculation and construction of the steel skeleton.
Watch the creation process and share your own photos on Instagram: #adozensun and @maj_d_art
THANKS TO
Elektricom
Tengslemark Smedie
STARK
Vestervang Byggemarked
Den Rytmiske Højskole i Vig
Skuespilhuset
Ofelia Plads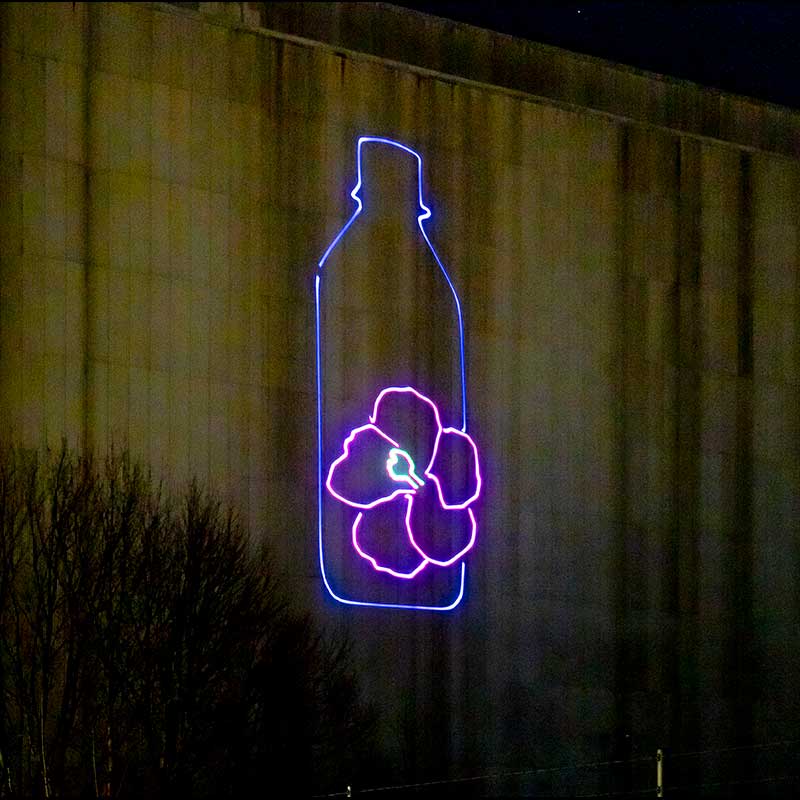 MY LIQUID REACH, OR IN THE MURK
WHO: Kirke Hundevad Meng (DK)
WHERE: Refshaleøen, The side gable of the second largest B&W hall S1, (close by) Refshalevej 177 A
WHEN: Kl. 17-23
ABOUT THE LIGHTWORK
My Liquid Reach – Or in the Murk examines our relationship with all the water that surrounds us and passes through us. Water is much more than a neutral, clear, liquid element, devoid of taste and scent. Water has a rich history, and it is just as much of an idea as it is a substance. As our perspective shifts from the close sphere of our body to our waterways, the oceans and the ground water, we see the water and the body transform into an abstract, symbiotic matter.
The piece consists of computer generated and hand-drawn animations, projected by two full spectrum RGB colour lasers. The laser animations in the artwork consist of figurations, where diagrams, such as the hydrological cycle, become a body of water, and small microplastic-like particles turn into stars in the sky. My Liquid Reach is a show about reach and a poetic declaration of love to our interaction with the water on our planet (in equilibrium).
ABOUT THE ARTIST
Kirke Meng graduated from the Royal Institute of Art in Stockholm in 2015. Through text, performance and lighting installations, Meng works with juxtaposition of visual and linguistic worlds. Her hand-drawn laser animations could most recently be experienced projected at Roskilde City Hall in the summer of 2021.
THANKS TO
Refshaleøen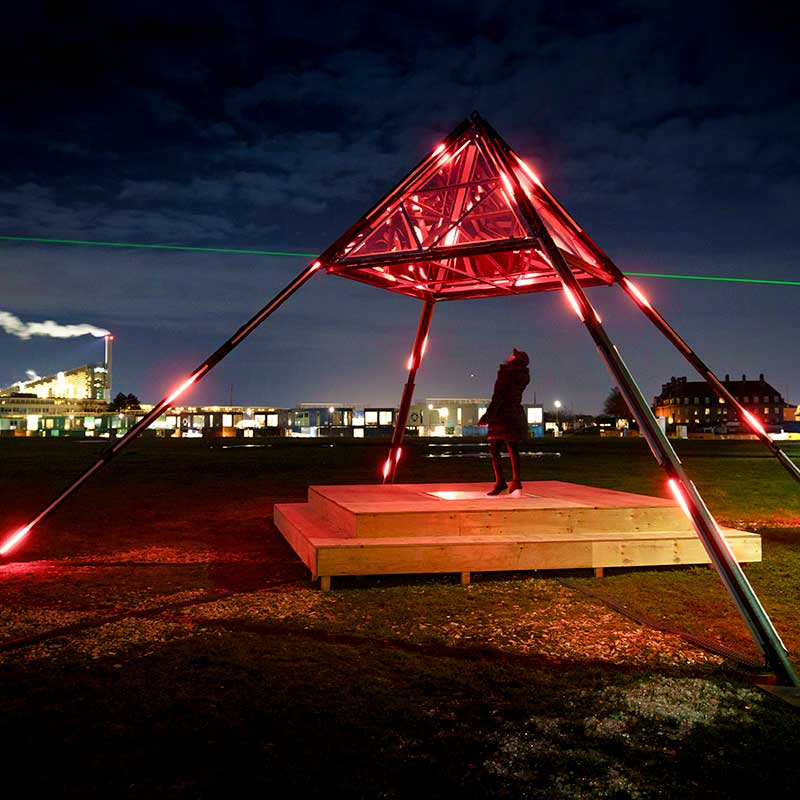 TRANSCENDENCE
WHO: Maani Nikdel, Lily A. Nissen & Michael M. Nissen (DK)
WHERE: Refshaleøen, Sønder Hoved, v. The harbor bus stop and Urban Rigger (close by) Refshalevej 163A
WHEN: Kl. 17-23
Light: Martin Professional
Sound: Septon group
Music:  Bjørn Svin
ABOUT THE LIGHTWORK
What happens when you immerse yourself in light, sound and space? Dive in and see for yourself if you dare. Transcendence is a multi-sensory experience that makes you for a moment experience yourself in an almost weightless and unforgettable transcendental state. Feel and sense the surrounding journey that you can experience in this lighting installation. Where philosophy, ancient rituals and mystery meet. Stir in the abyss of infinity – this spacious ride is an illusion that repeals the laws of physics.
Transcendence is an immersive installation made of Martin Professional Dynamic lights and especially composed music from Bjørn Svin. The gigantic pyramid construction is made from mirrors and LED panels displaying video content to give an amazing experience. The see-through floor panel allows people to walk on it and experience something completely unexpected when the infinity video beneath them sucks them into the lightbox and immerse them inside theTranscendence.
Transcendence is a gateway to the stars.
ABOUT THE ARTISTS
Maani Nikdel is a self-studied Photographer since 2008 and has just started designing furniture and illuminated objects. Maani has a Master in Computer Science and has been working in IT fields since 2009. In 2016 he joined Martin professional as an IT Site Administrator.
Lily Akhavan Nissen is an award-winning designer with an MA. in Industrial Design. She is a UX designer & Researcher with a Product & Experience Design background. As a designer, she is interested in new technologies, and innovative solutions.  
Michael M. Nissen has an MA. in Industrial Design and a background in Furniture and Product Design. With a love for creative thinking and hands-on experience, his work spans a wide range of disciplines including sculpture, model making, imaginary world, drawing, and techniques. 
THANKS TO
Refshaleøen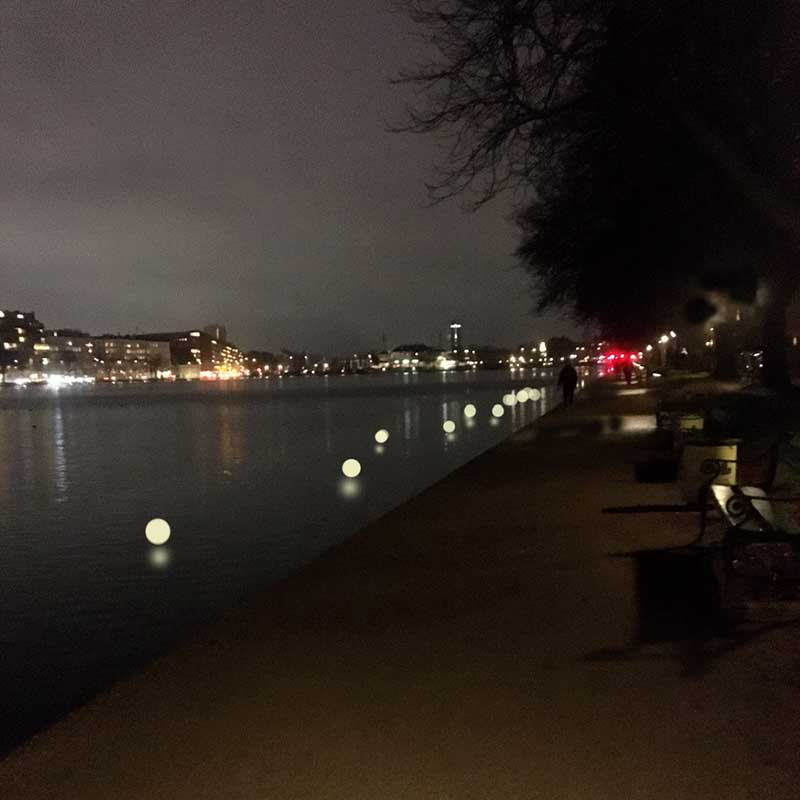 DARKNESS: THE WATER IS BLACK AS NIGHT
WHO: Carlo Volf (DK)
WHERE: Peblinge Lake, 2200 Kbh N
You can start from Søpavillionen or from Dronning Louises Bridge
WHEN: Kl. 17-23
ABOUT THE LIGHTWORK
The work questions the use of artificial light today. Do we really use too much artificial light and can we really get more out of less light? The work focuses on the dark and how it can be better utilized, as well as how it affects us as human beings.
With the use of 50 LED lamps which are connected to each other and controlled in a light sequence, a dim illumination of the lake is created. The lighting draws the audience's attention towards the lake and the dark water, as well as the magic that the dark evening sky creates. Existing lighting along Peblinge Lake is dimmed and dimmed so that the plant and Peblinge Lake can stand out
ABOUT THE ARTIST
Carlo Volf, MAA, is a Danish architect. He works in an intensive affective department, NID, as a researcher at the Psychiatric Center Copenhagen, Copenhagen University Hospital and is also a co-founder of Daylight Academy. His work focuses largely on daylight, lighting and ventilation in the built environment, where his work is rooted in the health aspects of architecture. He has worked at several of the new hospitals, including Nyt Herlev Hospital, Psykiatrisk Center Ballerup and Ny Psykiatri Bispebjerg in Denmark. Most recently, he won the Danish Design Award 2021 in the category "Better learning" with the new, demand-driven natural ventilation system NOTECH, which has been developed for schools.
X COPENHAGEN LIGHT FESTIVAL
The festival collaborates with several educational institutions that work with light and art in one way or another. We do this because we want to support the lighting designers and artists of the future. See the various study projects on the program for 2022 below.
We collaborate with The Royal Academy, AAU (Aalborg University), KEA (Copenhagen Business Academy), and Ungt Lys (Ungt Lys is a group of young members of DCL – The Danish Lighting Center).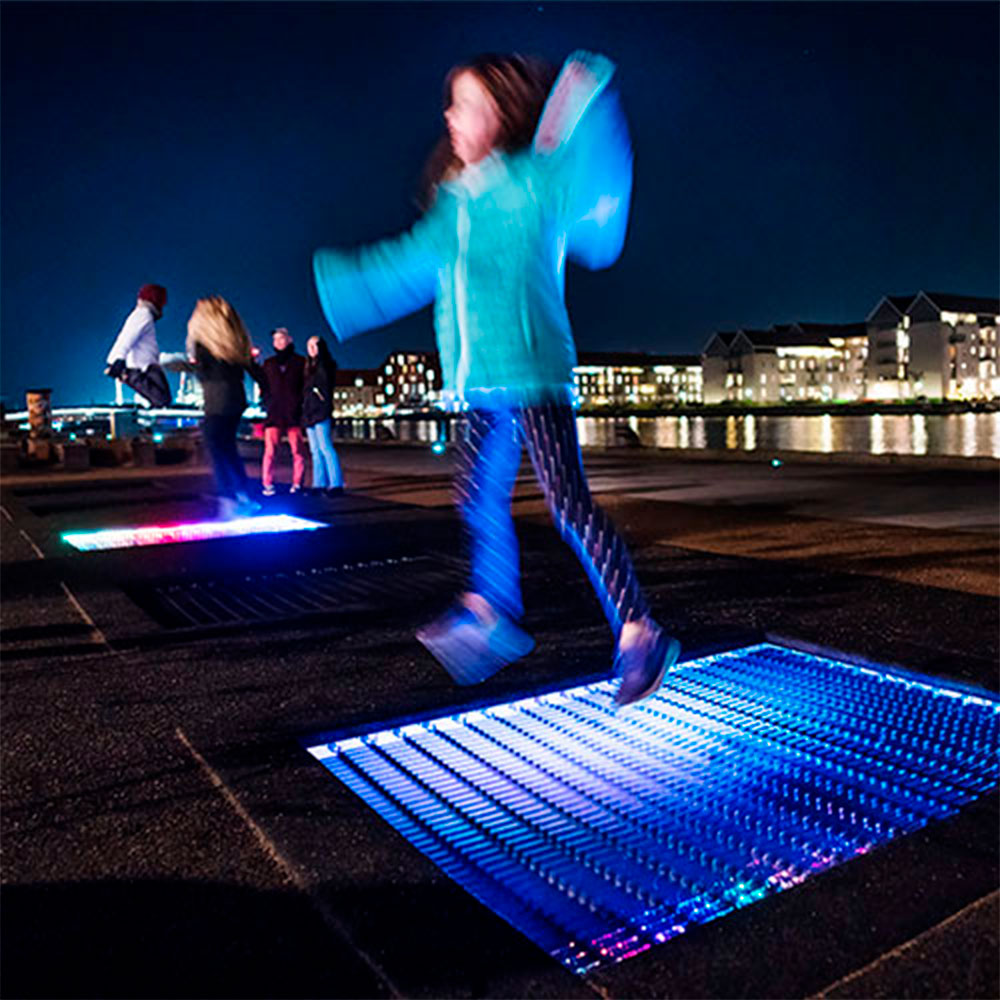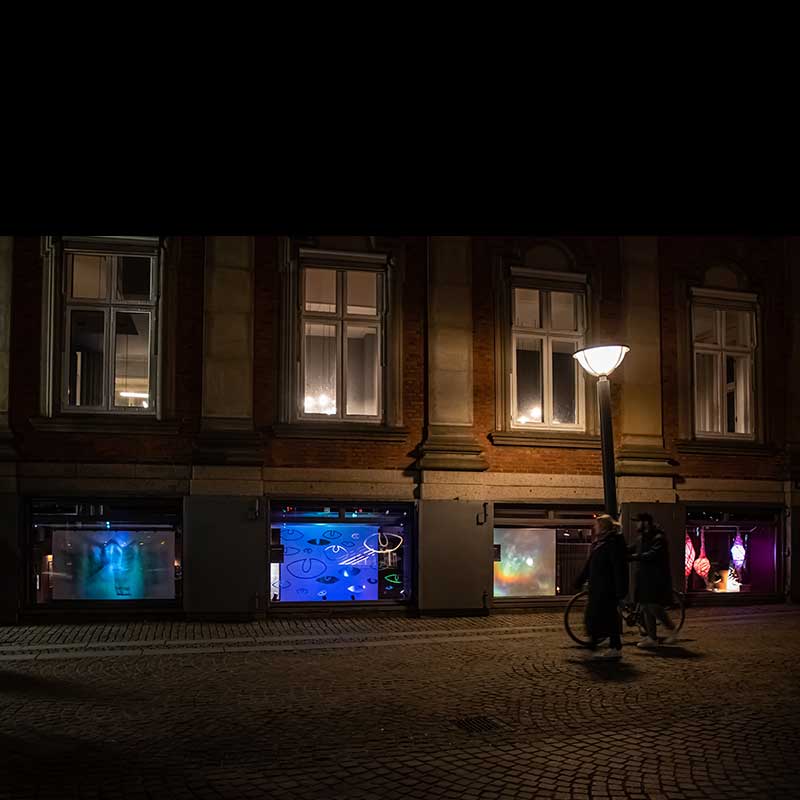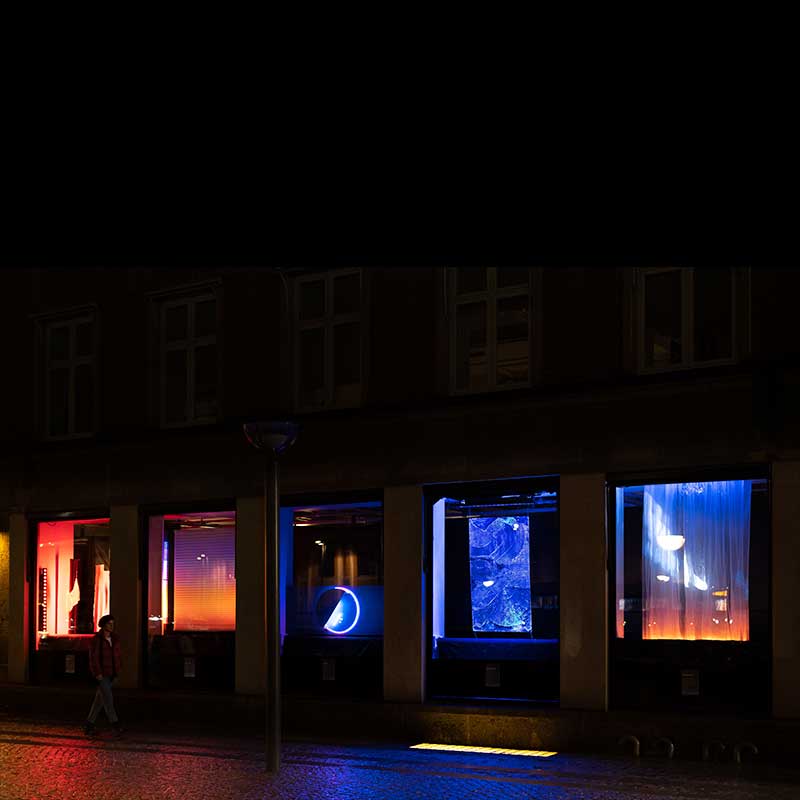 LIGHTWORKS OUTSIDE THE CITY CENTER
You can find lightworks in boroughs of copenhagen and further out.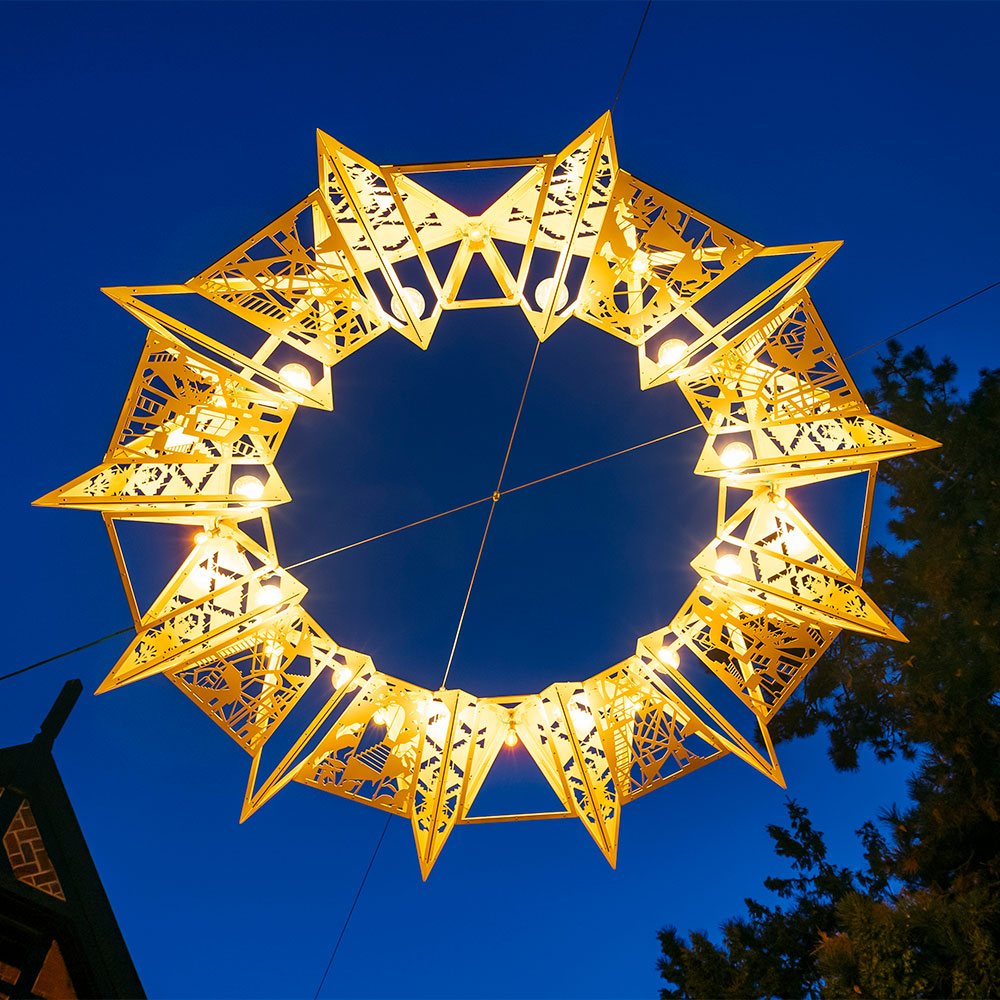 LUX XII – ET KAPEL PÅ VRANGEN
WHO: Byen Sover (DK)
WHERE: Østre Kapel, Vestre cemetery, 2450 Copenhagen SV
WHEN: Kl. 17 – 24
ABOUT THE LIGHTWORK
Bavnehøj Områdefornyelse, governed by Copenhagen Municipality, presents a location-specific light art piece by the drawing office Byen Sover, found near the historic Østre Kapel in the middle of Vestre Cemetery. A large chandelier, measuring 3.5 metres in diameter, transforms the square in front of the chapel into a warm and wonderful communal space. A compelling and ceremonial space for individual contemplation, which also serves as a gathering area for cemetery guests, even during the most piercingly cold days.
Visitors can admire the ornamented shades of the chandelier, which turn the chapel inside out by mirroring spatial fantasies and pieces of the cultural and theatrical activities that can be enjoyed inside the former chapel. The light from the chandelier reflects the surroundings, creating a link between nature and the chapel. This piece is conceived as an alluring and mysterious destination for passing cyclists and runners in the cemetery, but also as a warm and inviting space for relaxation and losing yourself in thought for a while.
ABOUT THE ARTISTS
The drawing office Byen Sover consists of architects Jens Kamp and Karin Bech. Their work covers a wide field from exhibition architecture to a working with light in the shape of lamps and lighting installations, often in the public space. They are driven by a fascination with the darkness of the city and the way in which stories can help change our perception of it. Their work is centred around the interplay between city and nature, fiction and reality.
THANKS TO
Områdefornyelse Bavnehøj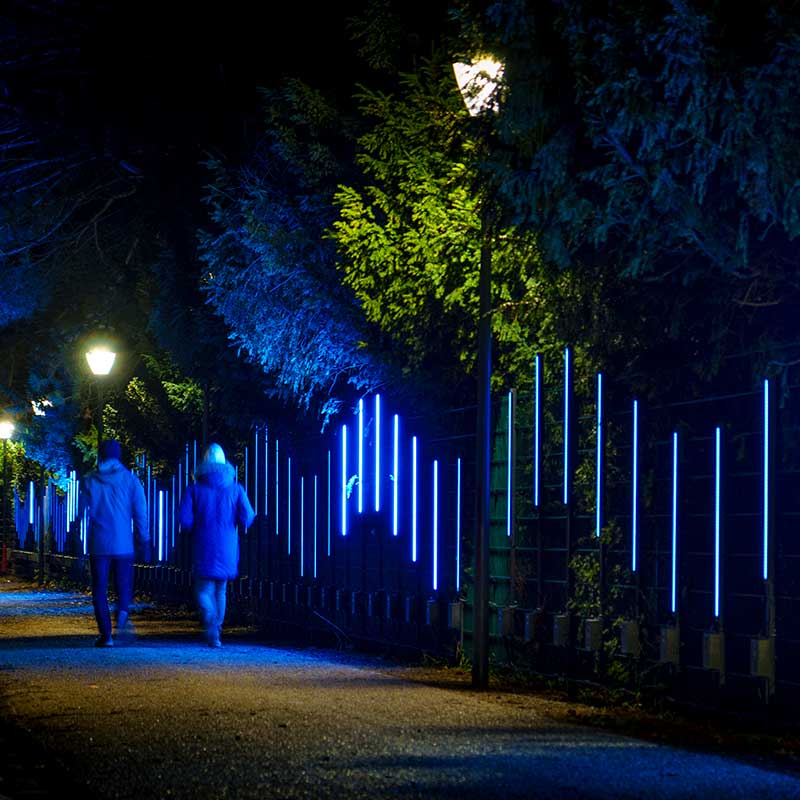 ON THE WAVE OF LIGHT
WHO: Those Guys Lighting 
WHERE: Sydbanestien, by Vestre cemetery, Bavnehøj
WHEN: Kl. 17-23
ABOUT THE LIGHTWORK
On the Wave of Light is an interactive light work based on the movement of passers-by. The installation consists of 100 pieces of light sticks placed with 1m gaps secured to the fence of Venstre Cemetery. Once a person passes the light stick, it detects the presence of the person and activates the light. After the person is no longer in front of the light stick, it slowly fades out, creating a light trail effect behind the person.
ABOUT THE ARTISTS
Those Guys Lighting is a lighting design and production company based in Riga, Latvia. The company was founded in 2018 and since then has evolved from a small startup to a respectable local company. The company consists of engineers, lighting designers and programmers united by a passion in lighting design.
THANKS TO
Bavnehøj Områdefornyelse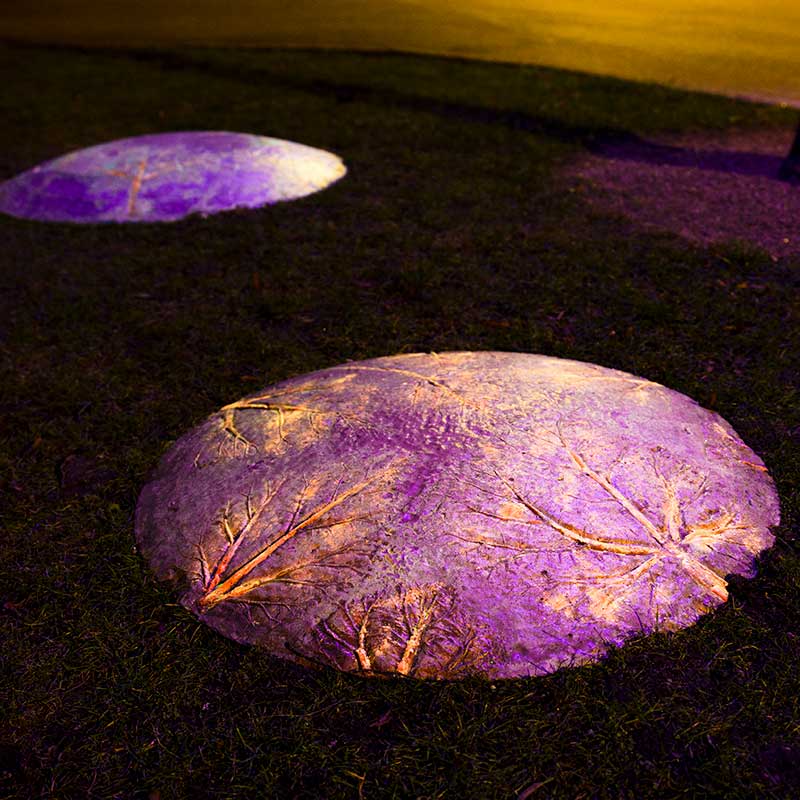 LYSENDE PLANTEFOSSILER
WHO: Anna Rosa Hiort-Lorenzen 
WHERE: Bavnehøj Allé 25, 2450 Copenhagen
WHEN: Kl. 17-23
ABOUT THE LIGHTWORK
10 concave circles, each with a diameter of about 1 metre, cast in phosphorescent materials with images of different plants, create a luminous tale of symbiotic processes in nature. The work is based on natural processes, inspired by the symbiosis between different living organisms, such as how trees cooperate with the underground mycorrhizal network of mycelia, the filaments of fungi. The trees receive phosphor in exchange for sugar and fat. Mycelia are tiny subterranean mushroom threads, capable of extracting phosphor from the soil and transporting it to the trees.
ABOUT THE ARTISTS
Anna Rosa Hiort-Lorenzen is a clothing designer from the Danish Design School, whose work has gravitated towards textile-based art installations and now also light installations. She was awarded a special grant from The Danish Arts Foundation for her work in phosphorescent colours in concrete.
THANKS TO
Områdefornyelse Bavnehøj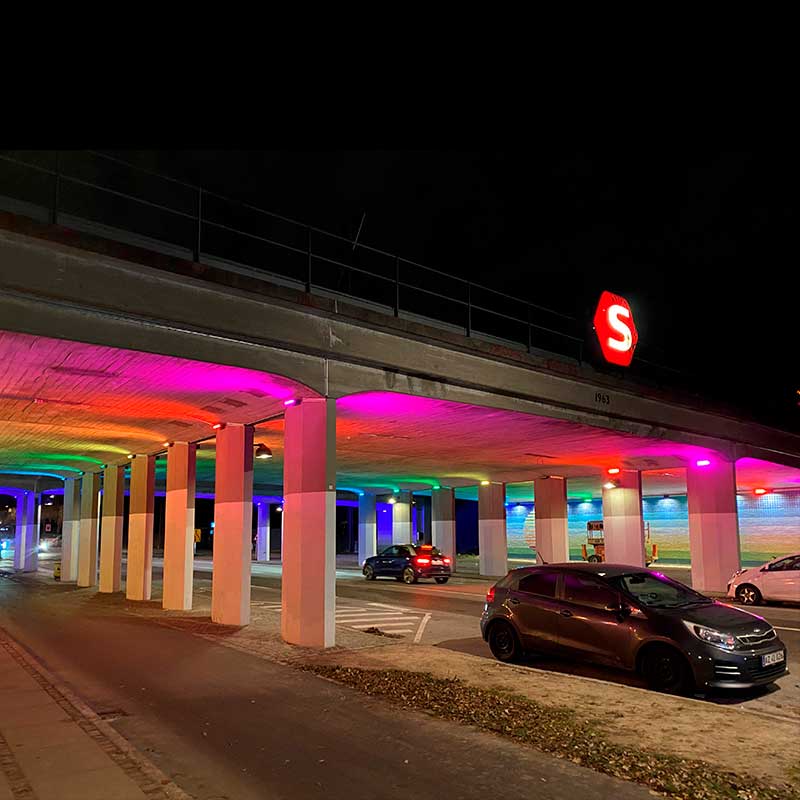 DET HER STED, HER, NU
WHO: Søren Hüttel (DK)
WHERE: Sjælør St, 2500 Copenhagen
WHEN: Kl. 17-23
ABOUT THE LIGHTWORK
Under the bridge, where people drive underneath the railroad, a large light installation is created, depicting a rainbow in the spectral colours of purple, blue, turquoise, green, yellow, orange, red and pink. The rainbow becomes a portal to and from Sydhavn and Bavnehøj, and its multicoloured splendour above the roadway becomes a shining symbol of diversity.
The vividly coloured tiles on the wall makes you think of different landscapes. One side represents the green area at Vester Cemetery, while the other is a sunset over the water around Sydhavnen. The colours of the two landscapes reflect in each other and become aesthetical counterpoints.
The work is set up by Copenhagen Municipality in collaboration with Banedanmark and DSB.
ABOUT THE ARTISTS
Søren Hüttel (born 1976 in Randers, Denmark) is a graduate of Funen Art Academy and Glasgow School of Art in 2005. He works primarily with installations and sculptures. The artist's own recollections and encounter with pop culture serve as the starting point for his work with objects and installations.
THANKS TO
Bavnehøj Områdefornyelse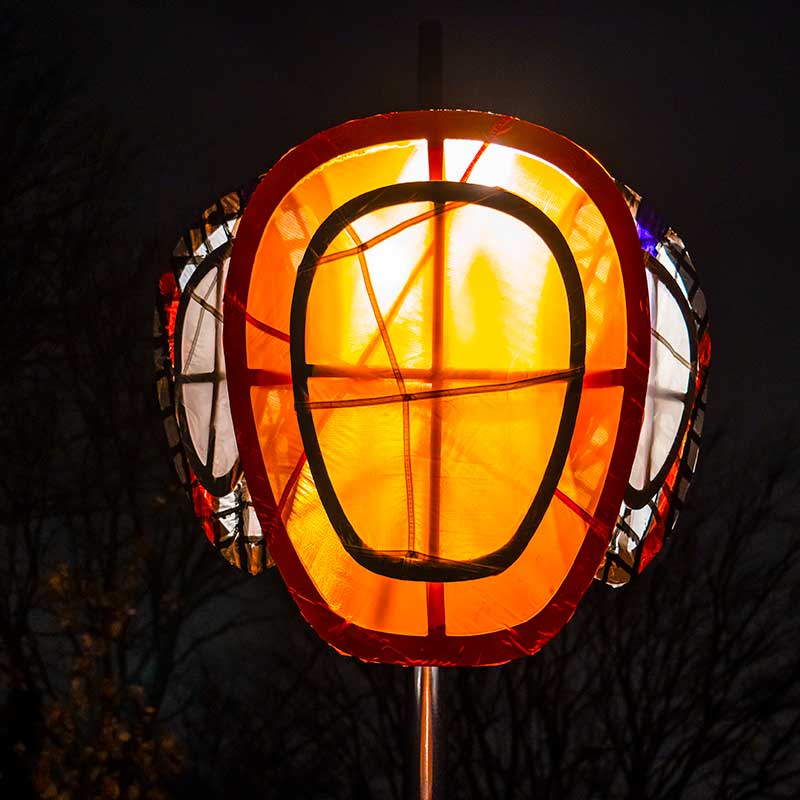 BUGS – DAY OF THE DEAD
WHO: Åsa Frankenberg (SE)
WHERE: The avenue at Urbanplanen, Peder Lykkes Vej 73, 2300 Kbh S
WHEN: Kl. 17-23
ABOUT THE LIGHTWORK
When darkness becomes a rare guest, biodiversity is challenged. Over the past 100 years, the amount of artificial light has multiplied. Our houses, cars, parks, streetlights and light commercials all contribute to an eternal lightning of the globe. "BUGS – The Day of the Dead" focuses on the effects of electric light and light pollution for biodiversity and many insects. Two thirds of the planet's animals are – unlike humans – nocturnal, and light pollution is an underestimated factor in the massive loss of biodiversity and species that is happening right now.
BUGS – THE DAY OF THE DEAD consists of 8 insect lanterns, constructed of recycled parachutes and sails. The lanterns are attached to the existing lighting in the Remise Park and thus do not use extra power or add new light to the site. Instead, the work draws attention to how darkness is a prerequisite for our experience of light. At the same time, the work celebrates the life and diversity of insects with inspiration from the Mexican festival The Day of the Dead, which celebrates the dead – in this case the dead insects.
The city's children have helped to draw wild insects for the work, which can be experienced in Remiseparken on Amager during the light festival.
During the light festival, Miljøpunkt Østerbro and Miljøpunkt Amager will arrange an open insect workshop for children in Remiseparken.
THE TEAM
Artist and concept developer: Åsa Frankenberg
Design and construction: Josephine Bourghardt and Eva Wendelboe
Project management, Circadian Cooperation: Malene Saxkilde
Producer: Miljøpunkt Østerbro and Miljøpunkt Amager, Sara Jörn and Nina Maria Klok
THANKS TO
Supported by Områdefornyelsen Sundby
Urbanplanen / Partnerskabet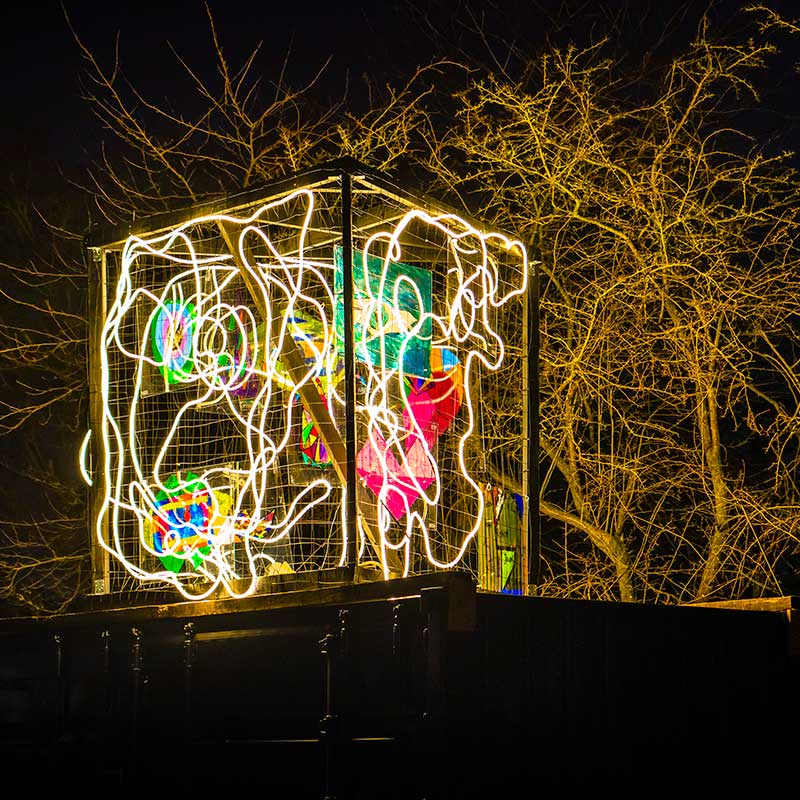 FACE TO FACE
WHO: Frøjk & Herbst in cooperation with Kulturpiloterne (DK)
WHERE: Urbanplanen, nearest address: Pederlykkes vej 71.
WHEN: kl 17-23
ABOUT THE LIGHTWORK
Today's children and young people are used to presenting their faces on their smartphones and experimenting with various expressions, for instance by using modifying filters. Picasso was experimenting with portraits in a comparable manner in the beginning of the 20th century. The group has examined the artistic effects of Cubism together. This work is a reflection on portraits, selfies and the way we present ourselves.
Using the portrait techniques of Picasso as their starting point, Frøjk and Herbst have collaborated with Kulturpiloterne on an exploration of the possibilities with light and colour in portraiture. What happens when we use very few lines to capture a face, and what can be achieved when light, colours and space replace pencil and paper?
Face to Face is located at the southern end of Remiseparken, next to the activity path that passes through the park. Remiseparken is a part of the Urban Plan, a social housing project. The work sits at a height of 2.5 meters and stands out clearly against its surroundings and at a distance. When observed from afar, Face to Face will appear as a chaotic confusion of glowing lines. As you approach the piece and move around it, its details will keep unfolding.
ABOUT THE ARTISTS
Frøjk & Herbst have many years of experience in the lighting industry, and during the last 2 years they have been working closely together on art projects focused on light, space, materials and stories in the art group Tokyo Blue. Frøjk & Herbst focus on combining modern lighting equipment with analogue forms of expression and flourishes with a strong, sensual nature that both children and adults can explore.
Kulturpiloterne is a group of kids and young people from the local area around the Urban Plan in Amager. The group collaborates on developing and designing art and cultural initiatives for their local area.
THANKS TO
Supported by Områdefornyelsen Sundby
Urbanplanen / Partnerskabet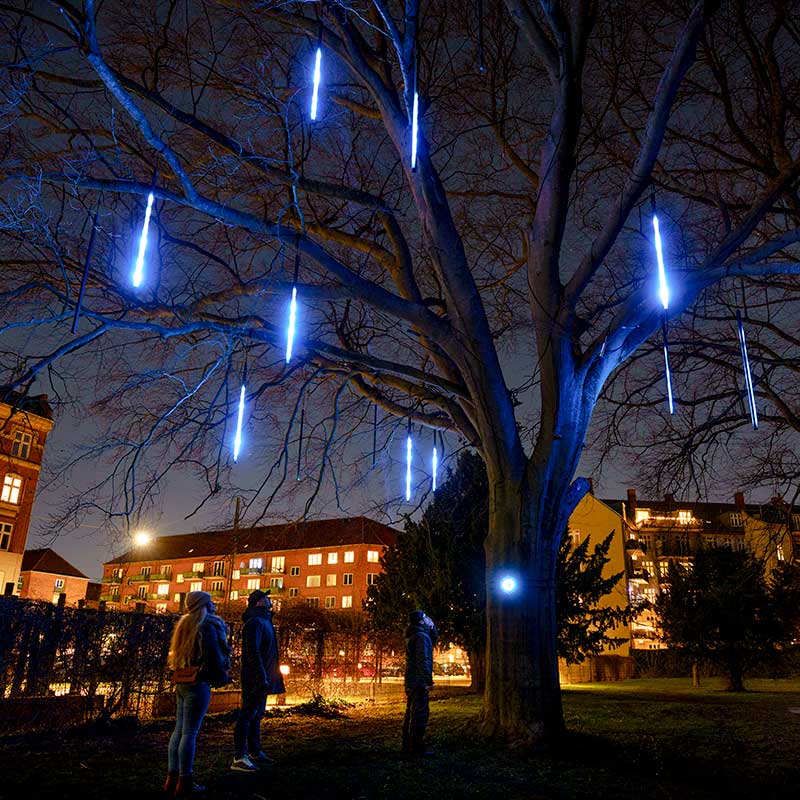 DENDROLUX II
WHO: Svartljus (SE)
WHERE: Sundby cemetery, Entrance at Kirkegårdsvej 28, 2300 Copenhagen
WHEN: Kl. 17-23
ABOUT THE LIGHTWORK
When the term "wood wide web" was invented, many learned that trees communicate with each other and share nourishment on a large scale. A healthy tree can share its resources with a sick one, and a tree can warn others if it is under attack. It's very reminiscent of ourselves. Dendrolux uses the mediating forces that live in a beautiful and majestic tree at Sundby Cemetery, and invites all living creatures to participate in the conversation.
The installation involves 14 custom-made black fluorescent tubes of between 1.5 m and 2 m. The tubes have a built-in responsive programming, which enables them to respond to external forces.

ABOUT THE ARTISTS
Svartljus is an artist collective with members from many areas. The collaboration with nature gives them constant motivation and inspiration, both by virtue of the mathematical patterns that give shape to their designs and the environments they are in. With Dendrolux, they explore the network between trees and creatures through light and play. And while the relationship with modern technology is getting closer, they are striving to get closer to the oldest that exists.
Dendrolux was created by Svartljus members Jonas Johansson, Olle Bjerkås and Per-Olov Jernberg.
THANKS TO
Sundby Områdefornyelse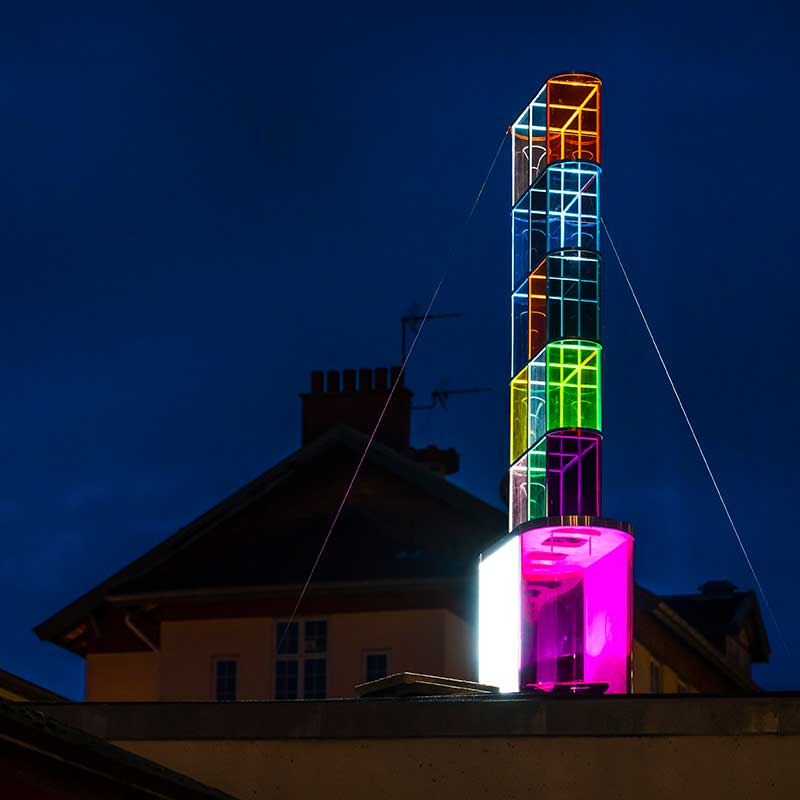 OVES LAMPE
WHO: Claus Egemose (DK)
WHERE: Sundholmsvej 46, 2300 Copenhagen S – Fonden Fabrikken for kunst og design
WHEN: Kl. 17-23
ABOUT THE LIGHTWORK
From the roof of the Factory for Art and Design, the work Ove's lamp shines over the old hospital grounds on Sundholm. With a construction of aluminum, steel, plexiglass in different colors and LED lights, Ove's lamp creates a luminous experience in the urban space, which can be experienced both at a distance and up close. The work is opened at the top so that the light can move up through the construction and shine freely towards the atmosphere.
With its rigorous design language and colorful expression, Ove's lamp is intended to create attention and bring finesse into the surrounding area.
ABOUT THE ARTIST
Claus Egemose (b. 1956) is a self-taught visual artist and works with large decorations and installations with play of colors and light as artistic focus. Decorations that i.a. consists of plexiglass constructions that live on daylight, artificial light and light. With the colors and the light, the constructions create experiences, spaces and moments inside and outside.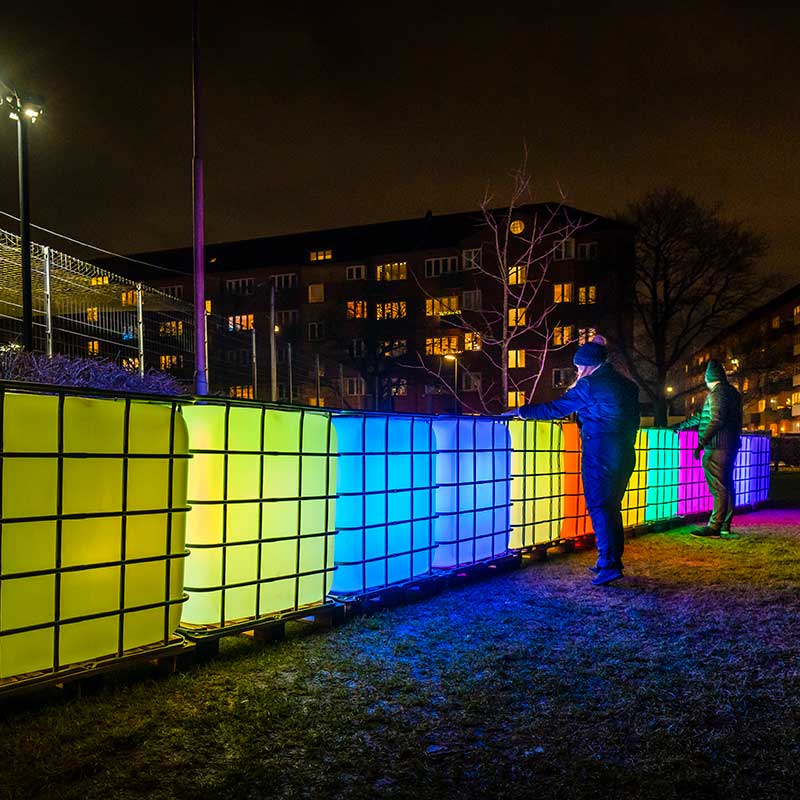 LYS-TAGFAT
WHO: Christian Tesa
WHERE: Filipsparken, Parmagade 45, 2300 Kbh S
WHEN: Kl. 17-23
ABOUT THE LIGHTWORK
Lys-tagfat challenges children and childish souls in speed and coordination in a captive game with the light.
Tap the light tank that lights up and see if you can catch the next one before time runs out, or get help from others so you can win the game together.
The work builds a desire to create togetherness and coziness across age, language and culture in a playful lighting installation set up in Filipsparken.

ABOUT THE ARTIST
Christian Tesa is a self-taught lighting designer with a great interest in laser light and mechanics and originally has a degree in agriculture and machinery.
THANKS TO
Områdefornyelse Sundby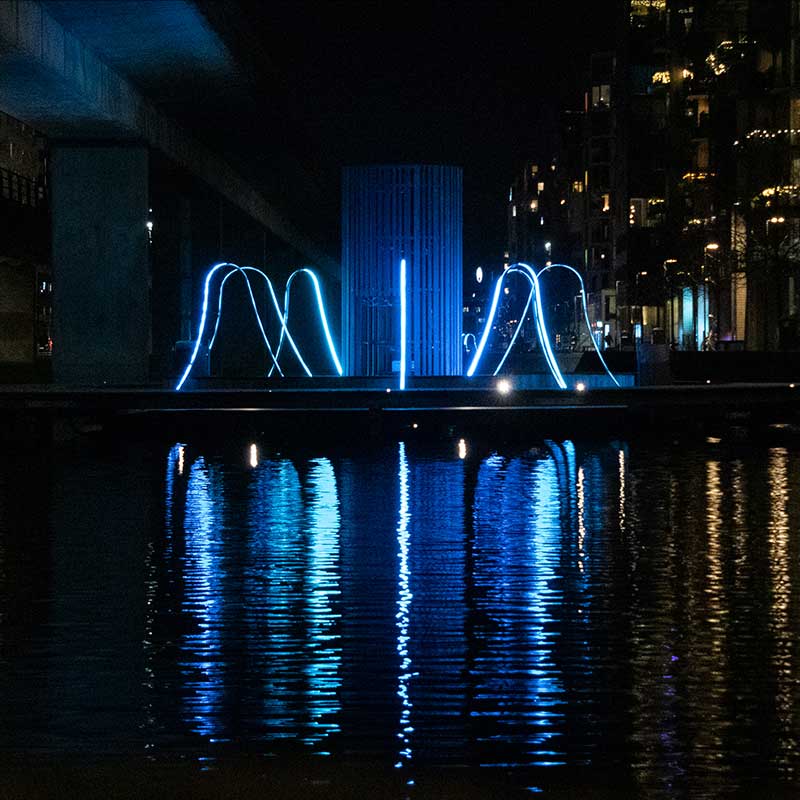 COMMUNICATOR
WHO: Siiku (DK)
WHERE: Wooden bridges at Ørestad Boulevard nr 59-61 and nr 73-75, Ørestad 2300 Kbh S
WHEN: Kl. 17-23
ABOUT THE LIGHTWORK
The installation is inspired by communication and consists of two sculptures, each placed on their respective bridge. The sculptures are created from 8 illuminated aluminium curves each, which form an organically shaped bouquet at a height of 2 metres. When observed at a distance, the sculptures will appear as a complete whole due to the interaction between the light animations, which creates a dialogue between them. The work is an abstraction of language and code, visualized thought light. Festival guests can also experience the pieces up close and pass through them as they are crossing the bridges.
The computer-controlled lighting on the piece creates a compelling, meditative atmosphere, enriched by the beautiful reflections on the water in the channels. Communicator creates space for thought and admiration while playing with a mixture of symmetry, organic shapes and playful light elements in the architectural and natural surroundings of Ørestad.
The title—Communicator—is a reference to a communication device from the sci-fi TV series Star Trek, but also the name of a line of 90s era mobile phones for business from Nokia. Both suggest the idea of human communication, both before, during and after the current epidemic.
ABOUT THE ARTISTS
SIIKU—named after the Greenlandic name for ice—are a Danish/Greenlandic artist group consisting of Rasmus Nielsen (born 1984 in Lyngby, Denmark) and David H. Péronard (born 1981 in Nuuk, Greenland). They have a digital and analogue background in the artist world respectively, beginning their collaboration as SIIKU in 2017. They focus on using their art to create solidarity and empowerment in this challenging time of climate crisis and rising global inequality. SIIKU's works are created based on the ideas in the SIIKU Manifest, dealing with the contrast between materials and their symbolic unification.
THANKS TO
Grundejerforeningen Ørestad City
Ørestad Vandlaug
KLP Ejendomme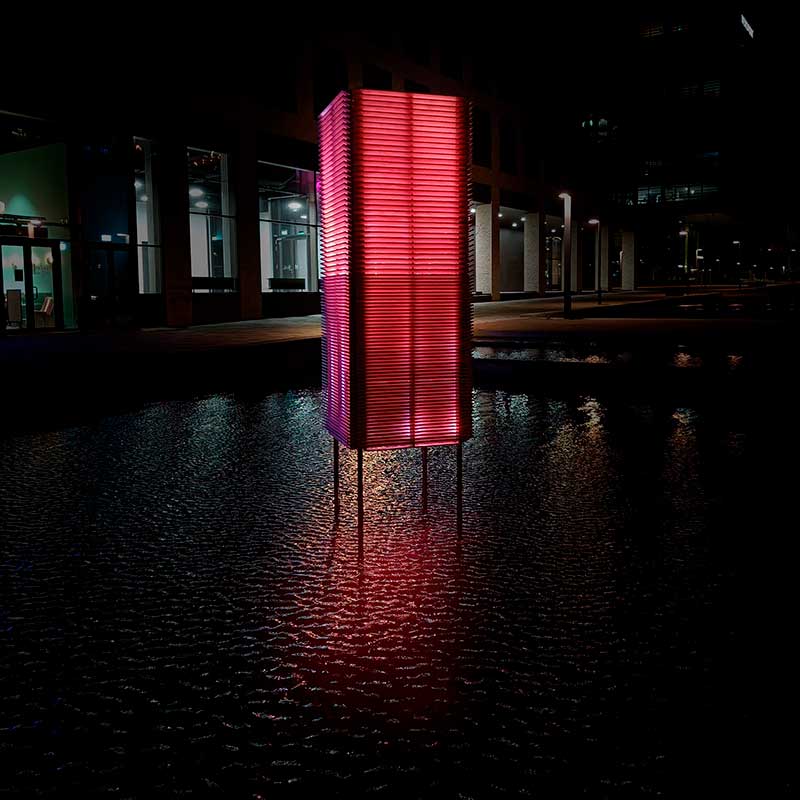 STACK
WHO: Circuit Circus (DK)
WHERE: Kay Fiskers Plads 16, Ørestad 2300 Kbh S
WHEN: Kl. 17-23
ABOUT THE LIGHTWORK
Stack is an architectural light sculpture placed in the channel alongside Ørestad Boulevard. A floating, slightly mysterious construction rising from the water and illuminating the frigid winter with a sparkling display of light.
Stack is a poetic and warm light piece in sharp contrast with the grey, angular surroundings in the February cold. A radiant beacon of light standing 3 metres tall in the channel, chasing the darkness away.
It uses an algorithmic system to create constantly changing animations that ripple across its almost 2000 LED lights. The fir panels of the construction capture and reflect the light, dispersing it in a way that mixes and diffuses the colour of the light on the surface. The natural water reflections beneath the piece, which mirror and distort the light, complete the visual expression. The light is always in flux by nature, almost fluid in its expression, but soft, warm and playful. A shining contrast with the hard concrete and sharp geometry surrounding the piece.
ABOUT THE ARTISTS
Thomas Sandahl, Nina Cecilie Højholdt and Christian Sivertsen are part of Copenhagen art and design studio Circuit Circus (2015). They create installations, sculptures and artifacts. Their work is rooted in technology, including interactive elements, algorithmic design and new production methods designed to create aesthetic experiences.
Circuit Circus have made both permanent and temporary pieces in the public space, and they have exhibited at festivals all over the world, such as SXSW (USA), Roskilde Festival (Denmark), Reflektor (Denmark/Finland), art+science (Serbia).
THANKS TO
Grundejerforeningen Ørestad City
Ørestad Vandlaug
KLP Ejendomme
FORTÆLLENDE TRÆER
WHO: Sally Rud & Laura Bogstad (DK)
WHERE: Højskoleforeningens Have, Damstien 25, 2720 Copenhagen (can be experienced from the walking path along the Damhus lake as well)
WHEN: Kl. 17-21 – NOT 26th Feb
ABOUT THE LIGHTWORK
In the hidden garden from 1929 at Københavns Højskoleforening, the work "Fortællende træer" (Storytelling Trees) invites to you enjoy a tale of community, nature and song, staged with light and sound. The great trees in the garden have witnessed countless human lives and events pass by through the years.
At each glowing tree, visitors can hear an audio story from the area, and a route with garden torches will bind the storytelling trees together. When standing in the garden, you find yourself suspended inside a time warp. This work is a homage to a different time, but in particular to the natural surroundings and the people, who have contributed to making Højskoleforeningen an incredibly special place in Copenhagen and the suburb of Vanløse throughout the ages.
This piece was created for the large garden of Højskoleforeningen, which can also be experienced from the path along Damhus Lake.
This is the first time that Sally Rud and Laura Bogstad have collaborated on a piece that unifies their passion for plants, light and magical stories. 
We thank Københavns Højskoleforening, Vanløse Lokaludvalg and BYRUMSKOLE for their support on this project.
ABOUT THE ARTISTS
Sally Rud is a visual artist, architect and designer, who works with spatial design, sensuous installations and visual poetry the conflux between space, sound, light and materials. She is especially interested in creating atmospheric spaces. Holistic experiences that tickle our senses and leave room for contemplation, intimacy and thought. 
Laura Bogstad graduated as a landscape architect from the University of Copenhagen, and she works as a freelance production designer and urban designer. She is interested in creating urban experiences, in which discovery, nature and the imagination give people a desire to use the city space in new ways. 
THANKS TO
Københavns Højskoleforening, Vanløse Lokaludvalg, BYRUMSKOLE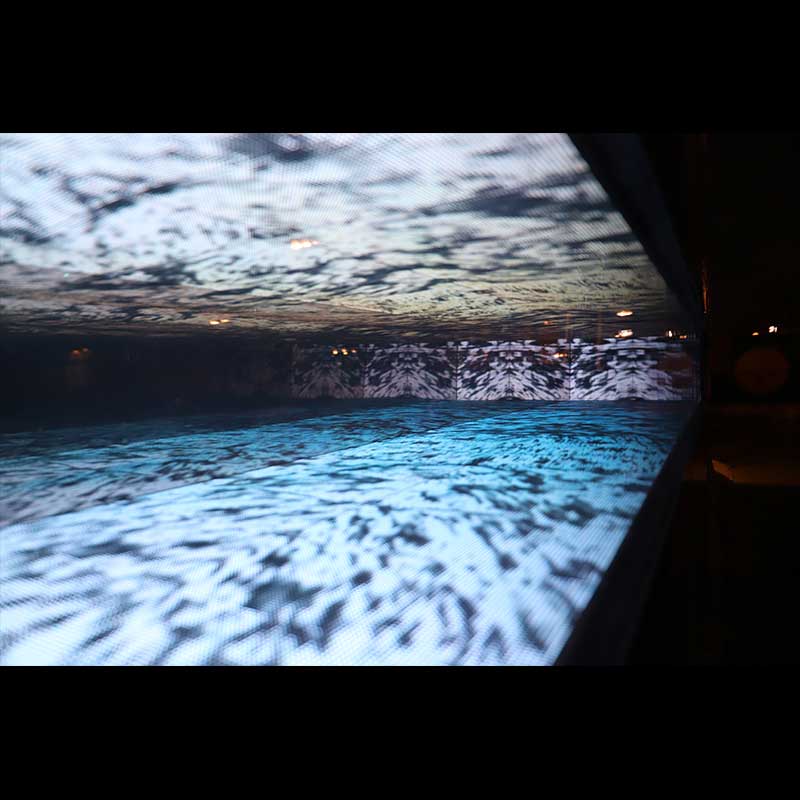 INFINITE DATA FOREVER
WHO: Jacob Remin (DK)
WHERE: Over for Ruten 115, 2700 Brønshøj
WHEN: Kl. 17-23
ABOUT THE LIGHTWORK
Through a portal in the construction fence at Ruten 14 in Tingbjerg you are welcome to take a peek into an alternative dimension of light and infinite recursion. Here we find wide animated light spaces, fields of glitches, psychedelic rhythms of light in motion. The installation has its own timeline and allows for meditative exploration; stay a while or pass several times to explore the different temperaments of data space.
ABOUT THE ARTIST
Jacob Remin's practice is a critical meditation over technology and the power structures it creates. Remin often works collaboratively and structurally, creating spaces for conversation. Remins works are manifested as physical works in the meeting between light, space, composition and interaction.
INTERCONNECTION
WHO: Sara Ki Noguera Plans & Jonathan Ki Lindhult (SE)
WHERE:Sophienholm, Nybrovej 401, 2800 Kongens Lyngby
WHEN:  7:00-8:30 & 15:30-20:30
(Foto of the installation : Ture Andersen)
ABOUT THE LIGHTWORK
Interconnection is an immersive art installation about the story of one of the greatest survivors on the planet: The fungi kingdom.
The artwork takes visitors into an evolutionary journey that describes the crucial role that these fascinating organisms have on Earth; like keeping our forests alive, offering medical properties and developing an underground network, so-called "wood wide web", in which the surrounding species connect to create a harmonious symbiotic relationship.
Interconnection is a completely handcrafted installation created by Sara Ki Noguera Plans (artist & lighting designer ) and Jonathan Ki Lindhult (artist & film director). Its design emphasizes the beauty of bioluminescent mushrooms and invites visitors to explore the idea of using "Bioluminescence" as an innovative and sustainable light source that could be used in the future to illuminate parks of our cities. It also touches the subject of light pollution by explaining how fireflies, which are also bioluminescent, are facing extinction due to light pollution, pesticides and habitat loss.
This artwork counts with; 3 large sculpture mushrooms (2 meters, 1.5 meters and 1.2 meters) ; 600 small mushrooms that grow from the ground, trees and logs; 300 units of magical grass and 150 fireflies that creates an imaginary entrance door into the fungi kingdom. Moreover, it includes an interactive area where people can make real mushrooms glow by using a flashlight.
While walking through this wonderland, visitors are accompanied wtih experimental music created by the sound artist Anton Helmersson. Additionally, they have the option to scan a QR-code to hear the story behind the Fungi Kingdom and the fireflies.
https://www.youtube.com/watch?v=N-BRtLu0NkE
THANKS TO
The Nordic Kultur Kontakt, RobLight A/S, RebelLight, LUMINO, Berrtil och Britt Svenssons Stiftelse, Otto och Charlotte mannheimer fond, Anne Zychalak Stolten, Barbara Læssøe Stephensen, Omar Gemeaux and Fremstillinger
POP UP EVENTS
During Copenhagen Light Festival some of the light works will be active in an either shorter or longer time than the festival period (February 4-27 2022)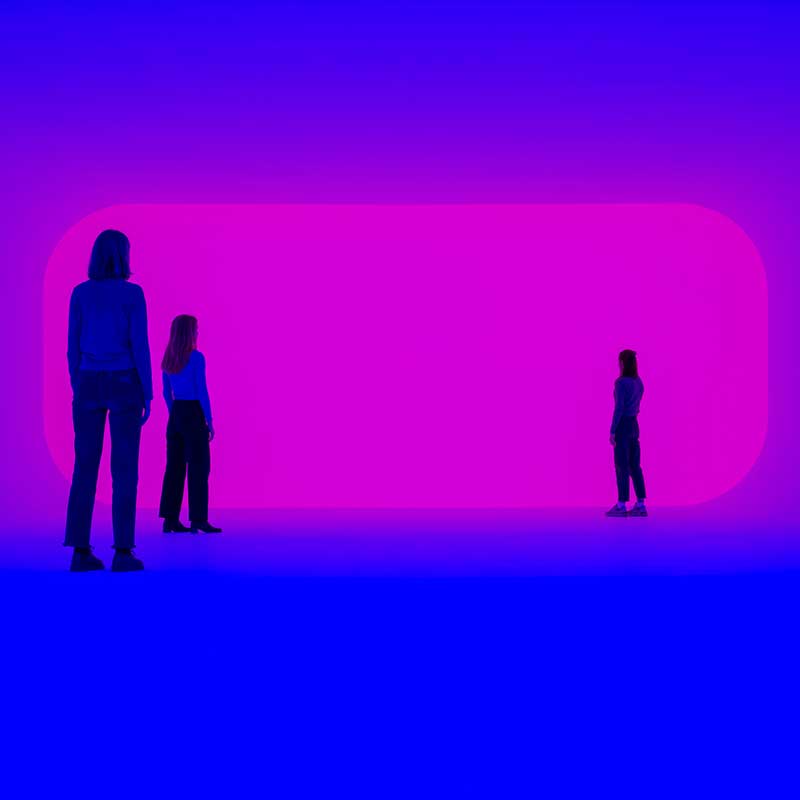 LIGHT & SPACE - COPENHAGEN CONTEMPORARY
WHO: Light & Space – at Copenhagen Contemporary 
WHERE: Refshalevej 173A, 1432 Cph K
WHEN:  See opening hours in the bottom
The exhibition runs 03.12.21 – 04.09.22
ABOUT THE EXHIBITION
Step into a world of light, colour, and gigantic installations in Light & Space, when CC for the first time in Europe brings together a rich array of art-world luminaries in an expansive 5,000 m2 exhibition on the American art movement known as Light and Space.
Explore historical artworks by James Turrell, Doug Wheeler, Helen Pashgian, Robert Irwin, Larry Bell, Bruce Nauman, Mary Corse, and many others – alongside works by contemporary European artists inspired by the pioneering art movement, among them Anish Kapoor, Olafur Eliasson, and Jeppe Hein.
The singular exhibition, CC's biggest to date, sprawls across all five exhibition halls and ends in CC studio's interactive laboratory where you can experiment with light, colour, and space and build with transparent LEGO and light.
OPENING HOURS
Monday: Closed
Tuesday: Closed
Wednesday: 11.00 – 18.00
Thursday: 11.00 – 21.00
Friday: 11.00 – 18.00
Saturday: 11.00 – 18.00
Sunday: 11.00 – 18.00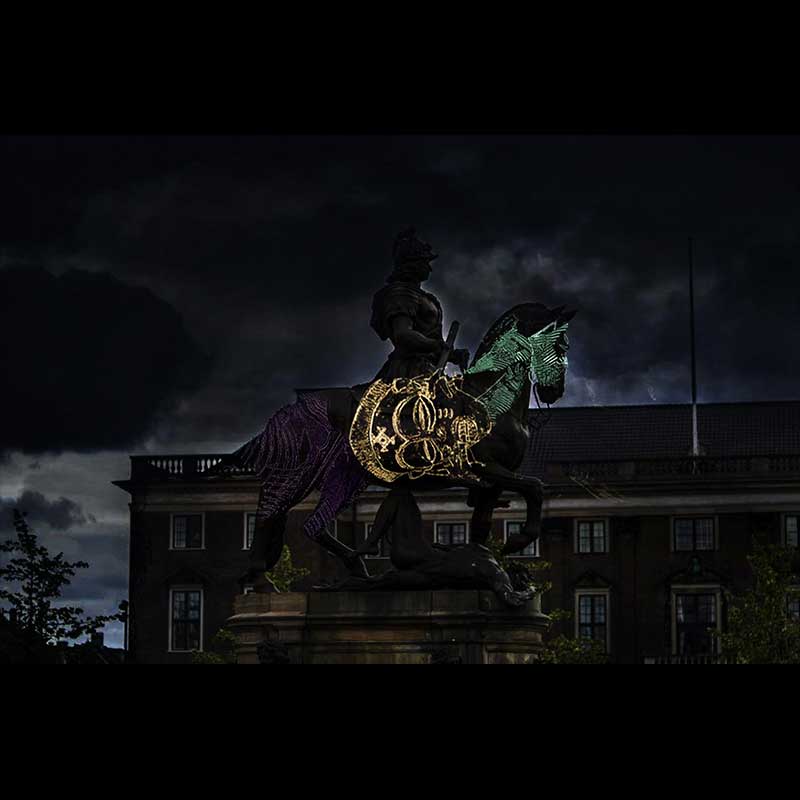 VOICES IN THE SHADOWS OF MONUMENTS
WHO: Barly Tshibanda (DRC), Nanna Katrine Hansen (DK) og Katrine Dirckinck-Holmfeld (DK)Participating artists: Bernard Akoi-Jackson (GH), La Vaughn Belle (USVI), Jupiter J. Child (MZ/DK), Julie Edel Hardenberg (GL), Oceana James (USVI), Arash Pandi (IN/DK), Sabitha Söderholm (IN/DK).
WHERE: A walking tour from Christianshavn Torv to Kgs Nytorv 
WHEN: 10/2, 17/2, 24/2
Dette event vil foregå på engelsk // This event will be held in English.
Participation is free / Remember to sign up here via Billetto.

BOOKING:
February 10: 17:30 – 19:00:
Tickets: https://llk.dk/9wpmci
February 17: 18:00 – 19:30:
Tickets: https://llk.dk/9lxwpw.
February 24: 18:00 – 19:30
Tickets: https://llk.dk/j8pobw
Meeting point: Christianshavns Torv.
Language: English with Danish, Greenlandic, Portuguese, Sanskrit and more.
ABOUT THE LIGHTWORK / POP-UP EVENT
In the wake of the major Black Lives Matter demonstrations world-wide, there has been a growing international attention to the issue of monuments commemorating the colonial era and their impact in public spaces today. Voices in the Shadows of Monuments is an audio-visual city walk that examines material traces from the colonial era embedded in buildings and monuments in the centre of Copenhagen, from the time when the Port of Copenhagen was the centre of Danish colonial trade.The walk takes participants from Christianshavns Torv to Kongens Nytorv, creating a polyphonic soundscape accompanied by graphic light projections. The artists create narratives that intertwine different geographies and times: past and present interweave and testify to how colonialism is not a closed chapter, but still has strong reverberations in the present.During the walk, the audience is invited to assemble the fragments they are presented with into new narratives about the city.Sound transmitters and headphones are provided at the beginning of the walk. We encourage participants to bring their own headphones with minijack for an improved sound experience.
__
The walk ends at Kgs Nytorv, after which audiences are invited to visit Kunsthal Charlottenborg.To accompany the tour In the Shadows of Monuments, the Kunsthal presents a video-art programme in the Charlottenborg Art Cinema, curated by the artist group, featuring video art by some of the artists, who have made contributions to the walk, as well as other artists, who explore the legacies of colonialism today.
To further contextualize the walk Kunsthal Charlottenborg's bookstore will offer a selection of literature as picked by the artist group behind the audio-visual walkOn Tuesday 22 February from 17.00 – 18.30 (CET), we invite all to attend a public conversation conducted via ZOOM, featuring the participating artists who will unpack the project for us.
Free access.
ABOUT THE ARTISTS
Barly Tshibanda, Nanna Katrine Hansen and Katrine Dirkinck-Holmfeld are visual artists based in Copenhagen. They have been working with questions about colonialism using video, sound and text for several years. Through their collaboration on Voices in the Shadow of Monuments, they experiment with projecting light art onto targets with a legacy of Danish colonialism. The former Women's Prison at Christianshavn. A block of marble from Greenland, used as ballast on merchant ships. An equestrian statue of King Christian V. They are interested in light as waves and movement; how light projections can reanimate surfaces and create new meaning.
THANKS TO
The project is supported by the Danish Arts Foundation, Copenhagen Light Festival and Kunsthal Charlottenborg.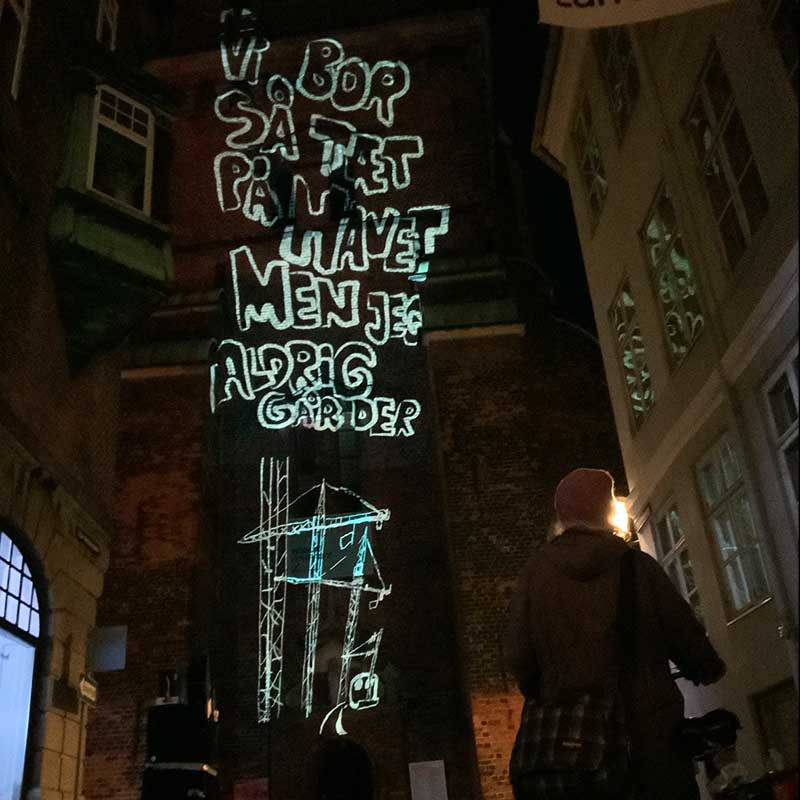 [købənˈhɑwˀnsg] KØBENHAVNSKE STEMMER
WHO: Jakob Fälling, Bobby Hess, Ole Samsøe (DK)
WHERE: Nikolaj Kunsthal facade, Nikolaj Plads 10, 1067 Copenhagen K
(In the area of Copenhagen Cultural District)
WHEN: Kl. 18-23
Fri 11/2
Wed 23/2
Fri 25/2
ABOUT THE POP-UP
Copenhagen Voices is a contemporary vision of Copenhagen in a poetic installation, told through the use of light, sound and images drawn by hand. An ode to Copenhagen, full of love for the city. The raw materials of the installation are the voices, sounds and visual impression of Copenhagen. The artists have collected sounds and drawings during conversations with citizens of Copenhagen: on the streets, in their homes, through individual conversations and in purpose-designed conversation salons.
From a distance, you will see drawings of people, actions, objects and thoughts projected onto the wall in The Nikolaj Contemporary Art Center. As you move closer to the drawings, you will begin to hear sounds: the many voices of Copenhageners, their names and different dialects, ambient sounds of the city, the ever-present bicycles, the sleek Metro, the characteristic bells of City Hall, that great shawarma joint at Nørrebro, the lively dogs of Christiania, the click-clack of high heels in Hellerup, the slurping of fancy oysters at Østerbro. Voices telling stories of their Copenhagen, their affiliations, their daily lives, their dreams and desires, their anxieties. This installation converts the urban space into a reflection on being human in Copenhagen. An examination of the identity of the place and the identity of the people through art.
ABOUT THE ARTISTS
Jakob Fälling (born 1972) is an illustrator, writer and MSc in Social Science. He makes report illustrations and hand-drawn storytelling in many formats. Instagram: jakob.falling, www.fälling.dk
Bobby Salomon Hess (born 1969) is an audio artist, sound mixer and narrative consultant. He works with audio storytelling and co-creation in movies, installation art and organization development. filmtone.dk
Ole Samsøe is a lighting and interaction designer and owner of Alien Workshop. Ole Samsøe has more than 20 years of experience as a consultant for museums and businesses in Denmark and abroad.
Bobby Salomon Hess, Jakob Fälling and Ole Samsøe collaborate on other similar documentation projects, in which collected audio clips and drawings interact in projections in the urban space. Their most recent collaboration is "Reflections on Corona 2020", a portrait of the first year of the Covid crisis.
THANKS TO
Nikolaj Kunsthal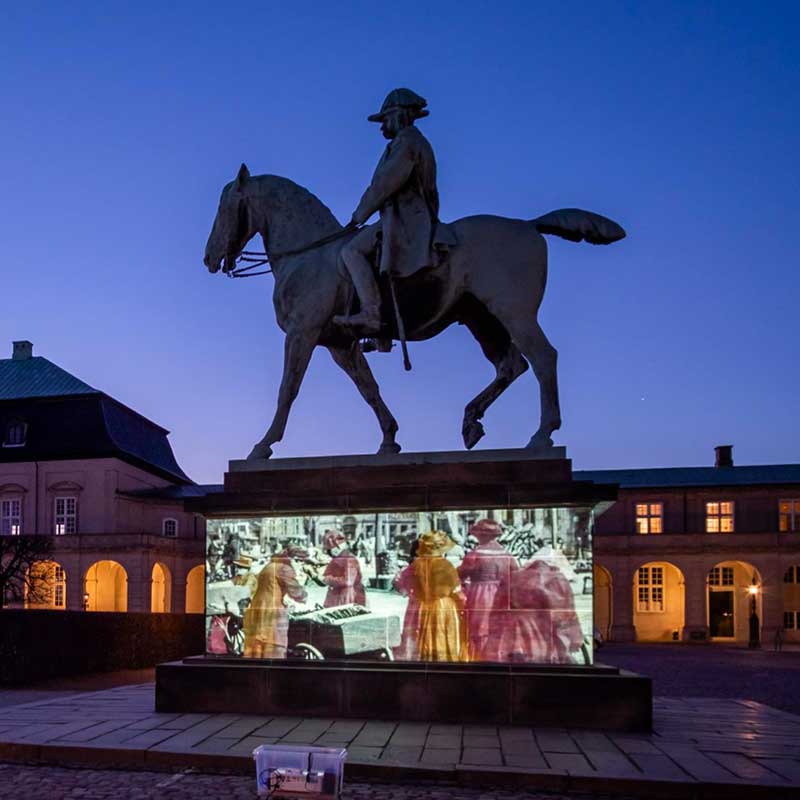 HIPPOLYTA
WHO: Tokyo Blue (DK)
WHERE: The equestrian statue, Christiansborg Ridebane, 1218 Kbh
(In the area of Copenhagen Cultural District)
WHEN: kl. 17.30-23
Fri 11/2
Sat 12/2
Fri 18/2 – CANCELLED DUE TO STORM FORECAST
Sat 19/2
ABOUT THE POP-UP
Behind Christiansborg Palace, we find a little bit of world history in the shape of the equestrian statue of King Christian IX (1818-1906). This was created by Danish artist Anne Marie Carl-Nielsen (1863-1945), who was most likely the first woman in the world to complete this highly prestigious type of assignment. In her design sketch for the piece, Anne Marie Carl-Nielsen had a vision of depicting the Danish people in a relief on the base of the statue. This relief was an important part of the meaning and visual expression of the statue, but it was never realized, even though the artist fought bravely to make it happen during the 20 years it took to produce the statue.
The light art piece Hippolyta temporary realizes Anne Marie Carl-Nielsens vision about a contemporary relief, which highlights the role of women in our society. The work consists of 360-degree projections on the base of the statue. It is based on older image material (photos and video sequences) showing women doing various jobs that were characteristic for their time (including housework), as well as female pioneers. The image material has been colourized based on old hand-coloured photos and movies.
Hippolyta is an example of using light in an artistic dialogue with the monuments and history of the city. A dialogue that calls attention to the lack of female representation in our urban spaces.
ABOUT THE ARTISTS
Tokyo Blue was created in 2011 and consists of lighting and interior designer Silla Findstrøm Herbst, lighting and textile designer Katrin Barrie Larsen, art historian Helle Frøjk Knudsen and visual artist and engineer Astrid Espenhain, all of whom work with lighting and space in their professional lives. 
THANKS TO
Carl Nielsen og Anne Marie Carl-Nielsens Legat for financial support and Glyptoteket for communication
Thanks to the following contributors in form of pictures: kbhbilleder.dk, Lokalhistorisk Arkiv Stenlille, Museum Skanderborg, Danmark på Film, Odense Bys Museer, Historisk Arkiv Dragør, Egnssamlingen.dk, De Nationale Geologiske Undersøgelser for Danmark og Grønland.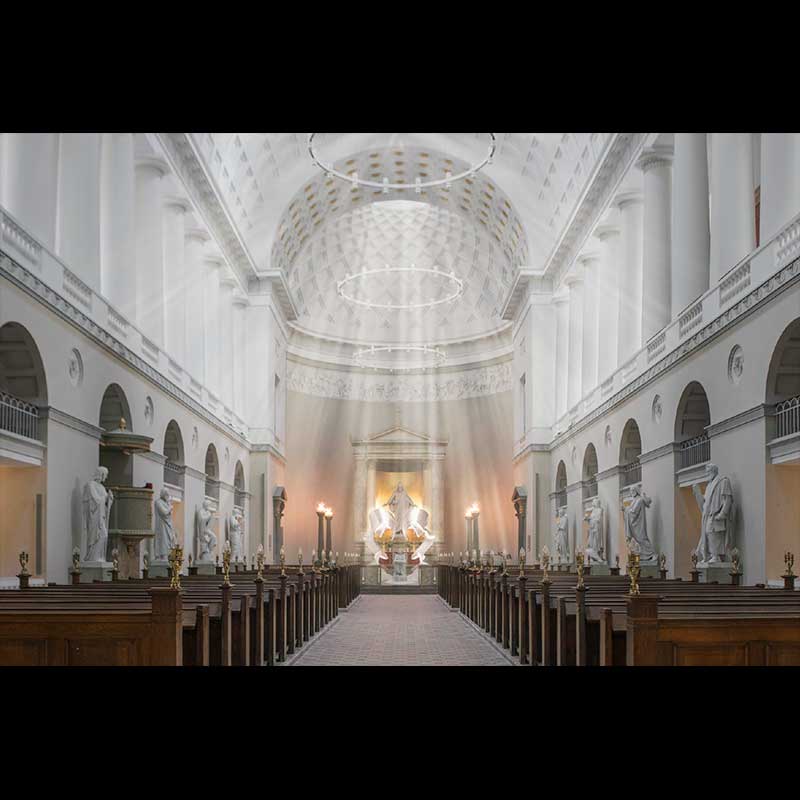 LIGHT OF CHRIST
WHO: Mikkel Nielsen / Nicolas Odyssea Andreou (DK)
WHERE: Frue Kirke, Nørregade 8, 1165 Copenhagen
WHEN: Kl. 19-23
thur 24/2, fri 25/2, sun 27/2

ABOUT THE POP-UP
The artwork Light of Christ is inspired by different shapes found in nature. It invites everyone to the experience of the sacred, independently of one's religious affiliation, thereby expressing what is universally human; a sense of community, reconciliation and cohesion. It spreads hope in a difficult time, and invites contemplation and reflection. The artwork is specifically designed and placed in a way that encircles the statue of the angel in Vor Frue Kirke and unfolds like light flowing from the hands of the statue of Christ. It can be read as the wings of the angel, a picture of the waters separating from the story of Moses and the Red Sea, or as a picture of the Holy Spirit, often symbolized by a white dove of peace flying towards the sky.
ABOUT THE ARTISTS
Light of Christ is designed by architect Mikkel Nielsen, who is creating the light installation in collaboration with photographer and light installations artist Nicolas Andreou Odyssea. The artwork is part of Mikkel Nielsen's research on sustainable 3D-printing of architecture, and it is an integral part of these studies, which aim to increase the sustainability of the construction industry through technological innovation.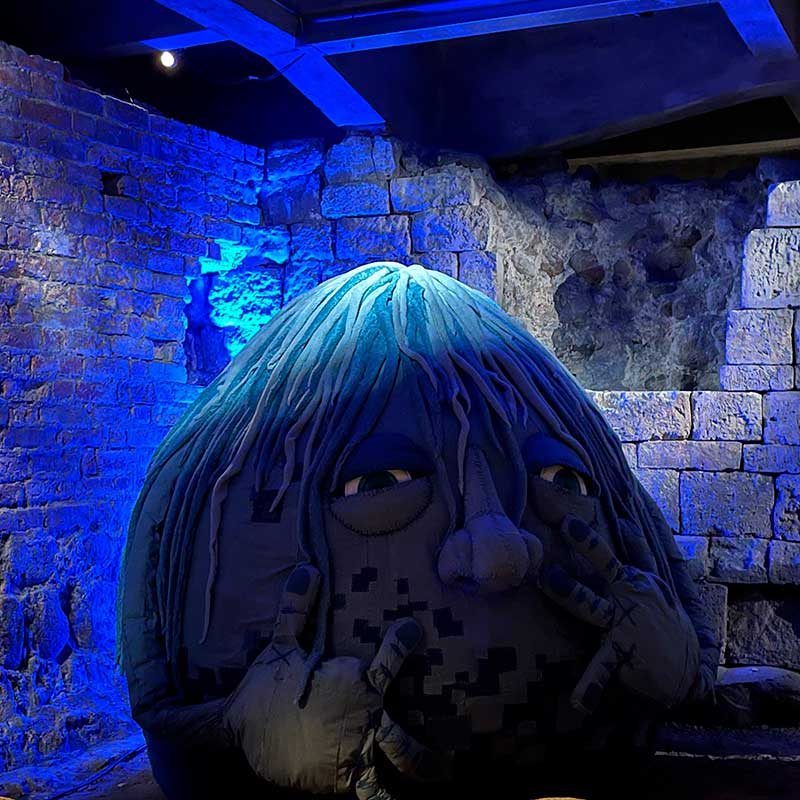 MONSTER – STYGGE SKABNINGER MED STORE FØLELSER
WHO: Shane Brox
WHERE: Ruins under Christiansborg Castle, Indre Slotsgård, 1218, København K. Access the yard (Indre Slotsgård) from Ridebanen or Christiansborg Slotsplads.
(In the area of Copenhagen Cultural District)
WHEN: Open from  kl. 10.00 to kl. 21.00 // ENTRANCE FEE
Fri 11/02
Sat 12/02
Fri 18/02
Sat 19/02

It is open from kl. 10.00 to kl. 21.00, and it costs DKK 75 for adults and free for children (0-17 years).

ABOUT THE POP-UP
There are sinister plans in the ancient ruins. Multi-artist Shane Brox has unleashed a small army of colorful, flying, creeping and not least funny monsters in the ancient medieval castles. The monsters are created from recycled materials and put images on emotions like love, fear and loneliness. These are emotions that have driven us humans since the Middle Ages, and which both children and adults today also know. Visit the Ruins and experience the 12 colorful creatures illuminate the dark ruins when the exhibition, Monster – Ugly Creatures with great emotions as something very special can be experienced in the evening hours.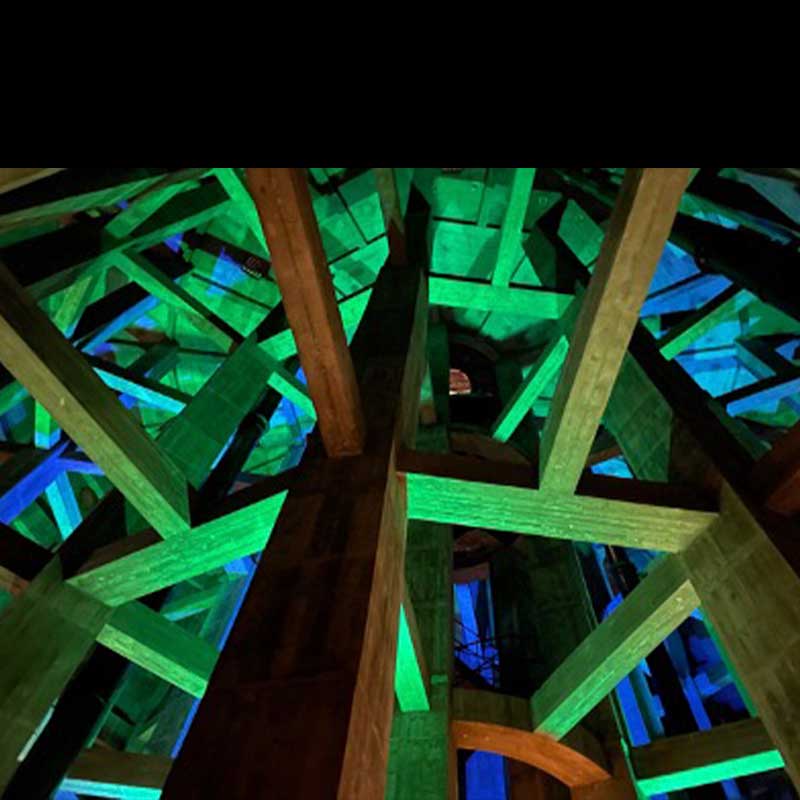 BRØNSHØJ WATER TOWER WITH LIGHT AND SOUND IN THE WINTER DARKNESS
WHO: Brønshøj Vandtårn / Brønshøj Water Tower
WHERE: Brønshøjvej 29, 2700 Brønshøj
WHEN: kl. 19.00 –21.00
February 24, 25 and 26
Transport: Bus 2A and 10 go right to the door
ABOUT THE POP-UP WORK
In line with the building's minimalist architecture, the lighting of the façade is deliberately limited to emphasize the cylindrical shape of the façade – partly by letting chains of light extend from the roof to the terrain along buttresses, partly by mimicking the circular floor plan. the chains that overall enclose the facade and highlight the cylindrical shape for the viewer regardless of point of view.
The light underlines how the building towers up to the highest point in Copenhagen (approx. 24 m), like a raw, massive, simple and luminous, 35 meter high sculpture in the dark. The building insists on being identical with its function: to serve as a solid and safe construction for the water tank that was to ensure sufficient water pressure for a growing metropolis in the 1930s.
Inside, 20 rectangular columns rise with ring and radial beams and carry the high-lying water tank. With the lighting in the room, changeable light and shadow effects are created between the columns, which visually gives the room an almost sacred expression, acoustically enhanced by the room's long reverberation time, which also creates exciting settings for changing concerts.
ABOUT THE ARTIST / ART GROUP
FBV is a group of voluntary citizens in Brønshøj who have formed an association with the aim of creating the framework for light and sound art with Brønshøj Water Tower as the core. In addition, the purpose is to test the limits of what the building can be used for and thus to revitalize the water tower as a culture house.
The water tower was built by architect Ib Lunding in 1928.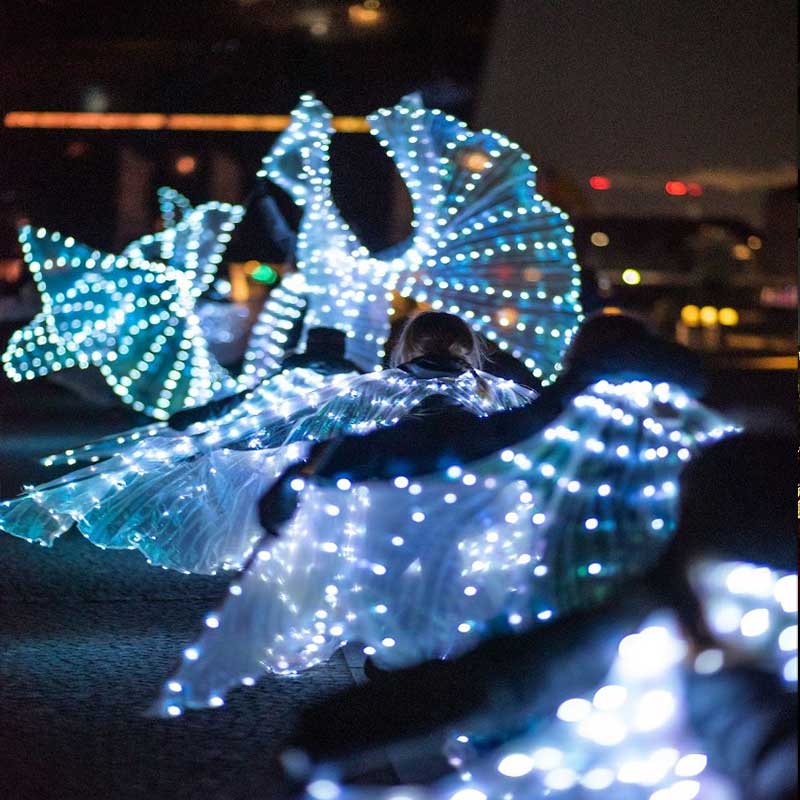 LIGHTING DANCERS
WHO: Lighting Dancers
Staging by Lotte Sigh & Morten Innstrand, Settlement by Mikkel Carlsen and costumes by Sandra Møller Svendsen
WHERE: Søren Kierkegaards Plads (Between BLOX and The Black Diamond)
WHEN: kl. 19.00
8. feb
9.feb
10.feb
22.feb CANCELLED DUE TO WEATHER
23. feb EKSTRA SHOW I DAG
24. feb CANCELLED DUE TO WEATHER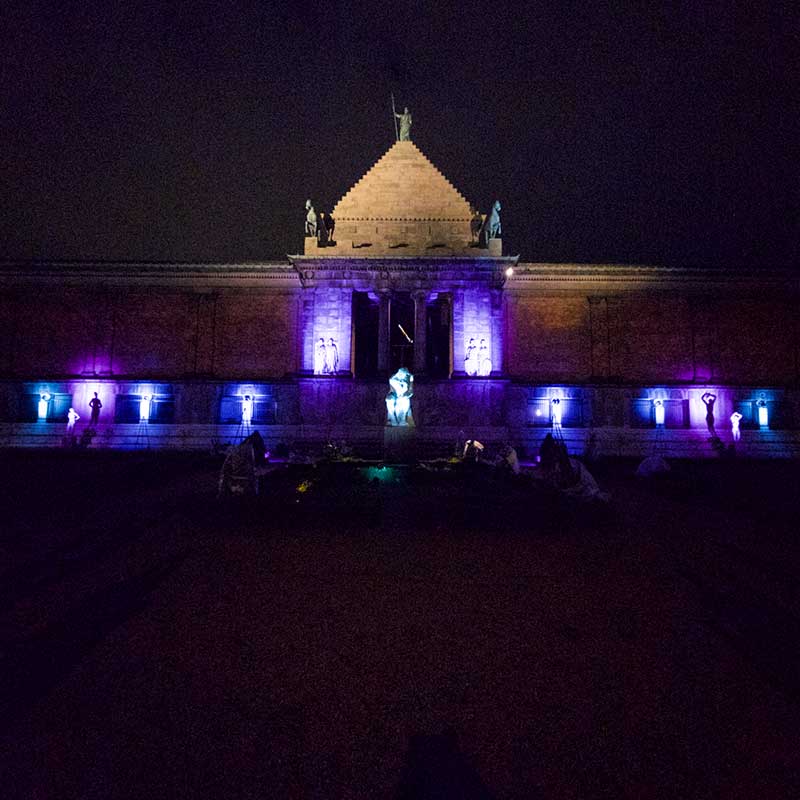 GLYPTOTEKET
WHO: NEXT and Jesper Kongshaug
WHERE: Glyptoteket, Dantes Plads 7, 1556 København
WHEN: Kl. 17.00 – 21.30
Tuesday 8/2
Tuesday 15/2
ABOUT THE POP-UP
Come and experience how light and the colors of light can stage and draw our surroundings in new ways when
Copenhagen Light festival and students from the NEXT education put the Glyptoteket in play under the leadership of Lighting Designer Jesper Kongshaug.
THANKS TO
Glyptoteket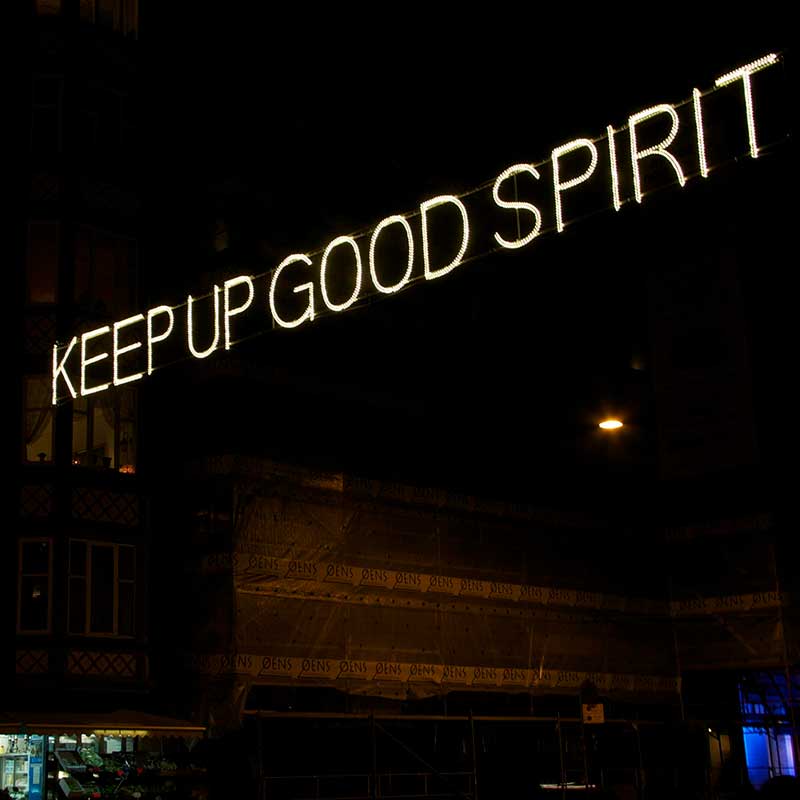 KEEP UP GOOD SPIRIT @HUSET
WHO: GOOD WORK PRODUCTIONS (DK)
WHERE: HUSET-KBH, Rådhusstræde 13, 1466 Kbh
WHEN: kl. 17-23
Mon 21/2
Tue 22/2
We 23/2
Tors 24/2
Fri 25/2
Sat 26/2
Sun 27/2
(The work will remain hanging after the CPH Light Festival until May 2022)
ABOUT THE POP-UP 
In collaboration with Good Work Productions, Huset will install the work "Keep Up Good Spirit" on the House's facade with a vernissage on 21 February. The work will be part of the Copenhagen Light Festival's Pop-up program, but will help to spread joy, life and light after a long isolated corona period.
The work is made by the artist Nina Wengel and was first installed over Amagerbrogade in 2012 in collaboration with Good Work Productions, which with the help of art tries to influence itself, society and the universe positively.
The phrase "keep up good spirit" is deliberately chosen over the more used, but less poetic "keep up the good spirit", so that the phrase could also mean "follow" or "stay in good spirits".
In addition to Amagerbrogade, the sign has previously been exhibited on Nansensgade in Copenhagen, Roskilde Festival, a venue in Tokyo, and at the Danish Jazz Awards.
The sign measures ten meters and 80 cm high and is LED and therefore uses approximately the same amount of power as a coffee machine. The frame itself is made of aluminum and weighs a maximum of 20 kilos. It can be easily installed with regular plastic strips.
ABOUT THE ART GROUP
Good work productions is an organization that, with the help of art, tries to influence itself, society and the universe positively.
Good work productions were started by visual artist Nina Wengel, and have over time had many good and important contemporary art enthusiasts.
THANKS TO
Za-za display, the Nordea Foundation, the Art Foundation, the Copenhagen Visual Arts Committee, the Amager East Local Committee, the Amager West Local Committee and Huset
OTHER LIGHT EXPERIENCES
During Copenhagen Light Festival other lights can be experienced around the city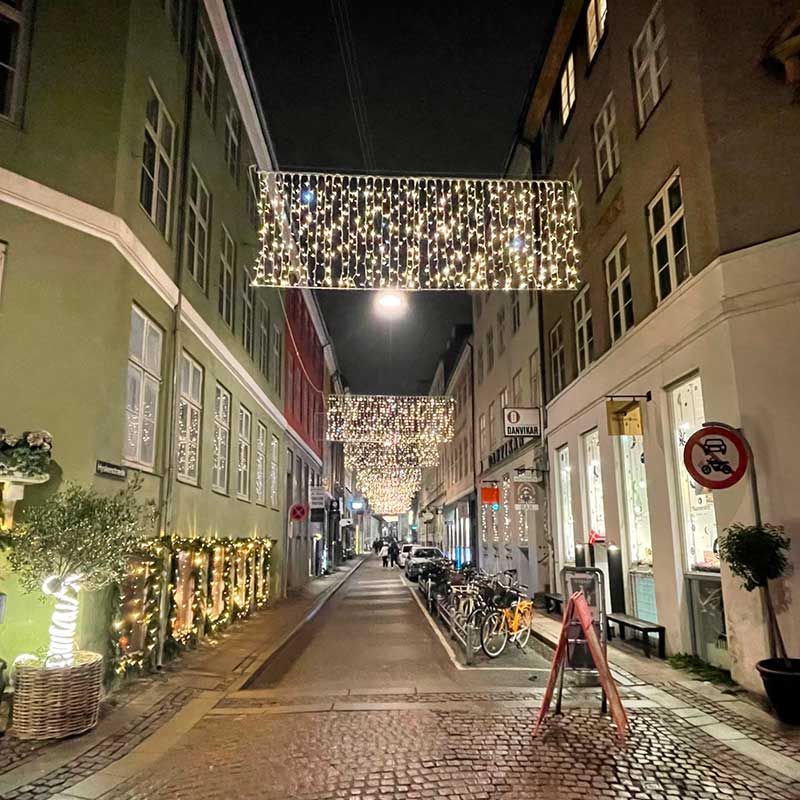 LIGHT CURTAINS
WHO: Juleministeriet
WHERE: Hyskenstræde, 1207 Kbh K
WHEN: Everyday at 7 am – midnight
ABOUT THE POP-UP
Sparkling light curtains in warm white, consisting of 4,800 LEDs.
The installation is made as partially horizontal and vertical: There are 6 horizontal curtains which form a tunnel under a scaffolding and 8 (16) vertical curtains.
Design, production, installation: Christmas Ministry
Products used: MK Illumination Drape Lite 300
Client: Secrets of Hysken (Gadeforening)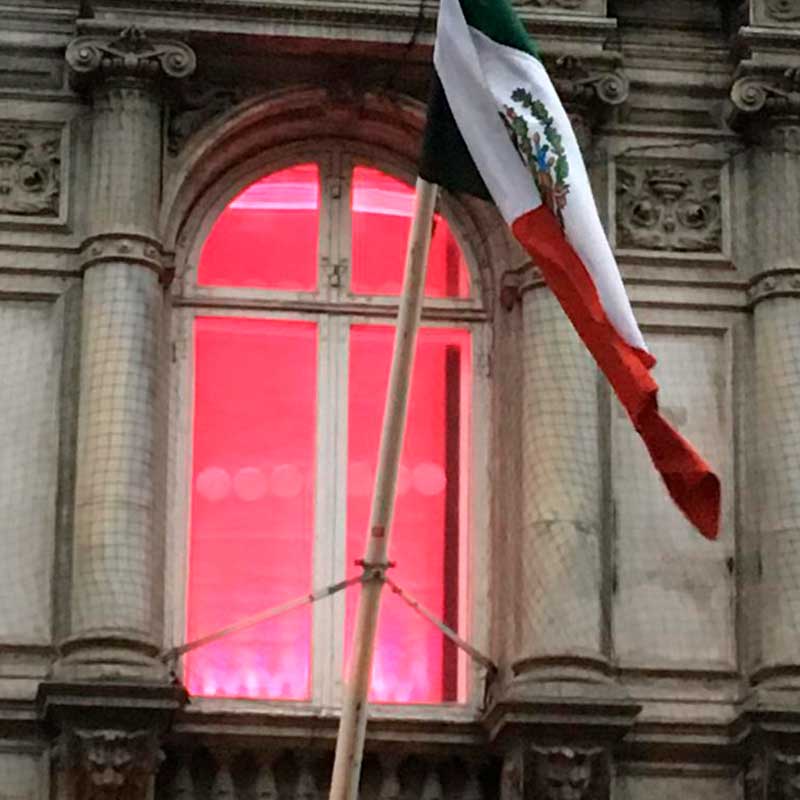 EMBROIDERY OF LIGHT
WHO: Rodrigo Fco. Lagüera Pérez 
WHERE: Bredgade 65, 1260 København
WHEN: Kl. 17.30 – 24
ABOUT THE POP-UP
It is a piece of art seeks to introduce the diversity of Mexico through the embroidery of some of the different cultures of the indigenous people spread in various regions. In such a way that the colors, patterns, art, and culture of each locality create a characteristic language of identity.
The piece is an experimental exercise, meant to be a first approach that will be developed on a bigger scale.  It is located at the Mexican Embassy in Denmark (Bredgade 65, 1260 København) And can be experienced by the public through a window from the outside.
ABOUT ARTIST
Rodrigo Fco. Lagüera Pérez has a BSc in Architecture. He is fascinated by the strong relationship between architecture and light and the necessity to create experiences for the people through light to support their well-being. This led him to Denmark where he is currently obtaining an MSc in lighting design at Aalborg University in Copenhagen. 
He is passionate about studying the relationship between emotions, human interaction, and light in architectural spaces. He pays special attention to solving the details of each project, always looking for possibilities to innovate combining knowledge, skills, tools, and experiences from both fields to create holistic solutions to all the projects.
ARTISTS 2022

Aalborg Universitet (AAU) – Anna Rosa Hiort-Lorenzen – Barly Tshibanda / Nanna Katrine Hansen / Katrine Dirckinck-Holmfeld – Båll & Brand – Byen Sover – Broens Gadekøkken – Carlo Volf – Camilla Brix Andersen – Cong Liu – Circuit Circus – Christian Tesa – Claus Egemose (Fonden Fabrikken for kunst og design) – DAC – Det Kongelige Danske Akademi – Frøjk og Herbst i samarbejde med Kulturpiloterne – Hackstage x Umage – Hans E. Madsen & Frederik Dahl Hougs – Kollision, Clever & City Studio – Kirke Meng – Kulturhuset Lumus Instruments – Lux – Islands Brygge – Jakob Fälling, Bobby Hess, Ole Samsøe – Julien Menzel – Jacob Remin – Julian Angerer / Arno Dejaco / Anna Heiss / Clara Mayr / Nora Pider – Københavns Erhvervs Akademi (KEA) – Mads Vegas – Maani Nikdel / Lily A. Nissen / Michael M. Nissen – Mads Buus / Allan Gram / Alex Clerici – Marie Nørgaard Nielsen – Maj D & HagbArt – Markus Anders Art & Circus Lumineszenz – Mikkel Nielsen &  Nicolas Odyssea Andreou – Michelle Yi Martin – Morten Just – Niels Bonde – Robert Garde og Garcia Pauwels – Sara Ki Noguera Plans & Jonathan Ki Lindhult – Svartljus – Studio Jakob Kvist – Sally Rud og Laura B (Vanløse lyser) – Siiku – Søren Lyngsø Knudsen – Søren Hüttel – Tokyo Blue – Those Guys Lighting – Thomas Lewin & Stangdennis – Åsa Frankenberg