Artists 2020

Amanda Søes – ArtGroup 1103 – Arthur van der Zaag – Amager Lyser – Børsen – Camilla Brix Andersen – Cong Liu – DAC – ERNA Projects – Flip – Glyptoteket – Group 3 – Hans E. Madsen – Karoline H. Larsen – KCC – Mariliis & Mihkel – Martin Ersted – Mads Vegas – mARTy ART – Maxime Touroute, Louis Clément, Maxime Hurdequint – Nadia Ali Hansen – Palle Vedel – Peter Rietz – Reffen – Ruta Palionyte – Schengen Kingdom – Silla Herbst & Katrin Barrie Larsen – Thomas Lewin,  Beata Kur,  Jessica O'hara-Baker – ThonLab – Vertigo – Siiku – Studio Jakob Kvist – ZOO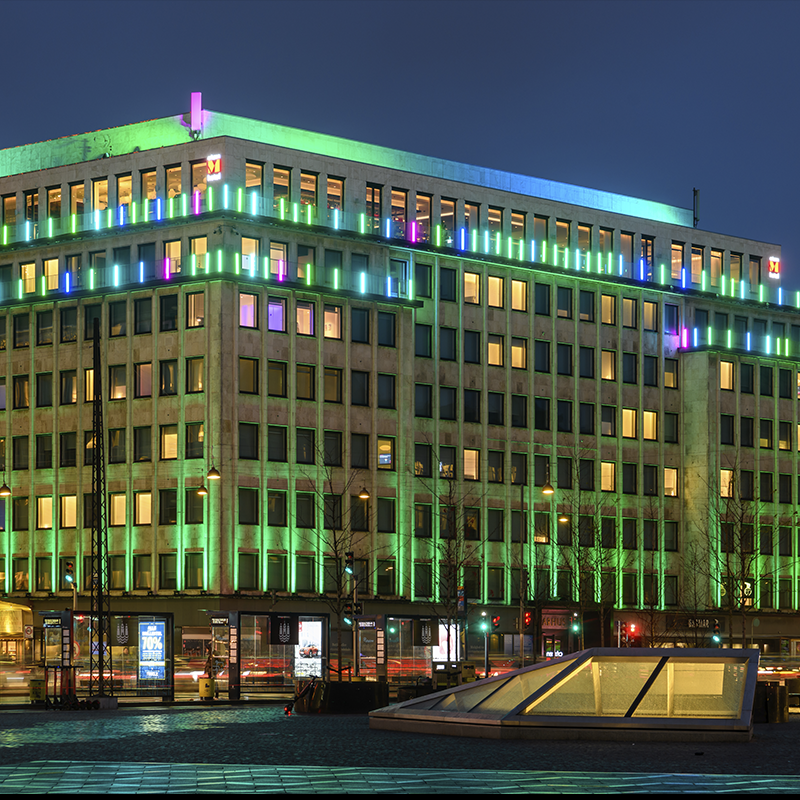 Mads Vegas
AURORA SKY
citizenM Copenhagen Rådhuspladsen
______
At any time 1-23 February
MUSIC BY TEITUR WILL PLAY 5pm (kl.17) EVERYDAY for 12 minutes.
(the music piece can be heard from inside the hotel at any time)
_____
ENGLISH
citizenM presents Aurora Sky, an immersive light installation by Mads Vegas, enhanced by sound in the form of a musical track by Teitur. The track will be broadcasted at 17.00 every evening during the festival.
The installation illuminates the spectacular citizenM hotel on Rådhuspladsen and invites onlookers to lose themselves in an urban, artistic interpretation of Aurora Borealis (the Northern Lights). In Mads' words, "nature can never be designed or recreated, but it can inspire." The piece will draw people to look skyward, then continue their Aurora Sky experience at citizenM's 7th-floor bar where a series of talks and events will take place throughout the festival.
With the light art being integral to the brand's DNA, citizenM is thrilled to participate in Copenhagen Light Festival 2020. Come experience the magic of Aurora Sky from 1 – 23 February.
DANSK
citizenM præsenterer Aurora Sky, en fordybende lysinstallation af Mads Vegas, forstærket med lyden af musik fra Teitur.
Installationen oplyser det fantastiske citizenM hotel på Rådhuspladsen og invitere forbipasserende til at fordybe sig i et urban, kunstnerisk fortolkning af Aurora Borealis (Nordlyset). Mads beskriver selv: "Naturen kan aldrig blive designet eller genskabt, men den kan inspirere."
Værket vil invitere mennesker til at kigge opad mod himlen, og fortsætte deres Aurora Sky oplevelse på citizenM's 7. etages bar, hvor en serie af talks og events kan opleves igennem festivalen.
Med kunsten som værende en del af hotellets DNA, er citizenM begejstrede for at være en del af Copenhagen Light Festival 2020.
Kom forbi og oplev Aurora Sky fra den 1-23. februar.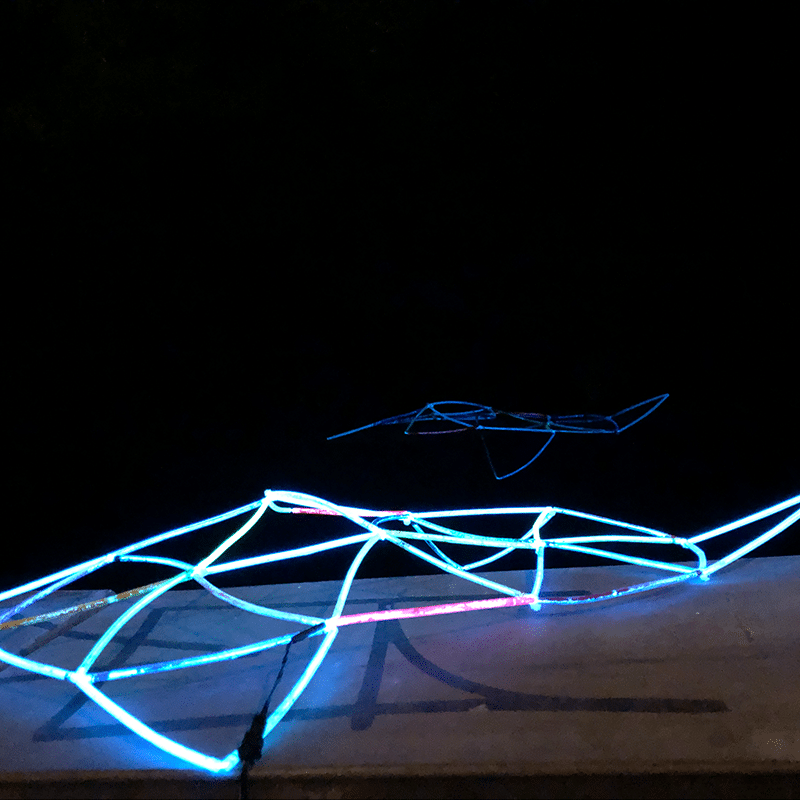 Camilla Brix
BlueTube
På kajen / on the quay
Ved Stranden
_____
Kl. 17-22 / 5pm-10pm
_____
ENGLISH
Every year graffiti artists from around the world use thousands of Molotow spray cans when they enrich the space at Roskilde Festival with street art, but what happens to the cans afterwards? This year some of them have been dissected and reused in the creation of various artworks by the artist Camilla Brix Andersen. With a focus on sustainability she works with an innovative and experimental approach to materials, and thus strives to use the entirety of the can within a clean aesthetic.
DANSK
Hvert år har grafitti artister fra hele verden brugt over tusinde Molotow spray dåser, når de beriger Roskilde Fetival med street art, men hvad sker der med alle dåserne bagefter? I år har nogle af dem blevet genbrugt og dissekeret ind til kreationen af mange forskellige kunstprojekter, lavet af kunstneren Camilla Brix Andersen. Med fokus på bæredygtighed, arbejder hun med en innovativ og eksperimenterende tilgang til materialer, og bestræber sig også til at bruge hele dåsen indenfor ren æstetik.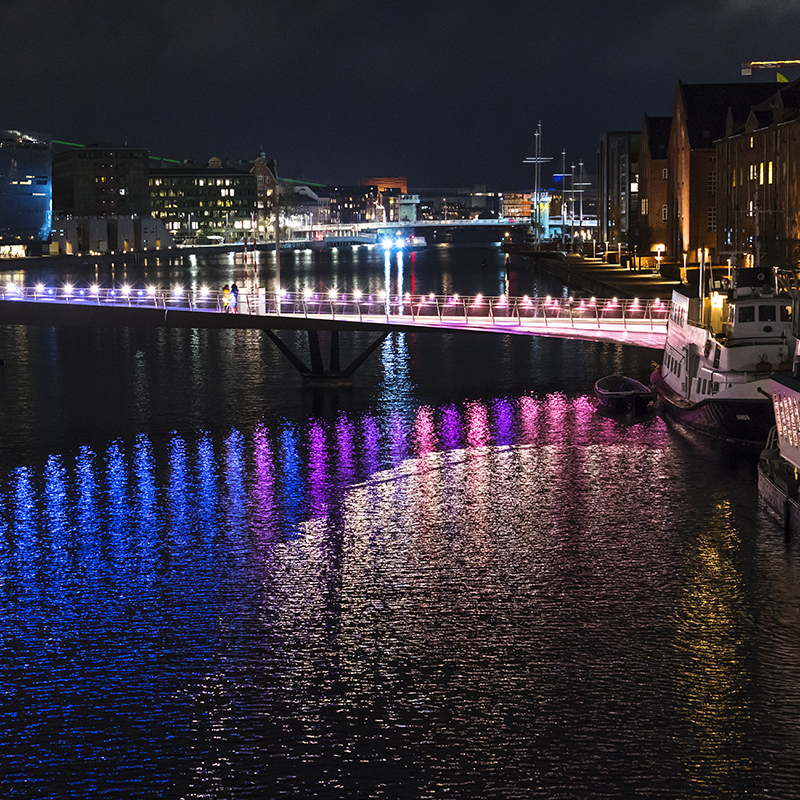 Silla Herbst & Katrin Barrie Larsen
Beads'n Strings
Lille Langebro
_____
Kl. 17-22 / 5pm-10pm
_____

ENGLISH
Like a string of pearls the light-art work Beads'n Strings stretches over Little Langebro, creating strings of light which reflect in the water below.
Beads'n Strings transforms Copenhagen's new bicycle and pedestrian bridge, connecting BLOX, near Vester Voldgade to Langebro street on Christianshavn, by adding colour filters to the existing lamps on the bridge's wing construction. A variable colour sequence slowly graduates from pink tones through violet, to end at the top in blue-green harmony. By filtering the existing light sources on the bridge's balustrade, great effect is attained while emphasizing its unique form.
From a distance can be seen long threads of colour from the bridge's 'light pearls' reflecting in the water beneath.
From Vester Voldgade there is an additional effect, caused by the distinctive alternating changes between red and green of the traffik lights on the bridge, when they interact with Beads'n Strings' vibrant colours.
DANSK
I forbindelse med Copenhagen Light Festival 2020, ønsker vi med vores konceptoplæg, at tydeliggøre broens form, konstruktion og ikke mindst tilstedeværelse i havneforløbet. Ved at anvende og farvefiltrere de allerede eksisterende lysgivere på broens værn kan man opnå stor effekt og stadig bevare grundgrebet for broens tegning. Ved at tilføje lys med lamper fra vandsiden på brostykkets midte, der til dagligt henligger i mørke, forenes de to brosider i et sammenhængende stræk hen over havnen, samtidigt med at den flotte krumning af broens forløb tydeliggøres som en positiv belyst side.
Thanks to: GoBo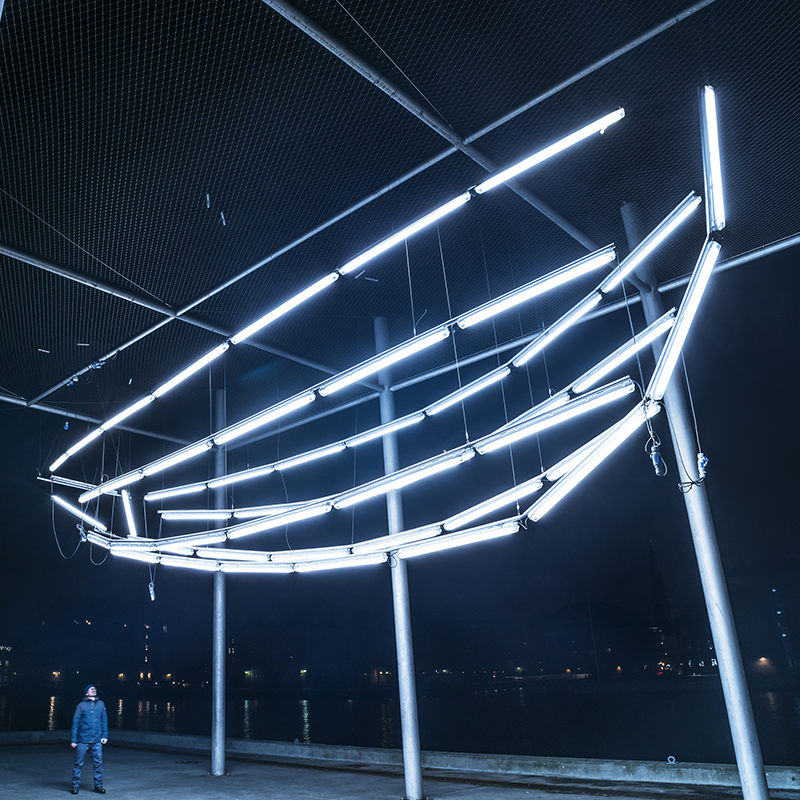 Hans E. Madsen
BÅD
Knasten
_____
Kl. 17-22 / 5pm-10pm
_____

ENGLISH
The artwork 'Boat' by Hans E Madsen can be described as a glowing three-dimensional drawing or sketch of a boat, hovering in the air next to the harbour. The boat is a carrier of meaning – of leaving and returning, life and death. In Denmark boats are also a part of national self-identification as a seafaring and fishing nation.
'Boat' is made from about 60 LED light tubes attached to an aluminium pipes individually suspended in the air from the large construction – allowing the artwork to shift in the wind.
The Artist Hans E Madsen works with large site-specific installations in public spaces – often with light as a tool. The artworks are usually done with inexpensive everyday materials and are temporary in nature.
DANSK
Værket 'BÅD' af Hans E. Madsen kan beskrives som et glødende tredimensionel tegning eller skitse af en båd, svævende i luften tæt på havnen. I Danmark er både en del af national identiteten, som en søfarts og fiske nation
'BÅD' er lavet med ca 60 LED lys-ledninger tilknyttet til aluminiumsrør der individuelt er hængt fast i luften fra den store kontruktion omkring – dette tillader værket at bevæge sig omkring til vinden.
Kunsteren Hans E. Madsen arbejder med store installationer i offentlige rum, tilknyttet det bestemte sted – ofte med lys som værktøj. Værkerne er ofte udarbejdet med billige hverdags materialer, og er midlertidige i naturen.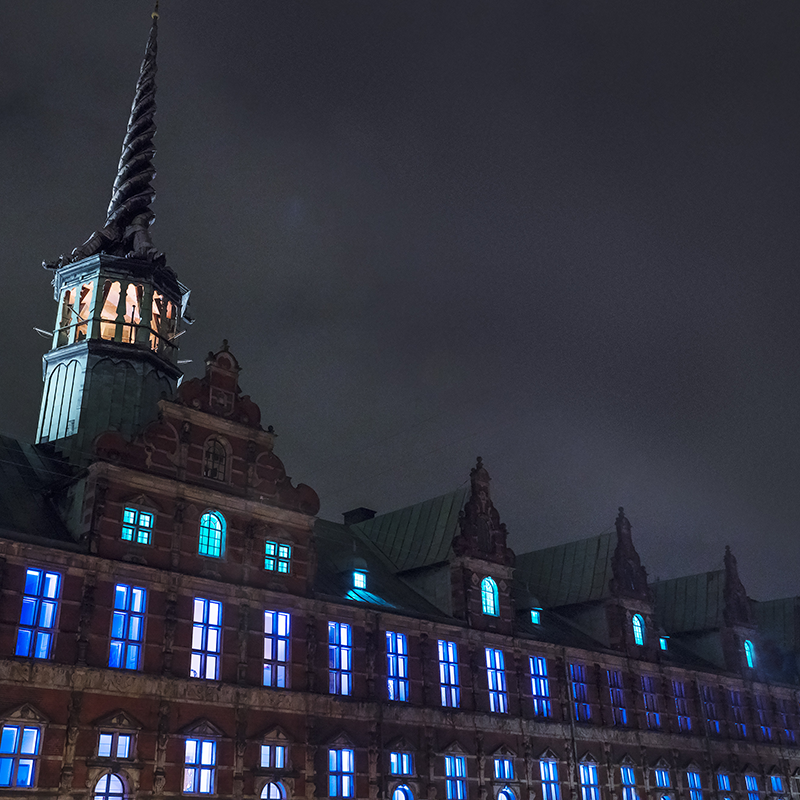 Redesignet af Silla Herbst
Blue Horizon
Børsen
_____
Kl. 17-22 / 5pm-10pm
_____
ENGLISH
Just 400 years ago, Chr. IV started the construction of the stock exchange. From its inauguration, the building, as with its winding dragon tower, is Denmark's most iconic building, has been a center for trade in Copenhagen. The building has in turn been owned by the royal house and private – but since the Danish Chamber of Commerce took over the building in 1857, Børsen has been owned by Danish companies today represented by the Danish business organization Dansk Erhverv.
Copenhagen Light Festival creates a large light installation in the beautiful building windows, which faces the Frederiksholms Canal. To emphasize that Børsen is still a trading center, the windows will be illuminated in shades of blue. The light will be static.

DANSK
For kun 400 år siden startede Christian den 4. konstruktionen af Børsen. Fra dens indvielse har bygningen, med dens snoede drage tårn, været Danmarks mest ikoniske bygning og centrum for handel i København. Bygningen har på skift været royalt og privat ejet, men siden Dansk Erhverv tog over i 1857, har Børsen været ejet af danske virksomheder repræsenteret af Dansk Erhverv.
Copenhagen Light Festival laver en kæmpe lys installation i bygningens store smukke vinduer, som vender ud mod Frederikholms Kanal. For at understrege at Børsen stadig er et handels centrum, er vinduerne oplyst i blålige farver. Lysene vil være statiske.
Jakob Kvist
Chromatic City / Søjlen
Slusen, Lone Kellermanns Vej
Sponsoreret af Sluseholmen
OBS! UNDER REPARATION. Chromatic City will be functional again from Wednesday 19th
OBS! UNDER REPARATION. Chromatic City er i funktion igen, fra onsdag d. 19. februar
_______

Søjlen will be on / Søjlen er tændt:
kl. 17-24 om aftenen / 5pm – 12 pm
kl. 6-8 om morgenen / 6am – 8am
________
ENGLISH
Light Column (a part of Chromatic city)
The light column is a light sculpture materialized by heavy floodlight into the sky above Copenhagen. The light column "Chromatic City" is the largest installation of its kind in Europe, and on a clear sky it will be visible to more that 3,9 million people in the Øresund area.
The column is a sculpture created of light beams materializing in the sky and intuitively leading people to the source of the light. In the same way you look for the rainbow the light column draws you to exploring the city in search of the source of light.
DANSK
Søjlen er en lysskulptur som materialiserer sig ved hjælp af kraftige lyskastere i himlen over København. Søjlen er den største installation af sin slags i Europa, og er i klart vejr synlig for mere end 3,9 mio. mennesker i hele Øresundsområdet. 
Formålet med Søjlen er, at skabe en skulptur af lysstråler som materialiserer sig i luften, og således intuitivt leder folk hen til udgangspunktet for værket. På samme måde som man har ledt efter enden af regnbuen, har Søjlen en ur-menneskelig tiltrækningskraft som drager mennesker på opdagelse og fordrer udforskning byen i jagten på at finde frem til lyskilden.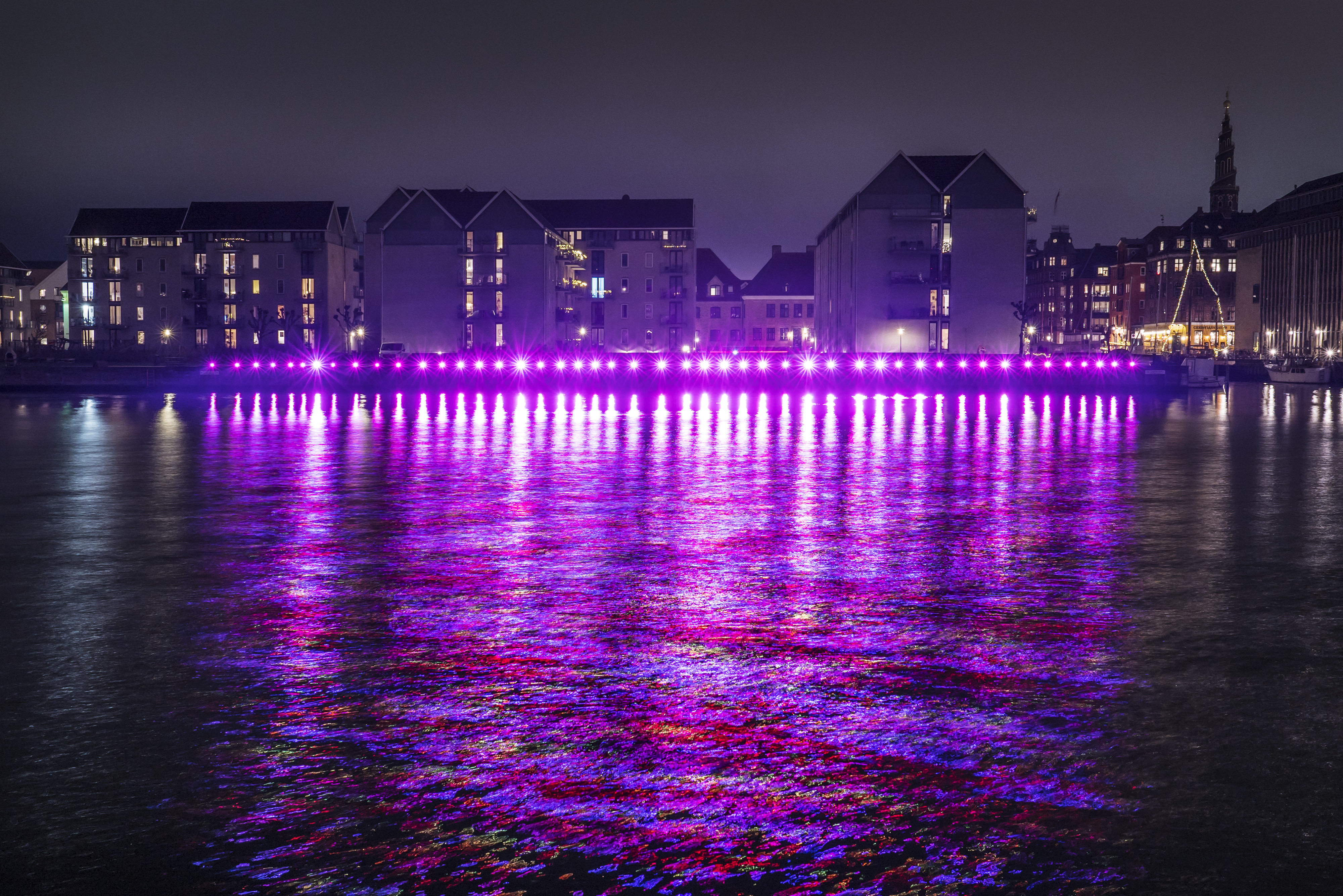 NEXT
Digital Reflections 2.0
Havnepromenaden, ved siden af The Standard. Ses bedst fra Strandgade ud mod havnefronten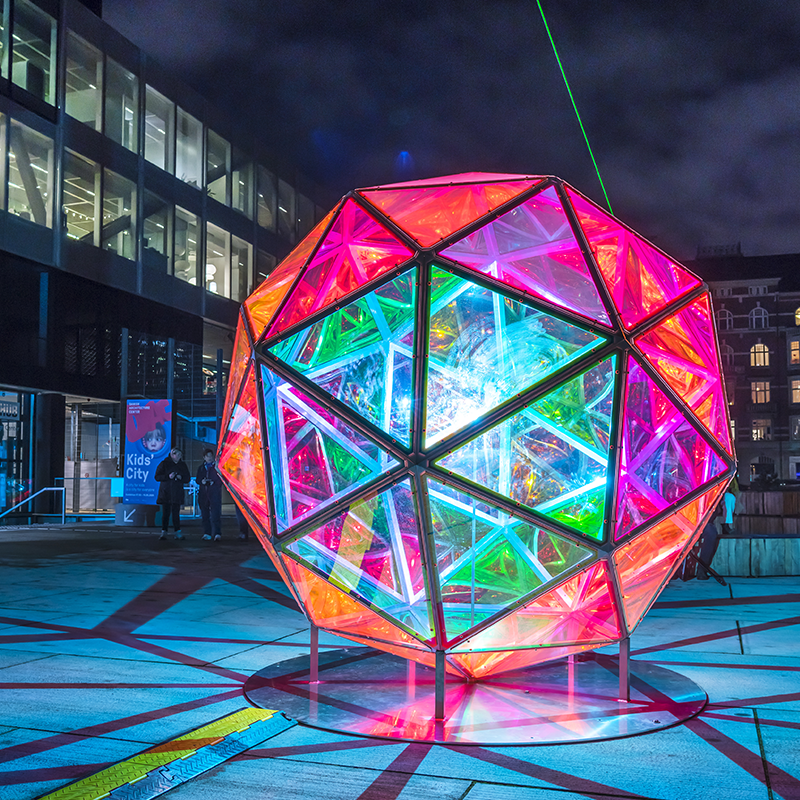 Jakob Kvist
Dichroic Sphere @ BLOX
Bryghuspladsen
_____
Kl. 17-22 / 5pm-10pm
_____
ENGLISH
Dichroic Sphere @ BLOX is a geodetic construction of wood with applied dichroic foil, that with the help of a single light bulb lights up the area around.
The special dichroic foil bends the light in colors depending on what angle and what time of the day it's viewed. When combined with the geodetic wood construction the color pattern will be consistent no matter what angle it's viewed from, which gives Dichroic Sphere @ BLOX a preternatural visual appearance.
Dichroic Sphere @ BLOX can be seen from a great distance where it lightens up the surroundings and casts a net of shadows from all around the piece of art.

DANSK
Dichroic Sphere består af en geodætisk trækonstruktion, påsat dichroic folie der er lyst op ved hjælp af én enkelt glødepære. Den specielle dichroic folie bøjer lyset i farver alt efter betragtningsvinklen. Kombineret med den geodætiske trækonstruktion, vil farvernemønstret være konstante uanset betragtningsvinklen, hvilket giver Dichroic Sphere en overnaturlig visuel fremtoning. Dichroic Sphere er synlig fra lang afstand, lyser omgivelserne op og kaster et net af skygger, 360 grader rundt om skulpturen.
Foto: Kim Matthai Leland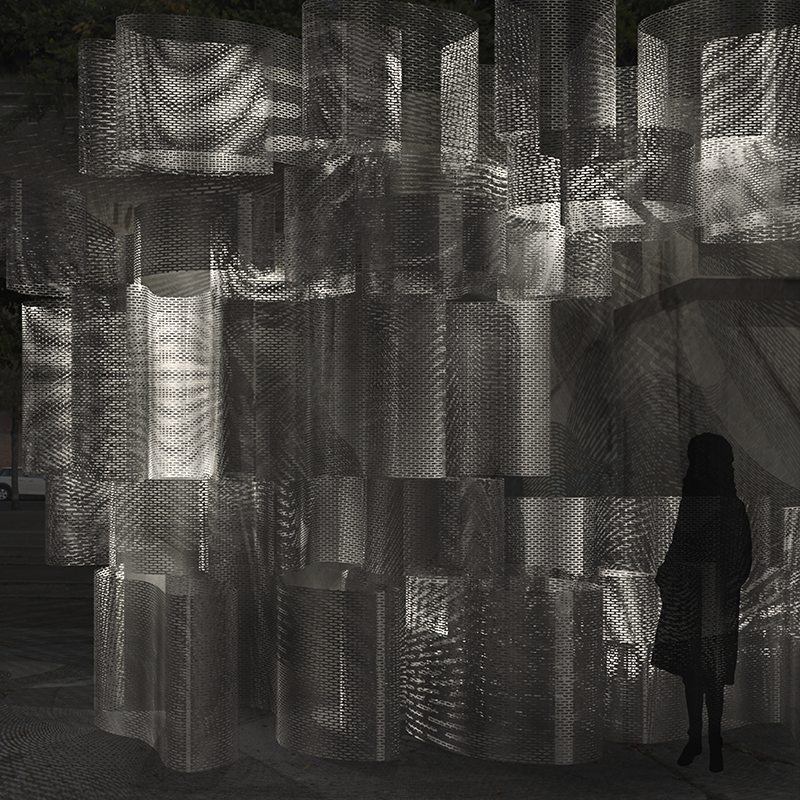 Erna Projects
Formation
Muren i havneparken v. Islandsbrygge
En del af Amager Lyser! / A part of Amager Lyser!
_____
Kl. 17-22 / 5pm-10pm
_____

ENGLISH
FORMATION examines the encounter between the tangible and the perceptible. 
Materials, poetic light and the raw concrete wall create a visual dialogue between the present and the past. Summer's leafy greens on the wall has entered winter hibernation and, in their place, luminescent formations are growing transforming the concrete wall and the ground into beautiful shadow reliefs. The installation can be experienced both day and night. 
DANSK
FORMATION undersøger mødet mellem det fysiske og det visuelle. 
Materialer, poetisk lys og kontekstens rå beton skaber en visuel dialog mellem nutid og fortid, der kan opleves dag som nat. Sommerens grønne vækster på muren er gået i vinterhi, og i deres sted vokser lysende formationer, der transformerer betonen og jorden til smukke skyggerelieffer. 
Støttet af: Amager Vest Lokaludvalg, Amager Øst Lokaludvalg, Statens Værksteder for Kunst, Nordjysk Lift, Copenhagen Light Festival og Kulturhuset Islands Brygge.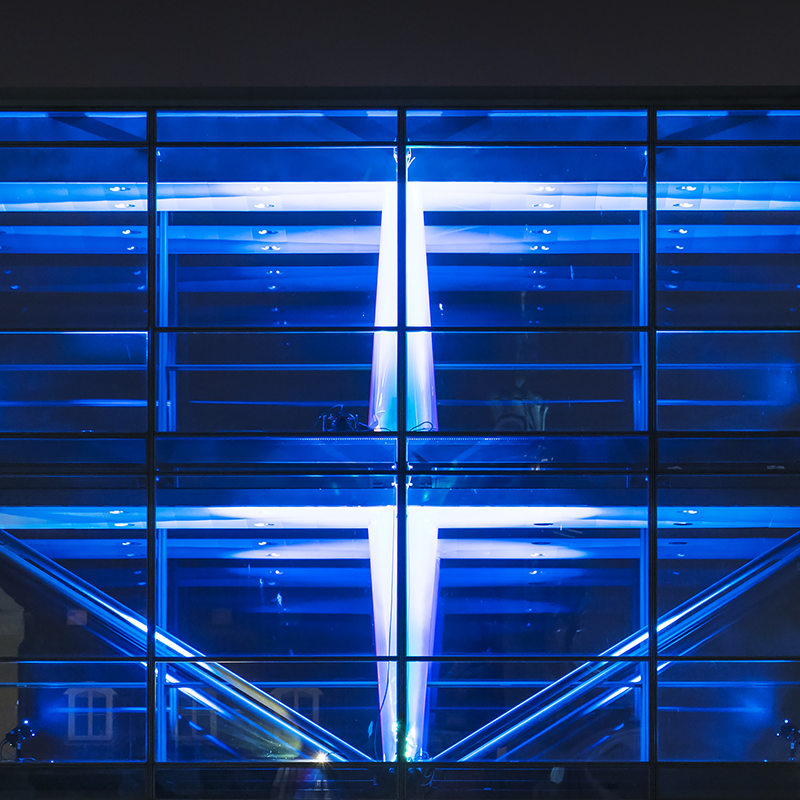 Ruta Palionyte
For The Lonely Giant Plant
Nordea, Strandgade Christianshavn
_____
Kl. 17-22 / 5pm-10pm
_____
ENGLISH
The installation 'For the lonely giant plant' takes place at the glass gangway connecting the two buildings of Nordea Headquarters designed by Henning Larsen Architects in Christiansbro. 'The giant plant' is placed in the suspended glass corridor which connects the two buildings of the complex.  
If we take a broader view, it also faces the baroque church, it's garden, the city to the east and harbour to the west. This transparent interconnecting pathway becomes a shelter for the 'giant plant' which blossoms through the use of the color and light. The blossoming embodies the power of the natural phenomena in a relation to our environment.
DANSK
Installationen er inspireret af Titanum Arum, en dækfrøet plante med en verdens største blomsterstand. Grundet plantens stærke lugt, som minder om et rådnende lig eller råddent kød, er den også kaldt Ligblomst.
Set i større perspektiv, vender installationen mod den barokke Christians kirke og dens have, samt Indre by østpå og havnen vestpå. Denne sammenkoblende sti bliver til et ly for 'den kæmpe plante', som blomstret ved hjælp af lys og farver. Blomstringen legemliggør kraften af en naturfænomen i forhold til vores omgivelser.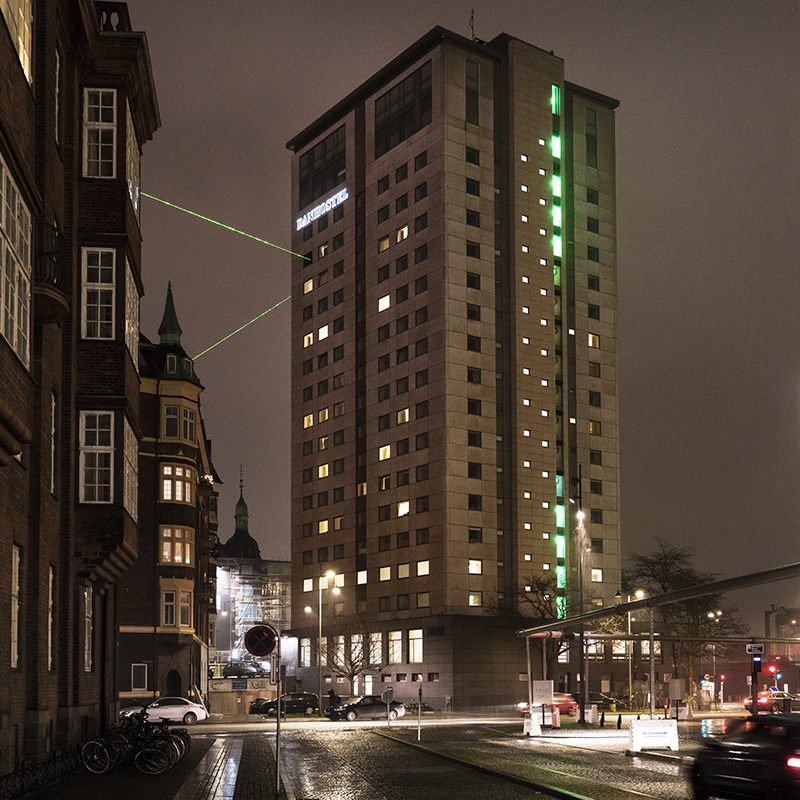 Båll & Brand
Green Beam III
Tivoli – Danhostel Copenhagen City – Reffen
_____
Kl. 17-22 / 5pm-10pm
_____
ENGLISH
A tribute to the beautiful in the energy of light. A reference to the Danish Niels Bohr's atomic model and the principle of light transmission. This year Green Beam returns to the sky of Copenhagen during Copenhagen Light Festival and has evolved with a surprising twist and stretches almost 4 kilometer. The green laser – one of the most distilled forms of light – makes connection between three significant points of interest in Copenhagen: The heart of Tivoli, the iconic building Danhostel Copenhagen City and the old shipyard and now cultural hub Refshaleøen. In a room on the 15th floor of Danhostel the beam is angled and continues to Refshaleøen where it marks the outer boundaries of the route of the festival.
DANSK
En hyldest til den smukke energi af lys. En reference til Niels Bohr's atomiske model og hans princip af lys transmission. Dette års Green Beam vender tilbage til Københavns himmel under Copenhagen Light Festival, og har udviklet sig med en overraskende twist, og strækker sig over 4 kilometer. Den grønne laserstråle – en af de mest destilleret former af lys – opretter forbindelse mellem tre væsentlige interessepunkter i København: hjertet af Tivoli, den ikoniske bygning Danhostel Copenhagen City og det gamle skibsværft ved det nu kulturelle midtpunkt Refshaleøen. Et et værelse fra den 15. sal på Danhostel, er strålen vinklet, og fortsætter til Refshaleøen hvor den markere de ydre grænser af festivalen.
Photo: Kim Matthäi Leland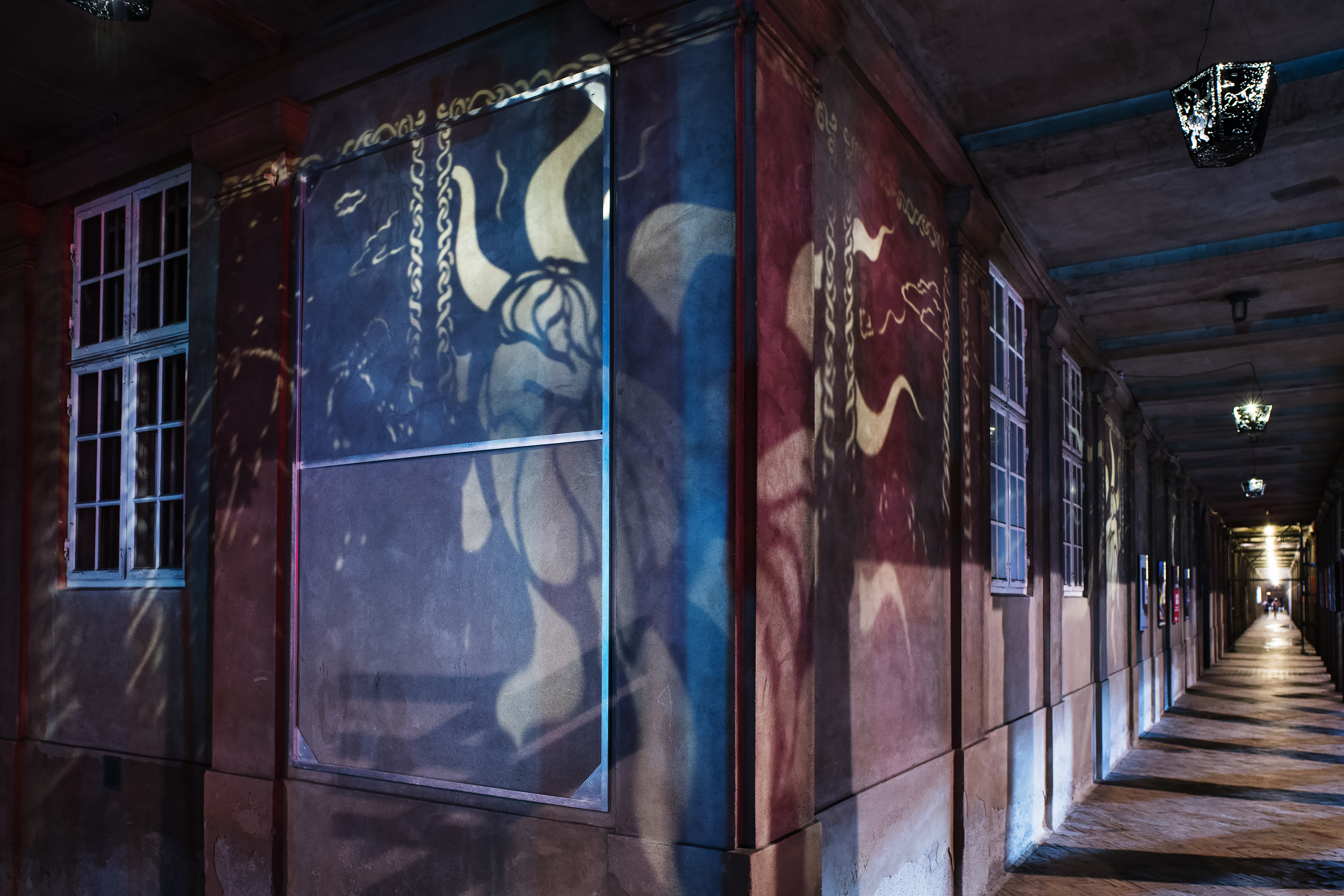 Nadia Ali Hansen
Heidthornir
Buegangen, Nationalmuseet
_____
Kl. 17-22 / 5pm-10pm
_____
ENGLISH
The lighting installation Heidthornir, drawn by Cecillie Lundsgaard, seeks to illustrate the story of the sun and the moon from Norse mythology through a series of still frames projected on the walls. The story is taken from Snorri Sturluson's Edda, which depicts the Norse creation myths and legends. The moon and the sun, brother and sister, are chased by wolves, never able to meet again, and therefore cycle around the earth, creating day and night.
DANSK
Lysinstallationen Heidthornir, tegnet af Cecillie Lundsgaard, forsøger gennem en serie af stillbilleder at illustrere nordisk mytologis historie om solen og månens oprindelse, som bliver projekteret på væggen.
Historien er taget fra Snorri Sturlusons Edda, som er den mest udførlige nedskrivning tilbage af nordisk mytologi og legender.
Måne og Sol, som er bror og søster, er forbandet til at flygte over himlen, jagtet af ulve.
Photo Christoffer Askman
Thomas Lewin, Beata Kur, & Jessica O'Hara-Baker
Ignis Fatuüs
Kulturtårnet, Knippelsbro
_____
Kl. 17-22 / 5pm-10pm
_____
ENGLISH
Kulturtårnet on Knippelsbro provides the setting for this site-specific work. A now-defunct control tower for the bridge, what was once an integral part of naval traffic in and out of the Merchants' Harbor presently serves as a cultural institution. What was it like to live in the Tower? To provide the warmth and security of safe passage, yet remain faceless and nearly invisible behind the Tower's copper exterior?
DANSK
Kulturtårnet Knippelsbro sørger for baggrunden for dette stedsspecifikke værk. Et nu ikke-funktionsdygtigt kontroltårn for broen, der engang var en integreret del af flådetrafikken ud og ind af den handels havnen, der nu fungere som kulturel institution.
Hvordan var det at leve i tårnet? For at give en varme og en sikkerhed for tryg overgang, og stadig være ukendt og næsten usynlig bag tårnets kobber ydre?
Photo Christoffer Askman
Cong Liu
Interactive Trampoline
Trampolinerne på Havnegade
ENGLISH
The interactive trampoline will bring you through the life cycle of a stellar. Jump in and submerge yourself into the galaxy and bring life to a new stellar. Your jump movement will create fusion reactions during the stellar's development. Jump harder and higher! You can trigger a supernova eruption. After the shock wave, you will melt in a splendid nebula.
DANSK
Interaktiv trampolin
Den interaktive trampolin bringer dig gennem en stjernes livscyklus. Spring ind og nedsænk dig selv i galaksen og giv liv til en ny stjerne. Din hoppebevægelse skaber fusionsreaktioner under stjernernes udvikling. Spring hårdere og højere! Du kan udløse et supernovaudbrud. Efter chokbølgen smelter du i en pragtfuld stjernetåge.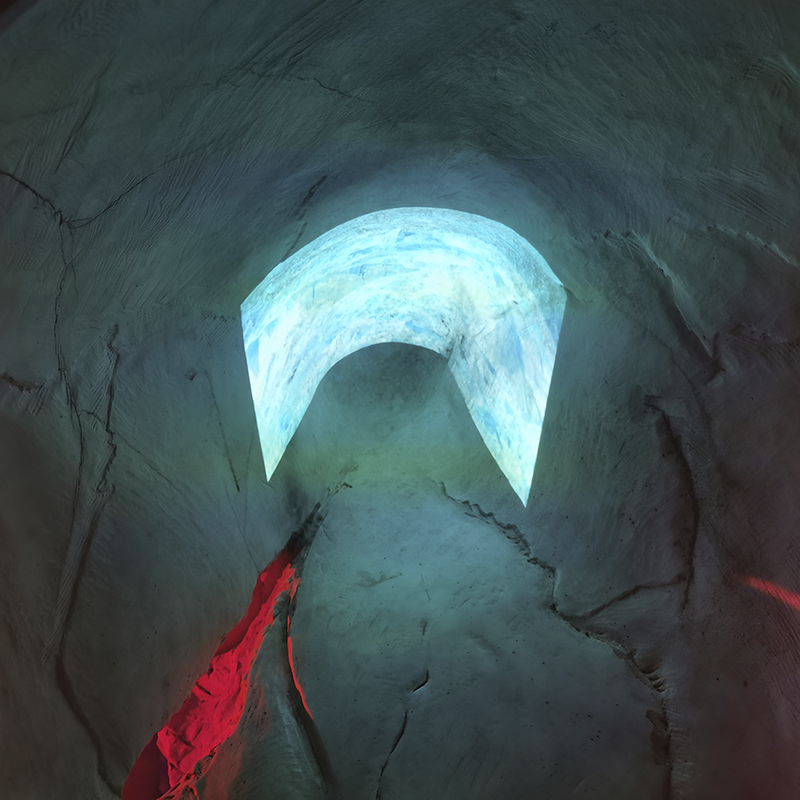 Palle Vedel
Introvert
Next to Kulturhuset Islands Brygge, Islands Brygge 18, 2300 Kbh S. 
En del af Amager Lyser! / A part of Amager Lyser!
_____
Playing: Thursday – Saturday 5pm-10pm
Spiller: torsdag – lørdag kl. 17-22
____
ENGLISH
Video installation by Palle Vedel on the statue Plato's Cave by Christian Lemmerz. 
Who do you make eye contact with when you look inside?  
DANSK
Introvert
på Christian Lemmerz' statue Platons hule, Ved Kulturhuset Islands Brygge, Islands Brygge 18, 2300 Kbh S
Hvem ser du i øjnene, når du kigger indad?
Sponsored by Amager Vest Lokaludvalg, Copenhagen Light Festival and Kulturhuset Islands Brygge.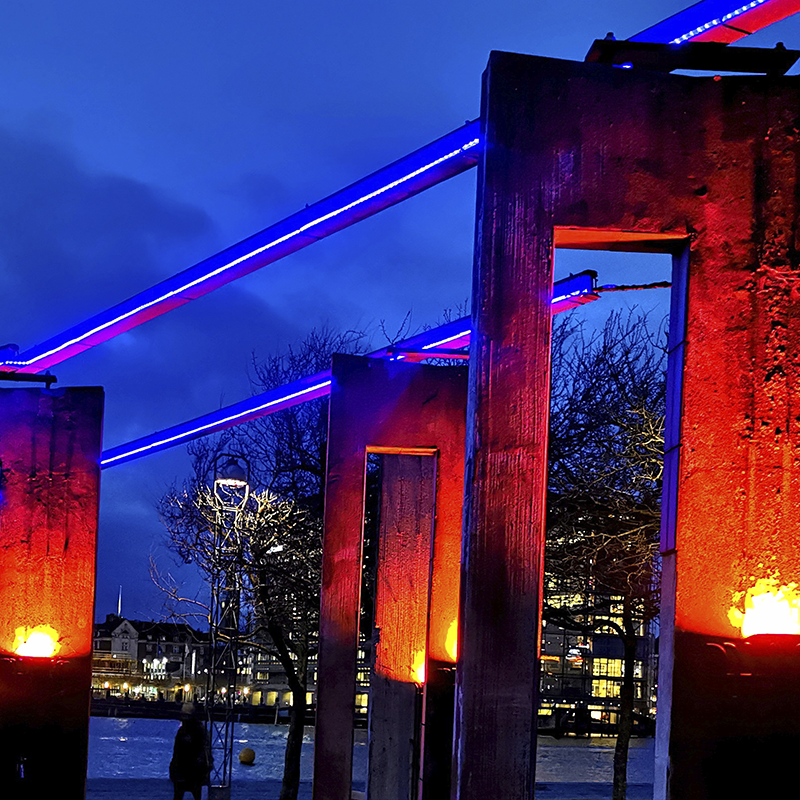 Palle Vedel 
Lán sè guǐdào – Blue line
On the concrete monoliths next to Kulturhuset Islands Brygge, Islands Brygge 18, 2300 København S.
En del af Amager Lyser! / A part of Amager Lyser!
_____
Kl. 17-22 / 5pm-10pm
_____

ENGLISH
The complementary colours red and blue highlight the old train tracks that rest on the concrete walls next to Kulturhuset Islands Brygge. The changing tempo and distances of light are a quiet echo from the industrial history of Islands Brygge, where large ship-to-train and train-to-ship charges have taken place for generations. 
Sponsored by Amager Vest Lokaludvalg, Copenhagen Light Festival, Nordjysk Lift and Kulturhuset Islands Brygge.
DANSK
På betonmonolitterne ved siden af Kulturhuset Islands Brygge
En del af Amager Lyser!
Komplementærfarverne rød og blå fremhæver de gamle togspor, der hviler på betonvæggene ved siden af Kulturhuset Islands Brygge. Lysets skiftende tempo og afstande er et stille ekko fra Islands Brygges industrihistorie, hvor store ladninger fra skibe til tog og fra tog til skibe har fundet sted i generationer.
Palle Vedel er kreativ producer og fotograf.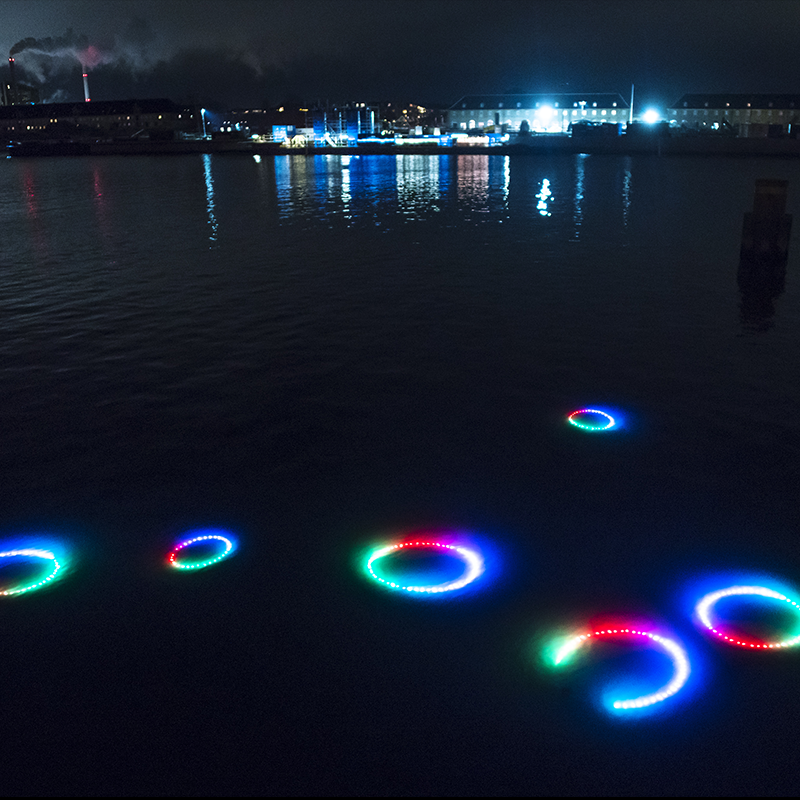 ThonLabs
Light Rings
Skuespilhuset, i vandet/in the water
_____
Kl. 17-22 / 5pm-10pm
_____
ENGLISH
The lightwork consists of 8 rings of 4 different sizes (in sizes from 71 to 122 cm). In each ring there is installed addressable LED's that is animated as a dynamic colorful wheel. In total there is used 450 LED's. The ring are places 25-30 centimeters under the water surface, and is held to the bottom by a concrete block and nylon robe. The rings are made of wood, and is treated the same way as you would do with the underside of a ship, and is therefore able to float and last longer in the saltwater.
Inspiration:
The light work is an extension of the artists studies of the phenomenon "bioluminescence". It is when organisms sends out and uses light in relation to hunting, communication or in selecting a partner. It is a widespread phenomenon in nature, where organisms as diverse as mushrooms to worms, uses light to all kinds of different functions. Especially how the light from deep-sea jellyfish is used for hunting, has inspired the artist a lot. The light work is his attempt to depict a swarm of jellyfish in a hunt and their internal communication through the help of light.
DANSK
Værket består af 8 ringe af 4 forskellige størrelser (i størrelser fra 71 til 122 cm). I hver ring er monteret adresserbare LEDér som bliver animeret som et dynamisk farvehjul.  I alt bliver der brugt 450 LEDér. Ringene er placeret 25-30 cm under vandspejlet, og holdes til bunden af en betonklods og nylon reb. Ringene er lavet af træ, og er behandlet på samme måde om undersiden af et skib, og kan derfor flyde samt holde til længere tid i saltvand.
Inspiration:
Værket er en forlængelse af mine studier af fænomenet "bioluminescence". Altså når organismer udsender og bruger lys til f.eks. jagt, kommunikation eller partnerudvælgelse. Det er et udbredt fænomen i naturen, hvor organismer så forskelligartede som fra svampe til orme, bruger lys til et vel af forskellige funktioner. Især hvordan lyset fra dybhavsgobler bruges til jagt, har i den senere tid optaget mig meget. Værket og dens adfærd/animation, er et forsøg på at gengive en sværm af dybhavsgobler på jagt samt deres indbydes kommunikation ved hjælp af lys. Jeg synes det er meget interessant at undersøge om nogle af de lys-mønstrene som benyttes af goblerne, har samme effekt på mennesker.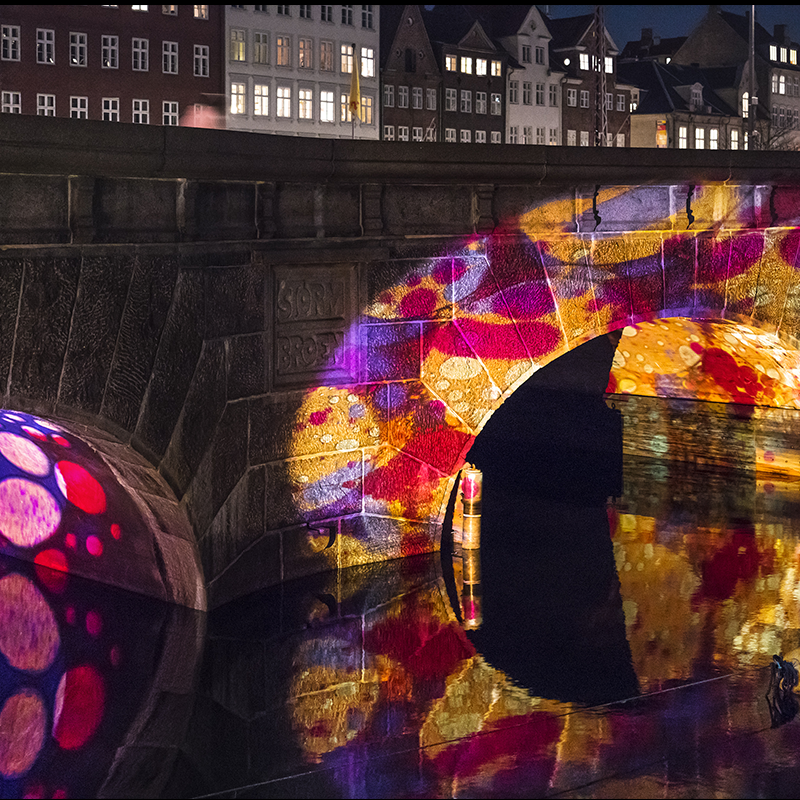 Mads Vegas
Like a Bridge over Bubbled Water
Under Stormbroen
_____
Kl. 17-22 / 5pm-10pm
_____

ENGLISH
A sitespecific work playing with oil lamps, bubbles, water and the shape of one of the segments of the bridge. Mads Vegas, born 1976 Danish Lighting Designer and Light Artist Mads has been working professionally with light over 20 years. Mainly lighting designs for theatre, but also many designs for concerts, festivals, arts and social events, restaurants, and light installations in public spaces.
DANSK
Et stedspecifikt værk der leger med olie-lamper, bobler, vand og formen på en af segmenterne af broen. Mads Vegas, født i 1976, har den danske lysdesigner, og lyskunstner, arbejdet professionelt med lys i over 20 år. Mest har han lavet lysdesign for teatre, men også mange designs for koncerter, festivaler, kunsteriske og sociale arrangementer, restauranter, og lystinstallationer i offentlige rum.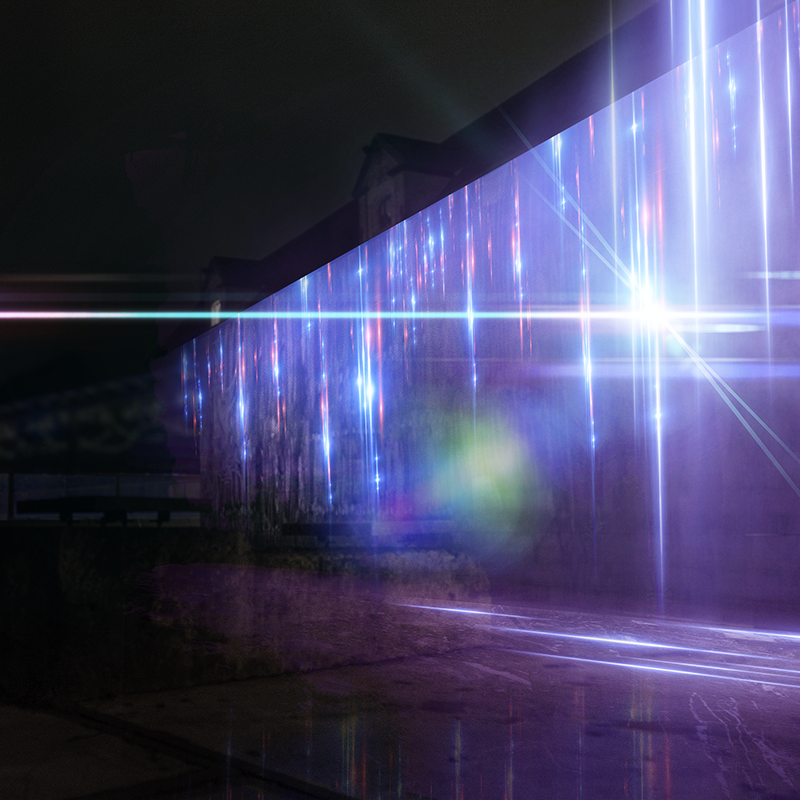 Hackstage
Little Tokyo
Broens Gadekøkken
Strandgade 95,1401 København
_____
søndag den 9. februar til søndag den 16. februar – kl. 17-21 / Sunday 9th – 16th 5-9pm
Lysinstallationen kan opleves med musik fredag den 14. februar og lørdag den 15. februar fra kl. 17-21 / Experience with music Friday 14th and Saturday 15th – 5-9pm
_____


OPLEV LYSET I BROENS GADEKØKKEN
I vinterferien lægger Broens Gadekøkken væg og vilje til et spændende samarbejde med den københavnske kunstgruppe, Hackstage. I anledning af CPH Light Festival vil et område op til skøjtebanen ved Inderhavnsbroen være prydet af et levende LED-kanvas, der i pulserende rytmer skaber ændringer i det neonfarvede lysmønster.
"Little Tokyo" hedder lysinstallationen, der er inspireret af Tokyo's pulserende og farverige natteliv, og skal ses som en hyldest til fodgængere og cyklister, der benytter Inderhavnsbroen.
Tidsrum 
Lysinstallationen "Little Tokyo" kan opleves hver dag fra søndag den 9. februar til søndag den 16. februar fra kl. 17-21.
Lysinstallationen kan opleves med musik fredag den 14. februar og lørdag den 15. februar fra kl. 17-21.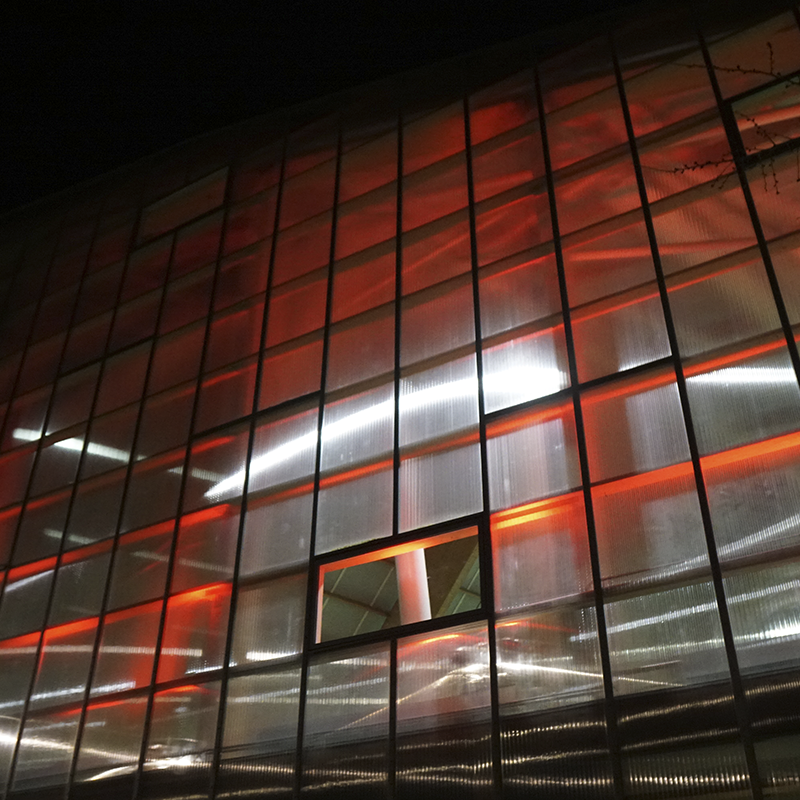 Palle Vedel
Lysets Brydning i Prismen
Holmbladsgade 71
_____
Kl. 17-22 / 5pm-10pm
_____
! Bemærk: Værket er ved indgangen på 'bagsiden' af Idrætshallen Prismen, Holmbladsgade 71.
! Please notice: The installation is placed behind the building on Holmbladsgade 71.
Et lysinferno trænger igennem idrætshallen Prismens gennemsigtige facade, hvor lyset brydes i uendelige stråler.
Støttet af Amager Øst Lokaludvalg og Prismen
Refraction of Light
by Palle Vedel
A light inferno breaks through the activity center Prismen's transparent facade, where the light is refracted into infinite rays.
Holmbladsgade 71
Sponsored by Amager Øst Lokaludvalg and Prismen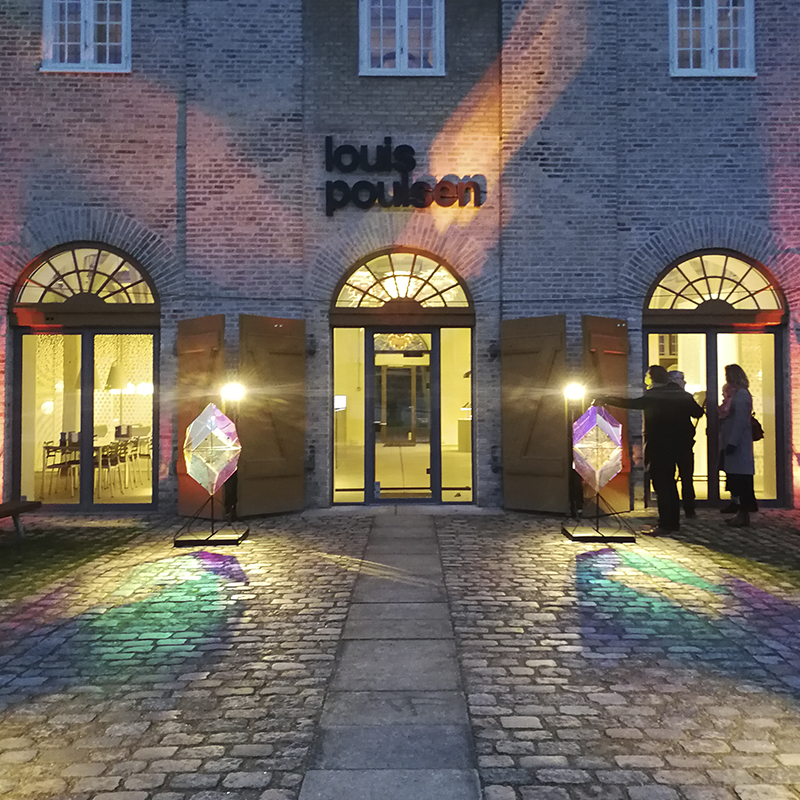 Amanda Søes
The unique qualities of light in the dark
Louis Poulsen, Kuglegårdvej 19, 1434 Copenhagen K. Entry from the canal/Proviantbroen.
_____
Kl. 17-22 / 5pm-10pm
_____
ENGLISH
Louis Poulsen, the main sponsor again this year, has invited lighting designer Amanda Søes to contribute with an installation to this year's festival, one that celebrates the unique qualities of light in the darkness of winter.
The idea behind the project stems from the designer's great interest in the interplay of light and darkness and in what light does to us as humans, i.e. how light affects us physically and mentally. As well as her fascination for natural light phenomena in the northern hemisphere and the qualities that nature brings.
Louis Poulsen is hosting the installation, and Solar Screen has sponsored the foil and Metacoat has sponsored the paint, for the installation.­­­­
DANSK
Lysets unikke egenskaber i mørket
Louis Poulsen, som igen i år er hovedsponsor, har ladet lysdesigner Amanda Søes bidrage til dette års festival med et lysværk, der fejrer lysets unikke egenskaber i vintermørket.
Tanken bag projektet udspringer af designerens store interesse for samspillet mellem lyset og mørket, og ikke mindst hvad lyset gør ved os som mennesker, dvs. hvordan lyset påvirker os fysisk og psykisk. Samt en fascination for naturens nordiske lysfænomener og de egenskaber naturen fører med sig.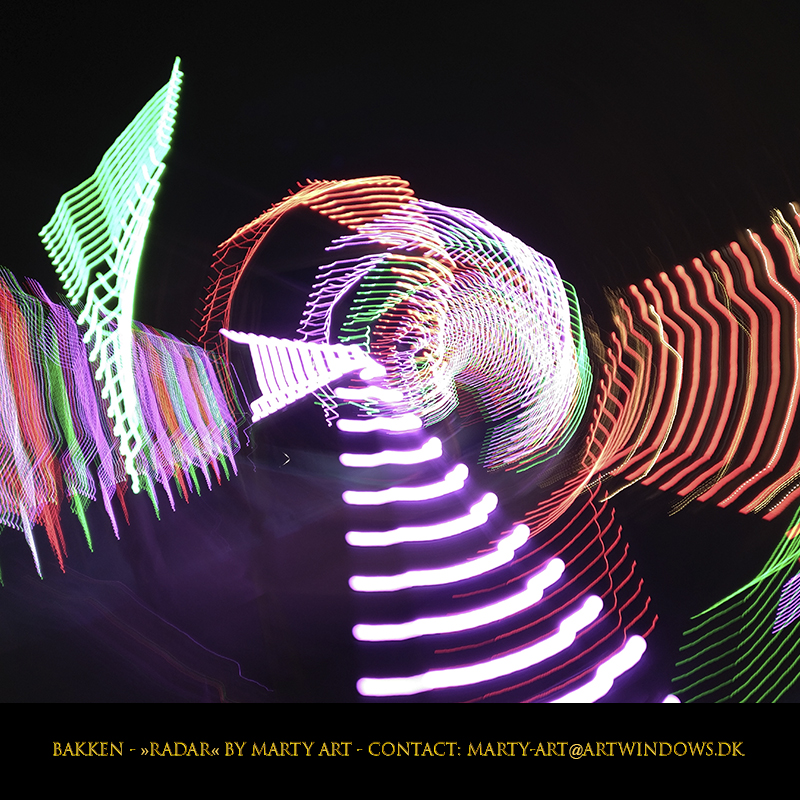 »mARTy-ART«
Fotoudstilling / photo exhibition 
Steel House, Herholdtsgade 6, 1605 Kbh
»mARTy-ART« laver foto kunst af lysende objekter med specielle teknikker. Alle billeder er råmateriale uden efterbehandling. Udstillingen sættes i gang med fernisering Lørdag d. 8. februar 2020 med bl.a. billeder fra flere af hans fotoserier fra ArtWindows.dk. Ferniseringen krydres med optræden med live elektronisk impro jam.
Selve udstillingen varer februar måned ud. Kom og gå på opdagelse i billederne og se om du kan få øje på alt lige fra spøgelser til rutchebaner!
LINK til ferniserings-event d. 8/2 med live performance: https://www.facebook.com/events/841628519592761/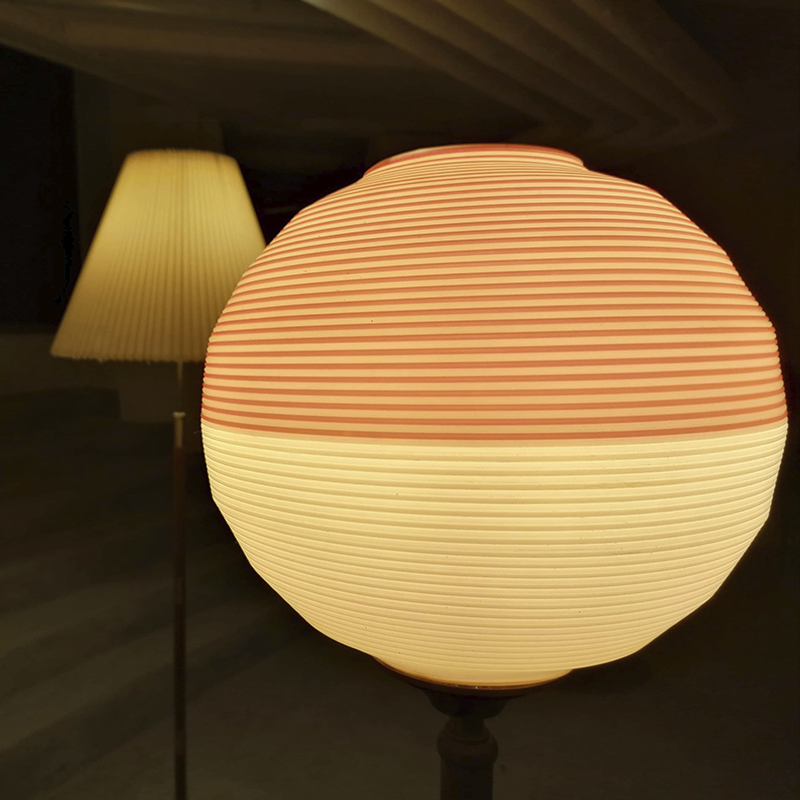 Schengen Kingdom
Permutations of Empathy ("I may not always love you")
Blaa Gallery, Blågårdsgade 29
Two entities react to one another by means of artificial intelligence. The melody from one machine is analyzed by the other and an answer is generated, and vice versa. The starting point of the dialogue is an adaptation of the first line of The Beach Boys' "God Only Knows".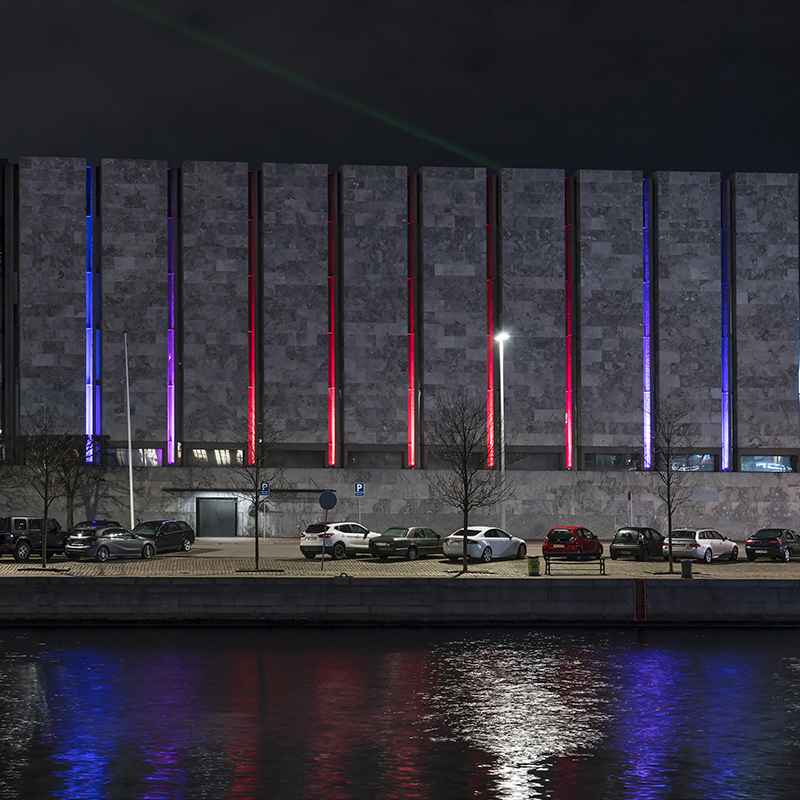 Peter Rietz
Portal of Stillness
Nationalbankens facade
_____
Kl. 17-22 / 5pm-10pm
_____

ENGLISH
A light and video installation dedicated calmness, reflection, nature, presence. –A transformation from the daily busyness and superficiality to a lower gear. A call for contemplation and dreams. The Moon represents dreams and tranquility. It travels steadily on through the night. The Moon is the protagonist in sequences of slow or almost surreal dreamlike movements where only nature is present. Ever changing colors illustrate the sun moving across the sky, aurora borealis, starlight.
The inspiration for the light installation derives from the remarkable, beautiful 'Sleep' by Max Richter.  
Get the full experience: Open 'Sleep' on your own music-app.
Find that part of the music that best suits your visual experience of the work.
– Let tranquility and contemplation unfold…
DANSK
En lys- og videoinstallation tilegnet ro, refleksion, natur, nærvær. –Et skift fra den daglige travlhed og overfladiskhed til et lavere gear. En opfordring til fordybelse og at lade drømmene slippe løs. Det lettere dramatiske, men udvalgte ord portal er hyppigt anvendt i science fiction og computerspil om et sted, man kan bevæge sig fra én verden til en anden. De levende billeder: Månen står som symbol på drømme og ro og bevæger sig støt gennem natten.
Månen er hovedaktøren i sekvenser af rolige eller næsten uvirkelige drømmebilleder hvor kun naturen optræder.

Inspirationen til installationen kommer fra den usædvanlige, smukke, 8 timer lange musik-komposition "Sleep", komponeret af Max Richter med det oprindelige formål at få en god nats søvn!
Få den fulde oplevelse af Portal of Stillness: Åbn "Sleep" gennem egen musik-app (se QR-koder til de hyppigst anvendte). Find den del af værket, du synes passer bedst til din personlige oplevelse af værket. – Lad roen og fordybelsen indfinde sig…
Group 3
REST 
Nordea, Strandgade Christianshavn
_____
Kl. 17-22 / 5pm-10pm
_____
REST confronts the viewer in a playful and aesthetic manner with the topic of light pollution. This modern issue is disrupting most living organisms' day-night cycle, thus negatively affecting i.a. sleep – especially in urban and industrial areas.
Visitors are invited to actively engage with the installation, where they can step into an artificial meadow-like field of glowing acrylic rods.  As visitors walk through the installation, the rods in their proximity light up blue.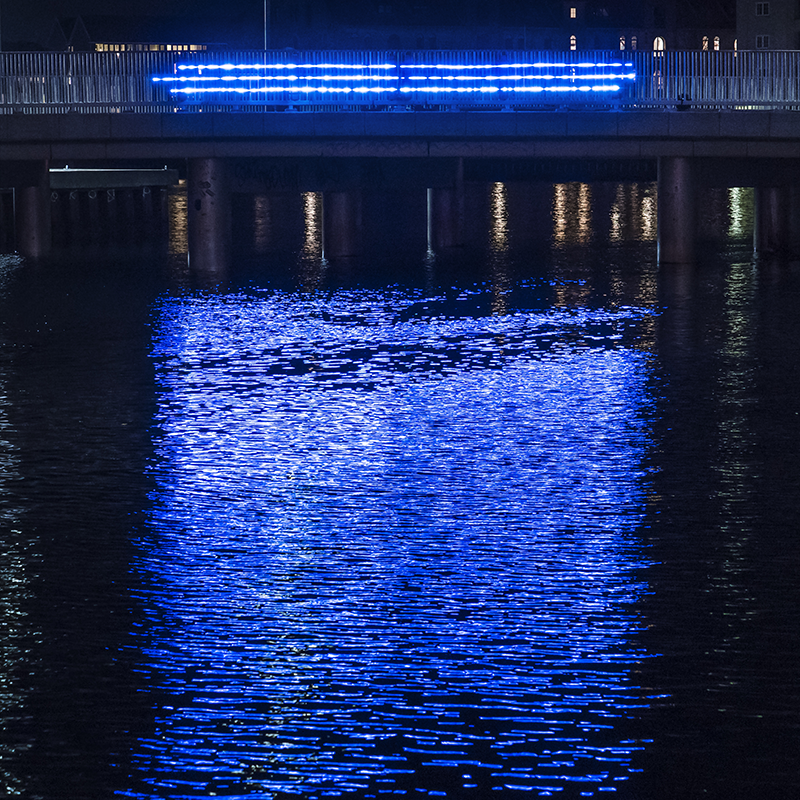 Siiku
CONEXUS
Christian IV bro
_____
Kl. 17-22 / 5pm-10pm
_____
SIIKUs værk på Chr. IV's Bro til Copenhagen Light Festival 2020 bærer titlen CONEXUS – latin for 'forbindelse'. Værket er en abstakt hyldest til forbundetheden i verden; mellem mennesker og til naturen, vi omgiver os med og er en del af.
Forbindelse og forening af kontraster er en central pointe i SIIKUs kunstmanifest. I dette værk er trærødders forgreninger, lynets hidsige streger på himlen og nervesystemets synapser inspirationskilder i forening til det minimalistiske, bølgende og knitrende lysværk.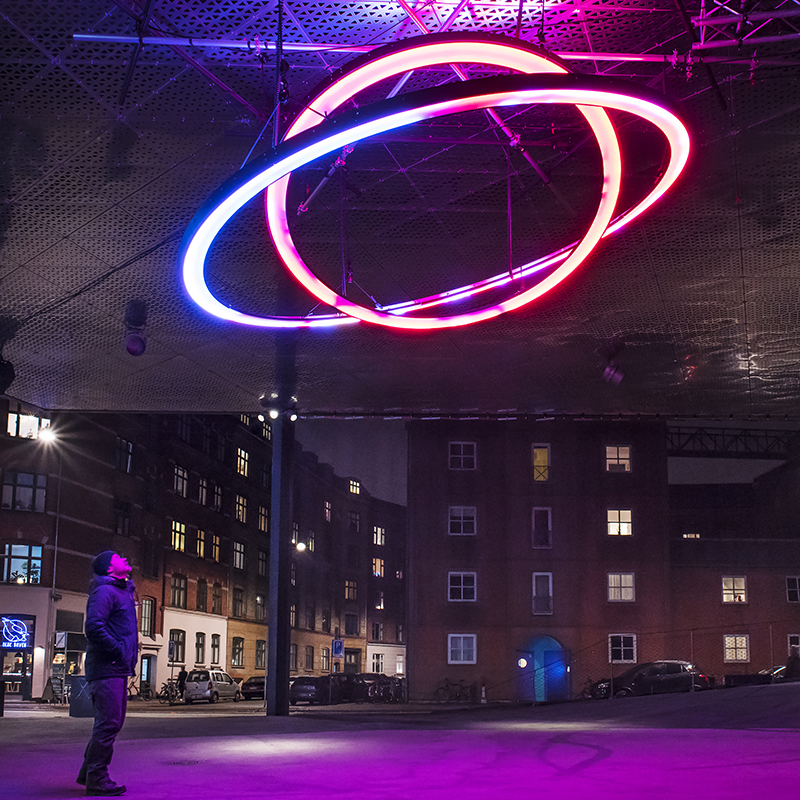 Vertigo
Sky
Musiktorvet v. Øresundsvej
En del af Amager Lyser! / A part of Amager Lyser!
_____
Kl. 17-22 / 5pm-10pm
_____

ENGLISH
Sky is an interactive installation that lets the audience explore the architectural forms created when two light-immersed circles shift in relation to each other.  
The illuminating circles are three and four meters in diameter and each hanging in three points. Each point is controlled by the movement of people in the square.  
Visitors to the Copenhagen Light Festival and the many families and concertgoers who cross the square every day are given both the role of the audience and the object of Sky's artificial attention. Sky is attracted to the audience, but only if they take the initiative to get closer – the closer you move to Sky, the closer the circle will move towards you – but only to a certain limit, after which Sky retreats to safety under the roof of Musiktorvet. With six suspension points, there is room for six people to control the positions of the circles in relation to each other. Sky is in addition to its inherent aesthetic quality, also an installation that invites the viewer to explore and play with the technique and concepts such as closeness, collaboration and interactivity. 
DANSK
Sky er en interaktiv installation af kunstnerkollektivet Vertigo, der lader publikum udforske de arkitektoniske former to lysbesatte cirkler skaber, når de forskyder sig i forhold til hinanden.
De lysende cirkler er hhv. tre og fire meter i diameter og hænger hver i tre punkter. Hvert punkt styres af menneskers bevægelse på pladsen. Copenhagen Light Festivals besøgende, og de mange familier og koncertgængere, der hver dag krydser pladsen tildeles både rollen som publikum og genstand for Skys kunstige opmærksomhed. For Sky tiltrækkes af publikum, men kun hvis de tager initiativet til at komme tættere på – jo nærmere beskueren bevæger sig, jo tættere vil cirklen nærme sig – indtil en vis grænse, hvorefter Sky trækker sig tilbage i sikkerhed under Musiktorvets tag. Med seks ophængningspunkter er der plads til at seks personer kan styre cirklernes positioner i forhold til hinanden. Sky er derfor et værk, der udover dets iboende æstetiske kvalitet også indbyder beskueren til at undersøge og lege med teknikken og begreber som nærhed, samarbejde og interaktivitet.
Støttet af: Amager Øst Lokaludvalg, Amager Vest lokaludvalg, Copenhagen Light Festival og Amager Kulturpunkt.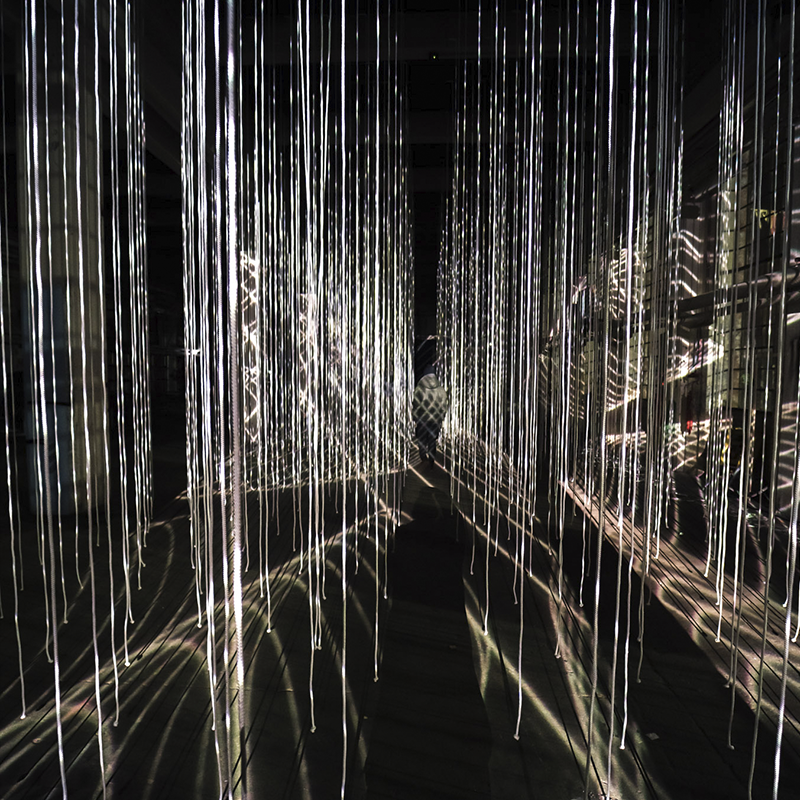 Mariliis Kundla & Mihkel Pajuste
Solaris
Reffen
_____
Can be seen: 7th – 8th, 12th-15th, 19th-22nd February
Wednesdays and Thursdays: 5 pm-10 pm // Fridays and Saturdays: 5 pm-12 pm

Kan ses: 7.-8., 12.-15., 19.-22. februar
onsdage og torsdage: kl 17-22 // fredage og lørdage: kl 17-24
_____
ENG
Solaris — of or pertaining to the Sun
SOLARIS is a multi-sensory installation allowing the audience to be immersed in cosmic light and sound. This continuous 15 minute audio-visual journey takes the spectator through the stars onto the very surface of the sun. The soundscape includes real samples from NASA's archives and is combined with an artistic visual interpretation of the files, bridging art and science. The hypnotic experience unfolds as a three-dimensional play of light within 442 pieces of suspended rope. The light installation expands over 15 meters in length, 7 in width and 6 meters in height.
DK
Solaris — noget som vedrører Solen
Vi er alle født af stjernelys. Hjertet af vores solsystem giver energi og varme, som gør vores eksistens muligt. På de nordlige breddegrader længes vi efter direkte sollys i de mørke vintermåneder. Dette resulterer i at vi tilbringer lange perioder indendørs og søger efter andre former for lyskilder. Solaris er en multisensorisk installation, som giver publikum en oplevelse af, at være omgivet af kosmisk lys og lyd, i en fortolkning af NASAs billed- og lydarkiver. Et møde mellem kunst og naturvidenskab.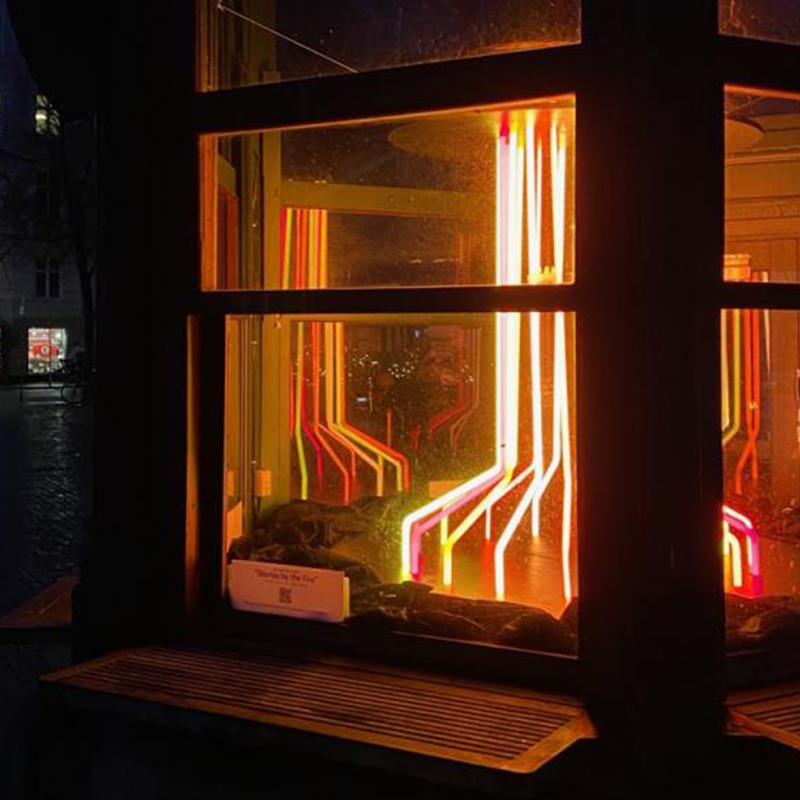 Art Group 1103
Stories by the Fire
Sankt Hans Torv
Lyt til Stories By The Fire her: www.artgroup1103.dk/lightfestival/
Listen to Stories By The Fire here: www.artgroup1103.dk/lightfestival/
We all know the feeling when we gather around a campfire to listen to music or a good story – this is the atmosphere we recreate in the middle of Copenhagen on some of the coldest and darkest days of the Danish winter. 
 "Stories by the Fire" intertwines an outer vibe with images on the retina.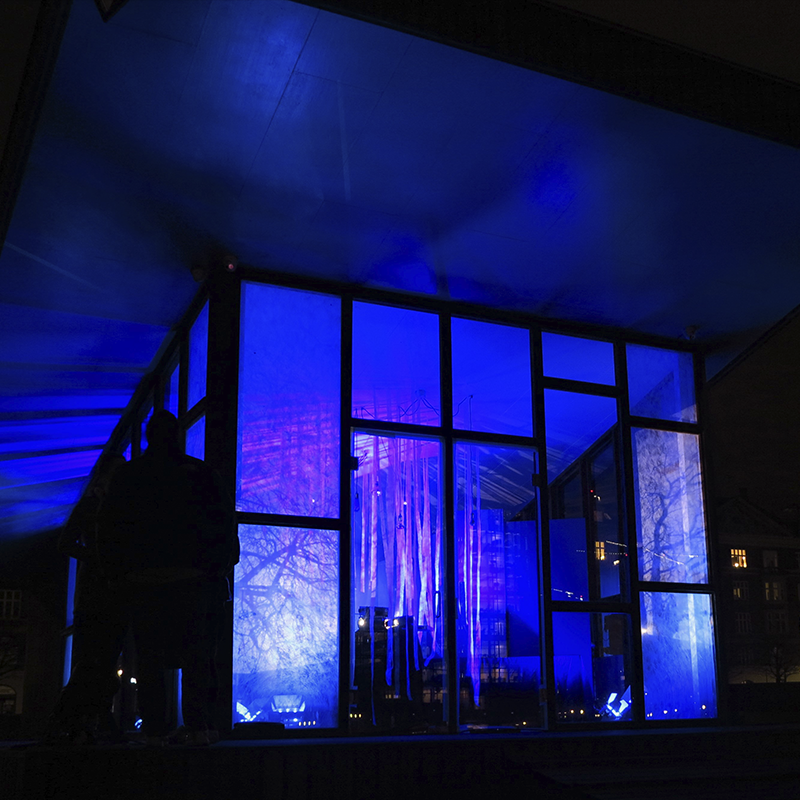 Arthur van der Zaag
TAKE A LOOK INSIDE
GoBoat huset, Islandsbrygge
_____
Kl. 17-22 / 5pm-10pm
_____
TAKE A LOOK INSIDE plays with our perception of depth on the physical plane, by illuminating different elements of the structure, and on the optical plane, by exploring the effect of colours on our depth perception. With light shone on the exterior facade, the glass facade and the interior space, these architectural aspects are separated and made distinct. The projection of colour on these three layers enables the viewer to explore the depth of the structure through the shifting of light on these surfaces. 
  As the reflections of the water change shade, the lighting draws the viewer's attention from outside to inside. The playful shifting of colours on the surfaces creates a sensuous maritime narrative. 
  TAKE A LOOK INSIDE is best viewed from the harbor, from the opposite quay, or from the nearby Langebro Bridge.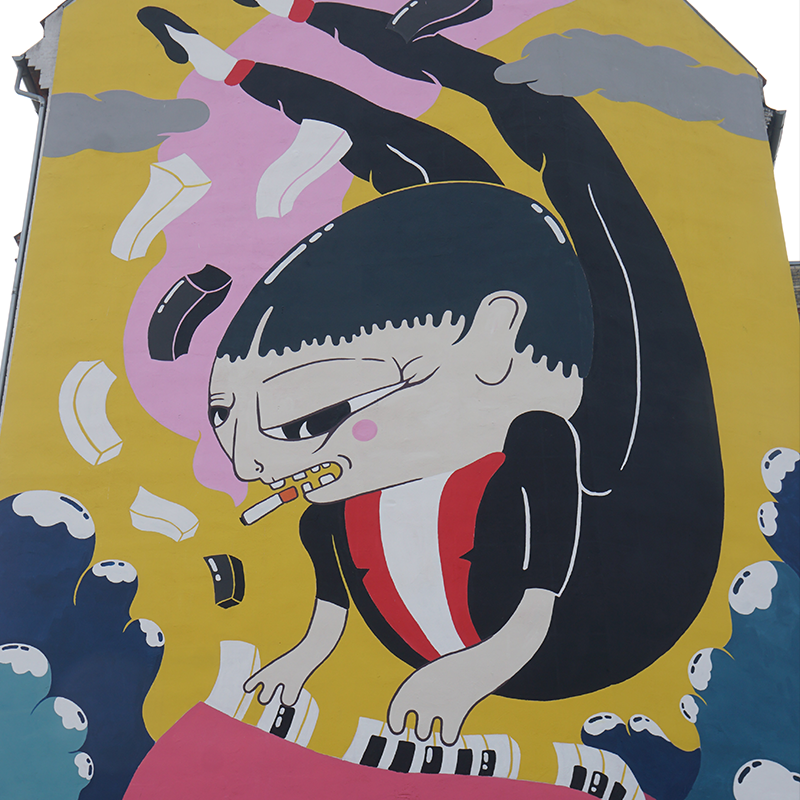 Palle Vedel
The Blue Gable
OBS! Due to vandalism, the lightwork is not functional 🙁
In the intersection between Englandsvej and Sundholmsvej 
En del af Amager Lyser! / A part of Amager Lyser!
_____
Kl. 17-22 / 5pm-10pm
_____

Gable painting by Matilde Digmann.
During Copenhagen Light Festival, the brightly colored gable painting by artist Matilde Digmann will be covered with fluorescent light, making Amager's own piano man even groovier in the winter darkness. 
Sponsored by Amager Vest Lokaludvalg, Amager Øst Lokaludvalg, Copenhagen Light Festival and Kulturhuset Islands Brygge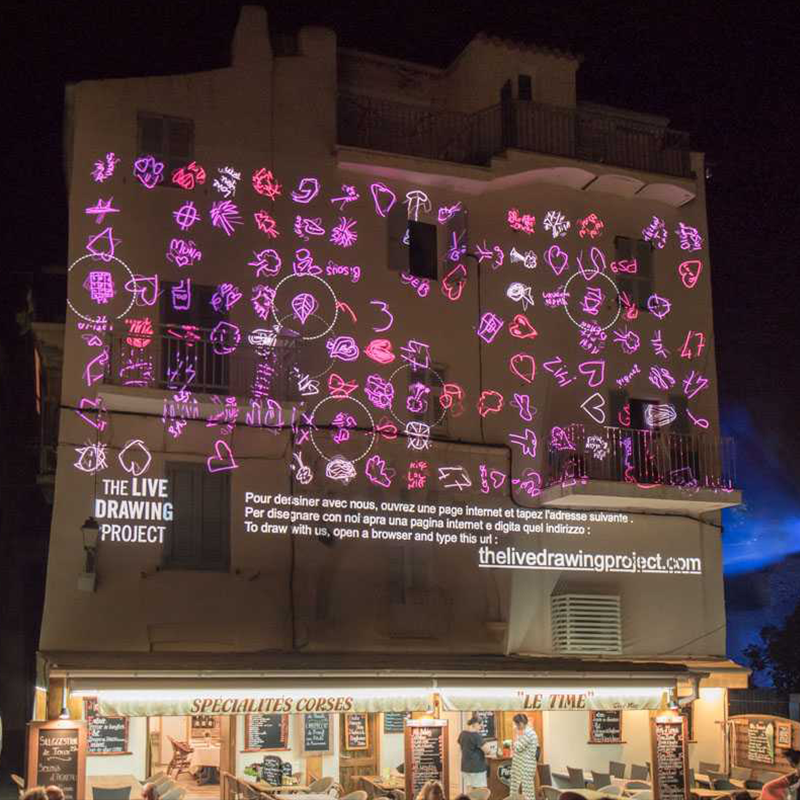 Maxime Touroute, Louis Clément, Maxime Hurdequint
The Live Drawing Project
Trianglen, Østerbro
Sponsoreret af Østerbro lokaludvalg
_____
20 – 23 February // Kl. 17-22 / 5pm-10pm
_____

The Live Drawing Project is a collaborative art installation. The audience is invited to draw freely on their smartphones. Everyone draws simultaneously. Their drawings are video projected in real time on a wide surface creating a unique collaborative artwork. Drawings become alive, appear, disappear, change colours and move creating a vivid composition sometimes poetic sometimes surprising. The audience can watch their own creations and respond to each other generating an ever-evolving visual conversation in the universal language of drawings.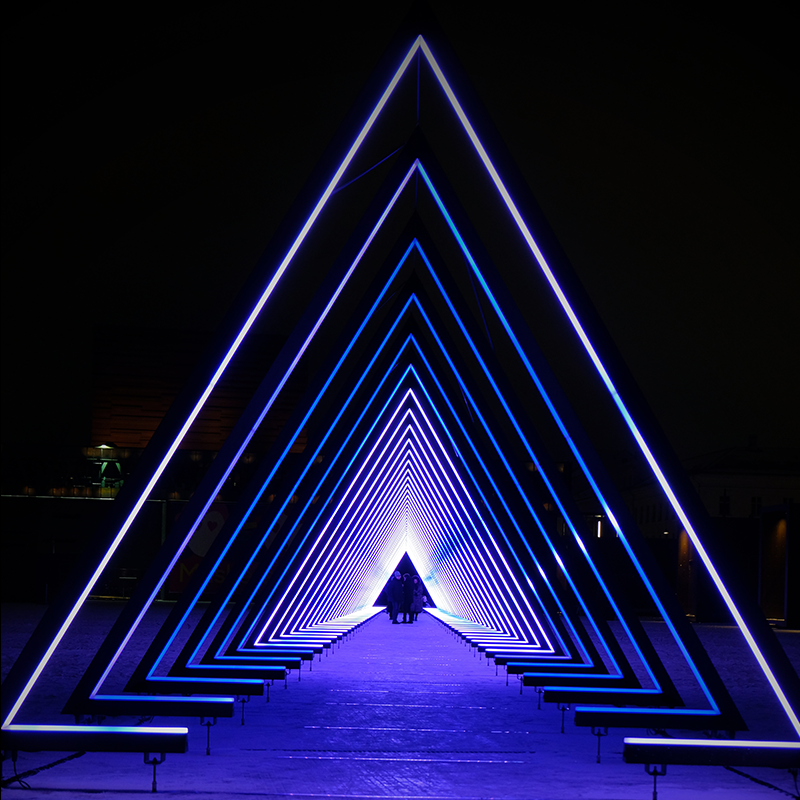 Vertigo x Louise Alenius
The Wave
Ofelia Plads
1 February to 31 March 2020
The sound and light sculpture The Wave returns to Ofelia Plads by the Royal Playhouse, to illuminate the darkness of winter with its distinctive gates of light. This time the 80 meter long sculpture invites audience to a travel through the human trachea. In a new version of the sculpture the artist collective, Vertigo, have created a whole new side of light in collaboration with composer Louise Alenius who created a whole new side of sound. This is happening with the sound of choir music in the shape of the piece ILT, which is a preview of her upcoming opera premiering 2022.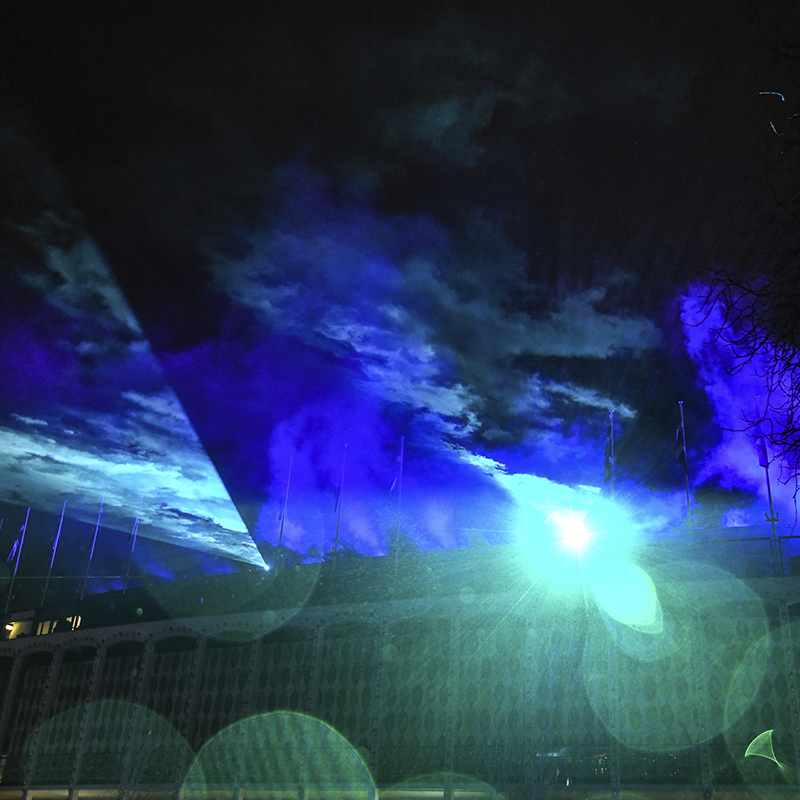 Tivoli
Lasersymfoni på Koncertsalen
Tivoli
Vesterbrogade 3
1630 København V
______
31. January 23 February 2020
OBS Entré / entrance fee
_______
Projektion på koncertsalen – 170 års globale gennemsnitstemperaturer
Opleve en lasersymfoni udforske og lege med facaden på Koncertsalen. Men der er også alvor bag legen. Ser man nærmere efter, vil man få øje på, at farveskalaen flere steder tager udgangspunkt i de sidste 170 års globale gennemsnitstemperaturer – og ikke mindst stigninger.
Værket er komponeret af lyskollaborationen Båll & Brand (DK) til musik af Robotic Folk (LT).
Bag Robotic Folk står den klassiske komponist og kunstprofessor Jonas Jurkūnas. Robotic Folk er Jurkūnas elektroniske folkemusik kompositioner, der tager udgangspunkt i en fremtid, hvor robotter udforsker artefakter fra en uddød menneskelig civilisation.

Hvert kvarter, fra kl. 17.30 til Have lukker, kan man opleve en lasersymfoni udforske og lege med facaden på Koncertsalen.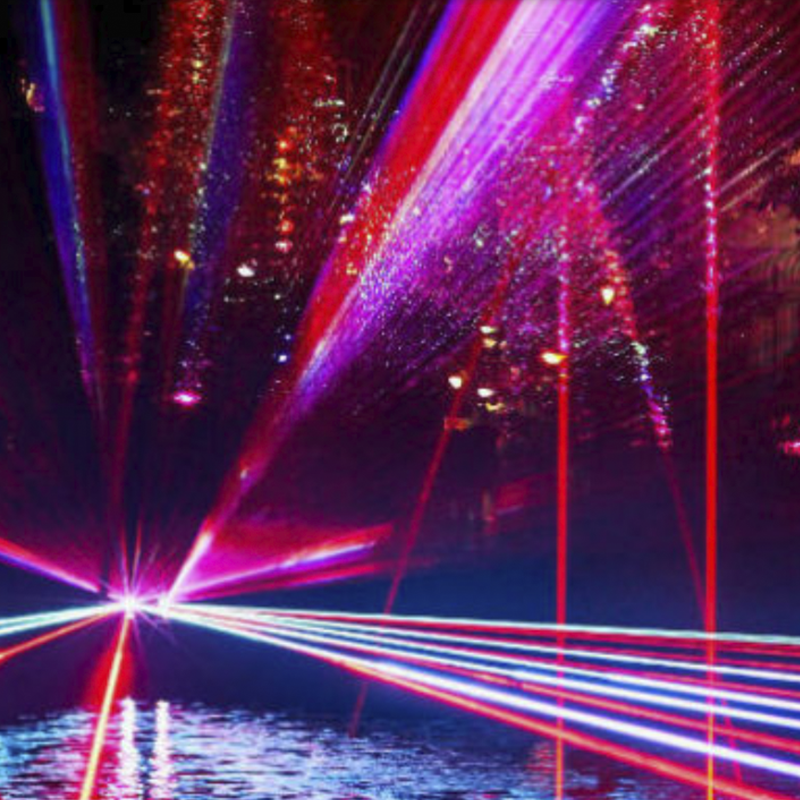 Tivoli
TIVOLI VINTERILLUMINATIONER
Tivoli
Vesterbrogade 3
1630 København V
______
31. January 23 February 2020
OBS Entré / entrance fee
_______
Tivoli søen – Ragnarok lys-laser show
Hver aften i hele vintersæsonen kan du opleve to forskellige illuminationsshow på Tivoli Søen.
Det første tager udgangspunkt i den nordiske mytologis dramatiske ragnarok fortælling om Vølvens Spådom. Myten fortolkes med laser-lysshow, nydesignede illuminationer og til nykomponeret musik.
Det andet show er skabt over Jacob Gades verdensberømte musikstykke Tango Jalousie, der indeholder både drama og humor.
Tivolis Vinterilluminationer opleves bedst fra broen over Tivoli Søen eller i området foran Vertigo.
Ragnarok blev blev første sat op i 2019, hvor det blev vist på nyheder i hele verden som Skøjtebanen også gjorde.
Tivolis Vinterilluminationer opleves bedst fra broen over Tivoli Søen eller i området foran Vertigo.
Læg venligst mærke til, at illuminationsshowet kan være aflyst på grund af frostvejr. 
Som et smukt og poetisk supplement til illuminationsshowet ligger der på søen 11 lysende svaner.
De kigger mod HC Andersen statuen på Rådhuspladsen og sender tanker til hans eventyr De Vilde Svaner.
Langs med Tivoli Søren og lige ved siden af illuminationsshowet hænger værket Little-Sun-Swarm skabt af den anerkendte dansk-islandske kunstner Olafur Eliasson. Det består af 33 lamper, der svæver mellem træerne i geometriske former og med skiftende lysfremtoninger i.
Tivoli
TIVOLI Bowie / LED
Tivoli
Vesterbrogade 3
1630 København V
______
31. January 23 February 2020
OBS Entré / entrance fee
_______
ENGLISH
The big LED installation is a dynamic light experience accompanied by the song 'Sense of doubt´ by the late David Bowie.
DANSK
Den store LED installation er en dynamisk lysoplevelse akkompagneret af sangen ´Sense of doubt´fra afdøde David Bowie
PHOTO: Jon Lansner
Tivoli
TIVOLI SKØJTEBANE
Tivoli
Vesterbrogade 3
1630 København V
______
31. January 23 February 2020
OBS Entré / entrance fee
_______
Skøjtebanen – skab lys hvor du skøjter
Over 100.000 små lys danner loft over den runde pavillon skøjtebane foran ikoniske Nimb.
På skøjterne kan du få sat en magnet, der danner lys efter dig, når du skøjter.
Skøjtebanen blev første sat op i 2019, hvor den blev vist på nyheder i hele verden, som Tivoli Søens Ragnarok gjorde.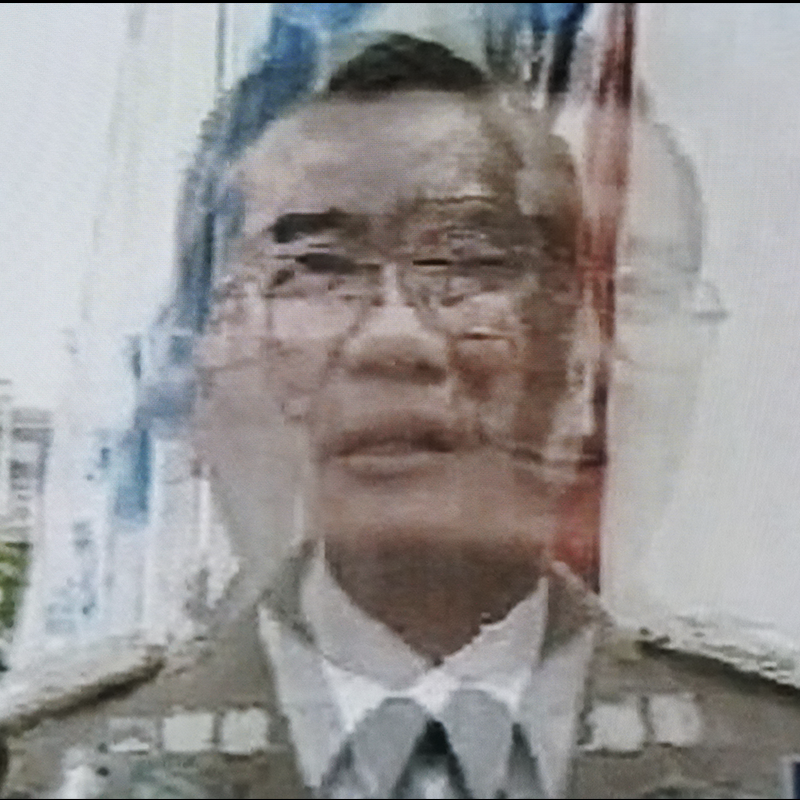 Kunstnere: Yang Fudong og Liu Jin Iscenesat af: Palle Vedel 
Ting-zi feat. News Zapper 1 & 2

 
Kulturhuset Islands Brygge
En del af Amager Lyser! / A part of Amager Lyser!
_____
Thursday – Saturday / 5pm-10pm
Torsdag – Lørdag / kl. 17-22
OBS. The installation will not play Thursday 20th but instead it will play Sunday 23rd
OBS. Installationen kører ikke torsdag d. 20.2 men til gengæld kører den søndag d. 23.2
_____
Chinese artists Yang Fudong and Liu Jin have been recording 24-hour news on 24 different TV channels in Asia. The endless stream of news is mixed together and composed for electronic sounds and picture montages. The work appears as an ongoing and insistent bombardment of sounds and images. 
The video and audio installation is projected onto the panorama windows on Kulturhuset Islands Brygge from Thursday – Saturday from 17 – 22 during the festival.  
Sponsored by Amager Vest Lokaludvalg, Amager Øst Lokaludvalg, Copenhagen Light Festival and Kulturhuset Islands Brygge.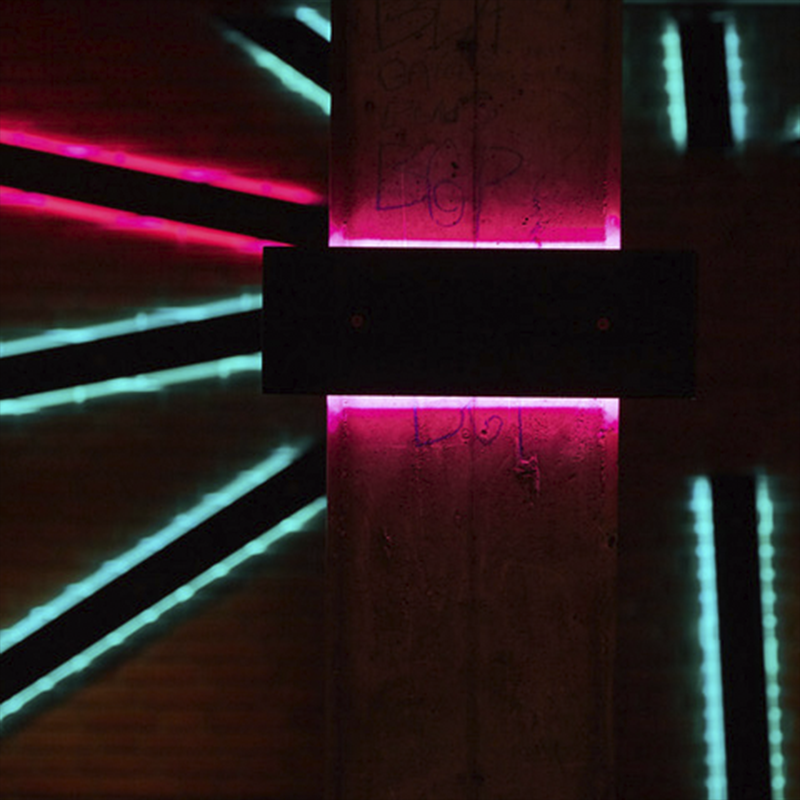 Karoline H. Larsen
Tracks
Blågårdsgadekvarteret
_____
Always on
_____

TRACKS is a permanent, site-specific light art installation situated across two passageways at Blågårds Square in Copenhagen. Considered as one of the Danish capital's roughest areas, the passageways were formerly very dark and felt unsafe, as any lighting previously in place was continuously vandalised by criminal groups. In a push to make the area feel more secure, welcoming and attractive, a competition regarding light art in the passageways was issued. This was won by artist Karoline H. Larsen, in association with Light Bureau (former ÅF Lighting).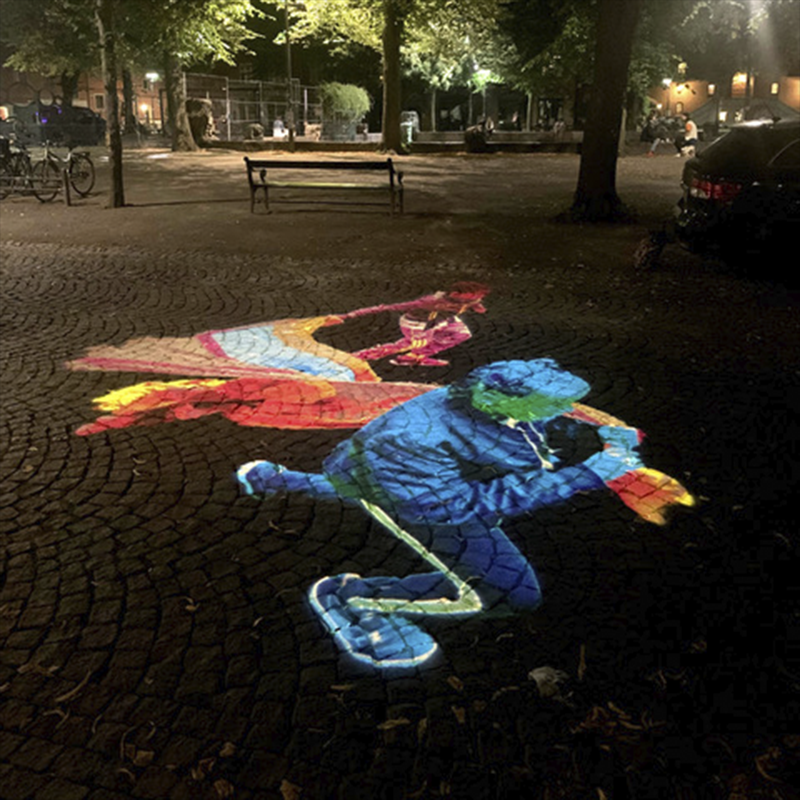 Karoline H. Larsen
Universe
Blågårdsgadekvarteret
_____
On from sundown til dawn
Tændt fra solnedgang til solopgang
_____

How does new energy and curiosity arise?
UNIVERSE is a permanent, site-specific light art work at Blågårds Plads using colored lights that symbolize a universal energy circuit, which illuminates 7 color motifs on the 48 meter long stretch in front of Blaagaardens Library.
The artwork has 3 primary functions. The artistic light on the coating makes the atmosphere at Blågårds Plads softer and safer. The 7 light motifs invite passers-by to move in new ways in the square, and to use their imagination to invent and form motifs through the light forms – because how does new energy and curiosity arise?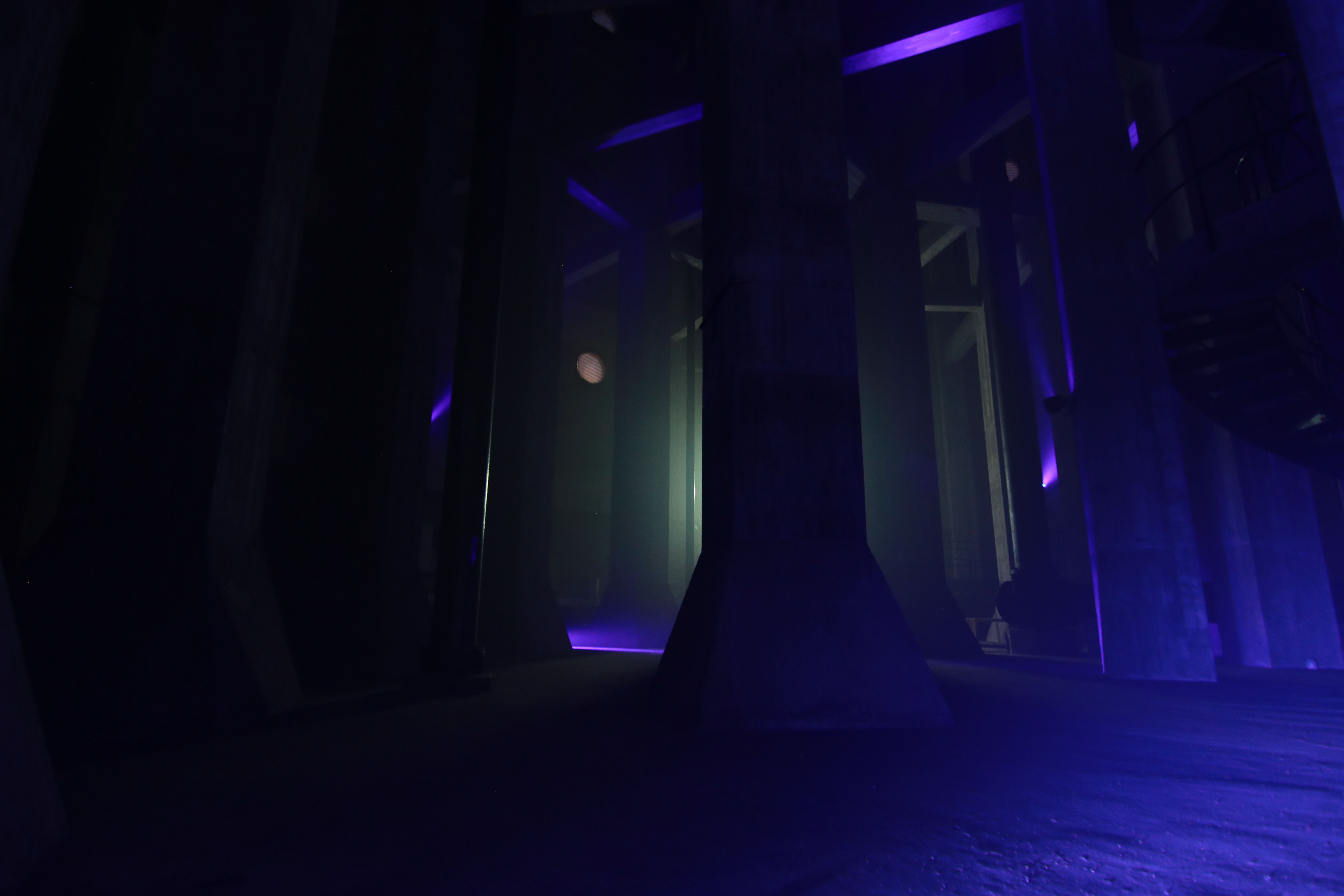 Brønshøj vandtårn / Brady Marks and Mark Timmings
Wetland Project
Brønshøj Vandtårn
Brønshøjvej 29, 2700 København
________
Friday 17/1 – Sunday 29/3 2020
Opening hours:
Wednesdays: 16-22 Around 20-21 the lights and sounds will be at their most beautiful!
Friday-Sunday: 13-17
________
Soon, two very different geographical locations will merge into a microcosm of sound and light inside Brønshøj Water Tower. The Wetland Project presents an ecoacoustic encounter between one of Copenhagen's most important historic  water supply buildings and an endangered marsh 7000 km away. 
The Wetland Project is the work of multidisciplinary artists Brady Marks and Mark Timmings. The project is presented with the support of the Canada Council for the Arts.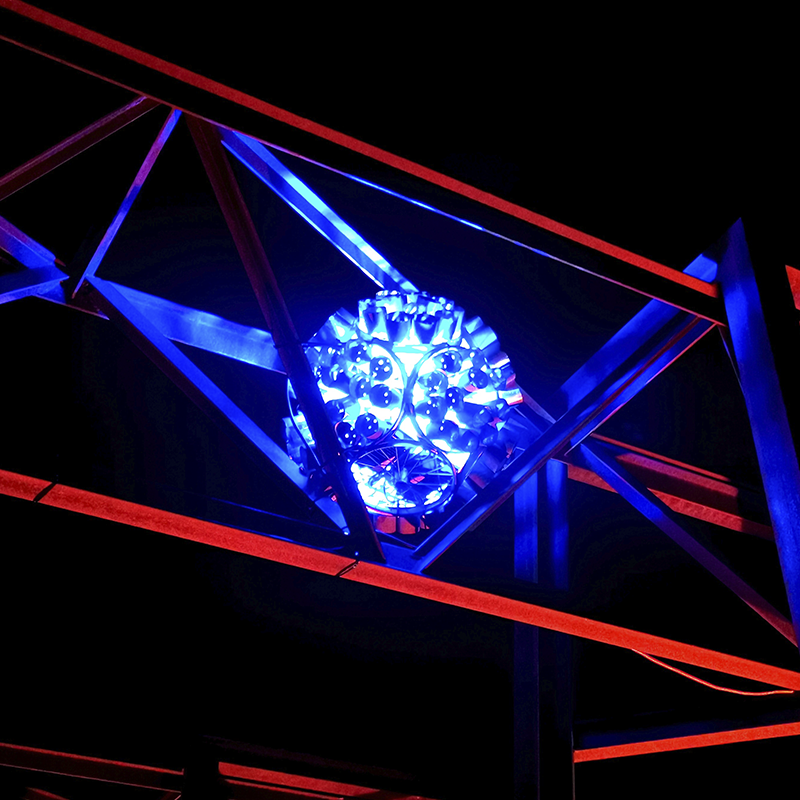 Camilla Brix Andersen og Palle Vedel 
Xi'an – Byporten
Islands Brygge 18, 2300 København S.
En del af Amager Lyser! / A part of Amager Lyser!
_____
Kl. 17-22 / 5pm-10pm
_____

Walk through the luminous gate to the Copenhagen waterfront. The iron gate next to the Culture House Islands Brygge is adorned with 6 sparkling orbs that will create a poetic entrance to the harbour. The orbs are created from dissected graffiti spray cans. 
By the iron gate next to Kulturhuset Islands Brygge, Islands Brygge 18, 2300 København S.  
Sponsored by Amager Vest Lokaludvalg, Amager Øst Lokaludvalg, Copenhagen Light Festival, Nordjysk Lift and Kulturhuset Islands Brygge.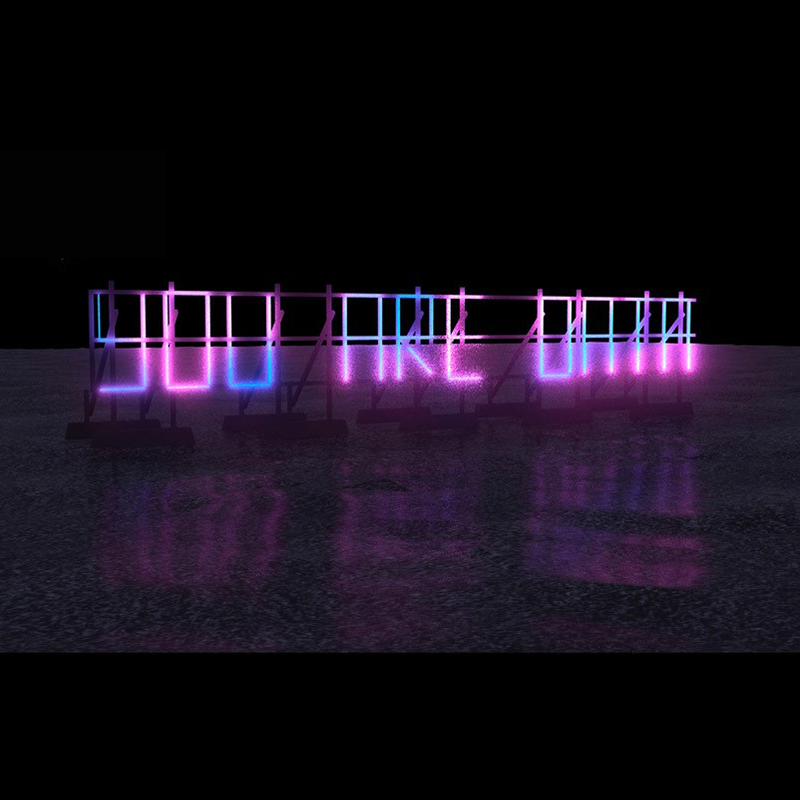 Chaos Engine
YOU ARE DATA 
DUE TO VANDALISM "YOU ARE DATA" IS UNFORTUNATELY NOT FUNCTIONAL 🙁
Lergravsparken Metrostation
En del af Amager Lyser! / A part of Amager Lyser!
_____
Kl. 17-22 / 5pm-10pm
_____
Standing in front of this fifteen meter broad light installation you'll feel reduced into what you really are: data.  
Algorithms are everywhere, organizing the near limitless data that exists in our world. Derived from our every search, like, click, and purchase, algorithms determine the news we get, the ads we see, the information accessible to us and even who our friends are. These complex configurations not only form knowledge and social relationships in the digital and physical world, but also determine who we are and who we can be, both on and offline.
Our selves are not more free; they are more owned. And they are owned because we are now made of data.
YOU ARE DATA is a fifteen meter broad luminated text wall installed at Lergravsparken Metrostation.  
Sponsored by Amager Øst Lokaludvalg, Amager Vest Lokaludvalg, Copenhagen Light Festival and Amager Kulturpunkt.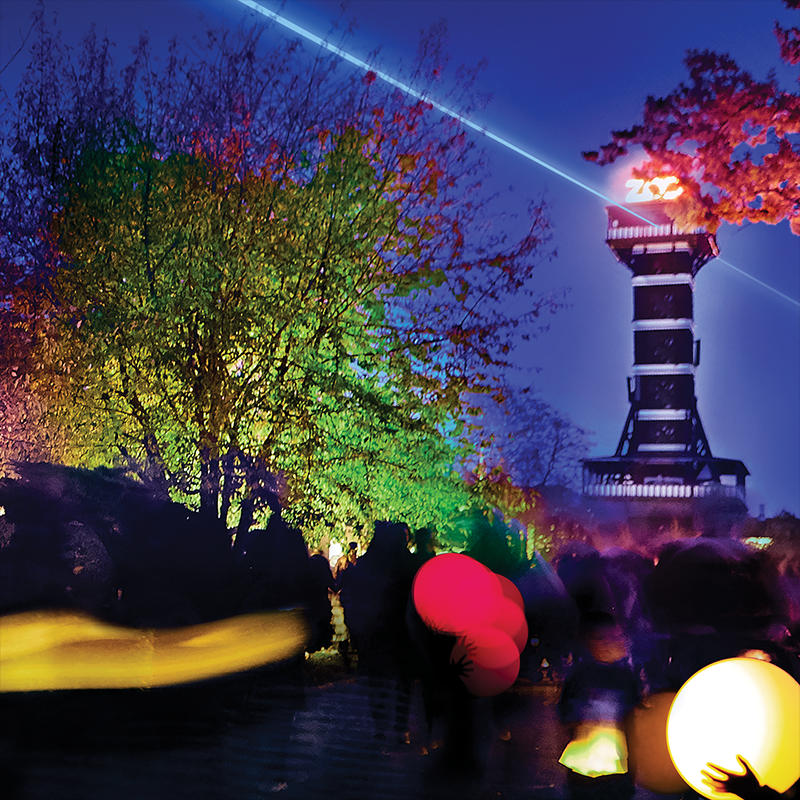 ZOO
Zoologisk Have København, Roskildevej 32, 2000 Frederiksberg 
ENGLISH
Light Evenings in the ZOO

Explore Copenhagen ZOO in a whole new setting with spectacular and interactive lightworks, illuminated buildings, trees and architecture. Eat a dinner in one of the high-rated restaurants and get free access to the ZOO Tower. 
Opening hours for the Light Evenings:  Every Saturday in February and every evening between 10/2 and 15/2 from 17.00 – 21.00
OBS. Entrance fee

See you in the dark to Light Evenings in the ZOO! 
Read more at zoo.dk 

DANSK
ZOO
LYSFEST I ZOO Vi glæder os til at byde dig indenfor til den første lysfest i Zoologisk Haves historie.
Du kan se frem til at se ZOO i et helt nyt lys, når du går på opdagelse blandt interaktive lysinstallationer, oplyste træer og arkitektur til lyden af vilde dyr. Stil sulten i en af Havens spisesteder eller smut en gratis tur op i Zootårnet lysfesten fra kl. 17-21. Vi ses i mørket til lysfest i ZOO!
Obs. kræver lysfestbillet til ZOO. Billetten kan købes på zoo.dk og i ZOOs Hovedindgang.
Fotos: Neel Andreasen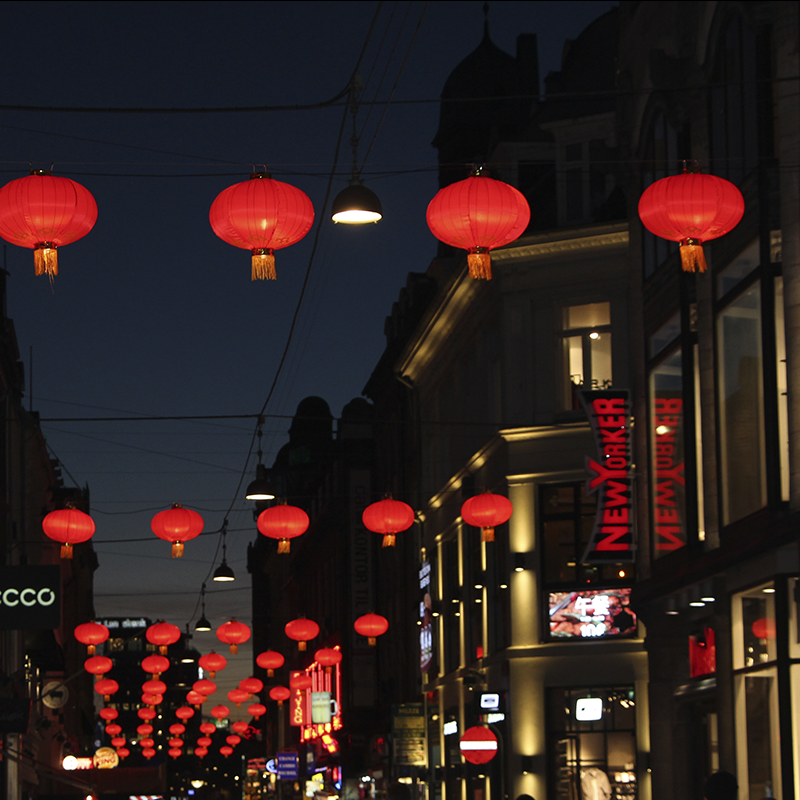 KCC
1.1 Red Dots
For the third year in a row KBH – Commerce & Culture, partner The Embassy of The People's Republic of China in Denmark and partner Philips, presents a spectacular view of 1.1-kilometer traditional red Chinese lanterns along Strøget. The installation has a different expression this year, as all 210 lanterns are alike and with red LED light bulbs that enhance the esthetic experience.