Copenhagen Light Festival
smouldering in the dark
Look forward to February 2 – 25, 2024!
Winter time is upon us, and at Copenhagen Light Festival we are working hard to prepare the program for the 2024 festival. With a record-breaking number of applications for our Open Call 2024, submitted by designers and studios from all over the World, this year we have had 180 different light works to review.
We have already pinned locations for 35 light works in central Copenhagen as well as in Nørrebro and
Vestre Kirkegård, Ørestaden and DR's Koncerthus, with additional to be announced soon.
Stay tuned on this page and on the festival's social media profiles where, from November 15th, we will continuously reveal highlights for the upcoming program.
We look forward to welcome you!
Copenhagen Light Festival 2023 – Photo Contest
The winner will be revealed soon
Copenhagen Light Festival says thanks and looks forward to 2024
Copenhagen Light Festival 2023 was concluded LIVE on TV2/Denmark/News.
This year Copenhagen is UNESCO's World Capital of Architecture, and together with Copenhagen's town hall we've tried to live up to the motto "Sustainable Futures – Leave No One Behind."
WHITE BEAMS
Throughout the festival, 11 rays of light beamed out of Copenhagen's town hall toward an array of the city's significant buildings, selected by us in collaboration with city architect Camilla Van Deurs. In this way, WHITE BEAMS contributed to casting a light on areas within and outside the city center.
White Beams shine from the center towards 11 landmarks for each of Copenhagen's districts.
The project was developed by the Capital of Architecture and the Copenhagen Light Festival with unique lamps from VIGSØ and is set up by Båll&Brand
Watch this interview with Camilla Van Deurs, city architect in Copenhagen municipality, and Jesper Kongshaug, head of Copenhagen Light Festival's board of directors   – CLICK HERE
Keeping the good things going in 2024
We thank the artists, hosts, citizens, and people all throughout the city for a festival that featured the biggest installations the festival has ever featured, spread out across 4 areas in the city.
55 beautiful light installations by new and established artists have decorated the entire city, making the festival larger and Copenhagen smaller. 
Our goal is to illuminate both the city center and local areas outside of it.
More life along the routes and guided tours
This year we experienced even greater demand for light-themed coffee stalls for guests to take a warm break, beer- and wine-themed guided tours, canal tours, events with the artists themselves, a comprehensive map in the app featuring a light-themed treasure hunt for the young at heart, a light-themed running event, all of which made this year's festival warmer and more intimate for everyone involved. 
We thank you for your participation and collaboration, which we look forward to developing together.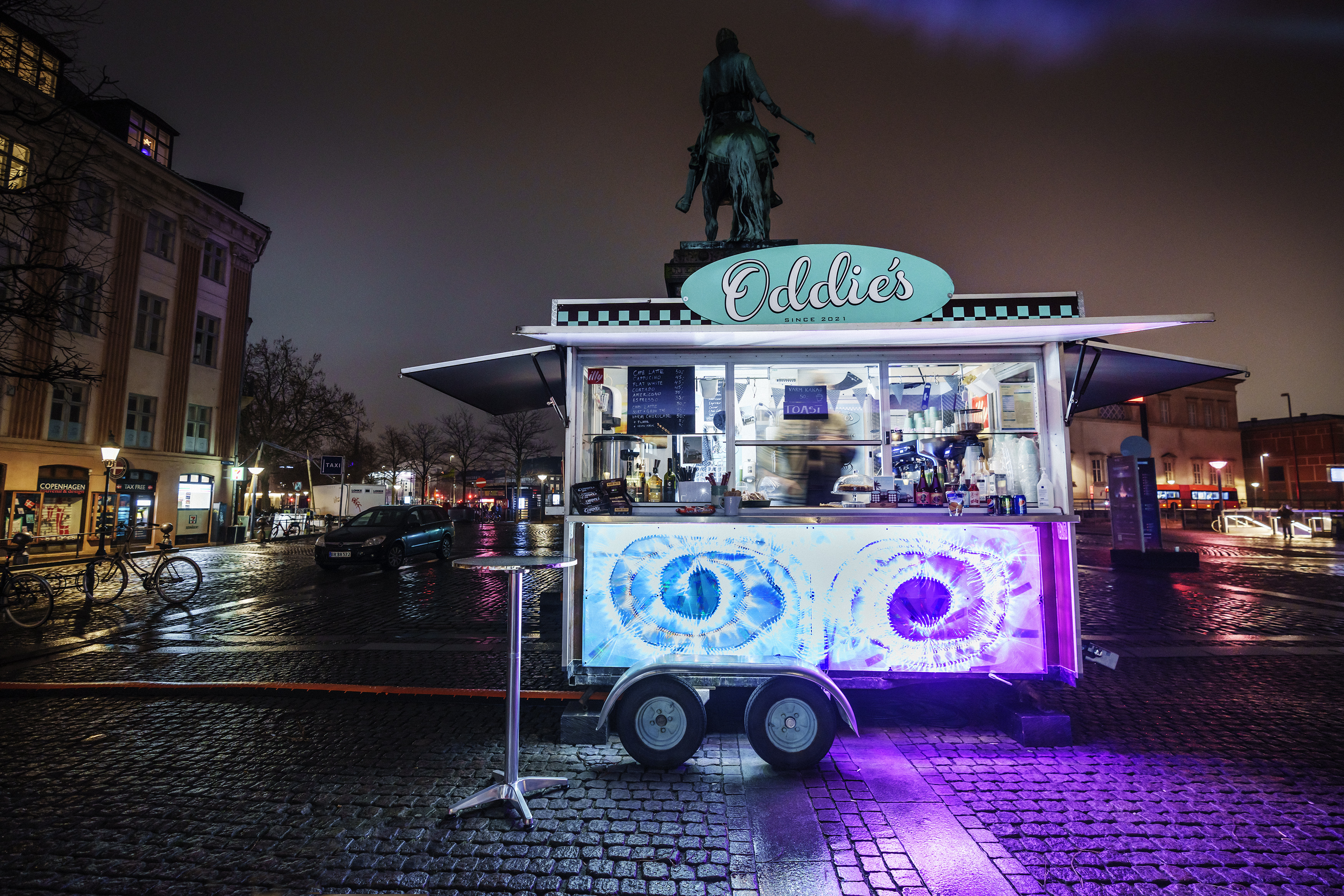 The installation featured on the stand is called "From here to Eternity"
by Arthur van der Zaag.
Light-themed coffee stalls and guided tours will be further developed
over the coming years
More visibility
This year we set another record, with 700.000 social media visits. 
Copenhagen Light Festival was once again featured globally in news reports, and seen in the USA, Europe, Asia, and more places. Currently we've registered 200 million viewers, and we expect this number will grow to 300 million viewers once the counting is complete. 
Copenhagen Light Festival's free film footage and photographs show the Danish capital's buildings and architecture in a new light for the whole world to see. We can tell from the visits we receive, as well as from the participation we get from artists and financiers from abroad, that this helps the festival to become even better. 
TV2 Kosmopol produced this film about the installations in the 2023 edition of the festival
Copenhagen Light Festival looks forward to making a strong return in 2024
Copenhagen Light Festival also wishes to bring even bigger light installations to Copenhagen's city center, which will require support and help.
The festival therefore hopes that the planning of the 2024 edition will be spared by energy crises or worse, so that light may once again shine on the important state-owned buildings in the city center, an aspect of the festival that we've missed in 2023.
This is something we hope to realize in 2024.
Participate in our photography competition and visit our traveling exhibition
We will once again be developing our photography contest featured photos hashtagged with #FotoCphLightFest, or sent by e-mail to foto@copenhagenlightfestival.org. 
Follow our winners and exhibitions featured all the nominated photos on the Facebook page "Photo Contest // Copenhagen Light Festival".
A jury selects 50 nominations. The vote will take place on Facebook and in our mobile app.
We look forward to coming back even stronger in 2024.
Facts about Copenhagen Light Festival 2023
This is the 6th time the festival is being held; the 4th time after being taken over by the current organization behind it. 

In 2021, the festival attracted 500.000 visitors, which makes it the most visited festival in Denmark.

The festival features more than 55 installations, pop-up events, and theme-events.

The installations are concentrated in the city enter, but the outsides of the city are also involved, in places such as Bavnehøj, Sundby, Refshaleøen and Ørestad.

Walking, cycling and running routes have been developed that lead you straight to the installations. These vary in length, from 2,5 km-9 km.

Our app, which was downloaded 50.000 times last year, features light-themed treasure hunts with various prizes. 
Sustainability:
Maps are not printed, but our mobile app shows where all the installations are placed relative to your own location.

Maps can also be printed via our homepage, and are visible also on the all the pylons set up around the city.
Follow the festival on Instagram, Facebook, TikTok, and LinkedIn, as well as on Twitter and the following homepage: copenhagenlightfestival.org
Copenhagen Light Festival considers energy
During one day the festival's electricity usage correspond with 3 fully charged electric cars
Tak til dem, der sørger for det kan lade sig gøre