The arch (Buen)
– Viera Collaro
Date: 1-24 February 2019 (Permanent)
Site: K.B. Hallen, Peter Bangs Vej 147, 2000 Frederiksberg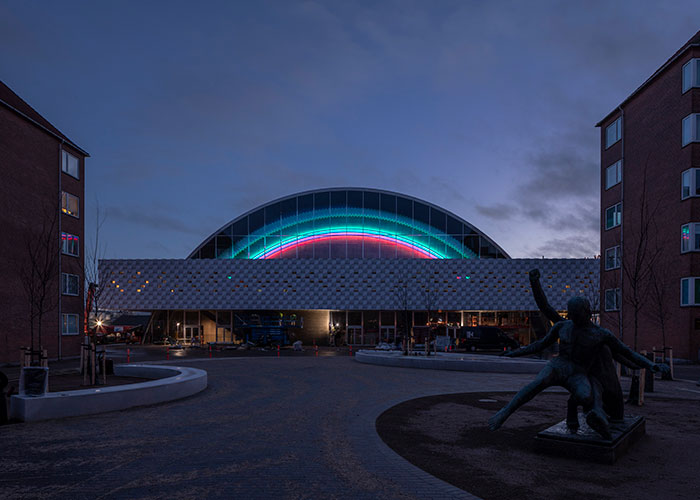 Buen (The Arc) is a lighting installation, created for the new K.B. Hallen. The bow is based on the richness of colours of the rainbow and the colors belonging to nature. The rainbow has a rich cultural-historical symbolism, whose meaning and function have changed over the years. But above all, the work is about the light in nature; it represents an unfolding of the prismatic breaks which the white light of the sun goes through, in order to create a variety of colours. The rainbow is a symbol of happiness and infinity that can be found and thus recognized throughout the world.
The installation consists of 3 curved aluminum tubes which are integrated into the architecture, spatiality and construction of the building. Each tube contains 2 sets of built-in LEDs that individually move at a slow pace across the color spectrum. In the daytime, the light is subdued and gently emerges into metallic tones, but at night when the sun disappears, the colors break out and radiate at full power.
Tips and recommendations
Viera Collaro participated with the work Not Hate – Love at Copenhagen Light Festival 2018. She is known for many permanent artworks in Denmark.
Contributors
Artist
Partners
K. B. Hallen
Ny Carlsbergfondet
Architects
Suppliers
Programming by Jakob Remin
LEDs by NeonSign
Blacksmith Ole Storm