Ondfanget – Henrik Agerkvist
1 – 24 February
Site: Lille Kongensgade 32, 1074 Copenhagen K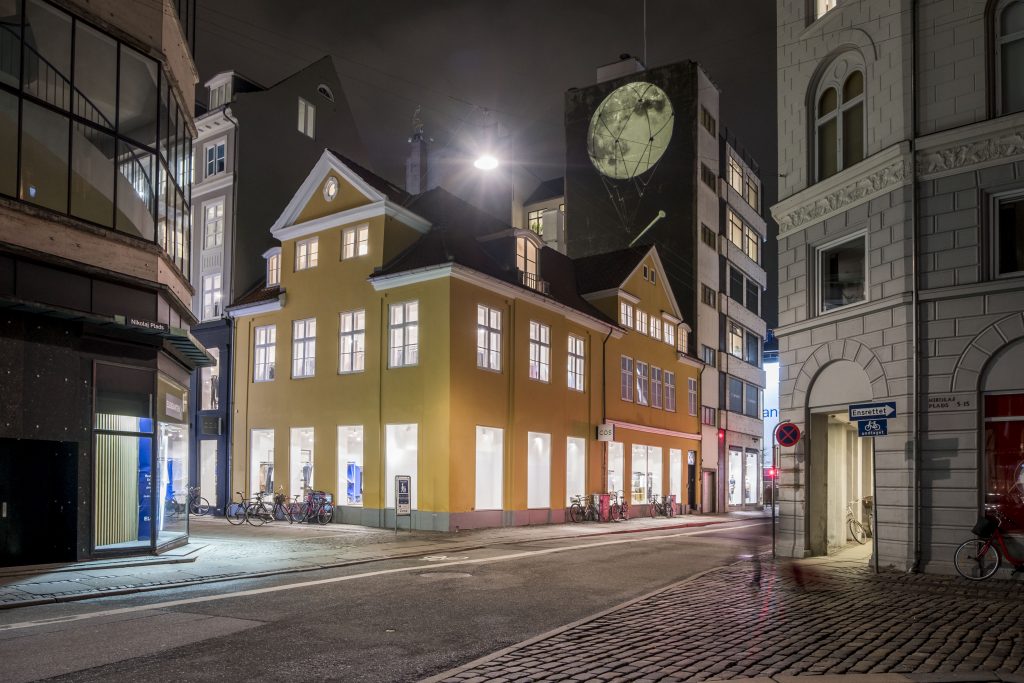 Conceived Maliciously (The original poem in Danish can be seen below) 
The earthlings in the lowest layers of the village, 
thought that the city had become too high, 
they protested that they could no longer see it, 
the biggest light master and its humble light. 
The earthlings in the highest layers of the village, 
wished to create quietude in the city again, 
so they opened their windows, 
captured and placed the moon, making it visible once more 
Compellingly the proclaimed, 
That now one would also spare, 
The CO2 emission based on the motto, 
"Why Fly To The Moon, When The Moon Can Fly To Us". 
That the oceans had also risen, 
when the Moon came so close to the Earth, 
only resulted in the disappearance of the critical earthlings in the lowest layer 
and the former high houses didn't appear so tall anymore. 
Everybody in the village were happy again, 
since it was the beginning of the new, 
which had been Conceived Maliciously. 
OndFanget 
Jordboerne i de laveste lag af landsbyen,  
synes at byen var blevet for høj,  
de protesterede, da de ikke længere kunne se, 
nattens største lysmester og dens ydmyge lys. 
Jordboerne i de højeste lag af landsbyen,  
ville gerne skabe ro i byen igen,  
så de åbnede deres vinduer,  
indfangede og placerede månen så den igen var synlig. 
De fortalte overbevisende, 
at nu sparede man samtidig 
også på CO2 udledningen ud fra mottoet 
"Hvorfor Flyve Til Månen, Når Månen Kan Flyve Til Os". 
At verdenshavene også steg, 
da månen kom så tæt på jorden, 
gjorde blot, at nu var der ikke flere af de kritiske jordboere tilbage i de laveste lag  
og de før så høje huse synes ikke længere så høje. 
Alle i landsbyen var igen glade,  
for det var begyndelsen på det nye,  
der var blevet OndFanget. 
Tips and recommendations
Ondfanget is situated just next to Nikolaj Kunsthal, where you can enjoy Laser beam by Martin Ersted and Windows of Light by Athur van der Zaag.
Contributors
Designer
Partners
Photo