Olafur Eliasson – Little Sun Light Swarm
1 – 24 February (permanent installation)
Site: Tivoli – entrance, Vesterbrogade 3, 1630 København V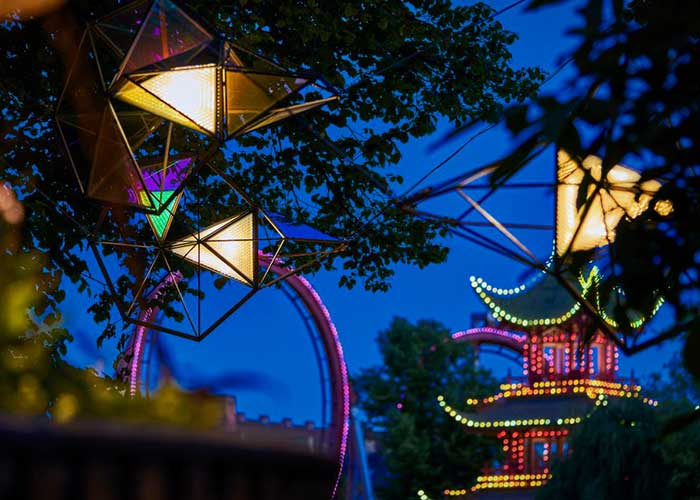 Visitors to the park can view the installation of thirty-three lamps hovering mesmerizingly in the trees along Tivoli Lake. The lamps are created by Olafur and Little Sun, in consultation with Tivoli's design office and lighting designer Jesper Kongshaug.
The thirty-three lamps are constructed from two identical intersecting geometric bronze frames around a tetrahedral core. Panels of dichromatic glass and polished stainless steel mirrors are set into the frames in five different combinations. The lamps change colour as the passers-by move past and around them although only one type of glass has been used; this effect is caused by the dichromatic glass, which filters some wavelengths and reflects others. A cluster of LEDs illuminate the lamps from within a faceted lens at the core, producing ambient lighting at night. Taken together, the lamps create a shimmering, multi-coloured swarm swaying gently in the breeze.
Creating a link between the iconic park and greater Copenhagen, the lamps can also be sighted by cyclists or pedestrians passing by on H. C. Andersens Boulevard outside the park.
Tips and recommendations
Visit Tivoli and explore the gardens variety of always changing light attractions.
"Throughout its history, Tivoli has used light to create a magical atmosphere in which dreams and reality blend. It is a space that appeals to our creativity and imagination." Olafur Eliasson 
Contributors
Design
Olafur Eliason and Little Sun
Builder