Not Hate – Love
– Viera Collaro
18 January – 2 March
Site: Den Frie Udstillingsbygning, Oslo Plads 1, 2100 København Ø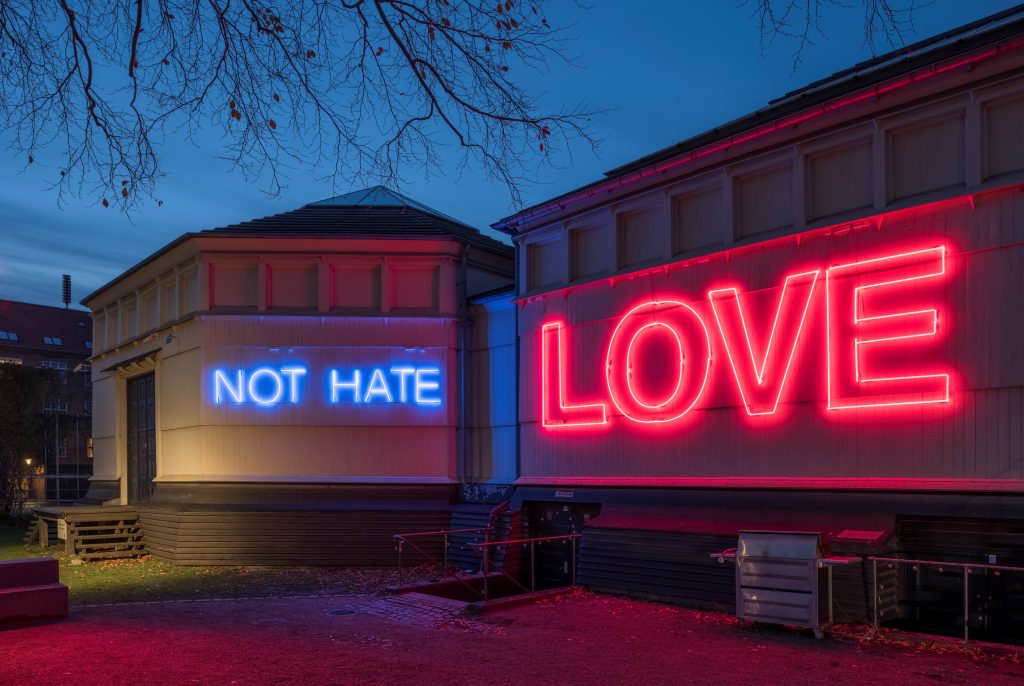 The manumental neon installation " Not Hate __Love" is a statement for the time we live in today, with light. I feel that the negative energies of the contemporary social, political and above all humanistic point of view are so strong and so destructive that there is a need to accentuate this message. I have heard these words over and over again in the media in connection with reactions to the many terror attacks, demonstrations and to the many right wing views and actions that turn the world into hateful directions that cause much harm to humanity.
The light installation is meant to be a powerful scale by integrating the piece within the Frie`s exhibitions buildings facade. The Frie has a central placement in Copenhagen and is part of the Danish art scene. As a public piece, the work addresses hundreds of people everyday and insists they take a moment to reflect.
The colours red and  blue of the neon lights, and the white of the building are a part of the concept as well as the size and dominance of the piece. The smaller scale of the cold blue NOT HATE in proportion to the warm glow of the giant red LOVE and the expansion of the Fries white building of the Frie Center of Contemporary Art, are all part of the  work. The transformation of the message in light gives the work a presence above all in darkness but also a dominance in the every day.
Tips and recommendations
If you haven't seen it yet, then don't miss the chance. It's situated just near Østerport St.
Contributors
Artist
Partners
Den Frie Udstillingsbygning
Neon Sign
Credits
Photo by David Stjernholm