The Wave
– Vertigo
Sound design by Mikkel Meyer (DK) and Jonas Fehr (DK)
4 February – 25 March
Site: Ofelia Plads, 1250 København K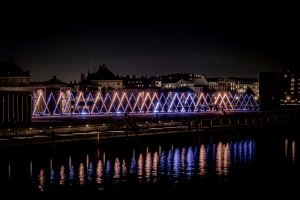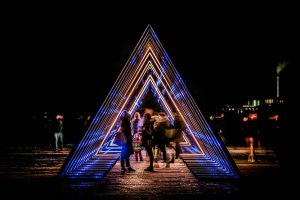 A beacon of light in the city of winter
"The Wave" consists of forty, triangular, interactive, both glowing and sounding gates, 4 metres tall. The gates will respond to movement sonically and visually. Audiences will therefore co-create the artistic experience and convey unique light and sound events that constantly change the perception of the installation during its entire life span.
We like to regard "The Wave" as a beacon of light in the city's ongoing darkness. Inhabitants of Copenhagen of all ages can meet and interact with the installation, admiring it both close-up and from afar.
The Wave was commissioned by Frost Festival and Foreningen Ofelia Plads for the 2017-edition of Frost Festival and will return to Ofelia Plads for this years festival.
Tips and recommendations
Take a walk through the installation and audiotive universe to get a holistic experience.
The installation can easily be seen from the Opera House, Papirøen, the inner harbour bridge, displaying a visually evident, central contribution to the harbour.