Metamorphosis
– Ioana Fartadi-Scurtu & Alice Balboni
17 and 18 February from 17:30 – 22:00
Site: Danish Architecture Center (DAC), Strandgade 27B, 1401 København K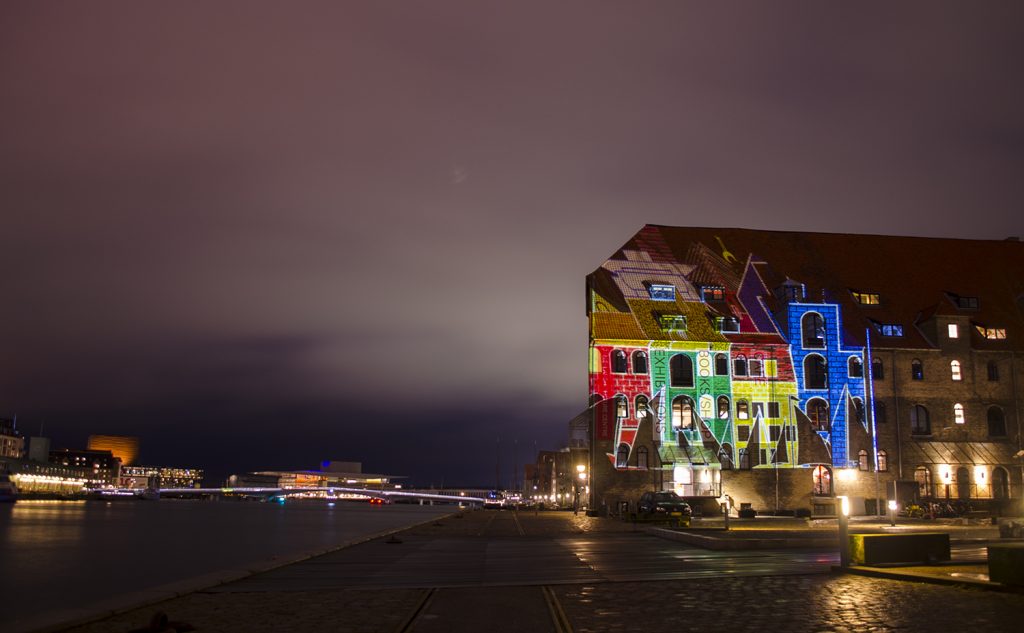 The gobo projection "Light & Darkness – A Story of Architectural Metamorphosis" by lighting design students Ioana Fartadi-Scurtu and Alice Balboni explores the historical evolution of the skyline of Copenhagen in a colorful, lively display on the facade of the Danish Architecture Center (DAC). With references to its historical roots as a harbour city, the bright and popular facades of Nyhavn and the modern peaks in its skyline, Copenhagen's architectural evolution is morphed into the projection in a fun play of light, colors and the darkness of the night, all in an adaptation that preserves and enhances the beautiful architecture of DAC's home – "Gammel Dok".
Tips and recommendations
Take a stroll down Knippelsbro, Havnepromenade or come by DAC to experience the projection up close. The boat tour also provides a splendid view of the projection at night.