Balloon Forest
– Delphine Piault og Frédéric Dilé
2 – 16 February
Site: Kulturhuset, Islands Brygge 18, 2300 København S
The balloon forest is cut down and is therefore no longer available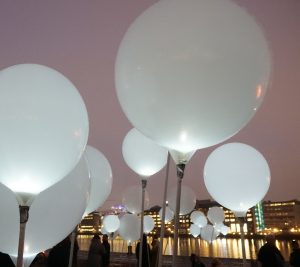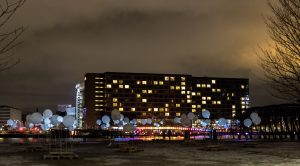 The "Balloon Forest" (Ballonskoven) is an interactive light installation in the middle of the city, inviting people to go for a walk in a shining balloon forest that lights up when people pass by.
Visitors can experience a romantic and poetic trip in the cold Danish winter weather and become an active part of the installation as they interact with it by passing by.
The installation moves with the wind. If there are no visitors nearby, the balloons light up after a particular program.
Tips and recommendations
Pass by and move around between the balloons.