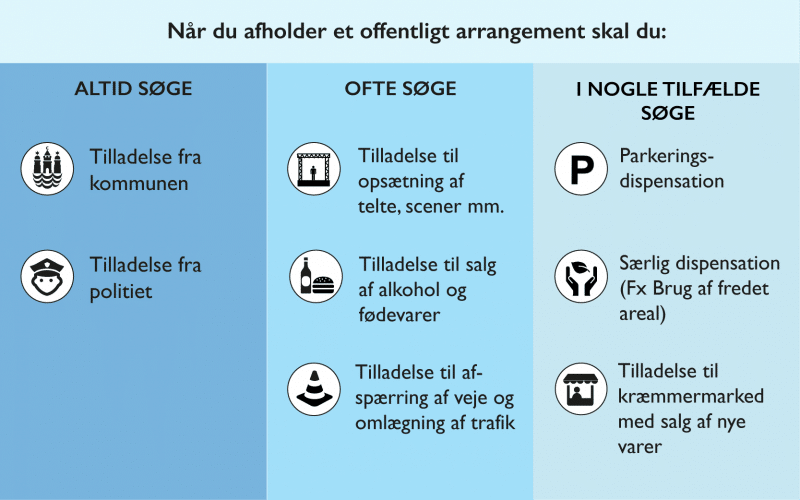 Vejledning til offentlige tilladelser
Værter og kunstnere skal selv sørge for de rigtige tilladelser og fuldmagter lysværkerne kræver. Nedenfor finder I links til siderne, hvor I ansøger.
Husk at have dit NemId klar.
Vedrørende information om broer og gadebelysning kan sekretariatet kontaktes for relevante kontaktoplysninger.
Guide to acquire public permits
Hosts and artists must ensure the proper permits and power of attorney for their lightworks. Down below you will find links to the pages, where you should apply. However, unfortunately all forms are in Danish.
Remember to have your NemId ready.
For information concerning bridges and street lighting contract the Secretariat for contact information about this.
Arrangement tilladelse hos Byliv
Ansøges fire uger før arrangementet
Alle der ønsker at opstille materiel på offentlig vej skal altid søge om tilladelse.
Oplysning om materielet der skal stilles op, bl.a. mål og vægt, er særlig vigtige.
Når en genstand er højere end en meter, skal der med stor sandsynlighed ansøges om tilladelse hos Center for Byggeri.

Permission for public events from Byliv
Apply four weeks before the event
Everyone who wishes to establish material on a public road always has to apply for permission.
Information about the materiale is crucial in terms of weight, size, and more.
Byggetilladelse hos Center for bygninger
Indsendte byggetilladelser kan tilpasses efterfølgende.
Efter ansøgt arrangementstilladelse hos Byliv søges byggetilladelse, hvis dit værk kræver det. Se kravene ved at klikke på knappen nedenfor. En byggetilladelse har op til tre måneders behandlingstid.
Tilladelse/fuldmagt fra Byliv skal brugs til indhentning af byggetilladelse – fuldmagten er udtryk for at Københavns kommune er grundejer af det areal, som ønskes anvendt.

Ved privat ejerforhold skal fuldmagten hentes hos pågældende private grundejer,
Building permits
Submitted building permits can be adjusted later.
After applying for permission for public events, you should apply for a building permit, if your light work requires it. See the requirements by clicking the button below. A building permit has up to three months processing time.
Permits/power of attorney from Byliv is used when obtaining a building permit – the power of attorney is an expression of the fact that the municipality of Copenhagen is the landowner of the area that will be used.
In case of a private ownership the permit has to be obtained from the private landowner.
Politi tilladelse
Ansøges fire uger før arrangemenet
Ansøgning sendes til kbh-tilladelser@politi.dk
Police permission
Apply four weeks before the event
The application should be filled out and submitted to kbh-tilladelser@politi.dk