Artist – How to be a part of the festival
Open call til Copenhagen Light Festival 2021
Har du et værk, en lysinstallation eller blot en idé til en oplevelse som du ønsker skal blive en del af Copenhagen Light Festivals 2021's kunstneriske program, er der nu åbent for ansøgninger og sparringssamtaler om dit værk.
Sammen vil vi berige Københavns mørke februars gader med kunstneriske tiltag og lysende oplevelser der for en tid vil iscenesætte byens arkitektur, pladser, små gyder og måske ukendte steder på en unik, spidsfindigt eller storslået måde.
Dit værk bliver en del af Copenhagen Light Festivals officielle program, eksponeret i nationale og internationale medier og oplevet af Københavns borgere og besøgende.
Hvilke værker søger vi?
Et værk kan være et udendørs lysende objekt eller en lyskilde der oplyser en eksisterende bygning eller plads. Et værk kan også være en interaktion i lys eller en videoprojektion på, eller i, et medie. Alle værker skal kunne betragtes på afstand og give beskueren en tydelig oplevelse. Du bør tage i betragtning, at klimaet er en udfordring og at der stilles krav til lysstyrke og skala for at publikum får den fulde oplevelse.
Læs mere om hvad vi søger her.
Søg om optagelse / How
Open call er åbnet og du kan nu blive en del af programmet, søge om økonomisk støtte til dit værk og modtage teknisk eller kunstnerisk sparring.
Hvornår / When
Copenhagen Light Festival løber af stablen i februar måned 2021, i uge 6, 7 og 8.
Værkernes placering / Where
Som udgangspunkt er festivalens værker placeret i indre København. Vi har fokus på havneløbet, Frederiksholms Kanal og Kulturaksen (fra Glyptoteket til Nikolaj Kirke), samt brokvartererne og urbane udviklingsområder.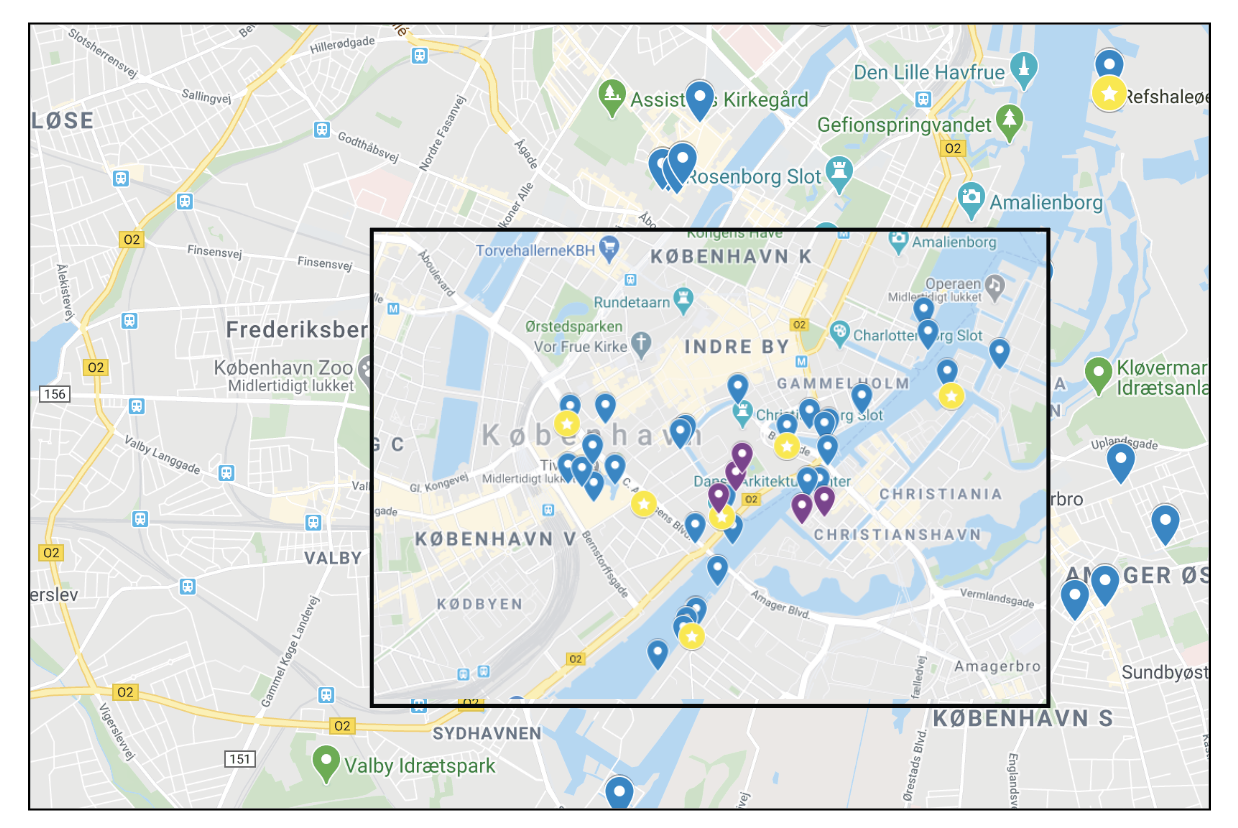 Vi søger særligt værker placeret inden for den inderste sorte ramme
Book et sparringsmøde
OPDATERING: Der er ikke flere ledige sparringsmøder.
Har du brug for sparring omkring din idé afholder vi to kunstner-sparringsdage, med individuelle møder, i hhv juni og august.
Booking
Open call for
Copenhagen Light Festival 2021
If you have a work, a lighting installation or just an idea for an experience that you want to become part of Copenhagen Light Festival 2021's artistic program, applications and sparring talks about your work are now open.
Together we will enrich Copenhagen's dark February streets with artistic initiatives and illuminating experiences that will, for a time, stage the city's architecture, squares, small alleys and perhaps unknown places in a unique, ingenious or magnificent way.
Your work will be part of the Copenhagen Light Festival's official program, exposed in national and international media and experienced by Copenhagen's citizens and visitors.
What are we looking for?
A work can be an outdoor illuminating object or a light source that illuminates an existing building or space. A work can also be an interaction in light or a video projection on, or in, a media. All works must be visible at a distance and give the viewer a visual experience. You should take into account that the climate is a challenge and that correct brightness and scale are required for the audience to have the full experience.
Read more about what we are looking for here.
Apply for admission / How
Open call has opened and you can now become part of the program, apply for financial support for your work and receive technical or artistic sparring.
See our application requirements here.


When
The Copenhagen Light Festival will be running in February 2021, in weeks 6, 7 and 8.
The location of the works / where
The festival's works are generally located in inner Copenhagen. We focus on the harbor race, the Frederiksholm Canal and the Cultural Axis (from the Glyptoteket to Nikolaj Church), as well as the bridge districts and urban development areas.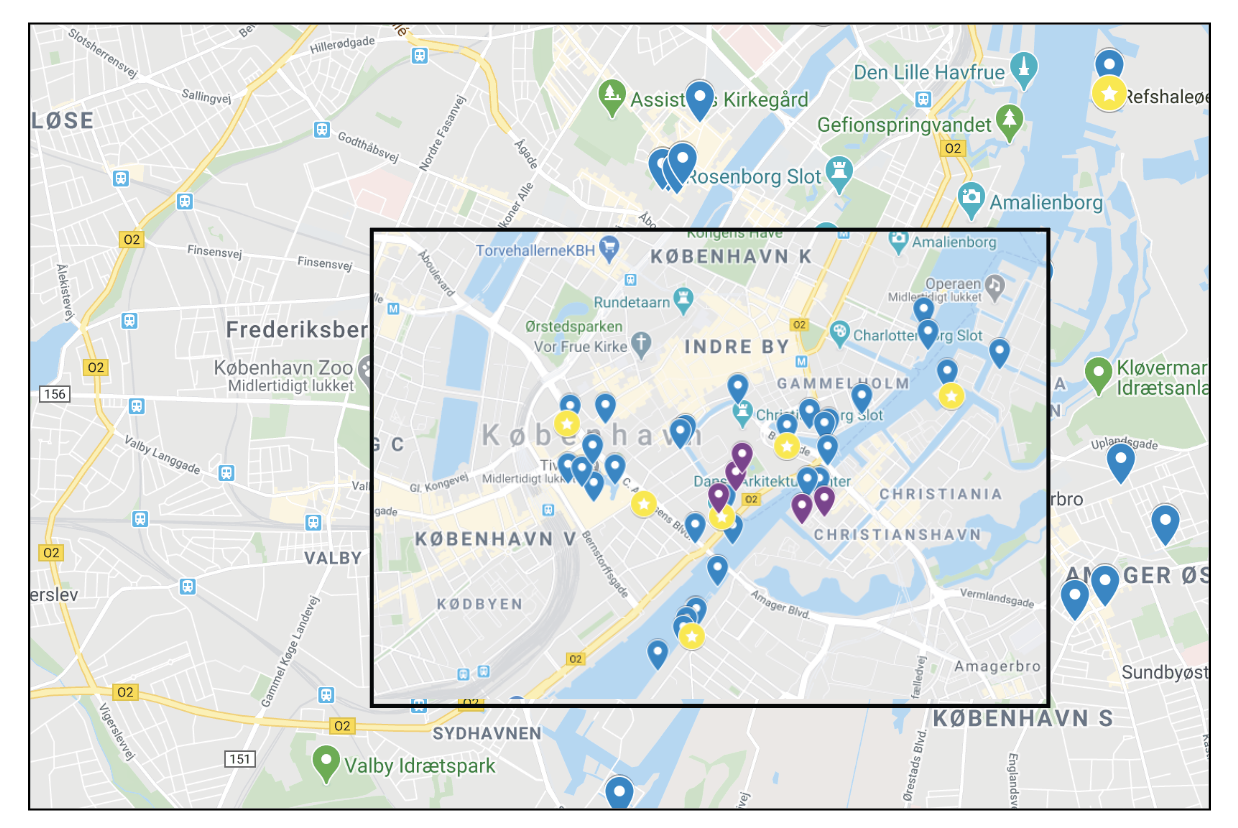 We are particularly looking for projects within the inner black frame
Book a sparring session
UPDATE: There are no more available sparring sessions.
If you need sparring around your idea, we have two artist-sparring days, with individual meetings, in June and August respectively.