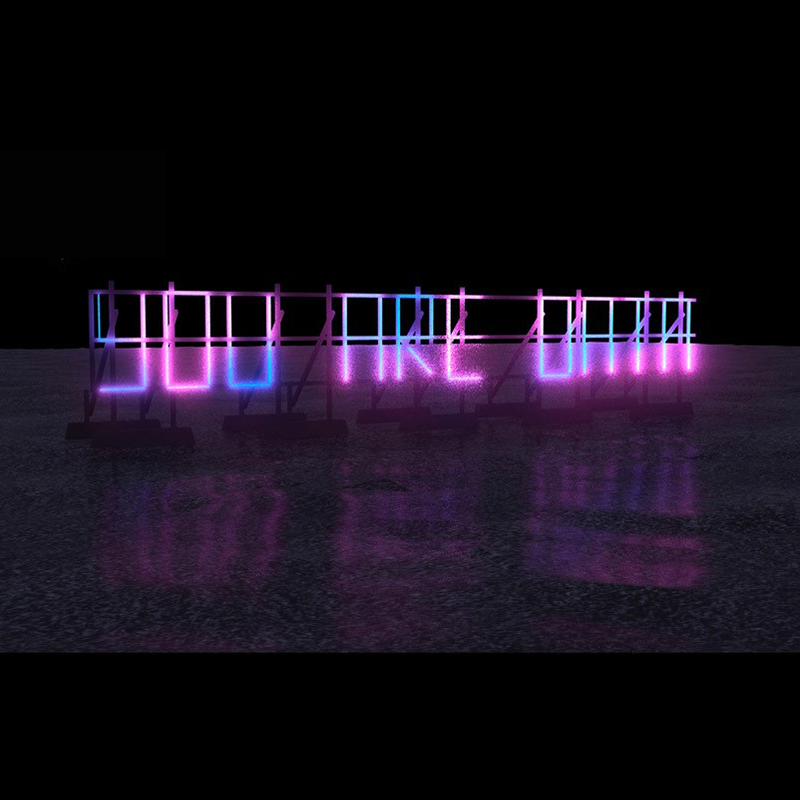 DUE TO VANDALISM "YOU ARE DATA"
ARE UNFORTUNATELY NOT FUNCTIONAL
//
GRUNDET HÆRVÆRK "YOU ARE DATA" UDE AF FUNKTION
ENG
Chaos Engine
You are Data
Lergravsparken Metro station
A part of Amager Lyser!
You are Data
Standing in front of this fifteen meter broad light installation you'll feel reduced into what you really are: data.  
Algorithms are everywhere, organizing the near limitless data that exists in our world. Derived from our every search, like, click, and purchase, algorithms determine the news we get, the ads we see, the information accessible to us and even who our friends are. These complex configurations not only form knowledge and social relationships in the digital and physical world, but also determine who we are and who we can be, both on and offline. 
Algorithms create and recreate us, using our data to assign and reassign our gender, race, sexuality, and citizenship status. They can recognize us as celebrities or mark us as terrorists. In this era of ubiquitous surveillance, contemporary data collection entails more than gathering information about us. Entities like Google, Facebook, and the NSA also decide what that information means, constructing our worlds and the identities we inhabit in the process. 
We have little control over who we algorithmically are. Our identities are made useful not for us but for someone else.  
 When a human being becomes a set of data on a website, he or she is reduced. Everything shrinks. Individual character. Friendships. Language. Sensibility. In a way it's a transcendent experience: we lose our bodies, our messy feelings, our desires, our fears. 
 Our selves are not more free; they are more owned. And they are owned because we are now made of data. 
YOU ARE DATA is a fifteen meter broad luminated text wall installed at Lergravsparken Metrostation.  
Sponsored by: Amager Øst Lokaludvalg, Amager Vest Lokaludvalg, Copenhagen Light Festival and Amager Kulturpunkt.  
 About the artists
Chaos Engine is the taming of raw, chaotic creativity and the productive playground for the two founders, Magnus Fuhr and Jesper Bogaard. Its product is sculptural installations, and the play with light and movement is an integral part of the process and the installations. 
Dk
Chaos Engine
You are Data
Lergravsparken Metrostation
En del af Amager Lyser!
You are Data
Når du står foran denne femten meter lange lysinstallation vil du føle dig reduceret til, hvad du i virkeligheden er: data. 
Algoritmer findes overalt og organiserer de næsten ubegrænsede data i verden. Vores søgninger, kliks, 'synes godt om'er' og køb afgør hvilke nyheder vi ser, de annoncer vi møder, de oplysninger, der er tilgængelige for os og endda hvem vores venner er. Disse komplekse konfigurationer danner ikke kun viden og sociale forhold i den digitale og fysiske verden, men bestemmer også, hvem vi er, og hvem vi kan være, både online og offline. Algoritmer skaber og genskaber os ved hjælp af vores data til at tildele og omfordele vores køn, race, seksualitet og statsborgerskab. De kan genkende os som berømtheder eller markere os som terrorister. I denne æra med allestedsnærværende overvågning indebærer moderne dataindsamling mere end blot en indsamling af information om os.  
Enheder som Google, Facebook og NSA bestemmer også, hvad denne information betyder, og konstruerer vores verdener og identiteter. Vi har meget lidt kontrol over, hvem vi algoritmisk er. Vores identiteter gøres nyttige –  ikke for os, men for en anden. Når et menneske bliver et sæt data på et websted, reduceres vedkommende. Alt krymper. Vores individuelle karakter. Venskaber. Sprog. Følsomhed. På en måde er det en transcendent oplevelse: vi mister vores kroppe, vores rodede følelser, vores ønsker, vores frygt. Vores 'selv' bliver ikke mere frit; men mere ejet. Og vi ejes, fordi vi nu er lavet af data.  
Om kunstnerne
Chaos Engine er tæmningen af rå, kaotisk kreativitet og en produktive legeplads for de to grundlæggere, Magnus Fuhr og Jesper Bogaard. Produktet er skulpturelle installationer, hvor leg med lys og bevægelse er en integreret del af processen og installationerne. 
You Are Data er en femten meter belyst tekstvæg installeret ved Lergravsparken Metrostation. 
Støttet af: Amager Øst Lokaludvalg, Amager Vest Lokaludvalg, Copenhagen Light Festival og Amager Kulturpunkt.