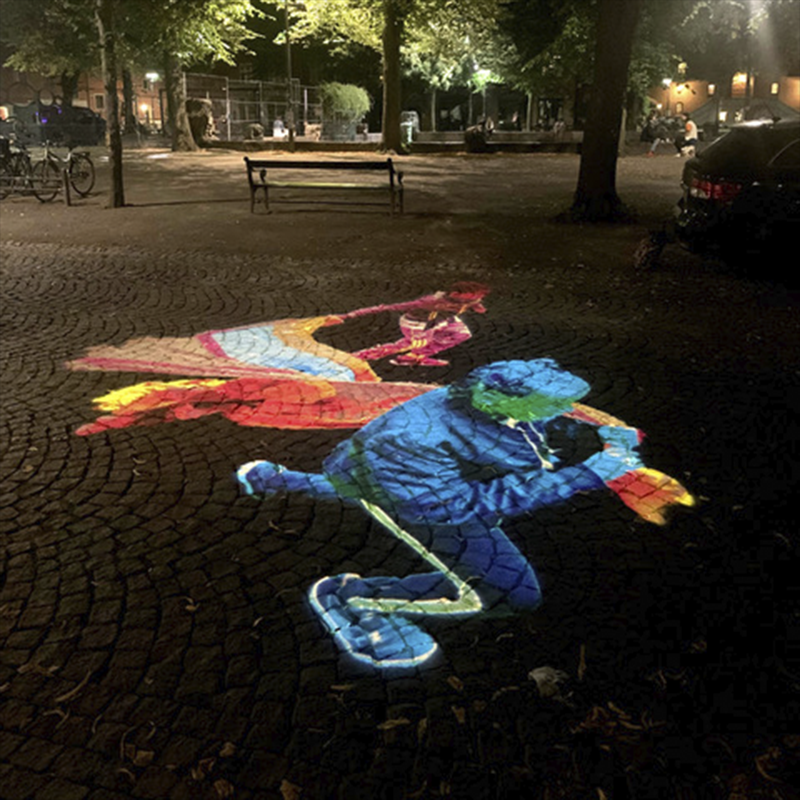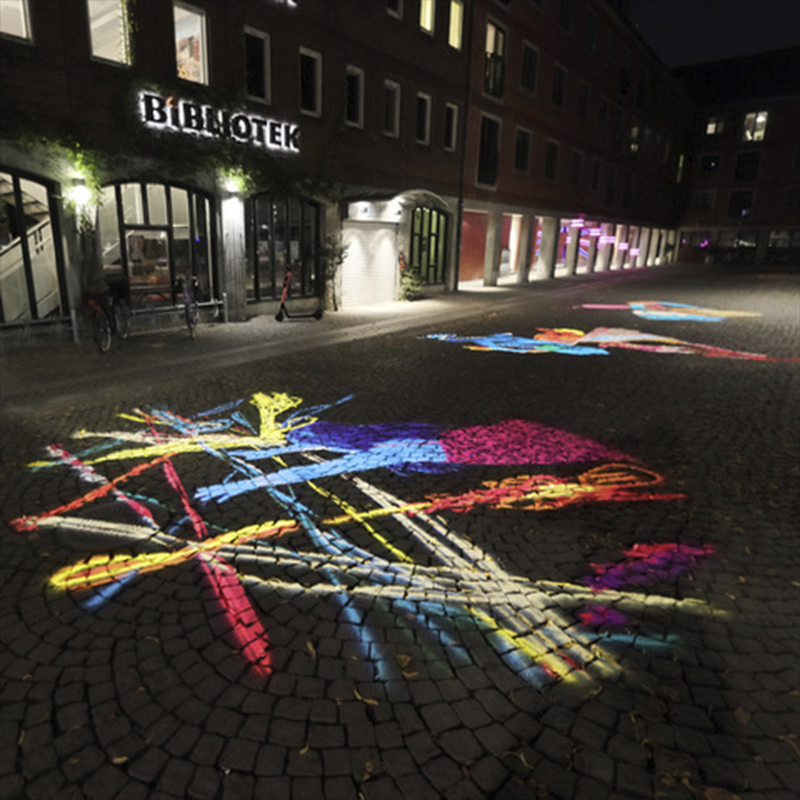 ENG
Karoline H Larsen
UNIVERSE
Blågårdsgade
Kbh N
UNIVERSE
How does new energy and curiosity arise?
UNIVERSE is a permanent, site-specific light art work at Blågårds Plads using colored lights that symbolize a universal energy circuit, which illuminates 7 color motifs on the 48 meter long stretch in front of Blaagaardens Library.
 The artwork has 3 primary functions. The artistic light on the coating makes the atmosphere at Blågårds Plads softer and safer. The 7 light motifs invite passers-by to move in new ways in the square, and to use their imagination to invent and form motifs through the light forms – because how does new energy and curiosity arise?
 At a distance, the Universe will be perceived as large abstract color forms that shine on the cobblestones on Blågårds Plads. Almost like painted pastel chalk, the light colors linger against the cobblestones and make the road silky smooth. Moving closer to the light fields, the seemingly abstract forms will invite you to explore 7 motifs: Can you guess what it is?
The 7 motifs originate from K.H. Larsen's art practice over the past 15 years, where she has worked with collective visioning in urban spaces both nationally and internationally. She is best known for her Collective Strings, where people are invited to spontaneous movement with Snorespor across public spaces in city parks and plazas and in the Art Museums space, including Festa di Roma (2020), Moscow Garage Museum of Contemporary Art (2019), Festival of 7 Collines Saint Etienne (2018), Holstebro Art Museum (2017), Trapholt Art Museum (2017) etc.
 Karoline H Larsen
is an artist based in Denmark, educated at the Royal Danish Academy of Art in Copenhagen. She calls her art practice "Creative Actions" that creates public spheres of social rediscovery and personal development; Materialized between people via relational aesthetics e.g. Collective Strings a participatory art installation or Discover your city an art trail connecting neighborhoods or HeartmiX an interactive sound, light, paint Tunnel art commission.
DK
Karoline H Larsen
UNIVERS
Blågårdsgade
Kbh N
UNIVERS
Hvordan opstår ny energi og stemning?
UNIVERS er et permanent, stedspecifikt lyskunstværk på Blågårds Plads, der bruger farvet lys til at symbolisere et universelt energikredsløb, som lyser op i 7 farvemotiver på den 48 meter lange strækning foran Blaagaardens Bibliotek.
Lyskunstværket har 3 primære funktioner. Det kunstneriske lys på belægningen gør stemningen på Blågårds Plads blødere og tryggere. De 7 lysmotiver indbyder til at forbipasserende bevæger sig på nye måder på pladsen, og til at man bruger sin fantasi til at finde på og danne motiver via lysformerne – for hvordan opstår ny energi og stemning?
På afstand vil Univers opfattes som abstrakte farveformer der lyser på brostensbelægningen på Blågårds Plads. Næsten som malede pastelkridt lægger lysfarverne sig imod brostenene og gør vejen silkeblød. Går man nærmere lysfelterne vil de tilsyneladende abstrakte former invitere til at gå på opdagelse i 7 motiver: Kan du gætte hvad det er?
De 7 motiver stammer fra K.H. Larsen's kunstpraksis igennem de sidste 20 år, hvor hun har arbejdet med collective visioning i byrum både nationalt og internationalt. Hun er mest kendt for sine Collective Strings, hvor folk inviteres til spontan bevægelse med Snorespor på tværs af offentlige rum i byernes parker og pladser og i Kunstmuseerne's rum, bl.a til Festa di Roma (2020), Moscow Garage Museum of Contemporary Art (2019), Festival des 7 Collines Saint Etienne (2018), Holstebro Kunstmuseum (2017), Trapholt Kunstmuseum (2017) etc…… tilbage til Conflux Festival New York City (2007), Night Vision Festival Cape Town (2005).
Karoline H Larsen
er en kunstner med base i Danmark, uddannet ved det Kgl. Danske Kunstakademi i København. Hun kalder sin kunstpraksis "Creative Actions" som skaber offentlige sfærer af social genopdagelse og personlig udvikling; Materialiseret imellem mennesker via relationel æstetik f.eks. Collective Strings en deltagerbaseret kunstinstallation eller Opdag din by en kunststi som forbinder bydele eller HjertemiX en interaktiv lyd, lys og maleri Tunnel kunstudsmykning.