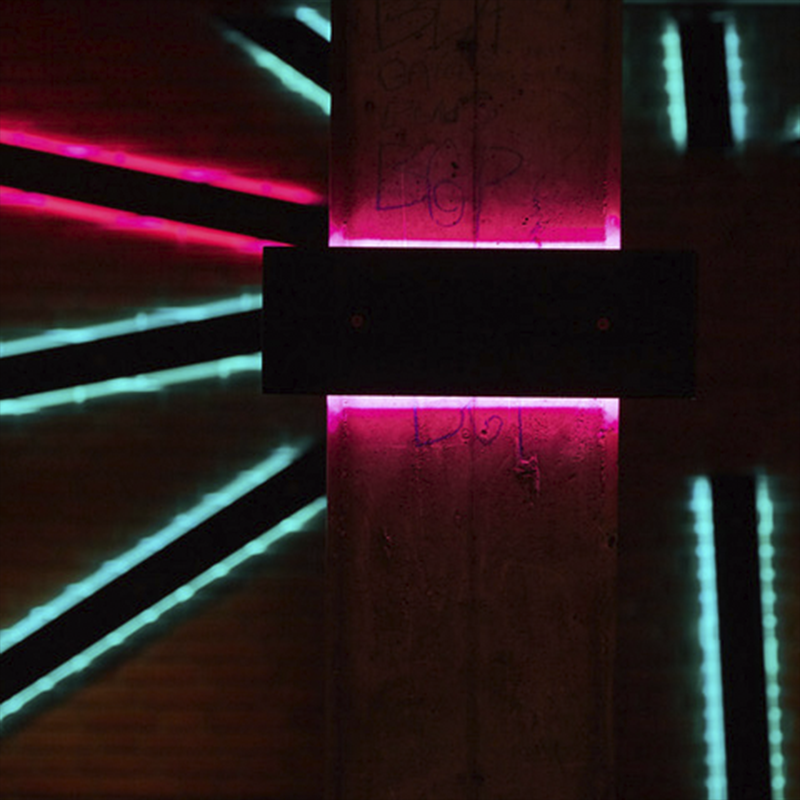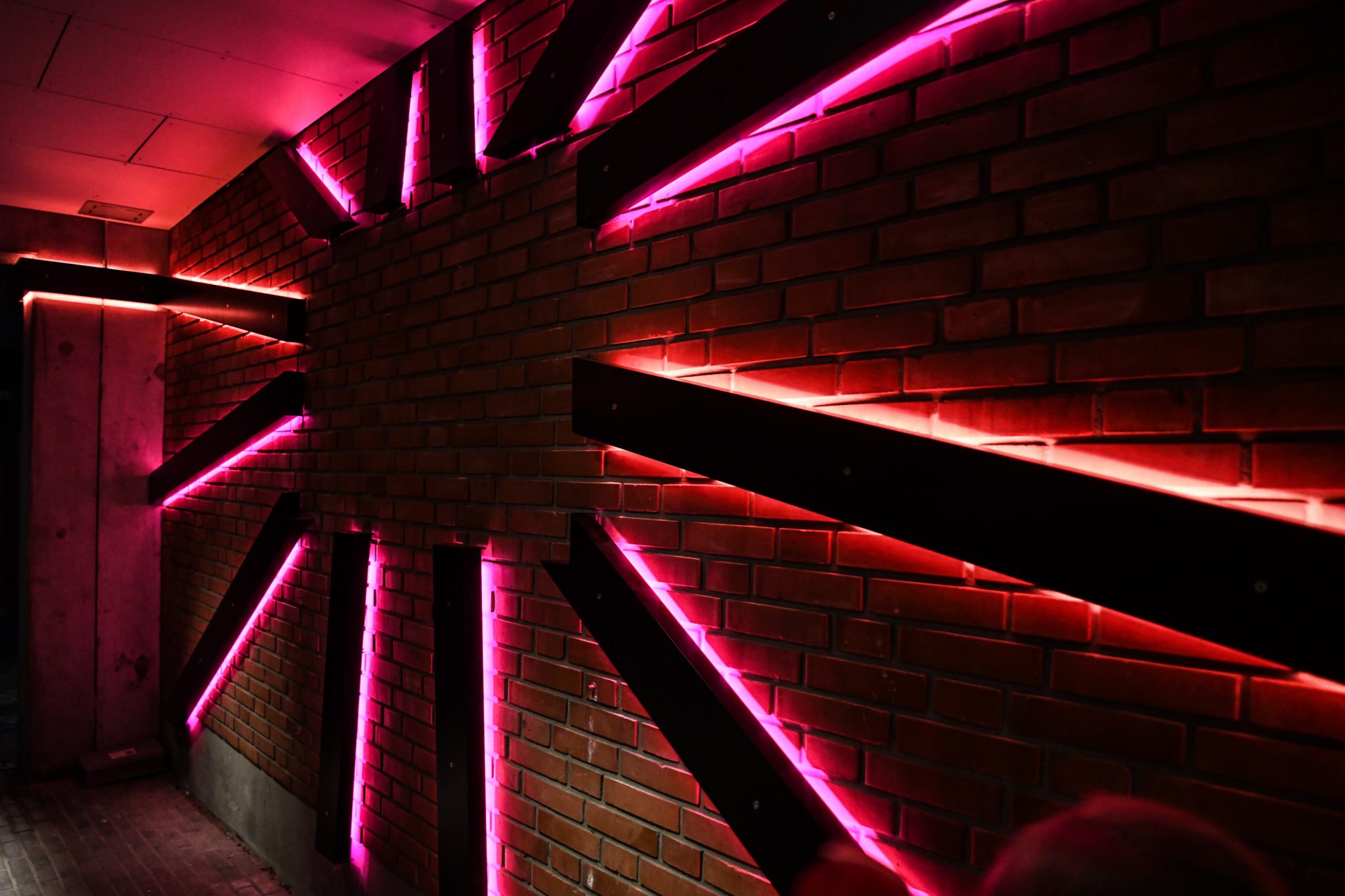 ENG
Karoline H Larsen
Tracks
Blågårdsgade
Kbh N
TRACKS
Where do people come from – and what do people have in common?
TRACKS is a permanent, site-specific light art installation situated across two passageways at Blågårds Square in Copenhagen. Considered as one of the Danish capital's roughest areas, the passageways were formerly very dark and felt unsafe, as any lighting previously in place was continuously vandalised by criminal groups. In a push to make the area feel more secure, welcoming and attractive, a competition regarding light art in the passageways was issued. This was won by artist Karoline H. Larsen, in association with Light Bureau (former ÅF Lighting).
TRACKS takes inspiration from the history of Blågårds Square and the local residents. In the past, the area housed an iron foundry, leading to the nickname "The Black Square". Bearing this in mind, the installation uses black metal tracks shaped like squares, which refer to the harsh neighbourhood while creating a brutal sculpture in the passageways. On a single wall, the tracks constitute an invisible square, as a representation of the Blågårds Square itself.
The black tracks on surrounding walls and columns are intended to symbolise the different routes taken through the passageways, and also to the wealth of diversity in the area; it is home to residents from a range of nationalities, each of which has followed their own journey to Copenhagen. The light behind the tracks is a counterpoint to the neighbourhood's tough story and the massive black exterior of the tracks. It symbolises life behind the solid façades, and reminds that there is always hope, even in dark times. The tracks are mainly backlit in glowing orange, referring to the history of the iron foundry and the hot, liquefied metal.
As a tribute to the human diversity in the area, the light cycles through a range of static coloured scenarios. The colors have been chosen by the local youth council at a light test on the site. The old function lighting has been replaced with well-shielded downlights, and the light distribution is used to create scenographic effects, resulting in a simple contrast of light and shadow as black squares on the ground.
The perspective of the installation shifts when moving around the square, resulting in exciting visual changes, meaning that TRACKS can be enjoyed from a distance all around the square, defining it in a beautiful and inspiring way.
Karoline H Larsen
is an artist based in Denmark, educated at the Royal Danish Academy of Art in Copenhagen. She calls her art practice "Creative Actions" that creates public spheres of social rediscovery and personal development; Materialized between people via relational aesthetics e.g. Collective Strings a participatory art installation or Discover your city an art trail connecting neighborhoods or HeartmiX an interactive sound, light, paint Tunnel art commission.
DK
Karoline H Larsen
Tracks
Blågårdsgade
Kbh N
TRACKS
Hvor kommer folk fra – og hvad har folk til fælles?
 TRACKS er en permanent, stedspecifik lysinstallation beliggende på to passager på Blågårds Plads i København. Kvarteret regnes som et af den danske hovedstads hårde områder, og Blågårds passagerne var tidligere meget mørke og folk følte sig utrygge, da enhver belysning, der tidligere var på pladsen, kontinuerligt blev hærget af kriminelle grupper. I et skub for at få området til at føle sig mere sikkert, imødekommende og attraktivt, blev der udstedt en konkurrence om lyskunst i passagerne. Dette blev vundet af kunstneren Karoline H. Larsen i samarbejde med Light Bureau (tidligere ÅF Lighting).
 TRACKS henter inspiration fra Blågårds Plads' historie og de lokale beboere.
Tidligere havde området et jernstøberi, der bl.a førte til kaldenavnet "Den sorte firkant". Når man tager dette i betragtning, bruger installationen sorte metalskinner formet som firkanter, der henviser til det barske kvarter, mens de skaber en brutal skulptur i passagerne.
På en enkelt væg udgør sporene en åben og usynlig firkant som en repræsentation af selve Blågård Plads. De sorte spor på de omgivende vægge og søjler symboliserer de forskellige ruter, der er gået og cyklet igennem passagerne, og peger også på rigdommen i mangfoldigheden i området; der er hjemsted for beboere fra en række nationaliteter, som hver har fulgt deres egen rejse til København. Lyset bag sporene er kontrapunkt til nabolagets hårde historie og det massive sorte udvendige af sporene. Det symboliserer livet bag de solide facader og minder om, at der altid er håb, selv i mørke tider. Sporene er hovedsageligt baggrundsbelyst i lysende orange, der henviser til jernstøberiets historie og det varme, flydende metal.
 Som en hyldest til den menneskelige mangfoldighed i området glider lyset gennem en række statiske farvede scenarier. Farverne er valgt af det lokale ungdomsråd ved en lysprøve på stedet. Den gamle funktionsbelysning er blevet erstattet med godt afskærmede downlights, og lysfordelingen bruges til at skabe scenografiske effekter, hvilket resulterer i en enkel kontrast af lys og skygge som sorte firkanter på jorden.
Kunstinstallationens perspektiv skifter, når man bevæger sig rundt på pladsen, hvilket resulterer i spændende visuelle ændringer, hvilket betyder, at TRACKS kan nydes fra afstand overalt på pladsen, og således definerer pladsen på en smuk og inspirerende måde.
Karoline H Larsen
er en kunstner med base i Danmark, uddannet ved det Kgl. Danske Kunstakademi i København. Hun kalder sin kunstpraksis "Creative Actions" som skaber offentlige sfærer af social genopdagelse og personlig udvikling; Materialiseret imellem mennesker via relationel æstetik f.eks. Collective Strings en deltagerbaseret kunstinstallation eller Opdag din by en kunststi som forbinder bydele eller HjertemiX en interaktiv lyd, lys og maleri Tunnel kunstudsmykning.