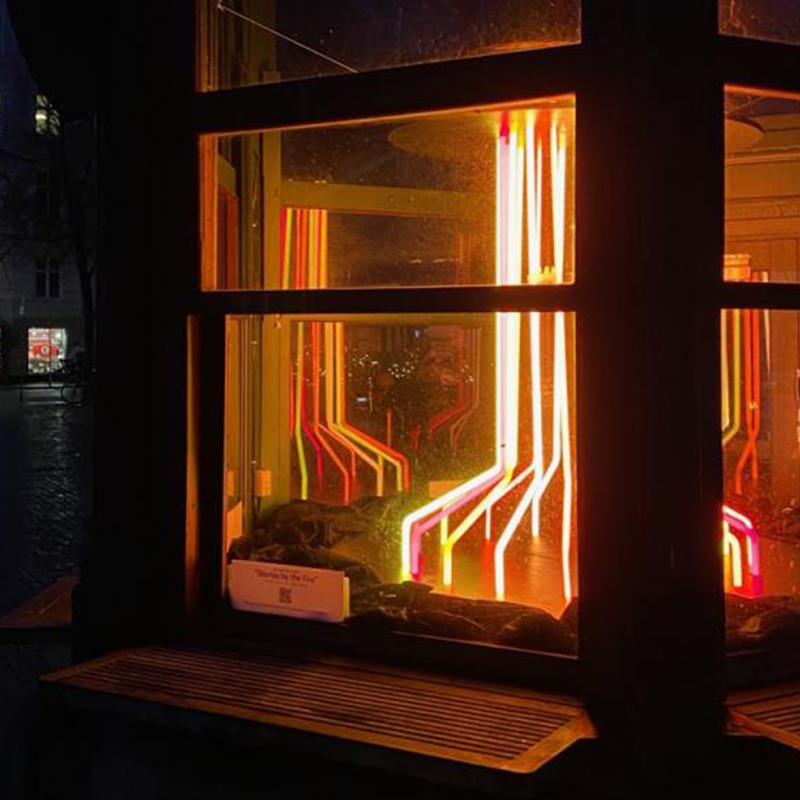 ENG
Art Group 1103
Stories by the Fire
Sankt Hans Torv

Stories by the Fire
"… it was time to let the moon and stars shine for the humans again. Not for the moon and the stars. But for human beings. They needed to feel that something was bigger than themselves. Needed to be all alone and together with others. Needed to be in pitch darkness and to see bright light." (Nadja Rahr) 
 We have created an installation that illustrates warmth and coziness. The old newsstand on Christianshavns Torv is, in itself, a unique spot. And with reference to warm summer evenings around a campfire, we use February to light a "bonfire" behind the kiosk's windows. Here you can stop and listen to the short prose stories which Nadja Rahr has created for this event via your smartphone. The stories are very different from each other and can be experienced completely independently. We let light and words melt together into one experience. 
 Art Group 1103 creates light installations for functional and decorative purposes. 
We are fascinated by the mystery of light. Our aspiration is to explore and challenge our own insight of how light can change perception of space and object. In this project we have colaborated with the authour Nadja Rahr. 
 Nadja Rahr is interested in life as a human being. She writes stories in which the distinctive and reflective of the human being become evident in the encounter with e.g. the cycle of life and the elements of nature. Her universe is often a mixture of concrete everyday situations, animals with magical features and insights into the main character's thoughts. 
 The installation is supported by CPH Light Festival, Christianshavns Lokaludvalg and Volunteers from Christianshavns Torve-Netværk. 
DK
Art Group 1103
Stories by the Fire
Sankt Hans Torv
Stories by the Fire
"…det var tid til at lade månen og stjernerne skinne for menneskene igen. Ikke for månen og stjernernes skyld. Men for menneskenes. De havde brug for at mærke, at der var noget større end dem selv. Brug for at være rigtigt alene og rigtigt sammen. Brug for at være i rigtigt mørke og se rigtigt lys." (Nadja Rahr) 
 Vi har skabt et samlingssted, der illustrer varme og hygge. Den gamle aviskiosk på Christianshavns Torv er i sig selv et hyggeligt nedslag. Og med reference til lune sommeraftener omkring et bålsted, tænder vi, i februar, "bål" bag kioskens vinduer. Her kan du stoppe og via din smartphone lytte til de kortprosa-tekster som Nadja Rahr har skabt til værket "Stories by the Fire". Historierne er vidt forskellige og kan opleves helt uafhængigt af hinanden. Vi lader lys og ord smelte sammen til én indre helhed. 
Art Group 1103 skaber lysinstallationer til funktionelle og dekorative formål. Vi er fascineret af lysets mysterium. Vores ambition er at udforske og udfordre vores egen indsigt i, hvordan lys kan ændre opfattelse af rum og objekt. I dette projekt har vi samarbejdet med forfatter Nadja Rahr. 
Nadja Rahr er optaget af livet som menneske. Hun skriver fortællinger, hvor menneskets særkende og refleksioner bliver tydelige i mødet med f.eks. livets cyklus og naturens elementer. Hendes univers er ofte en blanding af konkrete hverdagssituationer, dyr med magiske træk og indblik i hovedpersonens tankestrømme. 
 Værket er støttet af Christianshavns Lokaludvalg, Frivillige fra Christianshavns Torvs Netværk samt CPH Light Festival.