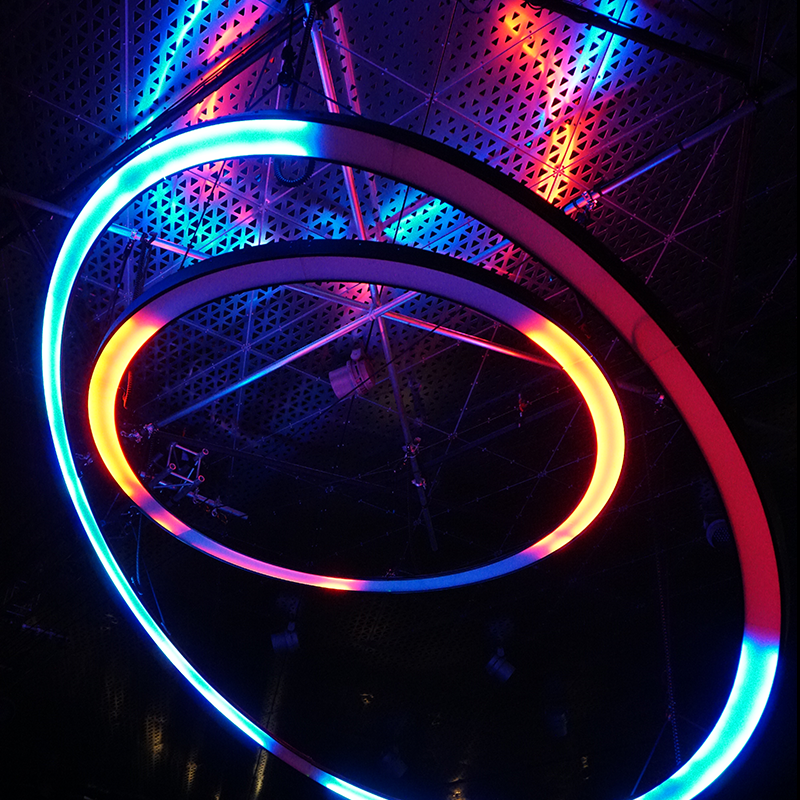 ENG
Vertigo
Sky
A part of Amager Lyser!
Under the roof at Musiktorvet
Øresundsvej 6
2300 København S. 
Sky is an interactive installation that lets the audience explore the architectural forms created when two light-immersed circles shift in relation to each other. 
The illuminating circles are three and four meters in diameter and each hanging in three points. Each point is controlled by the movement of people in the square.  
Visitors to the Copenhagen Light Festival and the many families and concertgoers who cross the square every day are given both the role of the audience and the object of Sky's artificial attention. Sky is attracted to the audience, but only if they take the initiative to get closer – the closer you move to Sky, the closer the circle will move towards you – but only to a certain limit, after which Sky retreats to safety under the roof of Musiktorvet. With six suspension points, there is room for six people to control the positions of the circles in relation to each other. Sky is in addition to its inherent aesthetic quality, also an installation that invites the viewer to explore and play with the technique and concepts such as closeness, collaboration and interactivity. 
 About the artists
VERTIGO creates audiovisual space transformations through interactive video scenography, custom LED light installations and laser visuals. Based in Vesterbro, Copenhagen, the company is known for developing immersive artworks combining light, moving images, sound and the latest technology. Among other projects, Vertigo has been most recognized for The Wave, which has been on display in various European cities.  
DK
Vertigo
Sky
En del af Amager Lyser!
Under taget på Musiktorvet
Øresundsvej 6
2300 København S. 
Sky er en interaktiv installation af kunstnerkollektivet Vertigo, der lader publikum udforske de arkitektoniske former to lysbesatte cirkler skaber, når de forskyder sig i forhold til hinanden.  
De lysende cirkler er hhv. tre og fire meter i diameter og hænger hver i tre punkter. Hvert punkt styres af menneskers bevægelse på pladsen. Copenhagen Light Festivals besøgende, og de mange familier og koncertgængere, der hver dag krydser pladsen tildeles både rollen som publikum og genstand for Skys kunstige opmærksomhed. For Sky tiltrækkes af publikum, men kun hvis de tager initiativet til at komme tættere på – jo nærmere beskueren bevæger sig, jo tættere vil cirklen nærme sig – indtil en vis grænse, hvorefter Sky trækker sig tilbage i sikkerhed under Musiktorvets tag. Med seks ophængningspunkter er der plads til at seks personer kan styre cirklernes positioner i forhold til hinanden. Sky er derfor et værk, der udover dets iboende æstetiske kvalitet også indbyder beskueren til at undersøge og lege med teknikken og begreber som nærhed, samarbejde og interaktivitet. 
 Hver aften fra kl. 17 – 22
Hvor: Under taget på Musiktorvet, Øresundsvej 6, 2300 København S. 
Om kunsterne
VERTIGO er et audiovisuelt kunstnerkollektiv, der har skabt interaktive oplevelser og lysinstallationer siden 2001. Kollektivet er kendt for at udvikle fordybende kunstværker, der kombinerer lys, bevægelige billeder, lyd og den nyeste teknologi. Holdet er specialiseret i design og udvikling af både kunst og interaktive installationer til kulturelle og kommunikative formål. Vertigo står bl.a. bag The Wave, der har været udstillet i forskellige europæiske byer.  
Støttet af: Amager Øst Lokaludvalg, Amager Vest lokaludvalg, Copenhagen Light Festival og Amager Kulturpunkt.