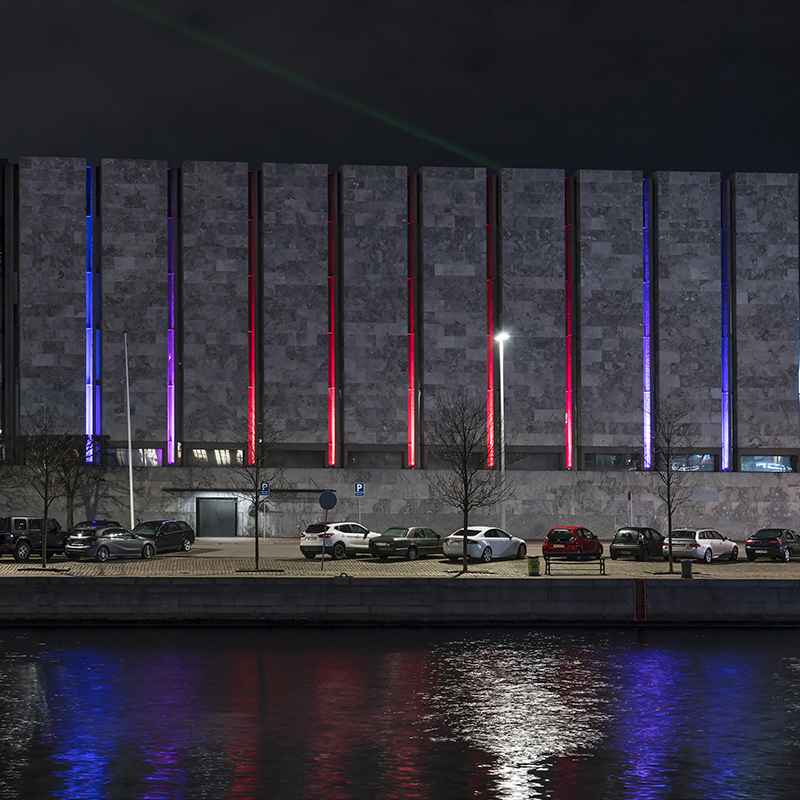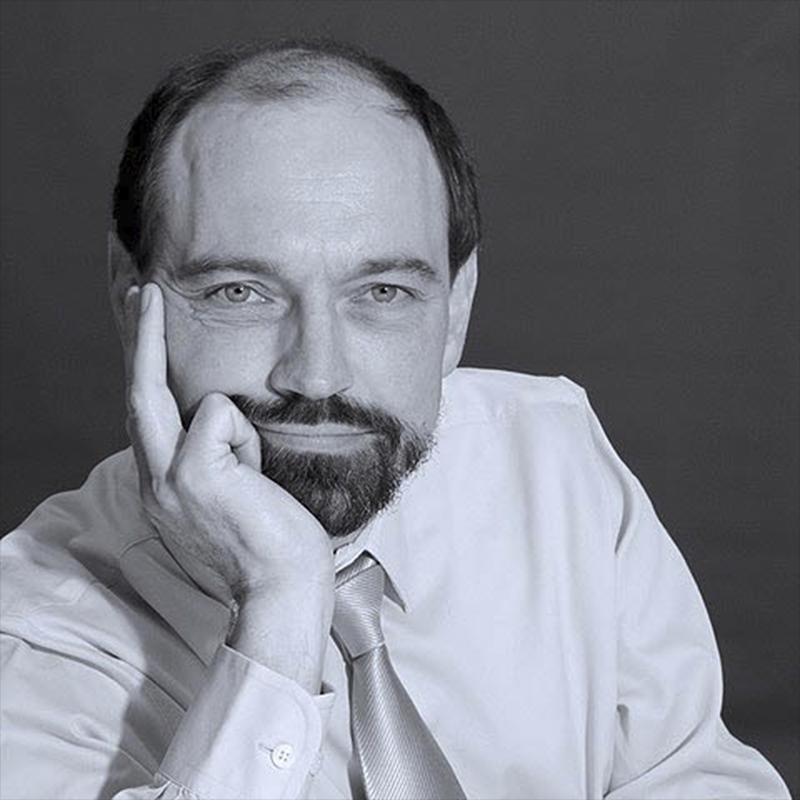 ENG
Peter Rietz
Portal of Stillness
(For Anna) 
Nationalbankens facade
See it from Børsgade and Christian IV's bro
A light and video installation dedicated calmness, reflection, nature, presence. –A transformation from the daily busyness and superficiality to a lower gear. It's a call for contemplation and dreams. The more dramatic yet specifically chosen word 'Portal' is frequently used in science fiction and computer games, describing a place where you can move from one world to another. 
The moving pictures: The Moon represents dreams and tranquility. It moves steadily through the night. The Moon is the protagonist in sequences of slow or almost surreal dreamlike movements where only nature is present. 
The illuminated façade: Ever changing colors illustrate the sun moving across the sky, aurora borealis, flickering starlight. 
 We are busy constantly moving from one place to another. – Absent in a virtual world on our devices whilst travelling. It's about getting there first, about thinking ahead. Often we are told, that we should be more present in the Now and be more aware of the immediate beauty around us, nature unfolding –even on our journey from one place to another. 
 Danmarks Nationalbank is a building that represents a flow of data-exchange and activity all hours of the day. Likewise, the building itself is surrounded by a flow of heavy traffic. As a background Danmarks Nationalbank is a perfect contrast for this portal of light and moving images. 
 The music
The inspiration for the light installation derives from the remarkable, beautiful 'Sleep' by Max Richter. A piece of music with the duration of eight hours originally created for a good night's sleep! 
 Get the full experience from Portal of Stillness: Open 'Sleep' on your own music-app (QR-codes provided for most frequent used apps). Find that part of the music that best suits your personal experience of the work. – Let tranquility and contemplation unfold… 
The people behind Portal of Stillness
Peter Rietz, architect and lighting designer is the creator of the light and video installation. He has done lighting design projects for more than 15 years. Experience as project manager, i.e. for project in Tivoli and several years of experience within the field of visualization. Peter Rietz represents DELUX DENMARK. The lighting company has established the framework for the creation of this installation. 
Without the help of the following companies, this installation would not have been possible: Epson Denmark and Griven LED Architectural Lighting. Video produced in cooperation with RotoWorks (drone-recordings and editing) and video-sequences used by kind permission of NASA. Thanks expressed to both Kayakbar for supplying location and crew and especially Danmarks Nationalbank for making the building available as canvas for the light-installation.
Thanks to Roskilde Tekniske Skole for help with the installation.
DK
Peter Rietz
Portal of Stillness
(For Anna) 
Nationalbankens facade
Ses fra Børsgade og Christian IV's bro
En lys- og videoinstallation tilegnet ro, refleksion, natur, nærvær. –Et skift fra den daglige travlhed og overfladiskhed til et lavere gear. En opfordring til fordybelse og at lade drømmene slippe løs. Det lettere dramatiske, men udvalgte ord portal er hyppigt anvendt i science fiction og computerspil om et sted, man kan bevæge sig fra én verden til en anden. 
De levende billeder: Månen står som symbol på drømme og ro og bevæger sig støt gennem natten. 
Månen er hovedaktøren i sekvenser af rolige eller næsten uvirkelige drømmebilleder hvor kun naturen optræder. 
Den oplyste facade: Skiftende farver viser solens vandring over himlen, nordlys, stjerneskær. 
 Vi har travlt med hele tiden at bevæge os fra ét sted til et andet, at være virtuelt fraværende undervejs med vores devices, at komme først, at tænke fremad. Vi hører ofte, at vi burde være mere til stede i nuet og være opmærksom på den umiddelbare skønhed i vores omgivelser, f.eks. naturen, der udfolder sig lige rundt omkring os – også på vores vej fra ét sted til et andet. 
 Danmarks Nationalbank er en bygning, der repræsenterer et flow af dataudveksling og aktivitet døgnet rundt. Ligeledes omkranses bygningen af et flow af tæt bytrafik. Nationalbanken er derfor som baggrund en flot kontrast til en "portal" i lys og levende billeder.  
Musikken 
Inspirationen til installationen kommer fra den usædvanlige, smukke, 8 timer lange musik-komposition "Sleep", komponeret af Max Richter med det oprindelige formål at få en god nats søvn! 
 Få den fulde oplevelse af Portal of Stillness: Åbn "Sleep" gennem egen musik-app (se QR-koder til de hyppigst anvendte). Find den del af værket, du synes passer bedst til din personlige oplevelse af værket. – Lad roen og fordybelsen indfinde sig… 
 Aktørerne bag Portal of Stillness
Peter Rietz, arkitekt og lysdesigner er ophavsmanden bag værket. Han har arbejdet med lysdesign i mere end 15 år. Erfaring som projektleder, bl.a. i Tivoli samt mange års erfaring med visualisering. Nu tilknyttet DELUX DENMARK som har etableret rammerne for tilblivelsen af dette værk. Værket er blevet til med hjælp fra Epson Danmark og Griven LED Architectural Lighting. Video produceret i samarbejde med RotoWorks (drone-optagelser og redigering), Sekvenser velvilligt stillet til rådighed fra NASA. Tak til Kayakbar for at stille plads og mandskab til rådighed og ikke mindst Danmarks Nationalbank for at stille bygningen til rådighed som baggrund for værket. 
Tak til Roskilde Tekniske Skole for hjælp med installationen.
Max Richter, Sleep
Spotify
Max Richter, Sleep
Deezer
Max Richter, Sleep
Apple Music
Max Richter, Sleep
YouseeMusic