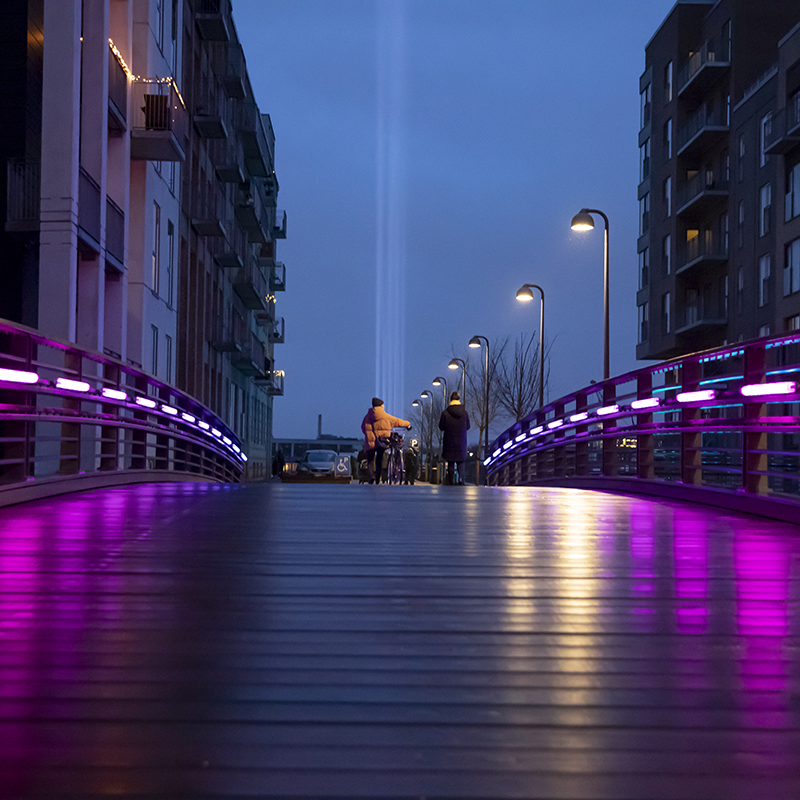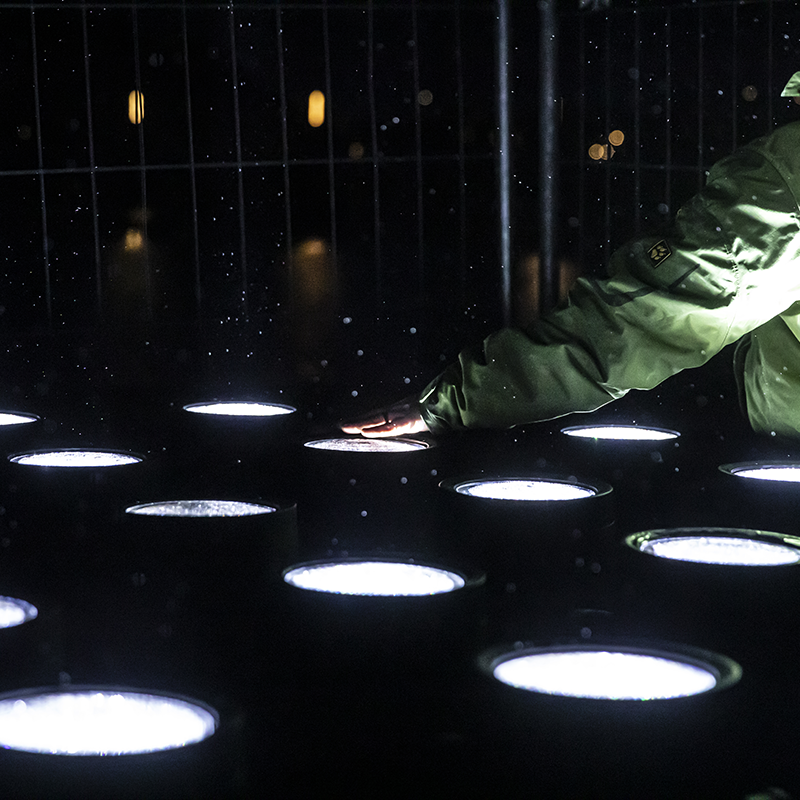 ENG
Jakob Kvist
Chromatic City
Slusen
Lone Kellermanns Vej
2450 Kbh
OBS! UNDER REPARATION. Chromatic City will be functional again from Wednesday 19th
Light Column (a part of Chromatic city)
The light column is a light sculpture materialized by heavy floodlight into the sky above Copenhagen. The light column "Chromatic City" is the largest installation of its kind in Europe, and on a clear sky it will be visible to more that 3,9 million people in the Øresund area.
The column is a sculpture created of light beams materializing in the sky and intuitively leading people to the source of the light. In the same way you look for the rainbow the light column draws you to exploring the city in search of the source of light.
During the festival the light column shoots several kilometers up in the air and will be a permanent part of the Copenhagen skyline and attract people from afar. The column will be switched on from 6-8 in the morning and 5-12 in the evening.
The extremely powerful floodlight of very narrow beams makes the column visible in any weather within a 25 km radius, which covers most of the Øresund region.
The 25 energy efficient floodlights of each 440 W get the power from Natur-Energi (100% power from Danish windmills).
DK
Jakob Kvist
Chromatic City
Slusen
Lone Kellermanns Vej
2450 Kbh
OBS! UNDER REPARATION. Chromatic City er i funktion igen, fra onsdag d. 19. februar
Søjlen (en del af værket Chromatic City)
Søjlen er en lysskulptur som materialiserer sig ved hjælp af kraftige lyskastere i himlen over København. Søjlen er den største installation af sin slags i Europa, og er i klart vejr synlig for mere end 3,9 mio. mennesker i hele Øresundsområdet. 
Formålet med Søjlen er, at skabe en skulptur af lysstråler som materialiserer sig i luften, og således intuitivt leder folk hen til udgangspunktet for værket. På samme måde som man har ledt efter enden af regnbuen, har Søjlen en ur-menneskelig tiltrækningskraft som drager mennesker på opdagelse og fordrer udforskning byen i jagten på at finde frem til lyskilden.
Lysværket skyder adskillige kilometer lodret op i luften, og vil derfor i udstillingsperioden være en fast bestanddel af Københavns skyline – og tiltrække folk langsvejs fra.
Ved at benytte ekstremt kraftige lyskastere med en meget smal stråle, er det muligt for Søjlen at være synlig i al slags vejr, og i en radius af mindst 25 km, hvilket dækker store dele af Øresundsregionen. Søjlen, som består af 25 energieffektive lyskastere på hver 440 watt, er sat sammen i kvadratisk formation (5x5) og vil være tændt i tidsrummet kl. 17-24 om aftenen samt kl. 6-8 om morgenen. Der er mulighed for at Søjlen modtager strøm fra vedvarende energikilder fra Natur Energi.