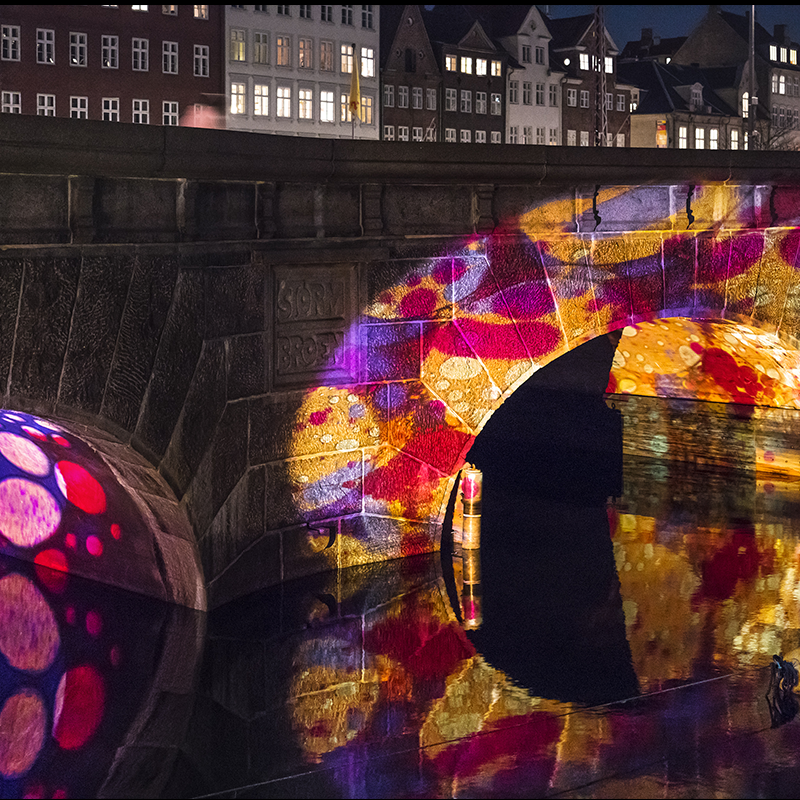 ENG
Mads Vegas
Like a Bridge over Bubbled Water
Under Stormbroen
Like a Bridge over Bubbled Water
A sitespecific work playing with oil lamps, bubbles, water and the shape of one of the segments af the bridge.
Mads Vegas, born 1976
Danish Lighting Designer and Light Artist Mads has been working professionally with light over 20 years. Mainly lighting designs for theatre, but also many designs for concerts, festivals, arts and social events, restaurants, and light installations in public spaces. As a light artist, Mads Vegas has during the last 10 years made large winter light installations in Ørestad Nord. At CLF 2018 and 2019 he created several significant light art pieces and a large light art installation was presented at Renzo Pianos Auditorium concert hall in Rome february 2019.
His light art piece ¨Eternal Sundown¨ is currently showing in front of Battersea Power Station by the Thames in London.
During CLF 2020 Mads has also created a large installation on the facade of Dagmarhus on Rådhuspladsen, it is a collaboration with the art- and design hotel citizenM more info : madsvegas.dk
DK
Mads Vegas
Like a Bridge over bubbled water
Under Stormbroen
Like a Bridge over Bubbled Water
A poetic corner of light and bubbles
af lyskunstner Mads Vegas