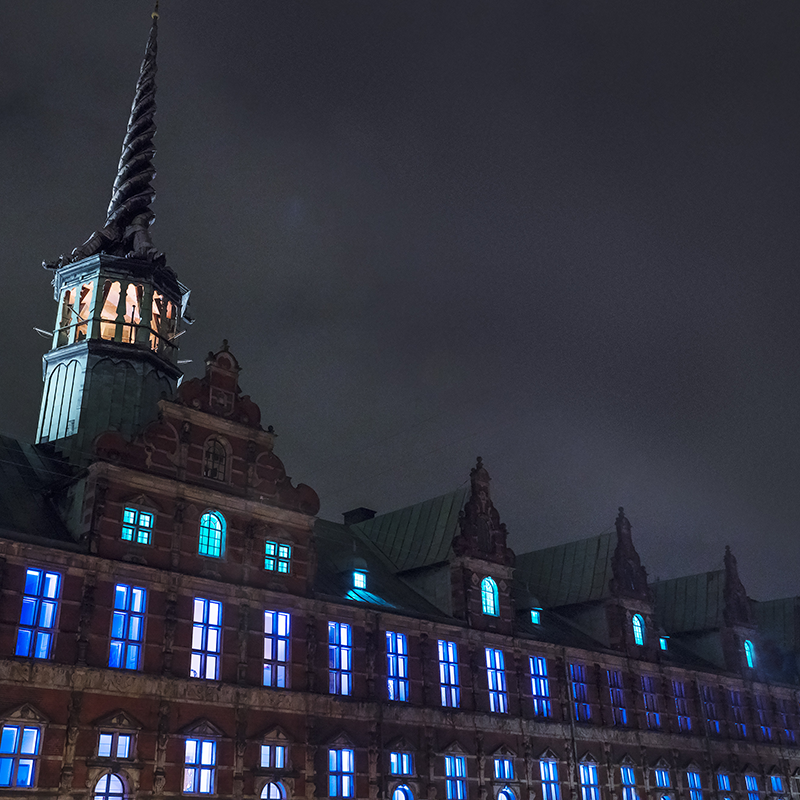 ENG
Redesign by Silla Herbst
Blue Horizon
Børsen
DANSK ERHVERV / DANISH CHAMBER OF COMMERCE
Blue Horizon
From its inauguration IN 1624, Børsen has been one of Denmark's most iconic buildings with its winding dragon tower and Dutch renaissance architecture.  
As the main center for trade in Copenhagen the water played an essential role in the location of the Børsen building, as ships had easy acces alongside the 128 meter long building from the canals. 
The building has in turn been owned by the royal house and private – but since the Danish Chamber of Commerce took over the building in 1857, Børsen has been owned by the Danish Chamber of Commerce / Dansk Erhverv, the Danish business organization. And in that way the building is still a trading center today. 
Dansk Erhverv has, for the third year in a row, created a large modified light installation, honoring the blue colour and the iconic building. This year the installation has gone through a modifying process with help from Lighting Designer and colorist Silla Herbst.  
The blue colour is still the fundamental anchor in the installation and a trademark for Dansk Erhverv. The blue colour is at the same time a dialouge with the waterfront that has been so important in the past for its great transport use, and today has a great aesthetic impact  for the building and the surroundings. Silla Herbst has worked with a graduation of the colour flow, so the light glowing out on the city from the facade windows, reflect colours of the water and the blue sky horizon.
DK
Redesign af Silla Herbst
Blue Horizon
Børsen
DANSK ERHVERV / DANISH CHAMBER OF COMMERCE
Blue Horizon
Fra bygningens indvielse i 1624 har Børsen været én af Danmarks mest ikoniske bygninger, med dets spiral drage tårn og hollandsk  renæssance arkitektur.
Som center for handelen i København, spillede vand en vigtig rolle for lokationen for bygningen, da skibe skulle have nem adgang til den 128 meters lange bygning fra kanalerne.
For 400 år siden begynde Christian den 4. konstruktionen af Børsen. Fra dens indvielse har bygningen, med det store dragetårn, været Danmarks med ikoniske bygning, og har været centrum for handelen i København. Bygningen har på skift været privat- og royalejet,  men indtil Dansk Erhverv tog over bygningen i 1857, har Børsen været ejet af danske virksomheder repræsenteret af Dansk Erhverv.
Dansk Erhverv har for tredje gang i streg lavet en installation fra vinduerne i bygningen. Og i år har farverne får et frisk pust af Silla Herbst der har været inde over årets installation.