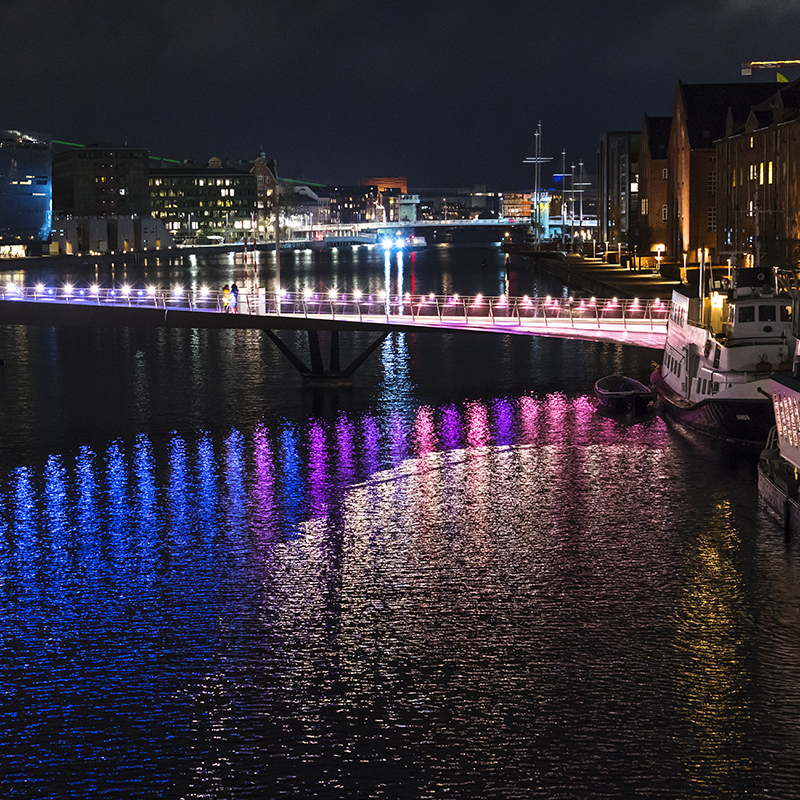 ENG
Silla Herbst & Katrin Barrie Larsen
Beads'n Strings
Lille Langebro
Beads'n Strings

Like a string of pearls the light-art work Beads'n Strings stretches over Little Langebro, creating strings of light which reflect in the water below.
Beads'n Strings transforms Copenhagen's new bicycle and pedestrian bridge, connecting BLOX, near Vester Voldgade to Langebro street on Christianshavn, by adding colour filters to the existing lamps on the bridge's wing construction. A variable colour sequence slowly graduates from pink tones through violet, to end at the top in blue-green harmony. By filtering the existing light sources on the bridge's balustrade, great effect is attained while emphasizing its unique form.
From a distance can be seen long threads of colour from the bridge's 'light pearls' reflecting in the water beneath.
From Vester Voldgade there is an additional effect, caused by the distinctive alternating changes between red and green of the traffik lights on the bridge, when they interact with Beads'n Strings' vibrant colours.
Thanks to: GoBo
DK
Silla Herbst & Katrin Barrie Larsen
Beads'n'Strings
Lille Langebro
Beads'n Strings

Som perler på en snor strækker værket Beads'n strings sig over Lille Langebro og kaster strenge af lys gengivet som refleksioner i vandets overflade.
Beads' & Strings iscenesætter Københavns nye cykel- og gangbro – der strækker sig fra BLOX, Vester Voldgade til Langebrogade på Christianshavn – ved at tilføre farvefiltre på det eksisterende lys rettet på broens vingekonstruktion.
På den måde skabes et foranderligt farveforløb der langsomt bygger sig op fra toner af pink over violette nuancer for til sidst at nå toppen i et blågrøn harmoni.
Ved at farvefiltrere de allerede eksisterende lysgivere på broens værn opnås stor effekt med lille indgreb og samtidig bevare grundgrebet for broens formmæssige forløb.
I afstand fra broen ses lange farvede tråde af refleksioner i vandet fra dens lysende perler.
Perspektivet fra Vester Voldgade, tilfører endnu et lag til værket idet trafiklysets refleksioner i broens stålværn interagerer med værkets farver i markante farveskift mellem rødt og grønt lys.
Tak til: GoBo