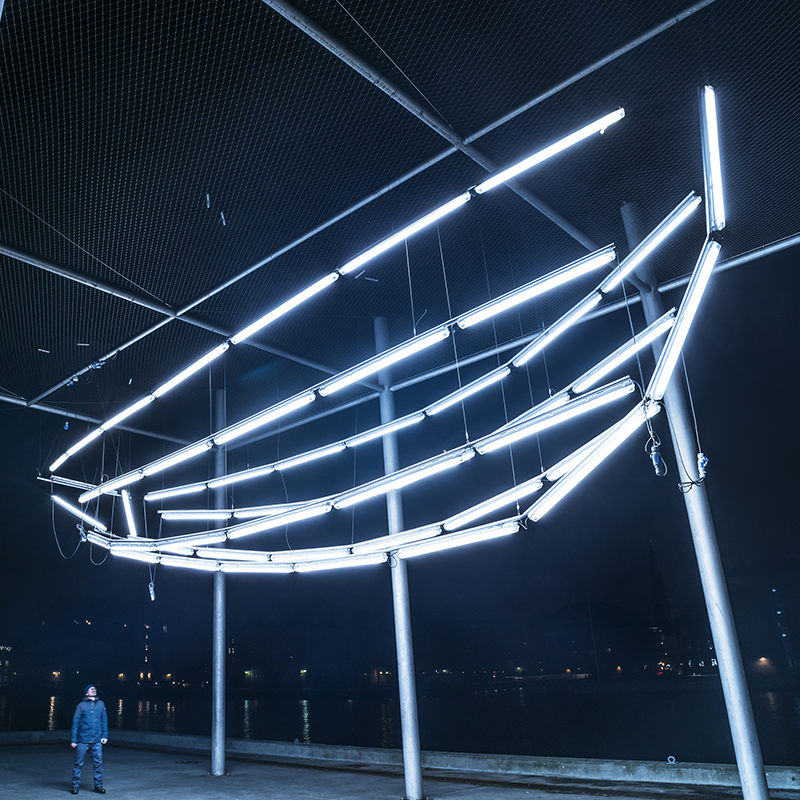 ENG
Hans E. Madsen
BÅD
Knasten
Havnepromaden by Havnegade 20
The artwork 'Boat' by Hans E Madsen can be described as a glowing three-dimensional drawing or sketch of a boat, hovering in the air next to the harbour. The boat is a carrier of meaning – of leaving and returning, life and death. In Denmark boats are also a part of national self-identification as a seafaring and fishing nation.
'Boat' is made from about 60 LED light tubes attached to an aluminium pipes individually suspended in the air from the large construction – allowing the artwork to shift in the wind.
The Artist Hans E Madsen works with large site-specific installations in public spaces – often with light as a tool. The artworks are usually done with inexpensive everyday materials and are temporary in nature.
DK
Hans E. Madsen
BÅD
Knasten
Havnepromaden by Havnegade 20
Værket 'BÅD' af Hans E. Madsen kan beskrives som et glødende tredimensionel tegning eller skitse af en båd, svævende i luften tæt på havnen. I Danmark er både en del af national identiteten, som en søfarts og fiske nation
'BÅD' er lavet med ca 60 LED lys-ledninger tilknyttet til aluminiumsrør der individuelt er hængt fast i luften fra den store kontruktion omkring – dette tillader værket at bevæge sig omkring til vinden.
Kunsteren Hans E. Madsen arbejder med store installationer i offentlige rum, tilknyttet det bestemte sted – ofte med lys som værktøj. Værkerne er ofte udarbejdet med billige hverdags materialer, og er midlertidige i naturen.