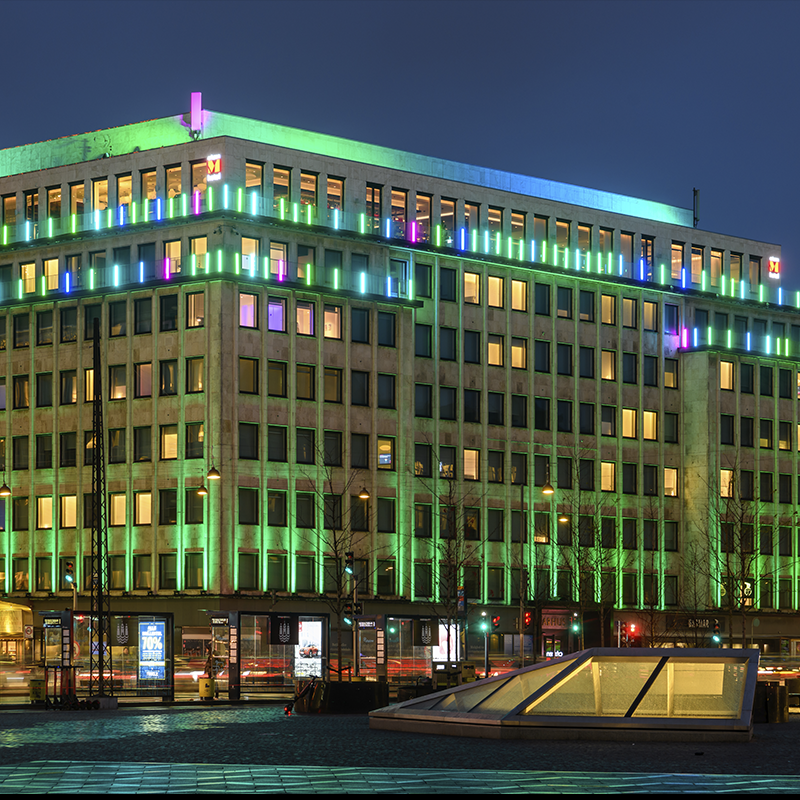 ENG
Mads Vegas
Aurora Sky
citizenM
Rådhuspladsen
H. C. Andersens Blvd. 12, 1553 København

Hear the music by Teitur everyday at 5pm 
Aurora Sky
"With the installation I will seek to create an artistic interpretation of the northern light in a cityscape. Nature can never be designed or recreated, but it can inspire. Aurora Borealis is one of natures biggest wonders in the sky. It is physical, yet mystical. Beautiful, yet disturbing. The three top floors on Dagmarhus is perfect for playing with the northern light. People on the street will be drawn to look up towards the hotel, and the 7th floor where the sky bar is situated. Neon tubes, fluorescent tubes, LED tubes has been a natural part of Rådhuspladsen (City hall square) the recent hundred years. The use of an aestetique that resembles the old signs and architectural expressions in this particular urban spot, to create a natural phenomenon on the sky (or at least very close to the sky) will be in harmony with the site and in great contrast to the natural view of northern lights" 
(Mads Vegas)
citizenM presents Aurora Sky, an immersive light installation by Mads Vegas, enhanced by sound in the form of a musical track by the Faroe Islands musician Teitur. You can hear the track in front of citizenM, exploring the light installation, at 17.00 (5pm) every evening during the festival. 
 The installation illuminates the spectacular citizenM hotel on Rådhuspladsen and invites onlookers to lose themselves in an urban, artistic interpretation of Aurora Borealis (the Northern Lights). In Mads' words, "nature can never be designed or recreated, but it can inspire." The piece will draw people to look skyward, then continue their Aurora Sky experience at citizenM's 7th-floor bar where a series of talks and events will take place throughout the festival.  
With art being integral to the brand's DNA, citizenM is thrilled to participate in Copenhagen Light Festival 2020. Come experience the magic of Aurora Sky from 1 – 23 February.
DK
Mads Vegas
Aurora Sky
citizenM
Rådhuspladsen
H. C. Andersens Blvd. 12, 1553 København
Hør musikken af Teitur hver dag kl 17
citizenM præsenterer Aurora Sky, en fordybende lys-installation af Mads Vegas, forstærket med musikalsk lyd fra Teitur. Værket kan ses hver aften fra kl 17, imens festivalen står på.
Installationen oplyser det fantastiske citizenM hotel på Rådhuspladsen, og inviterer de forbipasserende til at fordybe sig i en urban, kunstnerisk fortolkning af Aurora Burealis (Nordlyset). Mads beskriver med sine egne ord: "Naturen kan aldrig blive designet eller genskabt, men den kan inspirere."
Værket vil invitere alle til at kigge opad mod himlen, og fortsætte Aurora Sky oplevelsen på citizenM hotellets 7. etage, ved baren, til en serie af talks og events der vil foregår i løbet af festivalen.
Med kunsten som værende en integreret del af hotellets DNA, er citizenM begejstrede for at være en del af Copenhagen Light Festival 2020.
Kom forbi og oplev Aurora Sky fra den 1.-23. februar.